Going all in: Smith debuts with clutch relief
After rehabbing knee injury, Brewers lefty strands tying run at third before tossing scoreless seventh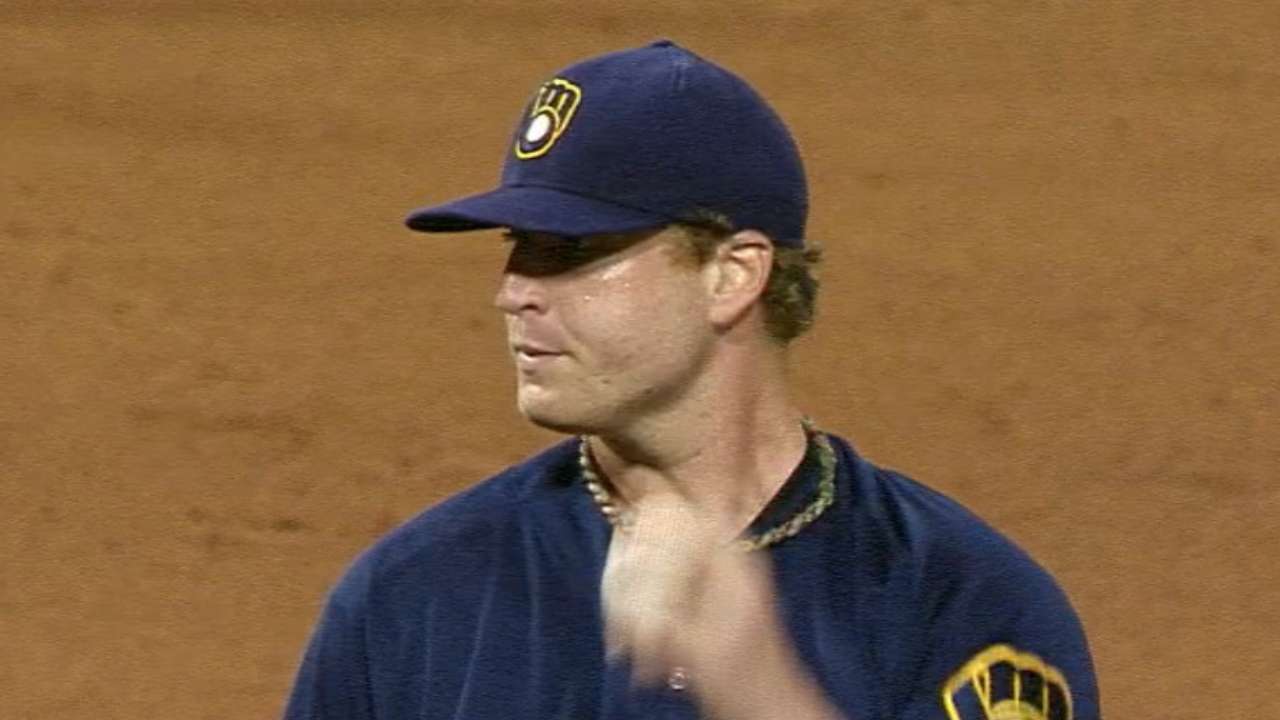 PHILADELPHIA -- Brewers manager Craig Counsell spoke Thursday afternoon about finding a spot in a game to allow reliever Will Smith to get "his feet wet." Instead, Smith jumped headfirst into the deep end of the pool.
Making his season debut after two long months spent rehabbing a right knee injury, Smith stranded the tying runner at third base in the sixth inning of a one-run game, then worked a scoreless seventh in what became a 4-1 Brewers win over the Phillies on Thursday night at Citizens Bank Park.
"I was looking for a little bit easier spot, but I have confidence in Will, obviously," Counsell said. "That turned out to be a perfect spot, really."
What a feeling being back out there! Thank you trainers for all the hard work you put in with me to make this possible! Best in the business

— Will Smith (@White_Willy13) June 3, 2016
The spot was this: Two outs, the Phillies' Odubel Herrera on base by virtue of shortstop Jonathan Villar's error, and at third thanks to catcher Jonathan Lucroy's passed ball. The Brewers were clinging to a 2-1 lead, and starter Chase Anderson had just recorded a big second out with a strikeout of Jimmy Paredes.
Up next was Maikel Franco, who'd already homered in the game against Anderson, and did the same earlier this season at Miller Park. So Counsell called for Smith, fresh off the disabled list after rehabbing a torn ligament in his right knee without undergoing surgery.
"You guys know me now -- I enjoy that kind of stuff," Smith said. "It was fun to get in there, that's for sure. It was a fun run in [from the bullpen]. I was ready to go. Knee was sturdy, knee felt good."
Franco, a right-handed batter, has better success against righties, so Counsell went to his lone left-handed pitcher. Before he tore his LCL taking off a shoe in Spring Training, Smith was projected to share closer duties with Jeremy Jeffress.
Smith threw a fastball for a called strike one, then consecutive sliders, one for a swinging strike and another for a ball. The fourth pitch was a fastball, and Franco flied it to right field, ending the inning.
Smith returned to pitch a scoreless seventh, the only hit against him a single off Villar's glove.
"I would say maybe my adrenaline was going maybe a tick more just because I hadn't been in there since the last game against Chicago at home [last season]," Smith said. "I was amped, I was pumped. The trainers were pumped, too, and I was happy it went well. I gave all those guys a hug, because without them I wouldn't be here. We did a good job with the knee for sure."
Adam McCalvy has covered the Brewers for MLB.com since 2001. Follow him on Twitter @AdamMcCalvy, like him on Facebook and listen to his podcast. This story was not subject to the approval of Major League Baseball or its clubs.