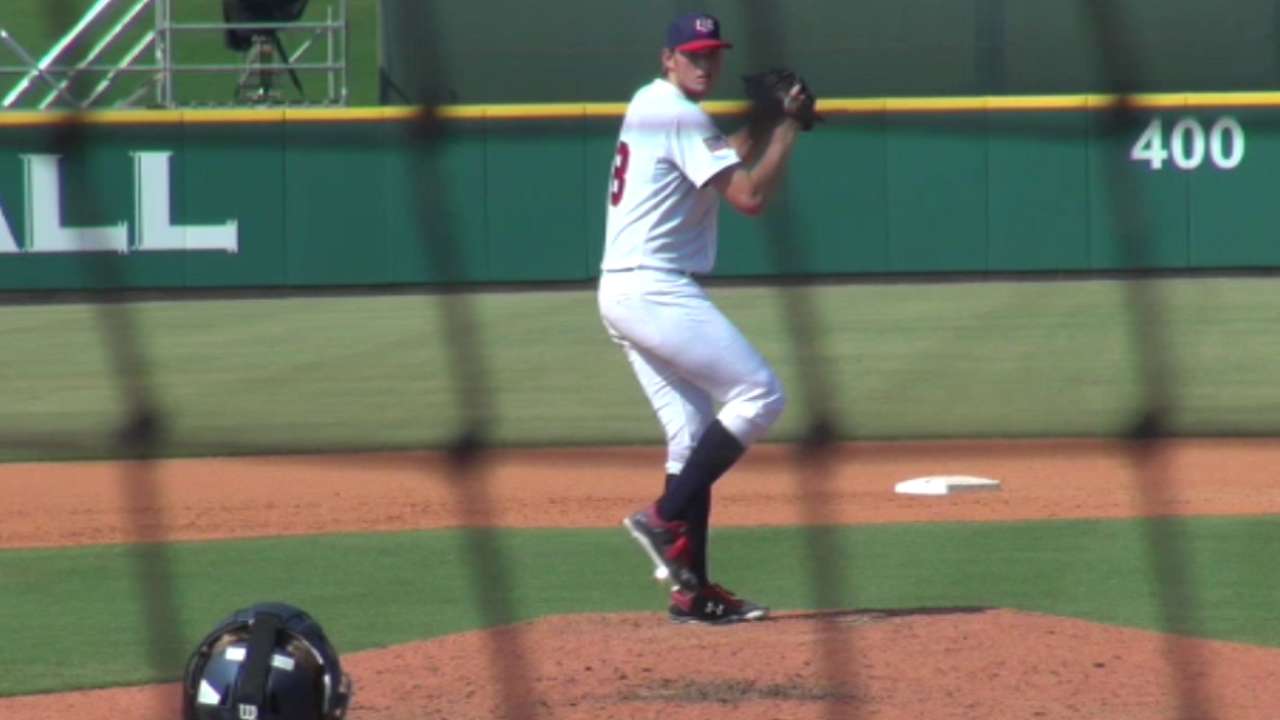 With the 2016 Draft fast approaching, we take a closer look at the top in this year's class.
Name: A.J. Puk
Position: LHP
School: Florida
Rank on Draft Top 100: 4
DOB: 4/25/1995
Bats: L Throws: L
Height: 6'7" Weight: 230 lbs.
Previously drafted: 2013, 35th (1056) - DET
Tools
Future grades on 20-80 scouting scale
Fastball: 70
Slider: 55
Changeup: 50
Control: 45
Overall: 55
Stats*
Games-Starts: 14-14
IP: 65 2/3
ERA: 2.88
K: 90
BB: 31
K/9: 12.34
Opp. avg.: .188
HR: 5
*Through the SEC Tournament
Scouting report: The hope, especially for the Phillies with the No. 1 overall pick, was that Puk would use his frontline rotation stuff and separate himself from the rest of the class. Inconsistency, which has plagued him for much of his career at Florida, and some time on the shelf with back spasms, made Puk more of a wild card than teams hoped. Big and strong, Puk arguably has the best raw stuff of any pitcher in the class, with the chance to have three plus pitches. He's capable of touching 96-97 mph with his fastball regularly. He might have been at his best in the one inning he threw before his back acted up, showing a 96-99 mph fastball and a plus slider at 88-90 mph. He can maintain his velocity deep into starts and while his changeup is his third pitch, it should be Major League average in the future. Puk's biggest stumbling block has been his control and command, something that has kept him from dominating college competition consistently. Puk returned after skipping a start and if he finishes his Gators career off well, he still could be a top-of-the-Draft selection.
MLB comp: Mark Mulder
Fun fact: Last summer, while pitching for the USA Baseball Collegiate National Team, Puk threw four innings as part of a three-pitcher combined no-hitter against Cuba, the first time the Cuban team had been no-hit in international play.
He said it: "I've always, in starts since my freshman year, I've seen the older guys through our program, all of the scouts show up. I'm accustomed to them being here and I just go out there and just play."
They said it: "He's a big left-handed guy, big pro-body guy with tremendous upside. Big arm, and when he's on, he's lights-out. He's gonna make some organization very happy, because he's gonna pitch in the big leagues pretty quick."
-- St. John's head coach Ed Blankmeyer, who was Puk's head coach on the USA Baseball Collegiate National Team
David Adler is a reporter for MLB.com. Follow him on Twitter at @_dadler. This story was not subject to the approval of Major League Baseball or its clubs.