Cervelli, Freese, Mercer hit by pitches, leave game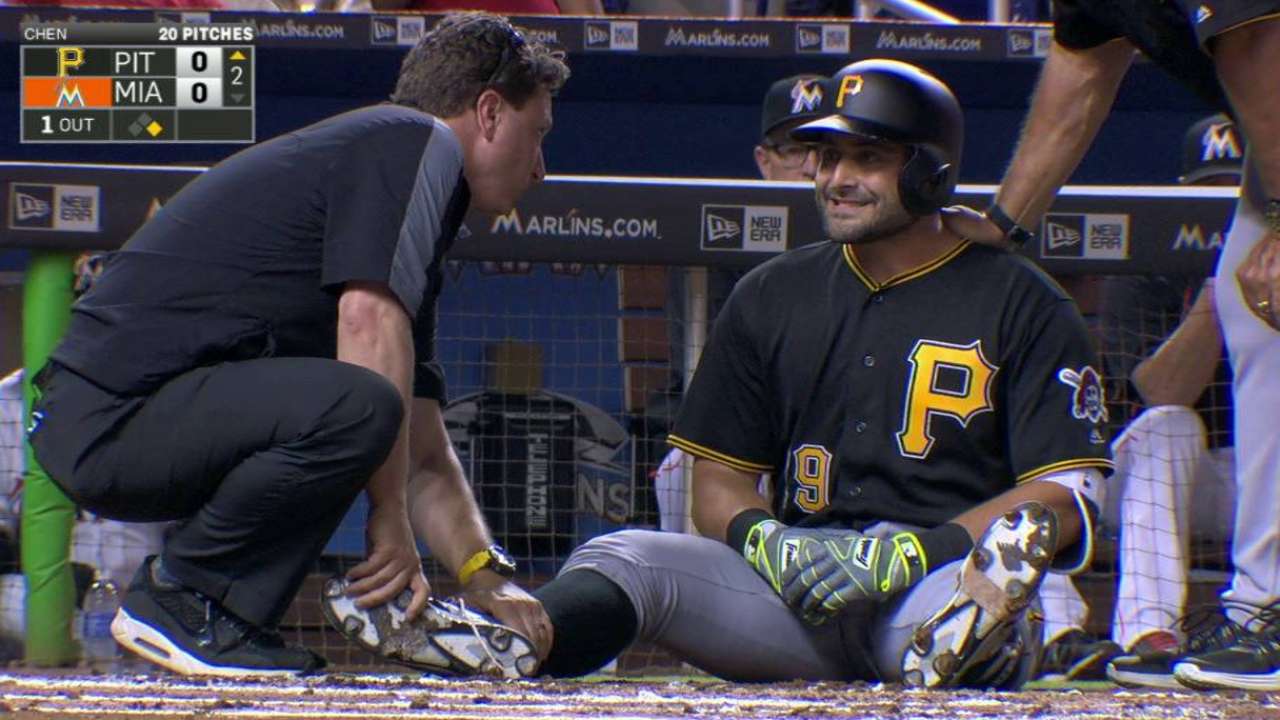 MIAMI -- The Pirates lost half of the hitters in their starting lineup Thursday night, battered and bruised by a series of inside pitches during a 4-3, 12-inning loss to the Marlins.
Catcher Francisco Cervelli left with a bruised right foot. Infielder David Freese took a 94-mph fastball off his hand. Shortstop Jordy Mercer left with a banged-up left elbow. And those were just the players hit by pitches, not even counting the nagging, swollen thumb that prematurely ended Andrew McCutchen's night.
• McCutchen aggravates nagging right thumb
"It was like an ER in here," Cervelli said. "The doctors for the other team, they were very busy. It was a crazy day."
Batting with one out and nobody on base in the second inning, Cervelli was hit in the back foot by lefty Wei-Yin Chen's 0-2, 85-mph slider. Cervelli immediately fell to the dirt, where he was checked on by head athletic trainer Todd Tomczyk.
Cervelli remained in the game, walking to first base and running gingerly to second on Starling Marte's groundout. The catcher came back out for the third and remained behind the plate for the first four batters of the inning.
After Giancarlo Stanton lined an RBI double to right field, giving Miami a 2-0 lead, Cervelli signaled to the dugout and left the game. The pain had become too much to handle, and backup catcher Chris Stewart replaced Cervelli behind the plate.
"I had a lot of pain after I got hit, but I tried to keep moving forward. Squatting, up and down, tried to move to the side -- it was really uncomfortable," said Cervelli, whose X-rays came back negative. "I had pain there. I had to call it. For me, it's tough, because I get a lot of hits, but I always stand up and I get going. Today, I couldn't do it."
Freese was hit in the right hand by Dustin McGowan's fastball in the eighth inning, took his base and left the game when the Pirates returned to the field to play defense. John Jaso finished the game at first base.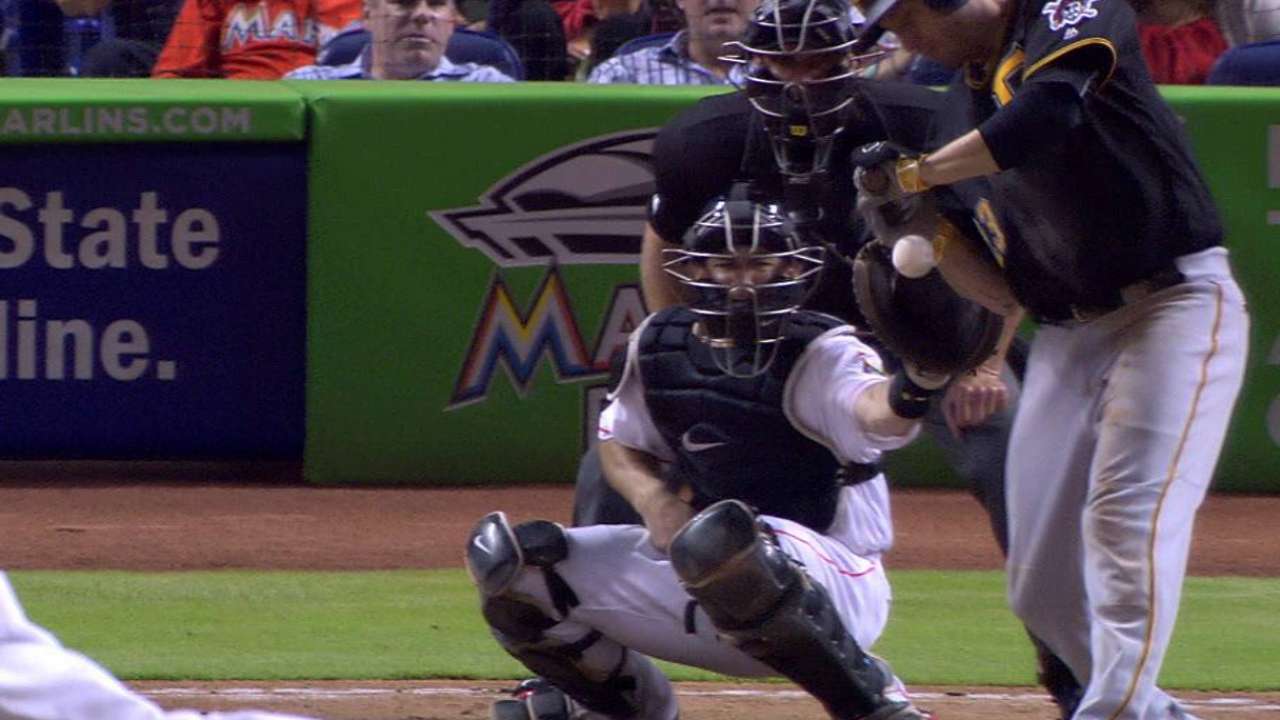 Could the Pirates follow any common thread to all the hit-by-pitches?
"It's spray command. It's a team looking to find some identity," Pirates manager Clint Hurdle said. "I don't think any of them were intent. It's spray command. That's the hard part of it."
Mercer, who scored the tying run after being hit by a pitch in the ninth, later exited with left elbow discomfort. He was scheduled to undergo an X-ray on Friday.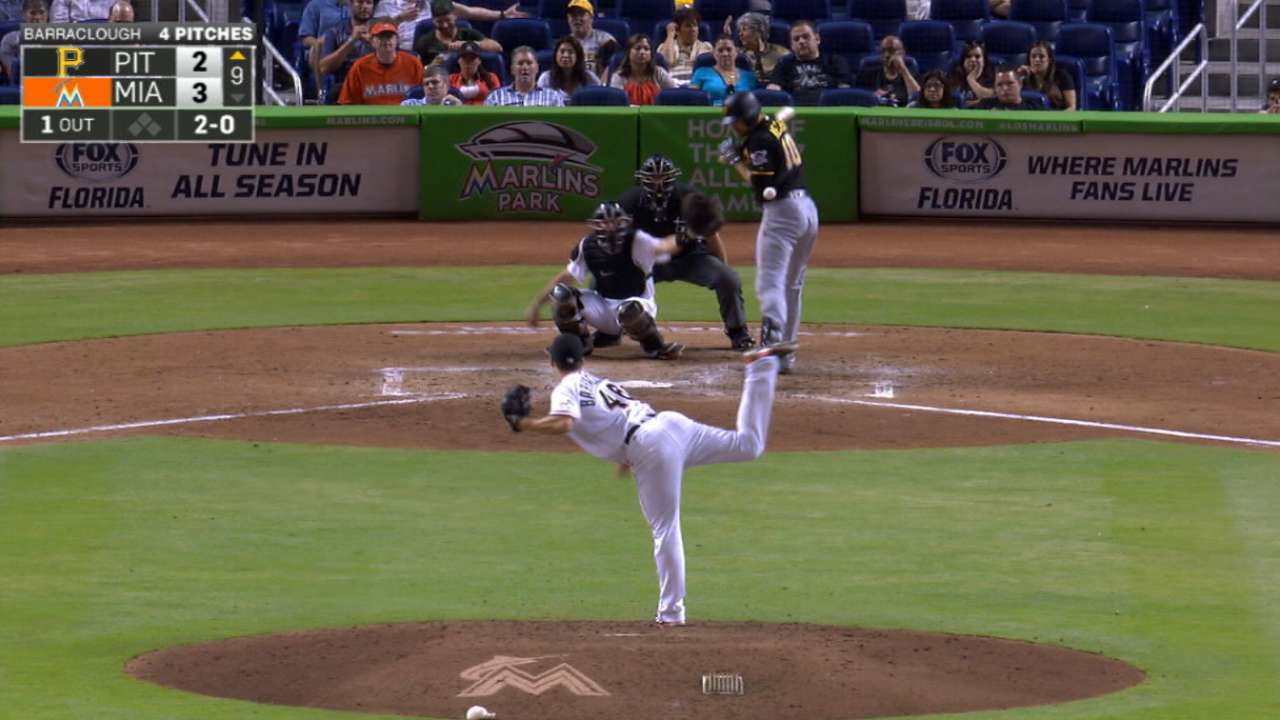 "Not good. It definitely hurt. We'll know more by tomorrow," Mercer said. "I was able to move it, which is a good sign. It got me around the back of the elbow, on that bone. If it hit me anywhere but there, it would have been all right. It's just going to sting a little bit, but I think it should be all right."
Adam Berry has covered the Pirates for MLB.com since 2015. Follow him on Twitter at @adamdberry. This story was not subject to the approval of Major League Baseball or its clubs.