Draft Profile: Riley Pint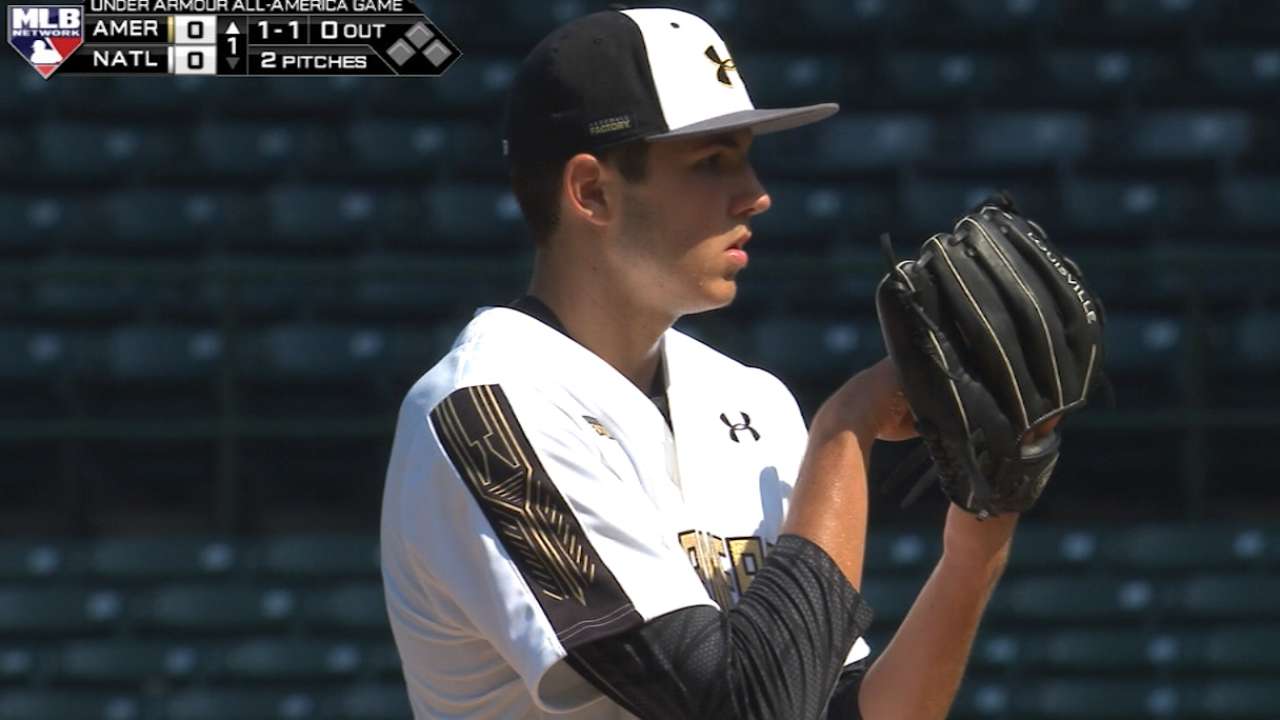 With the 2016 Draft fast approaching, we take a closer look at the top prospects in this year's class.
Name: Riley Pint
Position: RHP
School: St. Thomas Aquinas HS, Kan.
Rank on Draft Top 100: 2
DOB: 11/6/1997
Bats: R Throws: R
Height: 6'4" Weight: 210 lbs.
College commitment: Louisiana State
Tools
(Future grades on 20-80 scouting scale)
Fastball: 70
Curveball: 60
Slider: 50
Changeup: 60
Control: 45
Overall: 60
Stats
Record: 7-1
IP: 49
ERA: 0.57
K: 87
Scouting report
No high school right-hander has gone No. 1 overall in the Draft, but Pint is a legitimate contender. He's the best pitching prospect to come out of Kansas since Wichita State's Mike Pelfrey made a run at the top pick in 2005, and a lock to be the state's first prep pitcher taken in the first round since Brian Holman in 1983. Pint has an electric arm and added 15 pounds of muscle during the offseason, boosting his fastball velocity to a consistent 93-97 mph and a high of 102 this spring. He throws a power curveball that already is a plus pitch and can turn it into a harder slider when he wants. The Louisiana State recruit presently has little need for a changeup, though his has good fade and gives him another plus offering when he needs one. While Pint has a huge ceiling, he does come with some risk. He lacks consistency with his mechanics, sometimes finding it difficult to repeat his arm slot and find the strike zone. There's some effort in Pint's delivery, leading to some concerns about his future command.
MLB comp: Justin Verlander
Fun fact: Pint's Kansas City-based travel baseball team was named "Mac-N-Seitz" -- because it was coached by former Royals catcher Mike Macfarlane and third baseman Kevin Seitzer, who played for the Royals in the late 1980s and early '90s.
He said it: "I'm just going to let the process play out and see what happens. It's my dream to play in the College World Series for LSU, but it's also my dream to play pro baseball. Whichever direction it takes me is where I'll go."
-- Pint to The Times-Picayune's Randy Rosetta
They said it: "He's going to be a special talent. A guy like that doesn't come around very often."
-- LSU starting pitcher Alex Lange, to Baseball America's Michael Lananna
David Adler is a reporter for MLB.com. Follow him on Twitter at @_dadler. This story was not subject to the approval of Major League Baseball or its clubs.