Draft profile: Alex Kirilloff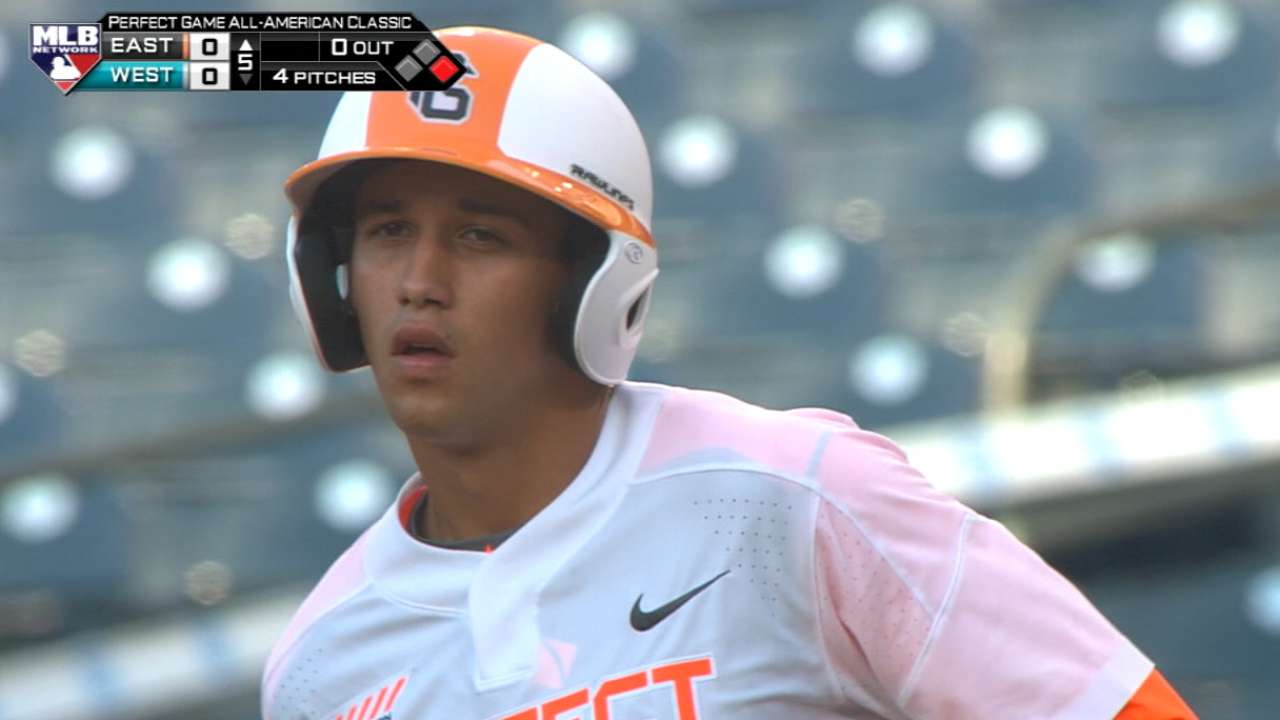 With the 2016 Draft fast approaching, we take a closer look at the top prospects in this year's class.
Name: Alex Kirilloff
Position: OF
School: Plum (Pa.) High School
Rank on Draft Top 200: 18
DOB: 11/9/1997
Bats: L Throws: L
Height: 6' 2" Weight: 195 pounds
College commitment: Liberty
Tools
(Future grades on 20-80 scouting scale)
Hit: 50
Power: 55
Run: 40
Arm: 55
Field: 50
Overall: 55
Stats
Games: 21
Average: .539
Runs: 30
Home runs: 3
On-base percentage: .638
Scouting report
A product of the Southwest Pennsylvania high school ranks, Kirilloff put himself firmly on the map with a fine showing on the summer showcase circuit. With the weather warming up and scouts running to see him, he has the chance to be the highest-drafted Pittsburgh area prepster since Neil Walker went in the first round in 2003.
Teams interested in Kirilloff will be buying the bat. While there is a little length to his swing, he's shown the ability to barrel the ball consistently and has considerable raw power, which he put to use while winning the Perfect Game All-American Classic home run derby over the summer. He's more athletic than one would think given his size, and he plays center field for his high school team. Kirilloff will have to move to a corner spot at the next level, but he moves more than well enough to stay there. He has a strong arm, one that fires 87-90 mph fastballs from the mound.
For him be an everyday corner outfielder, Kirilloff will have to fit the offensive profile. The team that takes him, perhaps as early as the middle of the first round, believes the Liberty University commit will do just that.
MLB comp: Nick Markakis
Fun fact: Kirilloff won the Perfect Game home run derby last summer, hitting 12 home runs in three minutes at Petco Park.
He said it: "Professional baseball and playing in the Major Leagues has been a dream of mine ever since I could stand up and hit off a tee. It's been something I've been working for and training towards, and so to hopefully have the opportunity, it will be a dream come true." (Baseball Essential)
They said it: "Not only is Alex a special talent, but a special kid. It's really hard to put into words the positive impact he has on our team, just as a person and a teammate."
-- Plum head coach Carl Vollmer (Pittsburgh Post-Gazette)
Cash Kruth is a reporter for MLB.com. Follow him on Twitter at @cashkruth. This story was not subject to the approval of Major League Baseball or its clubs.