Nats' lineup beginning to display its depth
Espinosa, Zimmerman heating up along with red-hot Murphy, Ramos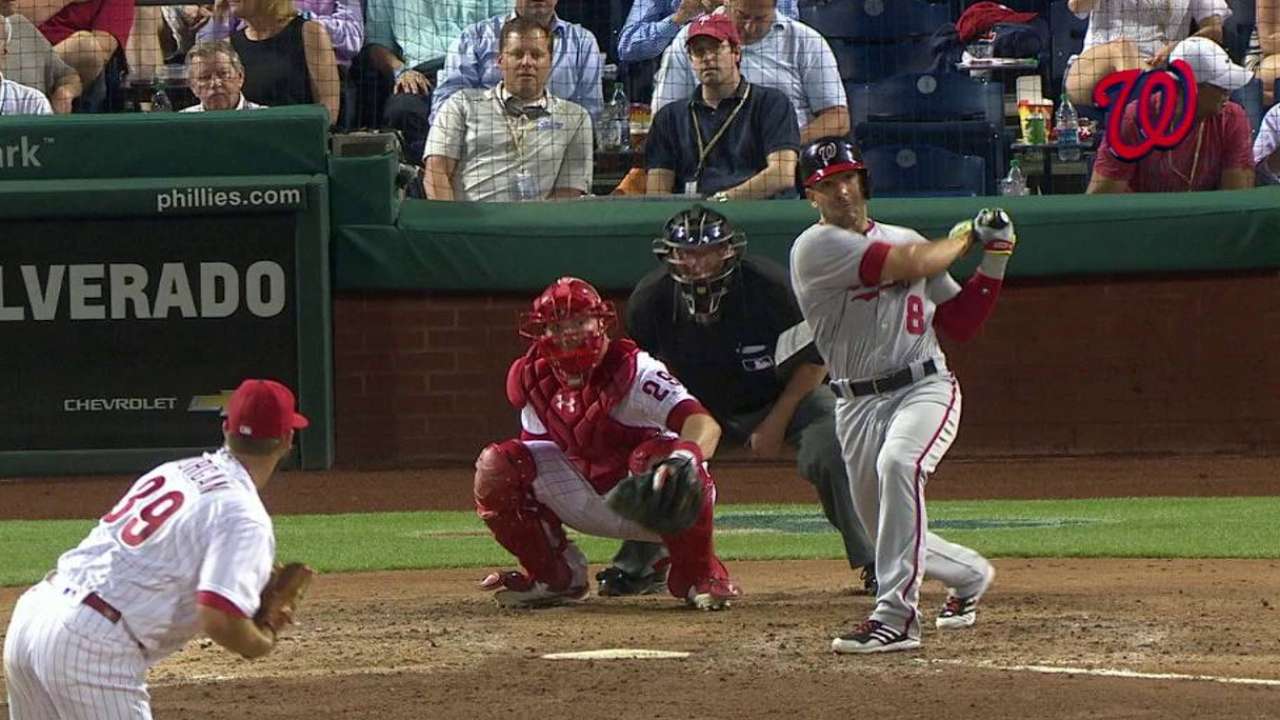 PHILADELPHIA -- One of the most encouraging aspects for the Nationals through the first one-third of the schedule has been despite that most of their lineup has struggled to find a consistent rhythm, they are in first place.
The Nationals improved to 33-21 with Wednesday night's 7-2 win over the Phillies. And many of those struggling hitters are starting to show signs of life lately.
• Cast your Esurance All-Star ballot for Zimmerman, Espinosa and other #ASGWorthy Nats
First baseman Ryan Zimmerman, who went 2-for-4 with two RBIs, hit seven homers with an .858 on-base plus slugging percentage in the month of May, compared to one homer and a .603 OPS in April. Left fielder Jayson Werth is 18-for-66 in his past 18 games with three doubles and two homers and has hit safely in 23 of his past 31 games. Third baseman Anthony Rendon is slashing .338/.434/.535 with six doubles, a triple and two homers since May 10. And shortstop Danny Espinosa has four homers in his past seven games.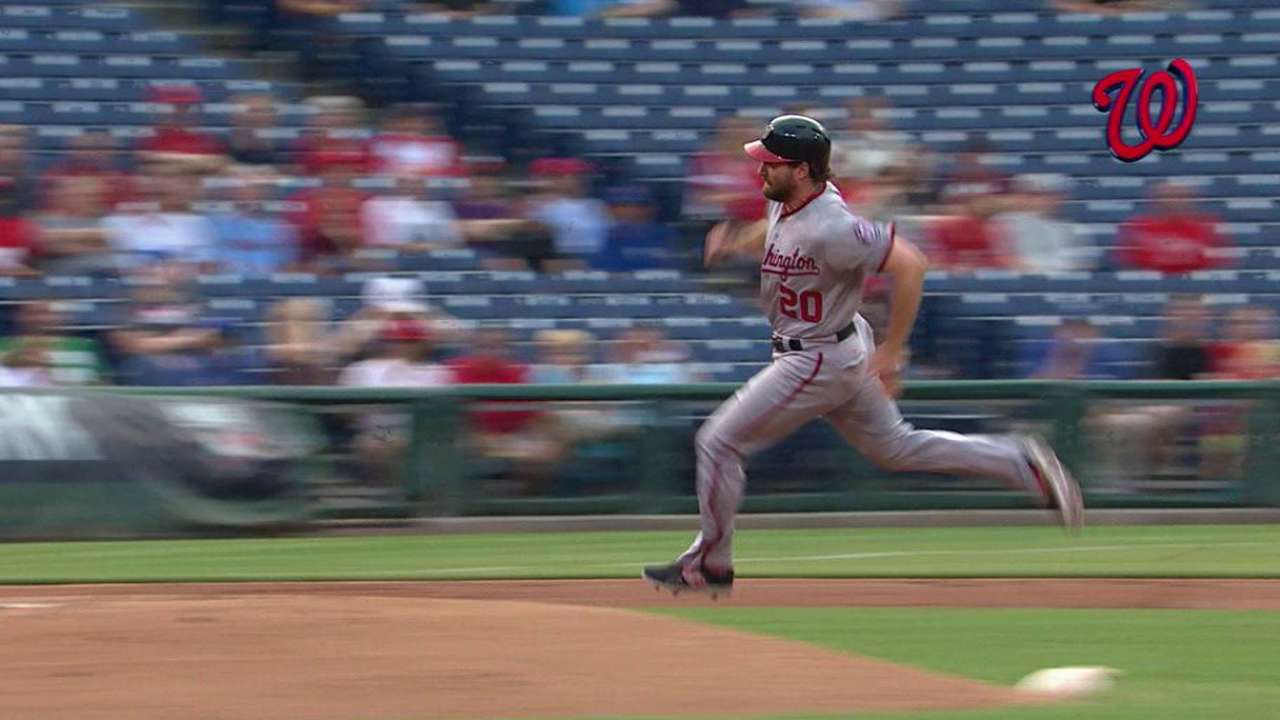 "We have a really good lineup," Zimmerman said. "When Bryce [Harper] is in there obviously you get guys like Wilson [Ramos] hitting sixth, seventh. Just having that depth really wears down the other pitcher if he doesn't really have a break from one-through-eight. We're going to grind on him.
"Every offense is going to go through good times and bad times, and you're going to have a week where you don't score many runs. We've just got to keep doing what we've been doing the last five, six days and we'll be fine."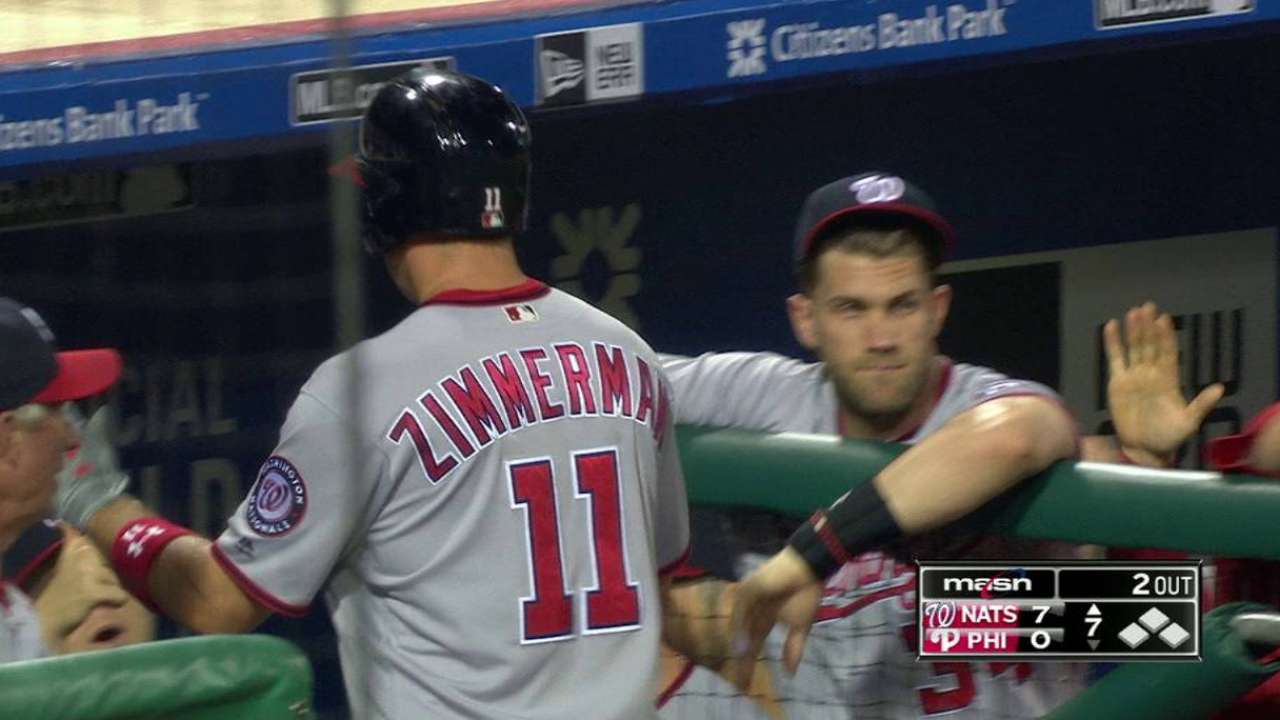 Philadelphia was the first leg of a nine-game road trip that includes stops in Cincinnati and Chicago, three places traditionally considered hitters' ballparks that could help boost Washington's offense.
The Nationals began the day Wednesday ranked 13th in the Majors in runs scored, solid if unspectacular, but believed their offense could be so much more. They have been carried to this point by their pitching staff that ranks second in baseball in ERA and largely the contributions of three different hitters. Catcher Wilson Ramos, who is hitting .338 and leads all catchers with at least 150 plate appearances in wRC+, and second baseman Daniel Murphy, the Majors' leading hitter at .394, have been consistent all season while Harper has struggled recently, but still owns a .950 OPS with 13 home runs.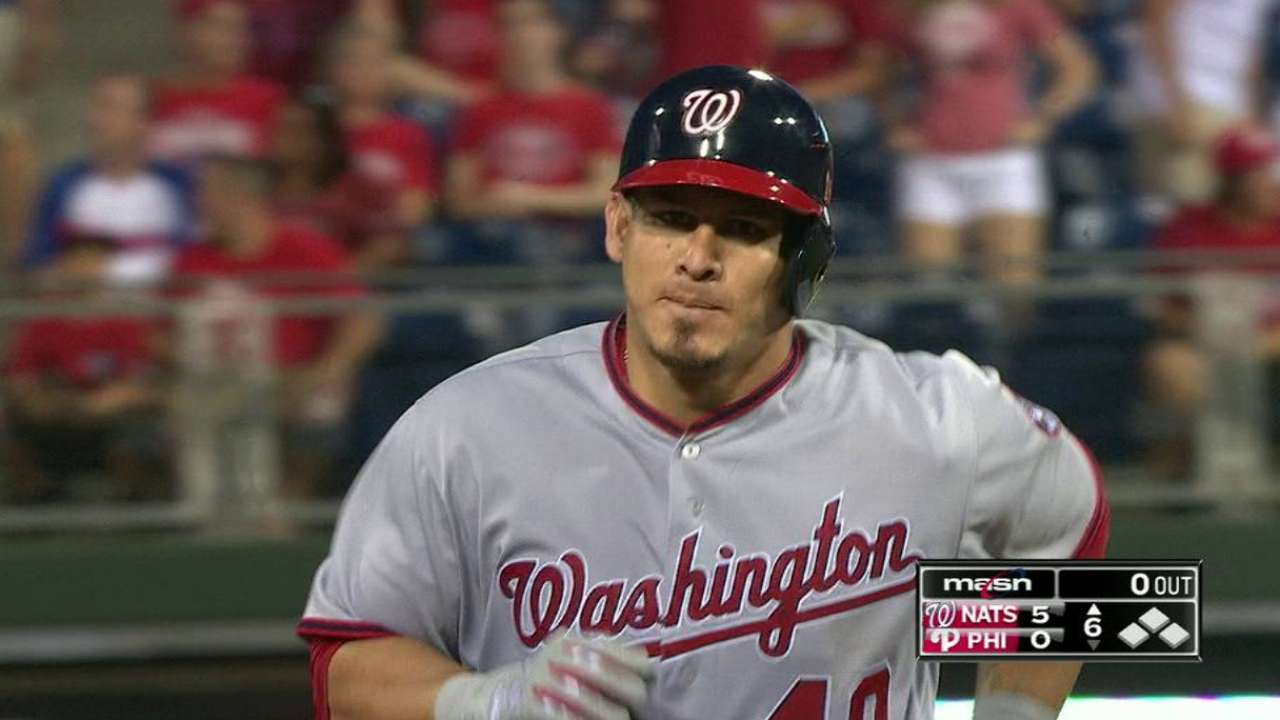 But manager Dusty Baker has maintained this season that his veteran hitters would start to produce eventually. And lately at least, it gives the Nationals a much deeper and more effective lineup than they have had all season.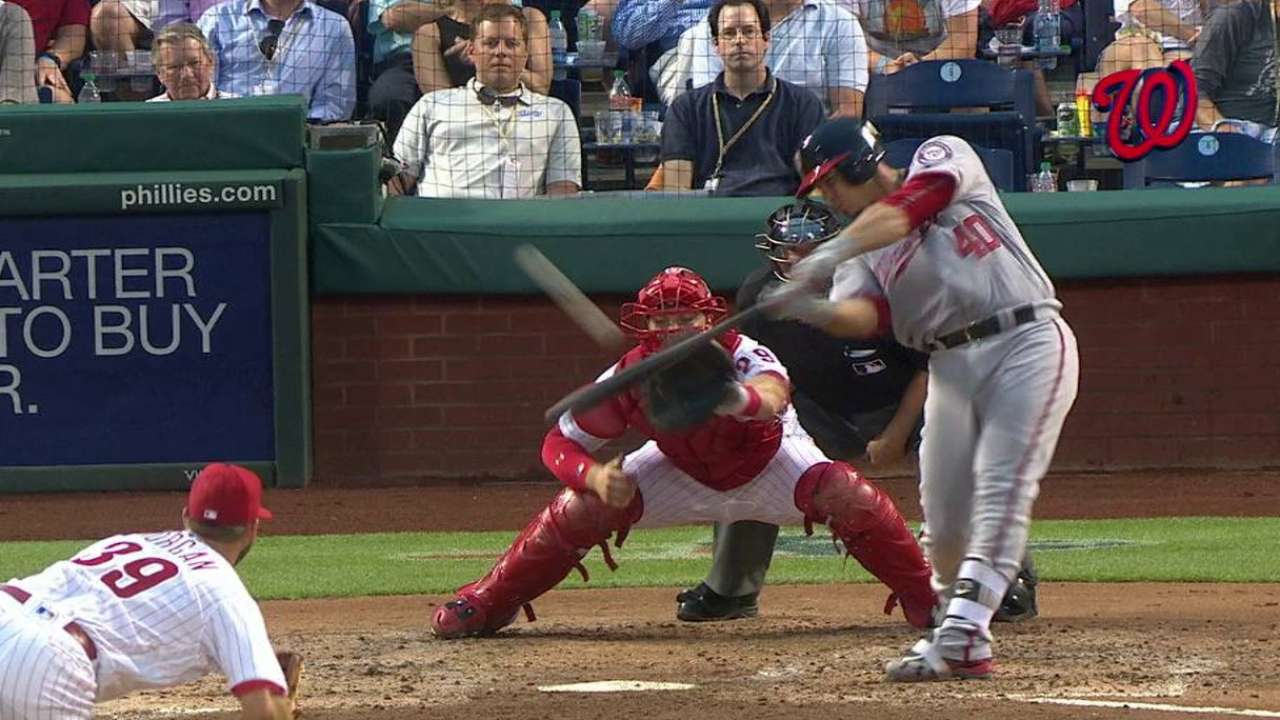 "That's what you want. You don't want to just depend on one part of the order that comes through every 2 1/2 innings," Baker said. "You try to stack your lineup on guys and how they're going - who's kind of hot, who's kind of cold - then back them up with guys that can offset other guys.
"So we're not hot yet. But we're winning some games in the meantime."
Jamal Collier covers the Nationals for MLB.com. Follow him on Twitter at @jamalcollier. This story was not subject to the approval of Major League Baseball or its clubs.