Draft Profile: Nolan Jones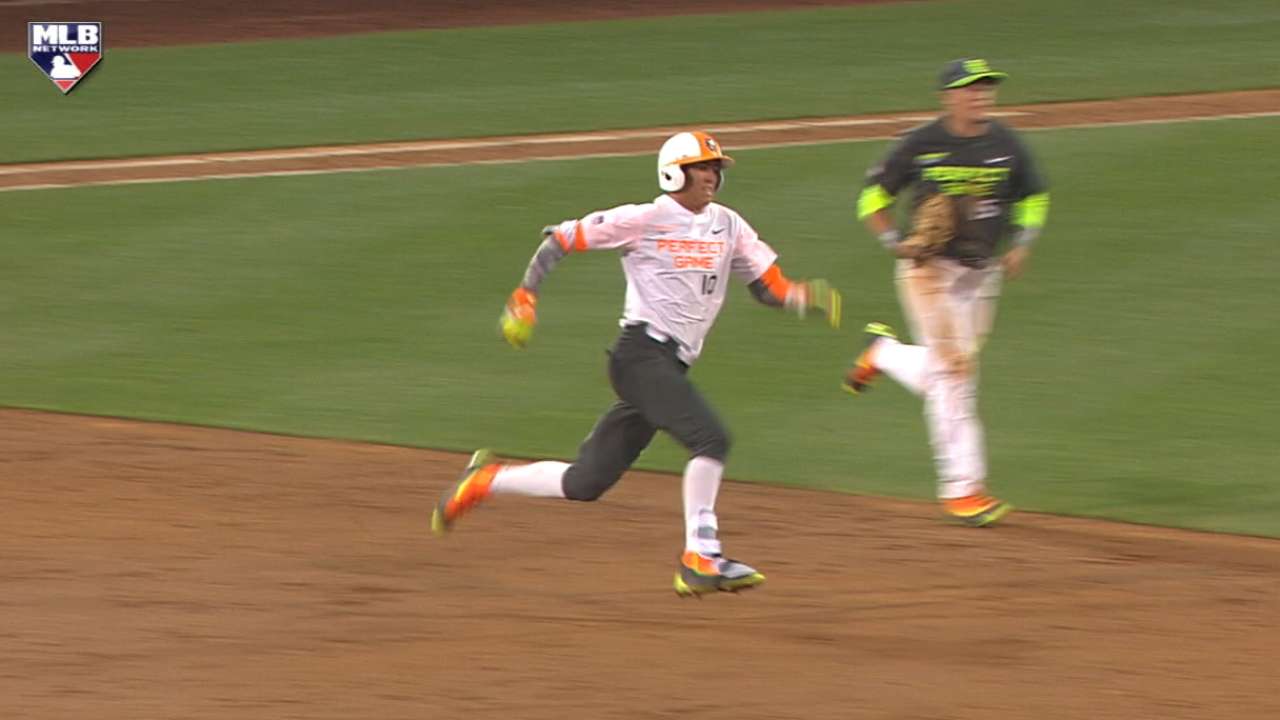 With the 2016 Draft fast approaching, we take a closer look at the top prospects in this year's class.
Name: Nolan Jones
Position: 3B
School: Holy Ghost (Pa.) Prep
Rank on Draft Top 200: 25
DOB: 5/7/1998
Bats: L Throws: R
Height: 6'3" Weight: 195 lbs
College commitment: Virginia
Tools
(Future grades on 20-80 scouting scale)
Hit: 55
Power: 50
Run: 50
Arm: 50
Field: 50
Overall: 50
Stats
Games: 19
Avg: .636
AB: 44
2B: 5
HR: 5
RBI: 24
OBP: .750
Scouting report
The last time the state of Pennsylvania had a hitter get drafted in the first round was back in 2007, when Devin Mesoraco was taken by the Reds. This year, there could be two high school bats selected in the opening round, Alex Kirilloff, who lives near Pittsburgh and Jones, a talented infielder twho resides outside of Philadelphia.
Jones' senior year started slowly as he tweaked his back and missed the beginning of the season. As he returned, he was getting a lot of looks as he was thought to be one of the better pure high school bats in the country. Jones has good bat speed and excellent raw power from the left side. An average runner who might have slowed down a tick as he's added weight to his lanky frame, Jones has good hands and actions for the infield, though most see a move from shortstop, his high school position, in the future. Some feel the 6-foot-4 Virginia commit will profile well at third. But while he throws in the low-90s off of the mound, his arm action has others thinking that perhaps he'd profile best as a big offensive-minded second baseman or perhaps a left fielder.
Those who think Jones has a chance to stick at short will give him a long look in the first round, but most feel his bat will play almost anywhere.
Fun fact: The Jones family may have two athletes going pro this summer. Nolan's older brother Peyton is a prospect for this year's NHL draft.
He said it: "I have some [physical] tools, like a lot of other guys around the country, but I think my attitude toward the game, toward my teammates is really something that attracts the scouts. They just like that I love playing baseball."
They said it: "I think that he could fit in a professional locker room today. He just has that perfect balance of confidence and humility. He knows he belongs and yet he still understands that every single day he has to work to get better."
-- Holy Ghost baseball coach Vince Rossomando
Chad Thornburg is a reporter for MLB.com. This story was not subject to the approval of Major League Baseball or its clubs.