Statcast smorgasbord: 7 plays truly amaze
A HR sprint, a catcher pitching and dazzling defense all worth a look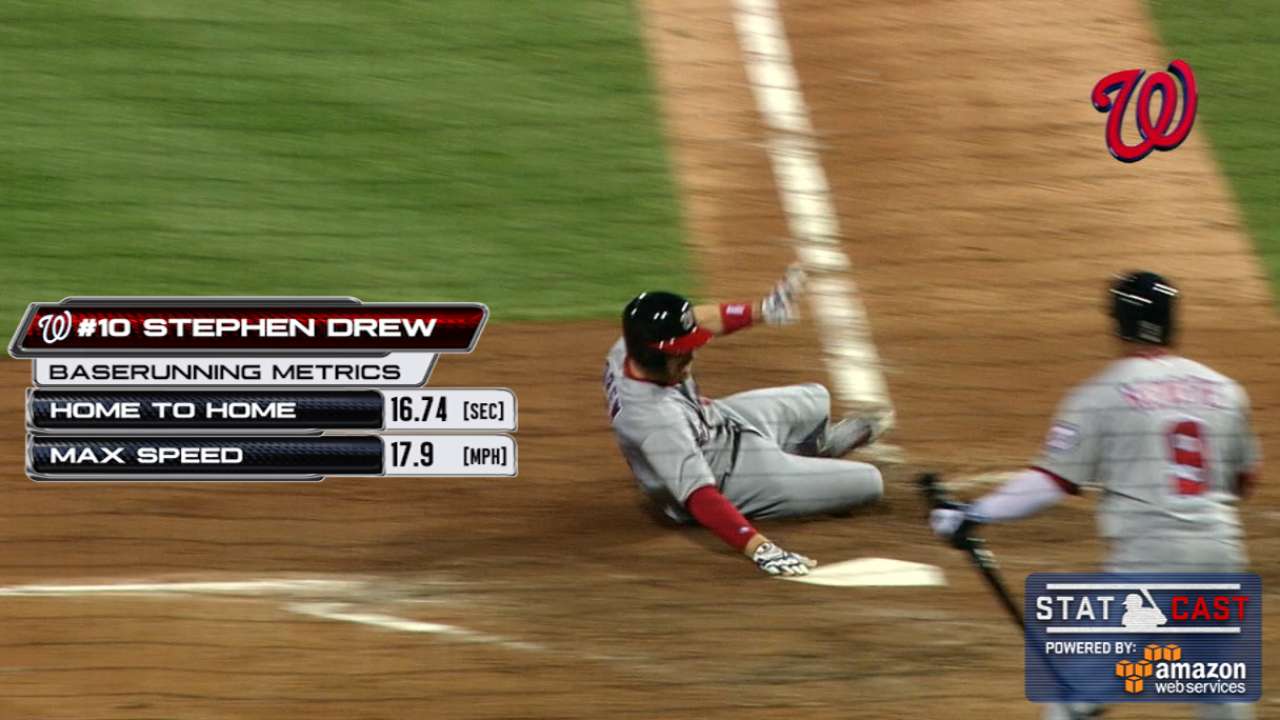 Tuesday was a fun day for baseball.
There was an assortment of great catches, a catcher pitching in the mid-90s (and mid-50s), and home runs of both the majestic and inside-the-park varieties. Even better, Statcast™ was there to break down all of the great plays.
Here is a look at the best:
Drew covers all his bases
The Nationals' Stephen Drew pinch-hit in the top of the ninth inning, with his club already leading the Phillies, 4-1, and skied a deep fly ball with an exit velocity of 102.9 mph. Phillies center fielder Odubel Herrera drifted back and made a leap for it, but the 385-foot drive -- which reached a height of 132 feet -- eluded his glove and caromed off Citizen Bank Park's right-center field wall. That, plus an off-line throw home, allowed Drew to come all the way around the score in 16.7 seconds, while reaching a top speed of 17.9 mph. It was the seventh-fastest home-to-home time of the season and the second inside-the-park job of Drew's career.
Miggy goes big
The Tigers' game against the Angels wasn't scoreless for long. With two outs in the top of the first inning, Halos lefty Hector Santiago fired a 95.3-mph fastball that caught too much of the plate, low in the zone. Miguel Cabrera lowered the boom on it, making contact at 109.1 mph and sending the ball flying a projected 449 feet over the wall in left-center field for a 1-0 lead. It was Miggy's second-longest homer of the season.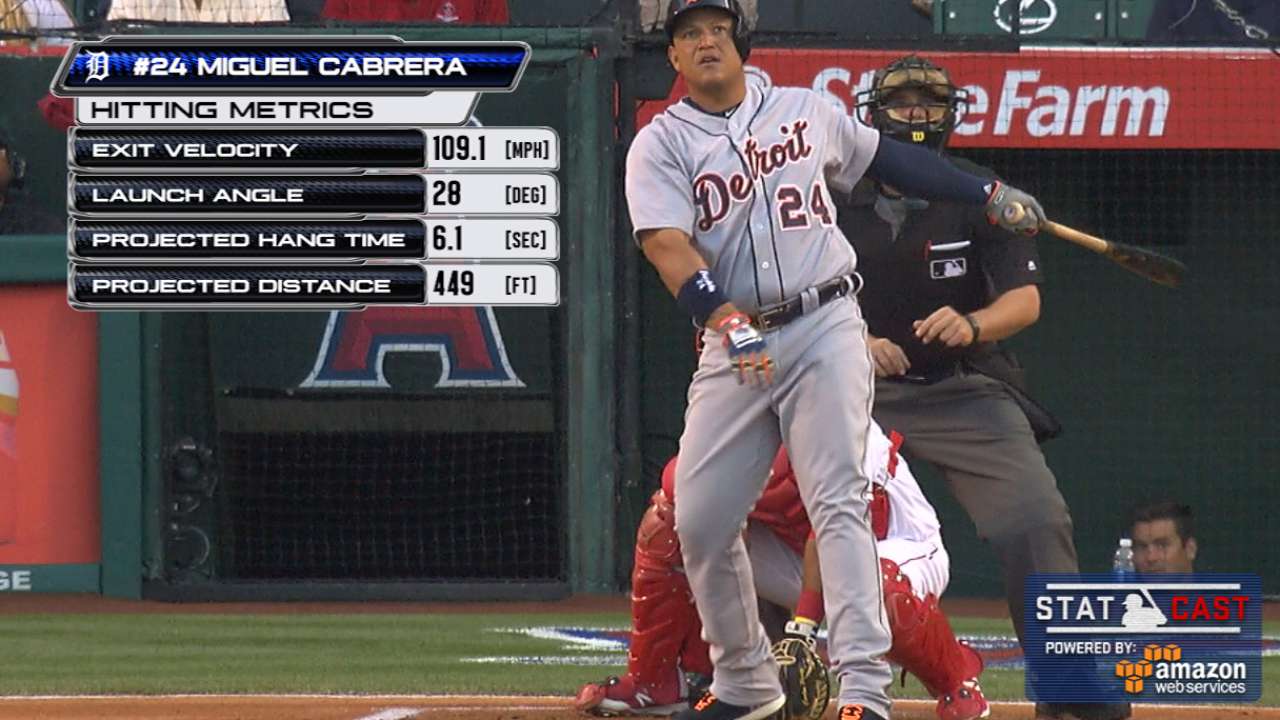 Blue Jay takes flight
In the top of the fourth inning at Rogers Centre, the Yankees' Austin Romine had what looked like a base hit on a line drive to right-center field. But Toronto's Kevin Pillar, who has made a habit of great plays, had other plans. Pillar took his first step in 0.2 seconds and cut across 57 feet of turf at a top speed of 18.6 mph. Taking advantage of a 97.8-percent route efficiency, he extended his body horizontally to make an incredible diving catch, ending the inning.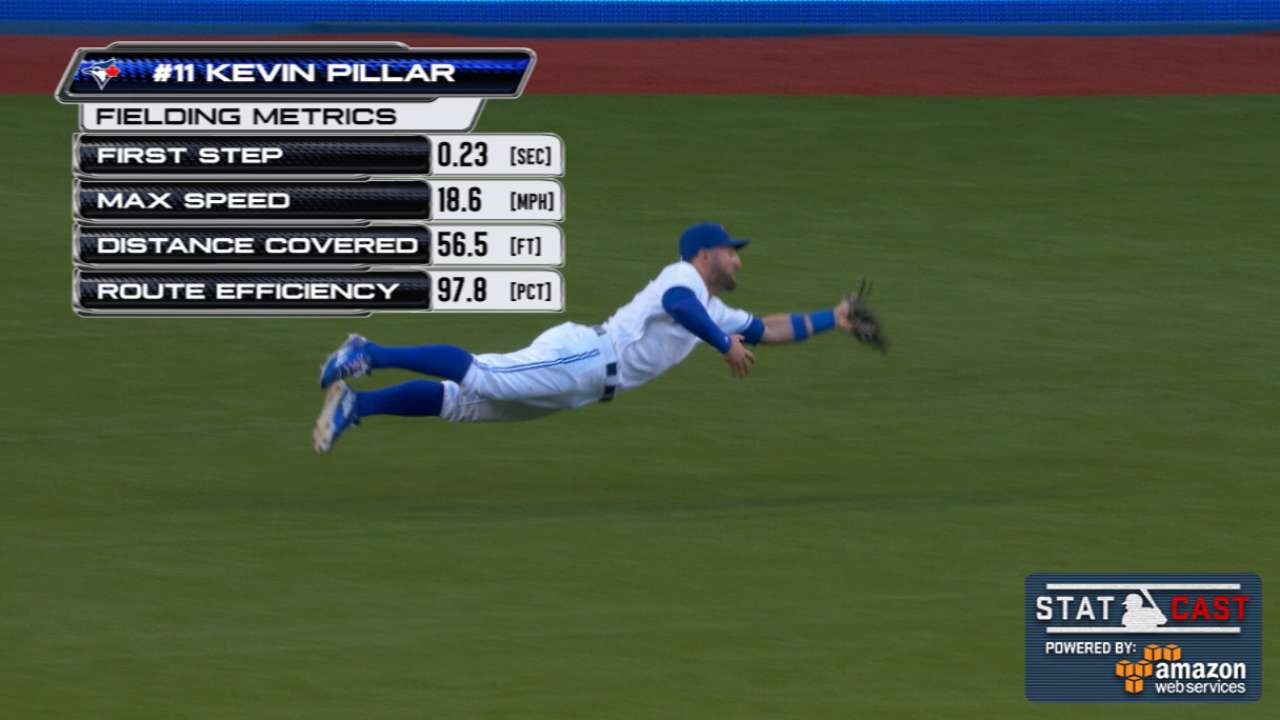 Barney gives chase
Pillar wasn't the only Blue Jays defender who helped the Toronto pitching staff hold New York to a single run in a victory. In the eighth inning, Carlos Beltran lifted a foul ball down the right field line against reliever Jesse Chavez, with right fielder Jose Bautista playing too far away to have a shot at it. Fortunately for the Jays, it was within range for Barney, who already was playing well out on the grass as part of a shift. He also took his first step in a brisk 0.2 seconds and reached 18.9 mph as he raced 87 feet with a 96.9-percent route efficiency. After crossing the foul line, Barney expertly executed a feet-first slide into the wall while making the catch.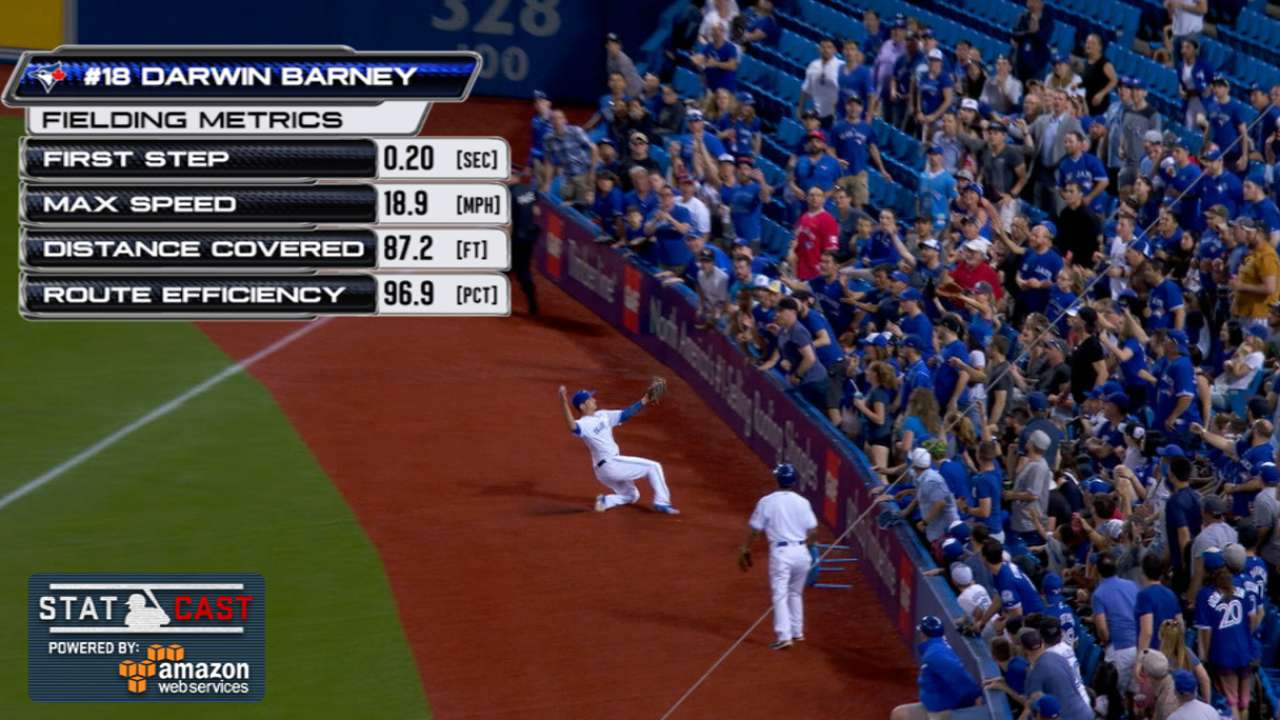 Betts does it all
Mookie Betts' bat got the headlines, thanks to his three home runs, but the Red Sox right fielder also showed off his glove in the team's win at Camden Yards. In the bottom of the seventh inning, the Orioles' Paul Janish lifted a blooper into shallow right-center that neither second baseman Dustin Pedroia nor center fielder Chris Young could reach. Betts, on the other, raced in for a diving, sprawling grab. The key was his 0.0-second first step -- in other words, Betts was moving the instant the ball left the bat. He then topped out at 20.7 mph -- his third-fastest speed in the outfield this year -- as he covered 77 feet with a 96-percent route efficiency.
Pence hunts down popup
Giants right fielder Hunter Pence always seems to have plenty of energy, and he needed it in the bottom of the second inning at Turner Field when the Braves' Kelly Johnson lifted a high fly ball to shallow right. Pence was playing deep, but with the Giants infielders having to backtrack, it still turned out to be his play. He had to cover 101 feet to pull it off, getting up to a speed of 19.2 mph and carving a route with 98.3-percent efficiency. It was the furthest distance Pence had traveled to make a catch this season.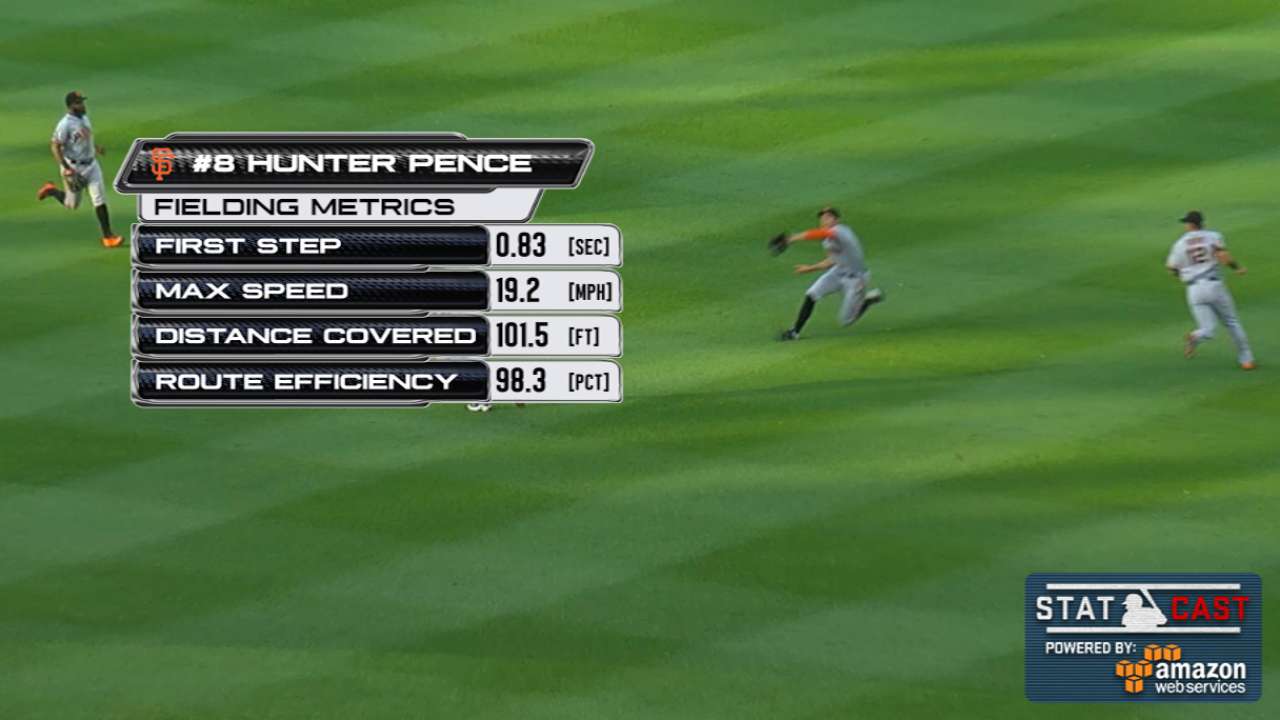 Bethancourt mixes it up
The bad news for the Padres was that they were down 16-4 to the Mariners heading into the bottom of the eighth inning at Safeco Field. The good news was that they got to see what strong-armed catcher Christian Bethancourt could do on the mound -- quite a bit, as it turns out. The right-hander's fastball touched 96 mph, helping him record a pair of outs before he was lifted with the bases loaded, thanks to two walks and a hit batter. But Bethancourt wasn't all about the hard stuff. He also froze Seth Smith with a 53.9-mph floater for a called strike, giving him more than a 40-mph difference between his fastest and slowest offerings.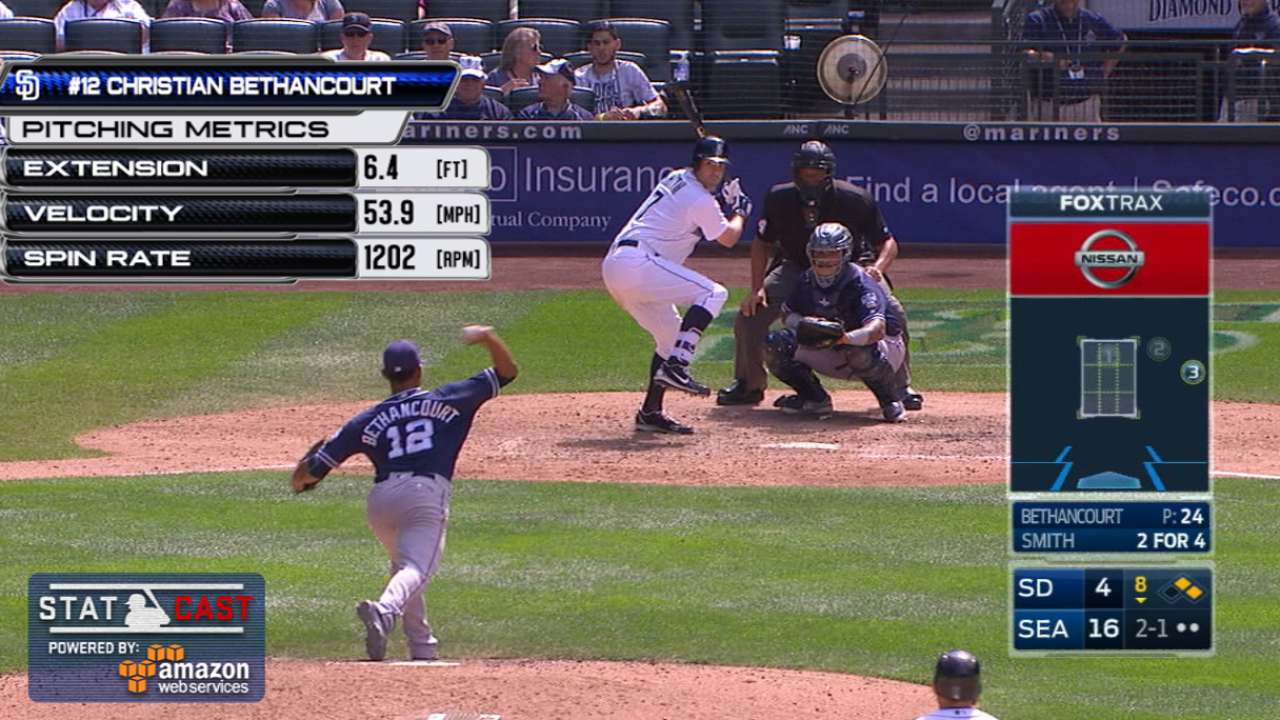 Andrew Simon is a reporter for MLB.com. Follow him on Twitter @AndrewSimonMLB. This story was not subject to the approval of Major League Baseball or its clubs.