Girardi discusses late-game decisions in loss
Yanks manager lets Sabathia start 7th, then goes to Betances following leadoff double
TORONTO -- CC Sabathia turned his back and scowled when he saw manager Joe Girardi emerging from the first-base dugout, bringing the hook that would end the big lefty's outing. What transpired over the next few batters wouldn't improve the mood of anyone wearing a Yankees uniform.
With Dellin Betances warming, Girardi opted to allow Sabathia to begin the seventh inning on Tuesday, then quickly called to the bullpen after Edwin Encarnacion opened the frame with a booming double. The Blue Jays scored three runs in the inning, celebrating a 4-1 victory at Rogers Centre.
"Just frustrated. At 3-1, I need to make a better pitch, not give up a leadoff double and put Dellin in a bad spot," Sabathia said. "It's always surprising when these guys give up runs. Those guys are the best in the league, and nine times out of 10, they're going to be there to help us."
Sabathia had limited Toronto to Justin Smoak's solo home run over the first six frames and was in good shape with his pitch count (75). He lasted just five more, as Encarnacion slugged a 90-mph sinker up the gap in left-center field.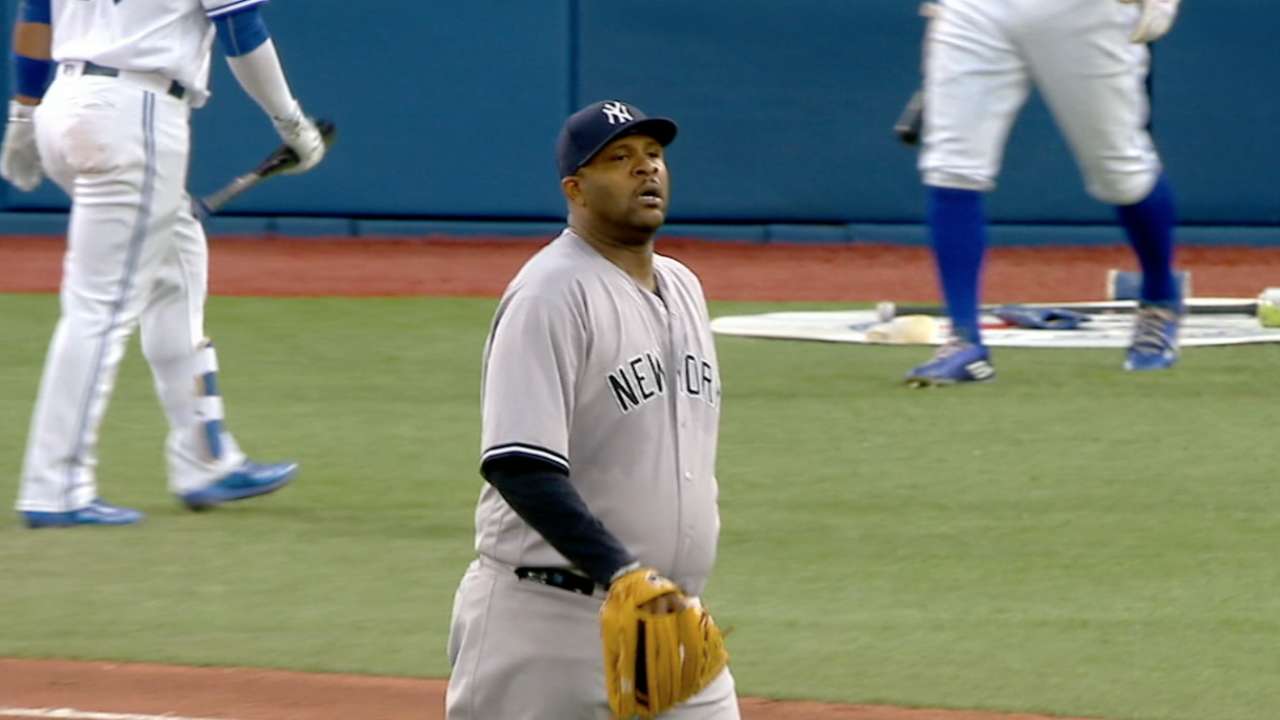 Girardi said he thought the Yankees needed a strikeout at that point, and Betances delivered one, whiffing Smoak before getting Russell Martin to fly out. But Betances walked Devon Travis, who scored as Rob Refsnyder's throw from right field went up the line on Kevin Pillar's single, then permitted a two-run single to Darwin Barney.
"It's tough. I try to live on those situations where if somebody leaves a runner on, I'm trying my best to get them out without them scoring," Betances said. "CC pitched a great game. He's been awesome all year. It's tough; you don't want to put yourself in that situation, but they were able to get a few good hits."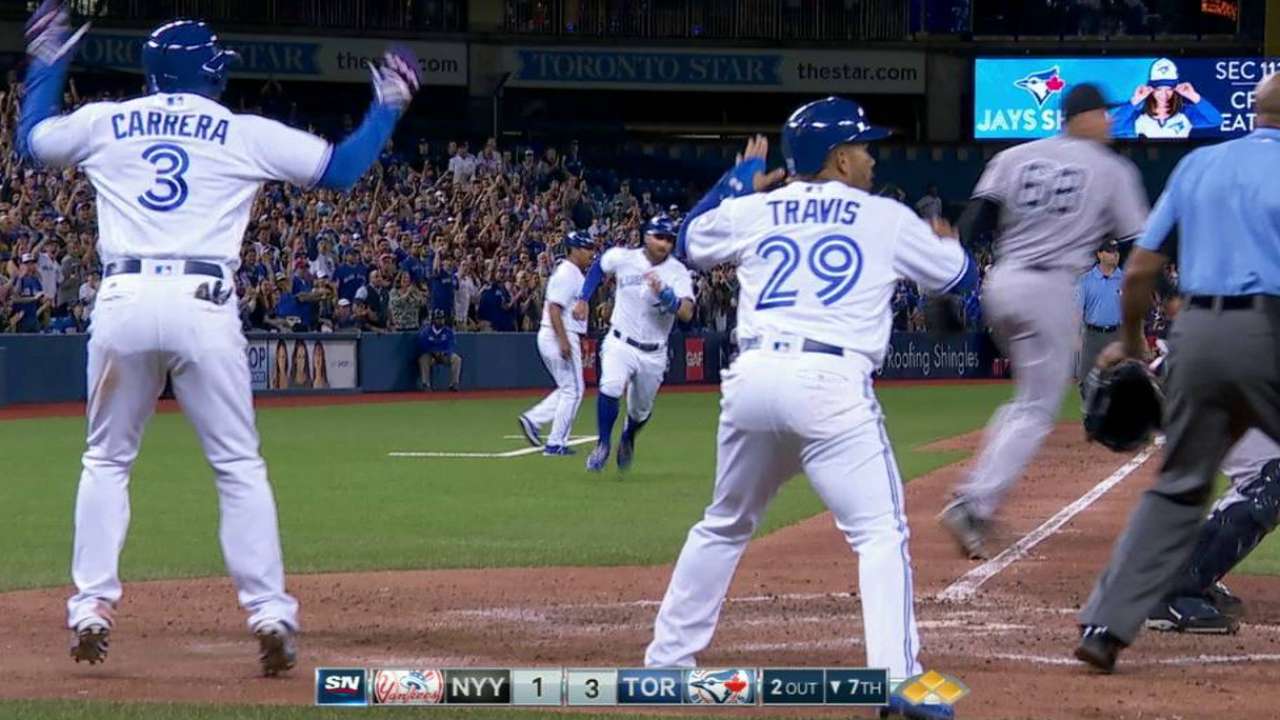 Girardi said he probably would have taken Sabathia out even if Encarnacion's hit had been a single. Smoak had homered earlier in the game and Girardi said Martin has been tough on left-handed pitching.
Asked why he did not have Betances begin a clean inning, Girardi replied, "Because I like the way [Sabathia is] throwing. And we're not at home. We need to score to win. I don't want to go through the three relievers if we're not going to score.
"You go through one or two of them possibly, but I liked the way he was throwing, and I thought he had done a good job against Encarnacion up to that point."
Also worth noting is that Refsnyder was in right field instead of the strong-armed Aaron Hicks, who was playing left. Refsnyder has been playing right field on a semi-regular basis in Triple-A, but neither of his throws on Tuesday were Statcast-worthy.
Girardi pinch-hit for Refsnyder in the eighth, sending Brett Gardner up to face right-hander Jesse Chavez in his place, but said he did not insert Gardner for defense because the Blue Jays had left-hander Chad Girodo warming.
Gardner struck out looking against Chavez, and that was just a small part of a bigger problem. The decision-making in the seventh inning would have been easier if the Yankees' ice-cold bats had thawed; New York was held to just a run on six hits by starter J.A. Happ and three relievers.
"Bottom line is, we didn't score again," Girardi said.
Bryan Hoch is a reporter for MLB.com. Follow him on Twitter @bryanhoch, on Facebook and read his MLBlog, Bombers Beat. This story was not subject to the approval of Major League Baseball or its clubs.