Pipeline preview: Jays' top prospect Alford on a roll
Here's a look at top prospects to watch Wednesday in Minor League action:
Hitter to watch: Anthony Alford (Blue Jays' No. 1)
Dunedin vs. Daytona 7:05 p.m. ET

Alford got off to a slow start this season, but the Blue Jays' top prospect recently found his stroke and has been collecting hits in a hurry ever since. Alford was 0-for-4 on Sunday, but has hits in 13 of his last 14 games. Alford, a third round selection in 2012, still strikes out more than anyone would prefer, but the Blue Jays have to be pleased with his recent run of success at the plate.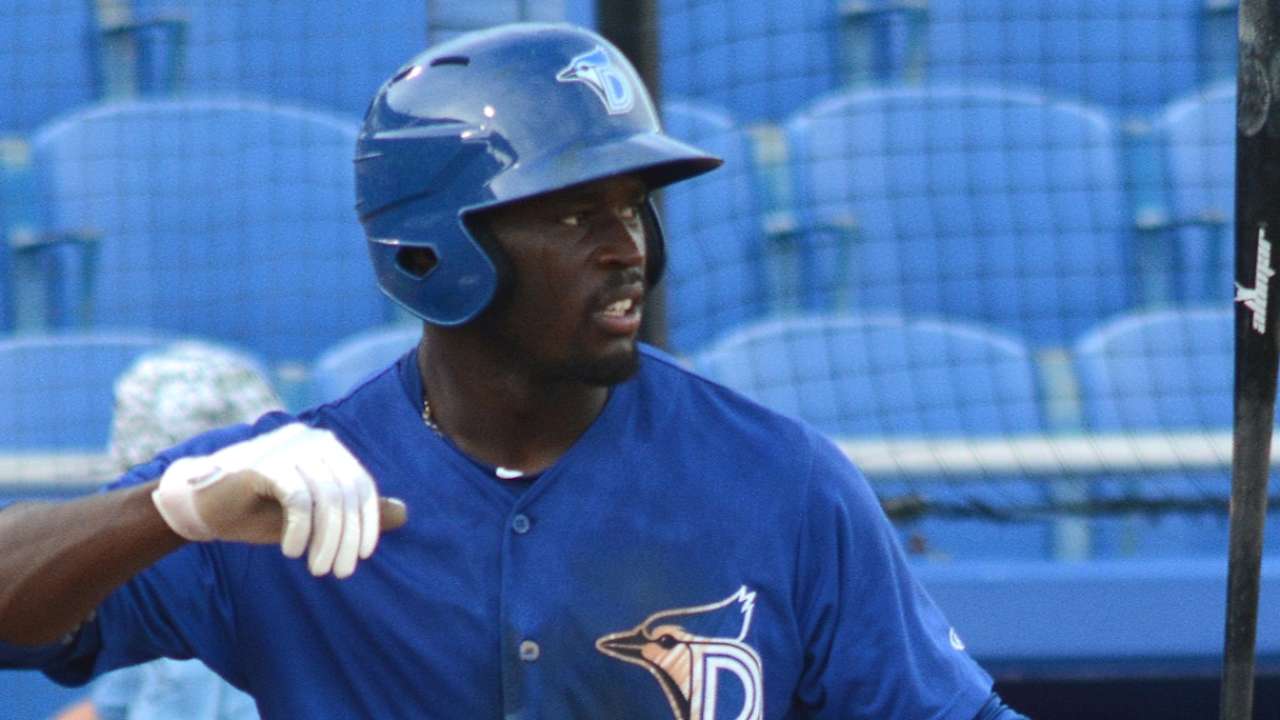 Pitcher to watch: Tyler Glasnow (Pirates' No. 1)
Indianapolis vs. Rochester 1:35 p.m. ET on MiLB.TV

The Pirates' top prospect will be looking for his fourth consecutive quality start when he takes the ball Wednesday afternoon. Glasnow, a 22-year-old right-hander, is having a solid season for Triple-A Indianapolis (4-2, 2.25 ERA), but of course that's no surprise to the Pirates' organization and their fans. Since he was selected in the fifth round of the 2011 draft, Glasnow has done nothing, but perform. The No. 8 overall prospect has had an ERA under 2.40 in each of the last three seasons and is on his way toward doing so again in 2016.
Duel of the day: Adrian Houser (Brewers' No. 17) vs. Chris Ellis (Braves' No. 11)
Biloxi vs. Mississippi 8:10 p.m. ET on MiLB.TV

May was a bit of a rollercoaster month for Houser, but perhaps when the calendar switches to June, the Brewers' prospect will find some consistency. Houser made four starts in May - twice he held opponents to just one earned run, and twice he was tagged for five earned runs. Houser has held opponents to one earned run or fewer in three starts this season, so the talent is certainly there, he just needs to harness it on a consistent basis.
Ellis is looking to build off his longest outing of the season. The 23-year-old threw seven strong innings, three earned runs on five hits, in his last outings for Mississippi. Ellis, whom the Braves acquired in an off-season trade with the Angels, has been impressive in his first season with the new organization. Ellis is 6-2 with a 3.00 ERA this season and has recorded a quality start in seven of his 10 trips to the mound.
Wednesday's Top 100 probables:
No. 8 Tyler Glasnow (Pirates' No. 1) Indianapolis vs. Rochester (AAA)
No. 11 Alex Reyes (Cardinals' No. 1) Memphis vs. New Orleans (AAA)
No. 30 Robert Stephenson (Reds' No. 2) Louisville vs. Toledo (AAA)
No. 71 Duane Underwood (Cubs' No. 4) Tennessee vs. Jackson (AA)
More top prospect probables:
Jaime Schultz (Rays' No. 19) Durham vs. Scranton(AAA)
Ben Lively (Phillies' No. 30) Lehigh Valley vs. Norfolk (AAA)
Ty Blach (Giants' No. 23) Sacramento vs. El Paso (AAA)
Tyler Anderson (Rockies' No. 21) Albuquerque vs. Fresno (AAA)
Adrian Houser (Brewers' No. 17) Biloxi vs. Mississippi (AA)
Chris Ellis (Braves' No. 11) Mississippi vs. Biloxi (AA)
Chih-Wei Hu (Rays' No. 13) Montgomery vs. Jacksonville (AA)
Jordan Guerrero (White Sox No. 6) Birmingham vs. Chattanooga (AA)
German Marquez (Rockies' No. 12) Hartford vs. Trenton (AA)
David Hess (Orioles' No. 13) Bowie vs. Richmond (AA)
Sal Romano (Reds' No. 15) Pensacola vs. Mobile (AA)
Eric Skoglund (Royals' No. 28) Northwest Arkansas vs. San Antonio (AA)
Stephen Tarpley (Pirates' No. 19) Bradenton vs. Palm Beach (A Advanced)
Trey Ball (Red Sox's No. 19) Salem vs. Myrtle Beach (A Advanced)
Brandon Brennan (White Sox No. 20) Winston-Salem vs. Carolina (A Advanced)
Keury Mella (Reds' No. 6) Daytona vs. Dunedin (A Advanced)
Justin Anderson (Angels' No. 23) Inland Empire vs. Lancaster (A Advanced)
Yency Almonte (Rockies' No. 29) Modesto at High Desert (A Advanced)
Mike Soroka (Braves' No. 12) Rome vs. Columbia (A)
Jean Cosme (Padres' No. 27) Fort Wayne vs. South Bend (A)
Jonathan Hernandez (Rangers' No. 27) Hickory vs. Delmarva (A)
Ofelky Peralta (Orioles' No. 14) Delmarva vs. Hickory (A)
Fernando Romero (Twins' No. 17) Cedar Rapids vs. Beloit (A)
William Boor is a reporter for MLB.com. Follow him on Twitter at @wboor. This story was not subject to the approval of Major League Baseball or its clubs.