MLB.com Columnist
Phil Rogers
Ray of hope: White Sox aided Draft prospect
ACE program alum, Louisville star on verge of becoming Top 10 pick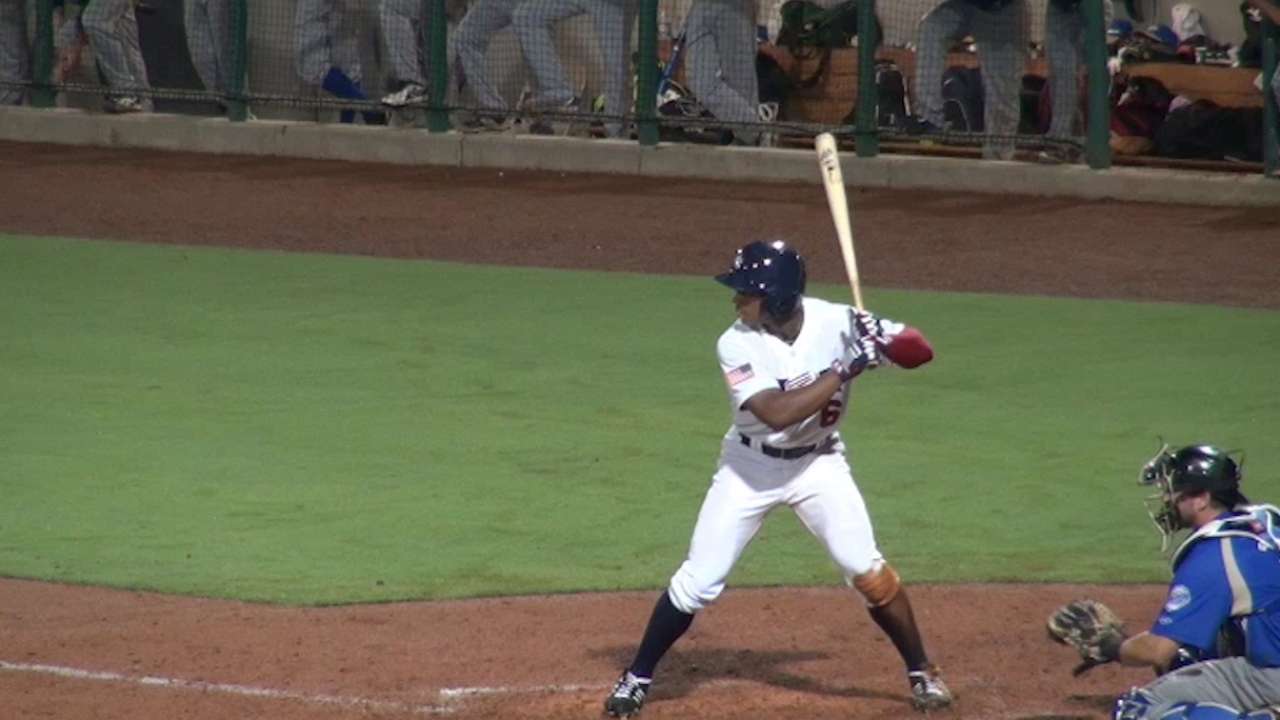 Corey Ray will experience a time when all the baseball he's played starts to run together. Maybe it'll happen when he's become a regular at the All-Star Game, maybe when he's moved on to start coaching other players. Maybe just when he's lived long enough to become the old guy in the room, not the kid with the smile who is all ears.
Ray will forget some things along the way. Everybody does. But one thing he believes he'll remember forever is the trip he took to Cary, N.C., in 2011, the summer after his sophomore year at Chicago's Simeon Career Academy, to participate in the Breakthrough Series, a three-day event featuring 80 of the nation's top players from urban communities.
It was Ray's first visit to USA Baseball's National Training Complex, the first time he ever pulled on Team USA gear. As talented as he was, as hard as he'd worked, he was, well, nervous about how he'd handle himself.
2016 Draft: June 9-11, MLB Network and MLB.com
"I just [went] crazy,'' Ray said. "I don't think till this day I've ever played better than I played that weekend. I was so surprised: 'Where is this coming from?' Then I'd look at the coaches' faces and they had a look like they weren't surprised. They knew.''
Those coaches were Kevin Coe, Justin Stone and Dan Puente from the White Sox ACE (Amateur City Elite) program. They were in on the ground floor with Ray and an impressive wave of talent from Chicago, coaching him and Vanderbilt's Ro Coleman Jr., among many others now in college or professional baseball, since they were 12-year-olds.
"Corey was the best player there,'' Coe said. "There were players there who are playing professional baseball now, players there who went high in the Draft. Corey was lights out. He put himself on the map. Charles Peterson, a scout for the Cardinals, still talks about it. He said he turned him in as a '60' after that weekend. That's a perennial All-Star.''
Ray, a junior outfielder for the University of Louisville, is getting ready to cash in on the potential that was developed while he participated in the White Sox ACE program. The brainchild of Sox scout Nathan Durst, ACE is designed to grow baseball in inner-city Chicago and help students with a passion for the game achieve as young men.
ACE is in its first decade but has already paid huge dividends, with 106 players being awarded baseball scholarships over the past six years. The most recent class includes players who received commitments to Michigan, Indiana, Notre Dame and Missouri.
For all of these players, the program can be life-changing. But it is Ray, a junior outfielder at Louisville who mixes speed and power with strong fundamentals, who has emerged as the program's greatest success story.
When the Draft begins on MLB Network and MLB.com on June 9, Ray is poised to become the first player from Chicago selected in the top 10 since the Phillies took Jeff Jackson with the fourth pick in 1989, three picks before the White Sox selected Auburn first baseman Frank Thomas.
Ray enters the NCAA Regionals hitting .320 with 15 home runs and 39 stolen bases in 59 games. He's reportedly on the Phillies' five-player short list for the first overall pick, and he is a strong consideration for the Braves with the third spot and the A's at No. 6.
Latest MLB Pipeline mock Draft: Ray to Mariners
Should Ray slide, it can't hurt that the White Sox have the 10th pick. It's hard to imagine Chicago teams bypassing him, as both did with Curtis Granderson after he hit .483 for the University of Illinois-Chicago in 2002.
"This is an exciting time,'' Ray said. "Obviously, we've got goals here at the University of Louisville. That's really the priority. You don't really pay attention to the Draft. We just want to see how far we can go as a team.''
Ray loves everything about being a baseball player. He always has. Being a youth player in Chicago has its limits, however.
Ray played in the Roseland and Jackie Robinson West Little Leagues, and he got his first travel experience with the Upper Deck Cougars, coached by Robert Fletcher, who is now the ACE program's coordinator of college placement. But Ray says he only had a chance to play 20-30 games per year, depending on how far his team advanced in summer tournaments.
When Ray was selected for ACE's under-13 team, he was suddenly playing nearly 100 games a year.
"I loved it,'' he said. "We'd go into a tournament and routinely play three games on a Saturday, then three more games on Sunday. Now in college, it's a big deal to play a doubleheader. But we'd play from 7 in the morning until 7 at night, and we loved it. We did it for joy, but it made us better.''
Ray, who turned down the Mariners after they selected him in the 33rd round in 2013, was almost certainly going to college. He's a strong student, and his two-parent family is as big on education as it is on hard work. But Ray believes he benefited from the ACE program's emphasis on academics.
Players involved in ACE are involved in activities year-round, with the chance to do indoor work at a complex in Lynwood, just south of Chicago, and at the Bull-Sox Academy in Lisle, in the west suburbs. They also get academic and life help, including ACT prep courses.
"It's not just baseball,'' Ray said. "It's about becoming a great man, as well as a player. The coaches are always asking about your grades, how you're doing with everything. They're trying to help you get ready for life, not just baseball things.''
Ray is ready, wherever baseball takes him next.
Phil Rogers is a columnist for MLB.com. This story was not subject to the approval of Major League Baseball or its clubs.