AL ASG ballot leaders unveiled
Royals' Perez leads league in votes; streaking Bogaerts of Boston ahead at short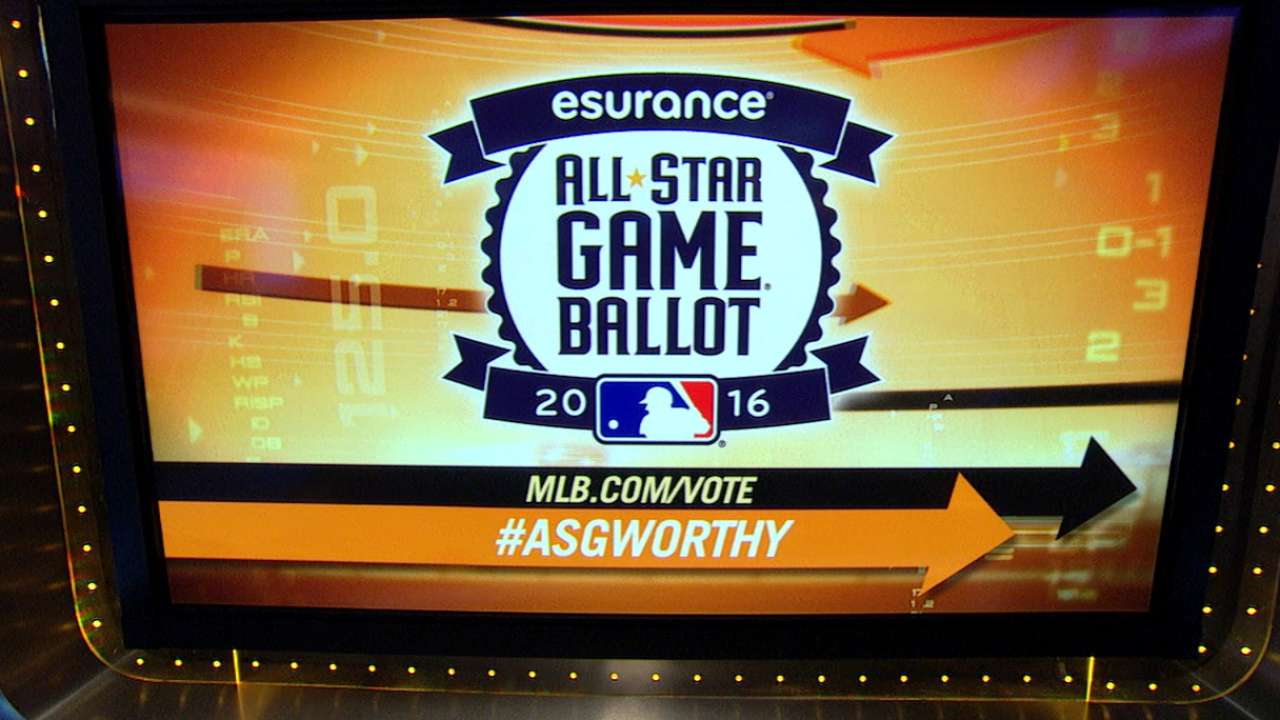 The 2016 Esurance MLB All-Star Game Ballot reached a key point on Tuesday as the first weekly voting update was released by Major League Baseball, beginning with the American League races. Kansas City has three leaders and the Orioles and Red Sox two each as fans continue to decide starters for the 87th All-Star Game on July 12 in San Diego.
Will Salvador Perez make it a fourth consecutive All-Star selection at catcher? Fans are saying "yes" so far to the 2015 World Series MVP, who had a five-hit game on May 23 and has thrown out half of would-be basestealers against him to lead the Majors. Meanwhile, a Yankees team that not long ago was a top-five ballot-update fixture has its only top-five entry in Brian McCann, who is second in the voting.
• National League All-Star balloting update
Xander Bogaerts of the Red Sox is sitting on a 23-game hitting streak and the AL shortstop voting lead. He leads all AL players at that position with 2.6 Wins Above Replacement, tops the AL with a .354 batting average, and has been a key to Boston's rise atop the AL East. In second place is Kansas City's Alcides Escobar, who led when the first ballot update was released last year.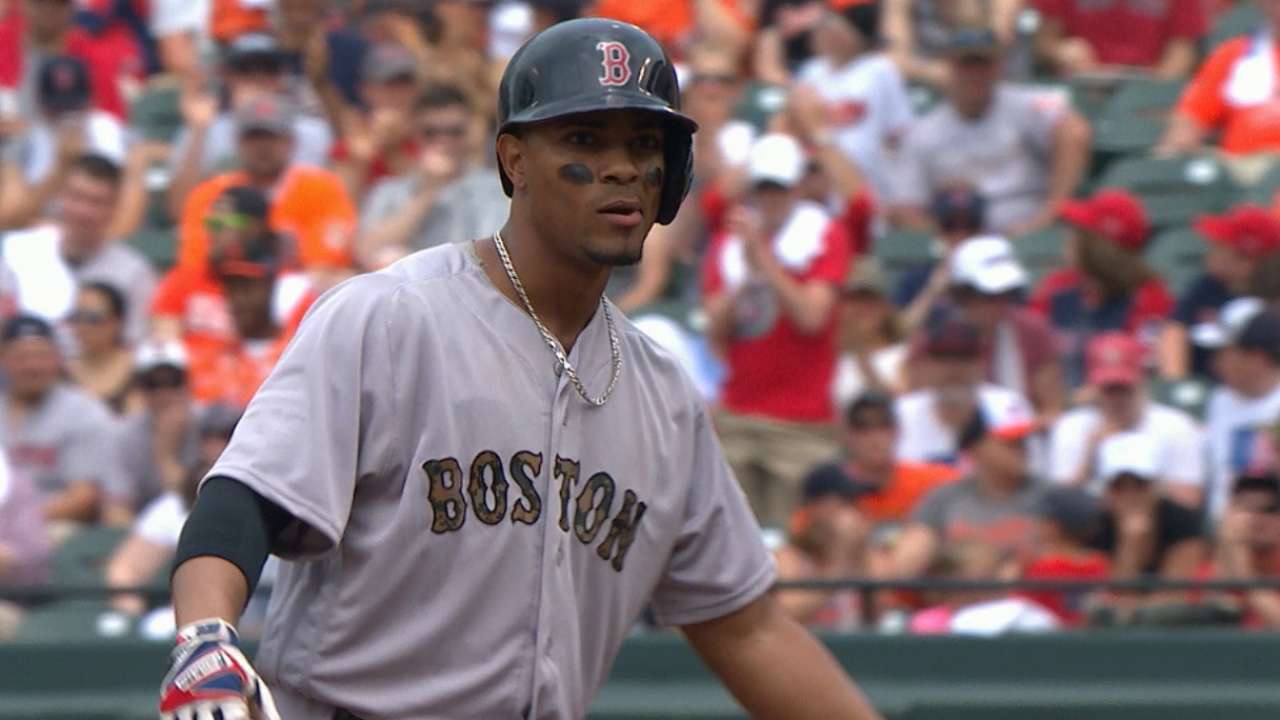 Meanwhile, Eric Hosmer of the Royals has the early jump at first base in his bid for a first Midsummer Classic selection, batting .323 with 10 homers and 33 RBIs. He did not hit his 10th homer last year until July 27, but he already reached that mark with a three-run shot in the eighth inning of Monday's 6-2 win over the Rays. Right behind him is Detroit's Miguel Cabrera, who is putting up his usual numbers -- leading all AL first basemen with a .922 OPS -- and contending for a seventh consecutive and 11th overall selection.
Jose Altuve of the Astros is on track for what would be a fourth All-Star selection in five years, leading all AL second basemen in average (.325), OPS (.957), hits (67), doubles (18), walks (26) and stolen bases (AL-best 15). It is going to be fascinating to watch this race, though. Omar Infante of Kansas City (.244/.288/.331) is currently second, while Robinson Cano of Seattle, a six-time All-Star, has been resurgent and leads all AL second basemen with 15 homers and 44 RBIs.
The Orioles' Manny Machado, who just made his 500th start (and MLB-leading 211th in a row) on Monday, is in line for his first All-Star start after being selected as a reserve in 2013 and '15. Machado was the AL Player of the Month for April and continued to excel with the league's third-best OPS (.998). Last year's All-Star starter, Josh Donaldson of the Blue Jays, is in third, with Mike Moustakas of Kansas City -- who is out for the season with a torn ACL -- between them. No AL third baseman has more homers or RBIs than Todd Frazier of the White Sox (15 and 35, respectively), so it will be interesting to see his support numbers over the next month.
David Ortiz of the Red Sox leads all designated hitters, and this is hardly a sentimental final-season choice so far. The nine-time All-Star leads the Majors at age 40 with 23 doubles, 47 RBIs, a .419 on-base percentage, a .727 slugging percentage, a 1.146 OPS and 125 total bases.
Last year's starting AL outfield was Mike Trout of the Angels (All-Star MVP two times running), Lorenzo Cain of the Royals and an Oriole, Adam Jones. So far it's the same makeup except for a different Oriole -- Mark Trumbo. Jackie Bradley Jr., who had a 29-game hitting streak ended last week, is fourth, and right behind him is Toronto's Jose Bautista, who is tied with Cabrera for the AL's longest active All-Star selection streak (six).
Fans can cast their votes for starters at MLB.com and all 30 club sites -- on their computers, tablets and smartphones -- exclusively online using the 2016 Esurance MLB All-Star Game Ballot until Thursday, June 30, at 11:59 p.m. ET. Vote up to five times in any 24-hour period for a maximum of 35 times.
Fans can also receive the ballot by texting VOTE to 89269 (USA) or 101010 (Canada). Or text VOTA for a ballot in Spanish. Message and data rates may apply, with a maximum of up to five messages and no purchase required. Reply STOP to cancel. Reply HELP for info.
Following the announcement of the 2016 All-Stars, be sure to return to MLB.com and cast your 2016 Esurance MLB All-Star Game Final Vote for the final player on each league's All-Star roster. On Tuesday, July 12, watch the 2016 All-Star Game presented by MasterCard live on FOX, and during the game visit MLB.com to submit your choice for the Ted Williams Most Valuable Player Award presented by Chevrolet via the 2016 MLB All-Star Game MVP Vote.
The 87th All-Star Game will be televised nationally by FOX, in Canada by Rogers Sportsnet and RDS, and worldwide by partners in more than 160 countries via MLB International's independent feed. ESPN Radio and ESPN Radio Deportes will provide national radio coverage of the All-Star Game. MLB.com, MLB Network and SiriusXM will also provide comprehensive All-Star Week coverage. For more information, please visit allstargame.com.
AMERICAN LEAGUE ALL-STAR BALLOTING LEADERS
CATCHER
1. Salvador Perez, Royals: 1,094,942
2. Brian McCann, Yankees: 319,679
3. Matt Wieters, Orioles: 303,500
4. Russell Martin, Blue Jays: 217,360
5. Blake Swihart, Red Sox: 149,694
FIRST BASE
1. Eric Hosmer, Royals: 871,222
2. Miguel Cabrera, Tigers: 466,523
3. Chris Davis, Orioles: 387,876
4. Hanley Ramirez, Red Sox: 296,276
5. Jose Abreu, White Sox: 189,963
SECOND BASE
1. Jose Altuve, Astros: 624,218
2. Omar Infante, Royals: 473,205
3. Robinson Cano, Mariners: 354,415
4. Dustin Pedroia, Red Sox: 339,139
5. Jonathan Schoop, Orioles: 210,937
THIRD BASE
1. Manny Machado, Orioles: 630,028
2. Mike Moustakas, Royals: 566,278
3. Josh Donaldson, Blue Jays: 450,585
4. Nick Castellanos, Tigers: 253,160
5. Travis Shaw, Red Sox: 240,730
SHORTSTOP
1. Xander Bogaerts, Red Sox: 598,847
2. Alcides Escobar, Royals: 593,218
3. Troy Tulowitzki, Blue Jays: 325,949
4. Carlos Correa, Astros: 304,997
5. J.J. Hardy, Orioles: 226,087
OUTFIELD
1. Mike Trout, Angels: 934,137
2. Lorenzo Cain, Royals: 647,339
3. Mark Trumbo, Orioles: 641,594
4. Jackie Bradley Jr., Red Sox: 554,887
5. Jose Bautista, Blue Jays: 551,812
6. Alex Gordon, Royals: 540,309
7. Mookie Betts, Red Sox: 400,700
8. Paulo Orlando, Royals: 385,997
9. Adam Jones, Orioles: 263,579
10. Melky Cabrera, White Sox: 248,249
11. Carlos Beltran, Yankees: 210,885
12. Kevin Pillar, Blue Jays: 210,665
13. Colby Rasmus, Astros: 208,105
14. Joey Rickard, Orioles: 203,704
15. Michael Saunders, Blue Jays: 181,692
DESIGNATED HITTER
1. David Ortiz, Red Sox: 963,076
2. Kendrys Morales, Royals: 496,941
3. Edwin Encarnacion, Blue Jays: 249,565
4. Victor Martinez, Tigers: 241,208
5. Nelson Cruz, Mariners: 208,953
Mark Newman is enterprise editor of MLB.com. Read and join other baseball fans on his MLB.com community blog. This story was not subject to the approval of Major League Baseball or its clubs.