Top GIFs: Napoli makes fan's dream come true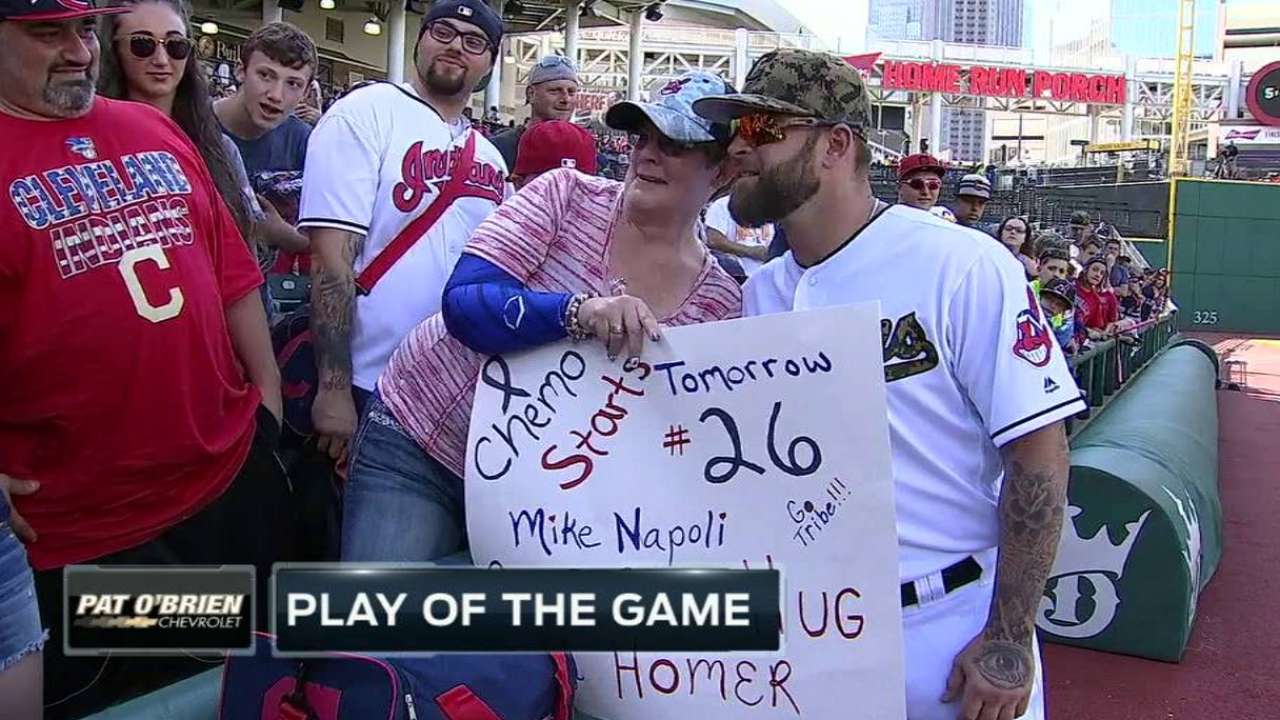 Here are the Top GIFs from Monday's games, courtesy of @MLBgifs.
1. Special delivery
A fan came to the Indians-Rangers game with a sign that read "Chemo starts tomorrow. Mike Napoli, can I get a hug and a homer?" Not only did Napoli come to see the fan and give her a hug as well as autographs before the game, but he obliged with a home run in the sixth inning off Texas starter Derek Holland.
2. Knuckle under
During his complete game victory over the Orioles in Baltimore, knuckleballer Steven Wright absolutely baffled slugger Chris Davis -- and everyone watching -- with a knuckler that appeared to defy the laws of physics as it danced around Davis' bat.
3. Reunited and it feels so good
After reaching first base on a single during the series opener between the Mets and White Sox, Yoenis Cespedes announced his presence to friend and fellow Cuban slugger Jose Abreu by giving him a shove from behind.
4. The greatest generation
World War II veteran Burke Waldron, 92, threw out the ceremonial first pitch before the Mariners took on the Padres in Seattle on Memorial Day. And not only did he sprint out to the mound, but the southpaw delivered a fine ball to boot.
5. Get that out of here
How do you make sure a ball stays foul if you're a first baseman? You do what the Reds' Joey Votto did against the Rockies at Coors Field -- slap that thing away.
6. Nice cannonball
It's always fun when a home run ball lands in the pool beyond the right-center field wall at Chase Field. You know what's even better? When you get an underwater view of its splash.
Manny Randhawa is a reporter for MLB.com. This story was not subject to the approval of Major League Baseball or its clubs.