O's Joseph has surgery after foul hits groin
Catcher's return date unknown; Pena recalled to back up Wieters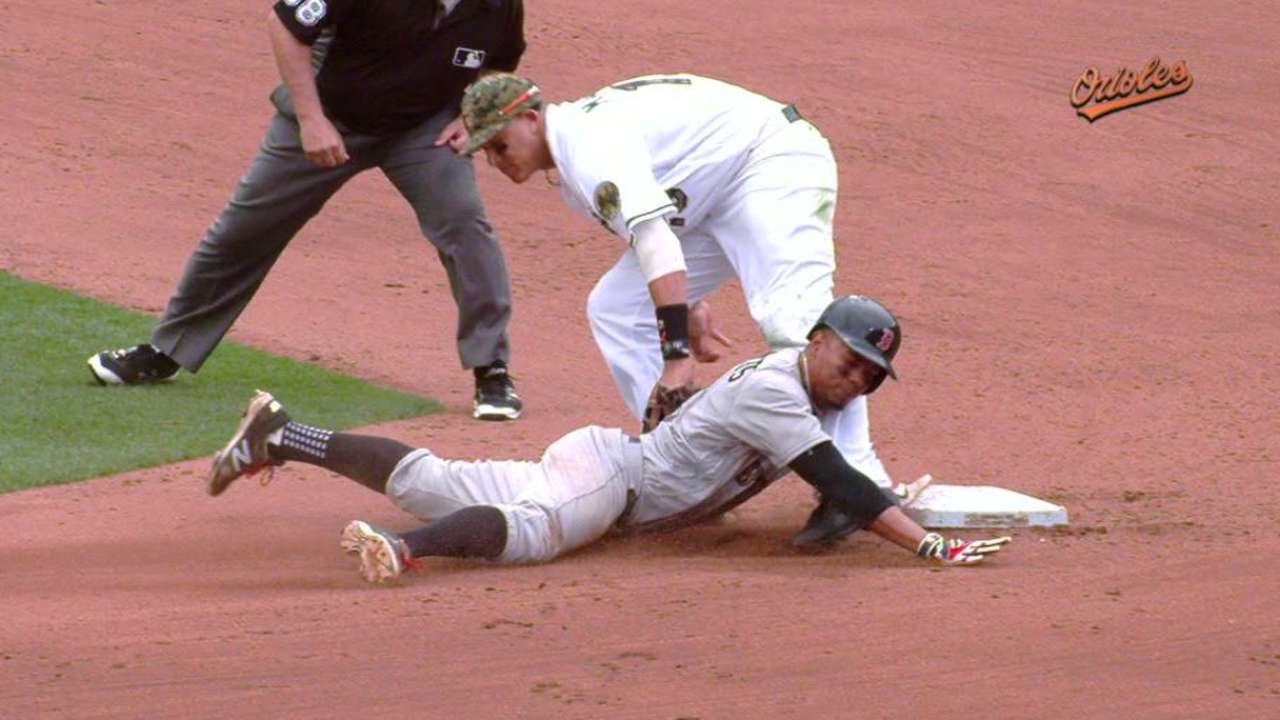 BALTIMORE -- Orioles catcher Caleb Joseph underwent surgery late Monday night after a foul tip struck him in the groin during Monday's 7-2 loss to Boston. Joseph was placed on the 15-day disabled list Tuesday with a testicular injury.
Orioles manager Buck Showalter declined to go into detail on the surgery, but he said the urologist opted for surgery after they didn't like Joseph's symptoms. Given the uncommon nature of the injury, Showalter didn't have a timetable for Joseph's return.
"I know what they thought but there's not a whole lot of history that says, 'If you have this done and you're a catcher when are you going to be able to catch again?'" Showalter said. "Obviously, not before 15 days."
Joseph has started 19 games backing up Matt Wieters. With Joseph headed to the DL, the Orioles recalled catcher Francisco Pena from Triple-A Norfolk.
The 26-year-old Pena didn't know Joseph was injured during Monday's game, so he was surprised when he got a call Tuesday around 10:30 a.m. ET from Norfolk manager Ron Johnson, who told him he was headed to Baltimore.
The self-described defensive catcher is hitting .200 in 24 games at Norfolk this season, but he has hit safely in five of the past six contests, batting .353/.421/.353 (6-for-17) in that stretch.
Pena said he feels comfortable in Baltimore because he played with the guys during Spring Training.
"It helps me a lot because I know everybody here," Pena said. "I caught all the guys in the bullpen; I caught all the starters here. So I have a pretty good idea of what they got, what they throw, what they like to do, what are their tendencies."
The Orioles may call on Pena often while Joseph recovers as Wieters has only caught three straight games once since undergoing Tommy John surgery in June 2014. Although Pena has started just one game -- a 6-0 loss on Sept. 25, 2015, with the Royals -- Showalter doesn't plan to have Wieters catch more often.
"It doesn't change anything about Matt," Showalter said. "We are not going to start pushing up his load and jeopardize something down the road. He may feel differently, but we'll take it day to day. Shouldn't change anything about that. But we'll see."
Ryan Baillargeon is a reporter for MLB.com based in Baltimore. This story was not subject to the approval of Major League Baseball or its clubs.