A's edge Twins to carry series opener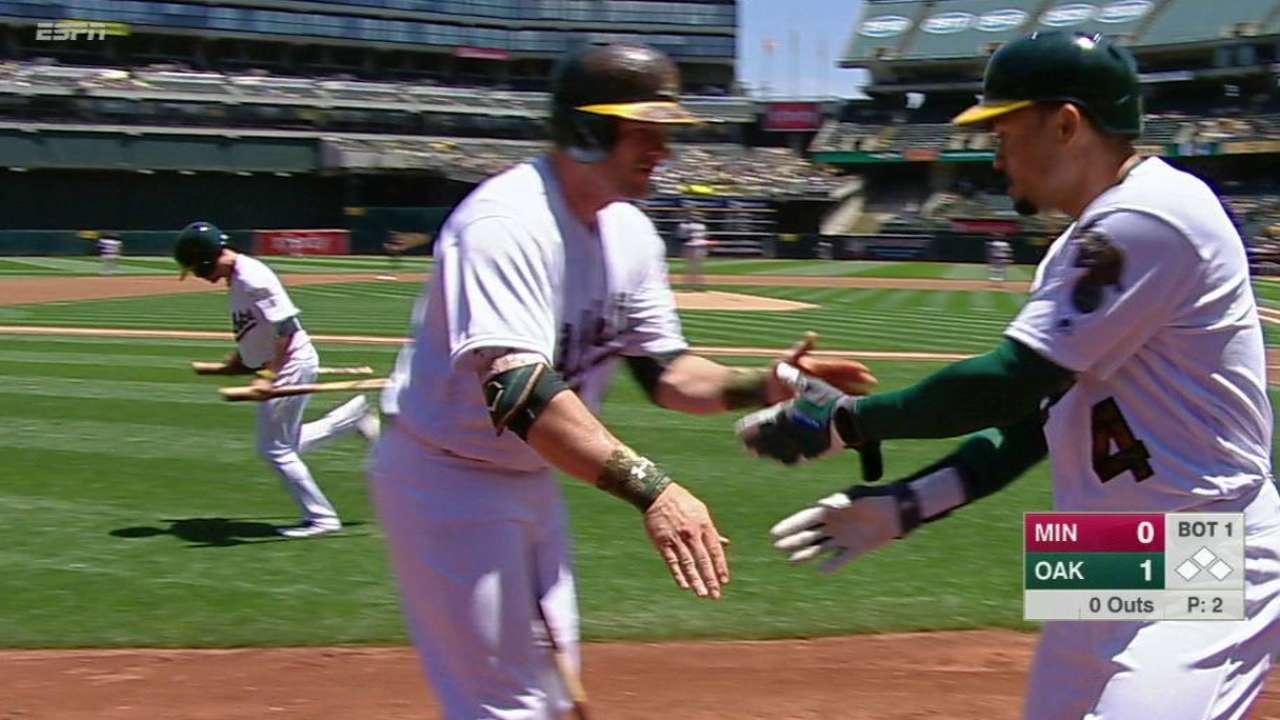 OAKLAND -- A's outfielder Coco Crisp belted a leadoff home run in support of starter Kendall Graveman, who held the Twins to two runs across six innings to pull out a 3-2 series-opening victory at Oakland Coliseum on Monday afternoon.
"Guys know what Coco's all about and how he plays the game," A's manager Bob Melvin said. "It's easy for me having a guy like that, who plays all-out, who plays hard all the time. For some of the new guys coming in, this is how we play. And when he's healthy, he's usually productive, and he definitely is right now."
The A's carried a one-run deficit into the bottom half of the fifth, when Marcus Semien hit a game-tying double to bring home Yonder Alonso, who led off with a base hit. Oakland took the lead for good in the next inning, as Jed Lowrie notched a leadoff single, advanced to third on Stephen Vogt's double and scored on a sacrifice fly from Khris Davis.
Twins starter Ervin Santana was on the hook for all three runs, scattering seven hits in as many innings in the loss. Graveman, meanwhile, picked up just his second win and first since April 20, after yielding six hits and three walks with five strikeouts.
"There's not much to complain about with the effort we got from [Santana]," Twins manager Paul Molitor said. "It was a good game but not a lot offensively for us. It was a little disappointing in that we liked the matchup headed in and how we'd been playing, but we didn't swing the bats well today."
MOMENTS THAT MATTERED
Spark plug: Crisp wasn't expected to carry an everyday role this season because of his injury-prone past, but on Monday the outfielder made his 15th consecutive start, matching his longest such streak over the last three years. Crisp celebrated the occasion with a leadoff home run, the 16th of his career. The veteran has five big flies on the season.
"As long as I can go out there and give whatever I got, whatever it is, 100 percent, then I'm going to try to do that," Crisp said. "If they keep throwing me out there, then I want to be out there. It's working out." More >
Santana leaves with injury: The Twins opened the seventh with back-to-back singles from Juan Centeno and Danny Santana, and opted to have Eduardo Nunez bunt the runners over. But Santana left the game with a left hamstring strain after reaching second base, getting replaced by Trevor Plouffe. The rally also fizzled, as Brian Dozier struck out and Joe Mauer lined out to first to end the inning.
• Hot-hitting Nunez opts for bunt amid rally
"I wanted to stay in the game, but we were in a situation to win the game so we couldn't do it," said Santana, who was placed on the 15-day disabled list after the game with Byron Buxton getting called up. More >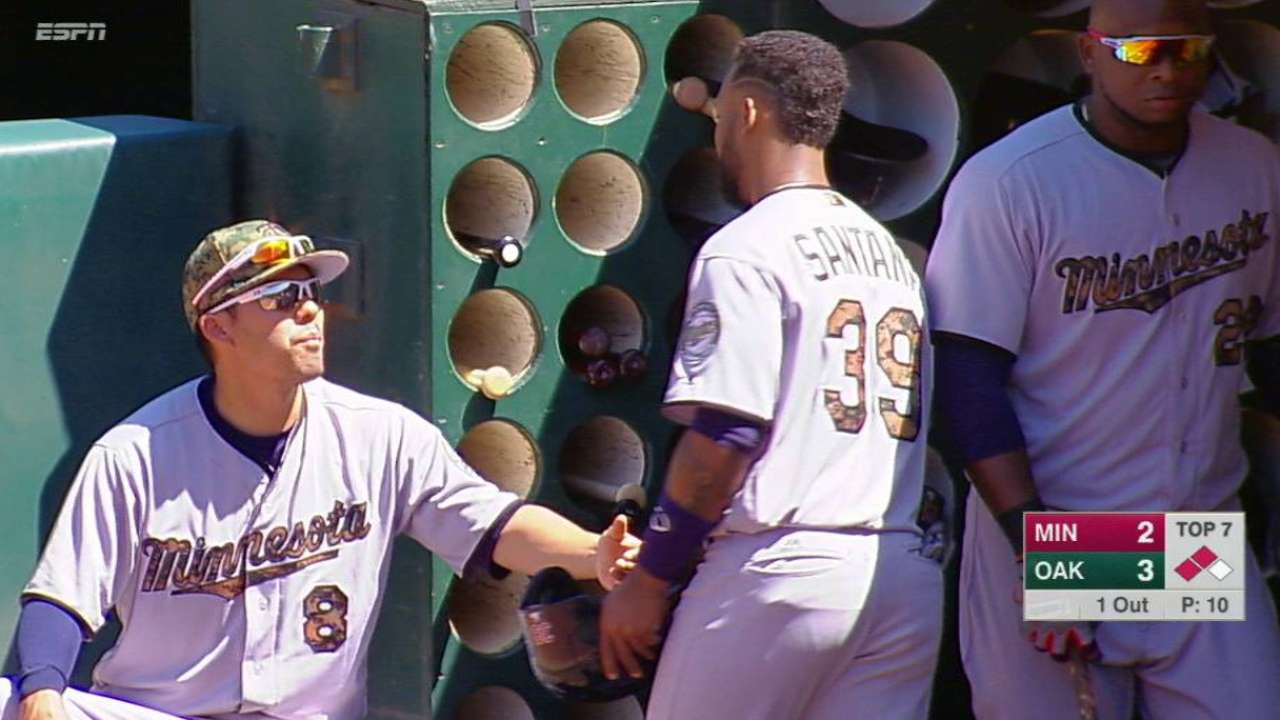 What a relief: After the A's regained the lead in the sixth, they nearly lost it in the seventh. But John Axford and Sean Doolittle navigated through traffic unscored upon, with a big assist from Alonso. After Axford fanned Dozier for the second out, Doolittle was struck for a screaming line drive off the bat of Mauer that first baseman Alonso snagged on an excellent diving play to his right. Doolittle returned to pitch a perfect eighth, and Ryan Madson picked up his 12th save with a scoreless ninth.
"He totally picked me up, and that ended up being the difference in the game," Doolittle said. "It was nice to catch a break. I said 'thank you' to him like 100 times. That was huge. I don't think you can overstate how big that was."
"In close games like that there are going to be certain plays that are more impactful than others and some that don't show up in the box score, and that was definitely one of them," Melvin said."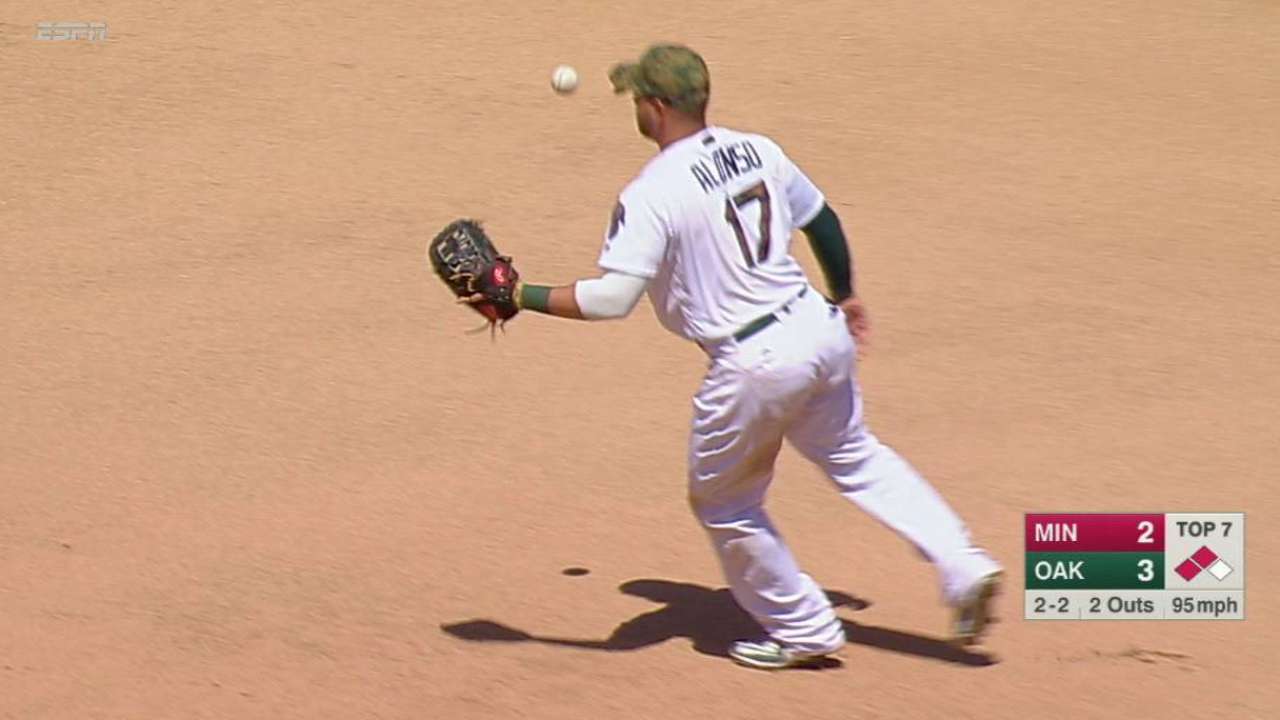 Centeno gets Twins on the board: Eduardo Escobar helped keep the second inning alive with a two-out single to move Miguel Sano from first to third after he led off the inning with a single. Centeno ripped a hard grounder down the first-base line and it hit off the bag and went into right field for an RBI single.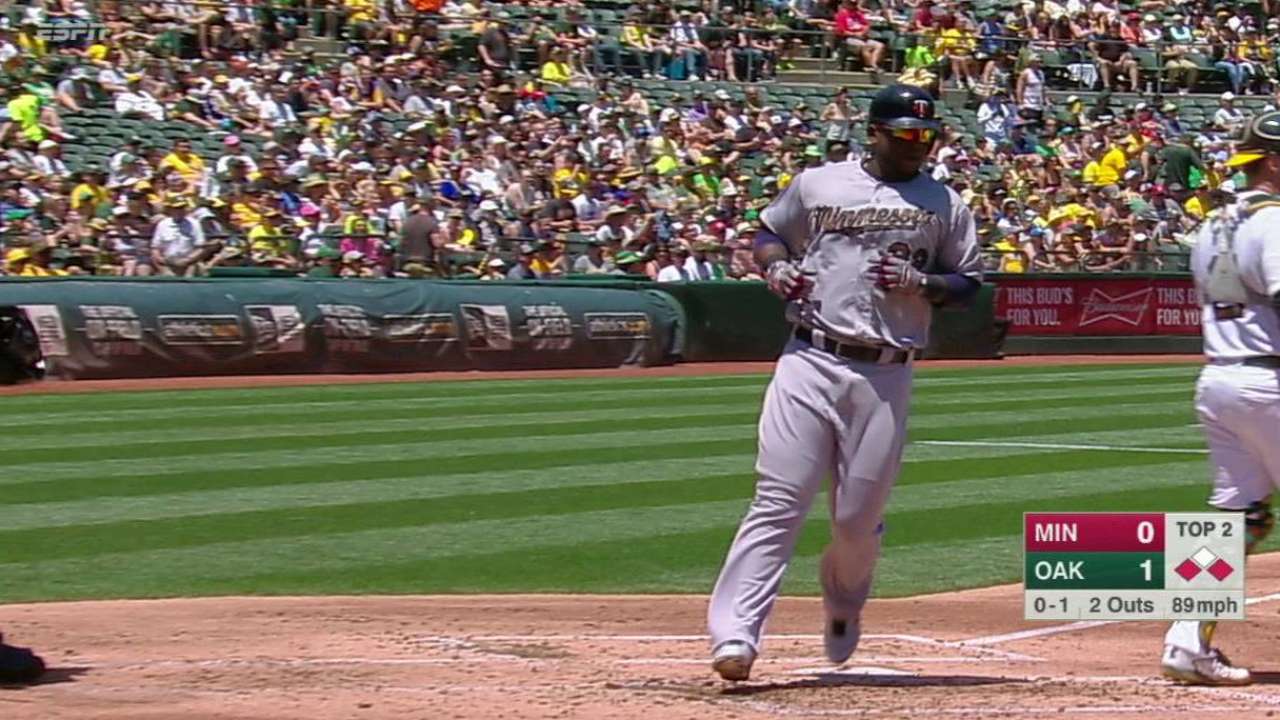 REPLAY REVIEW
The A's unsuccessfully challenged a play in the fifth, when Semien hit a game-tying RBI double but was thrown out at third trying to stretch it to a triple. After a review, the play on the field stood as called, as Semien was out at third for the first out of the inning.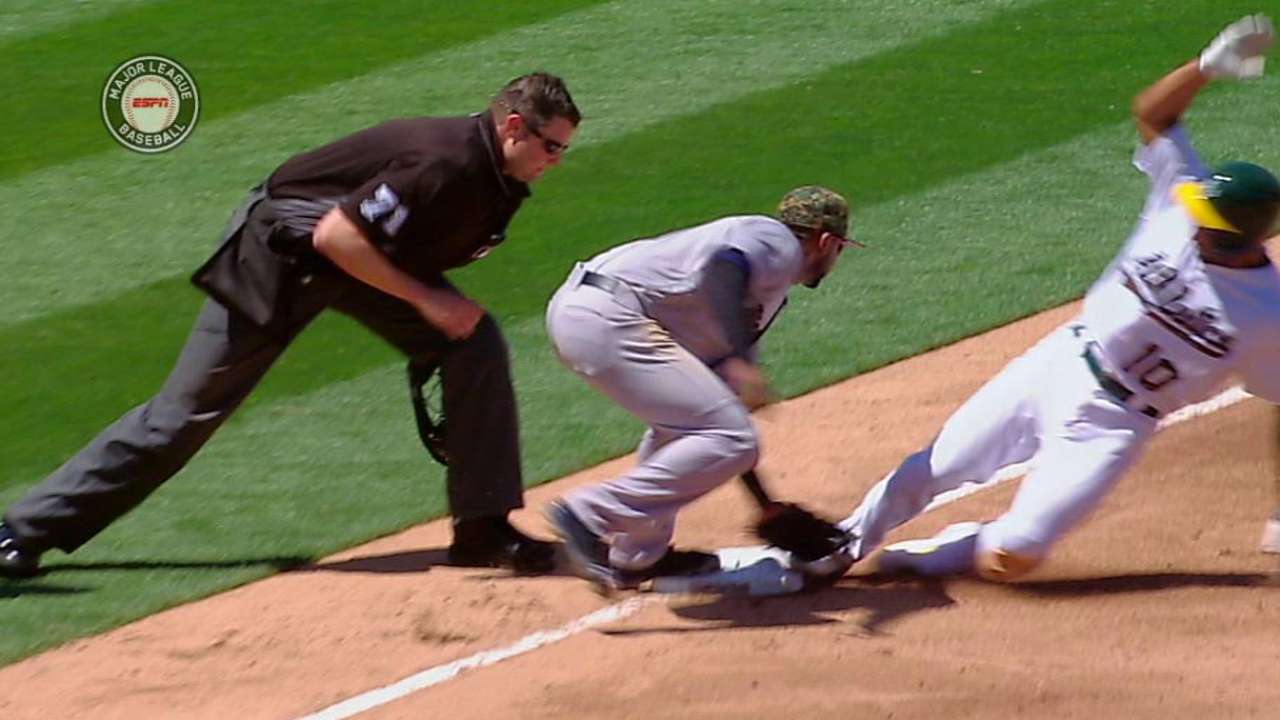 WHAT'S NEXT
Twins: Right-hander Tyler Duffey had three quality starts in his first four appearances of the season but has gotten roughed up in his last two outings, in which he has allowed 11 earned runs in 12 1/3 innings. He will look to get back on track in his first career start against the Athletics at 9:05 p.m. CT.
Athletics: Left-hander Eric Surkamp will be recalled from Triple-A Nashville on Tuesday for a 7:05 p.m. PT start against the Twins at the Coliseum. It will mark Surkamp's third stint with the A's this season. He was 0-3 with a 6.55 ERA in a combined five starts over his first two tours.
Watch every out-of-market regular-season game live on MLB.TV.
Jane Lee has covered the A's for MLB.com since 2010.

Do-Hyoung Park is a reporter for MLB.com and covered the Twins on Monday.

This story was not subject to the approval of Major League Baseball or its clubs.