A-Gone recaptures stroke with big series in NY
Dodgers first baseman goes 8-for-13 with deciding two-run single in finale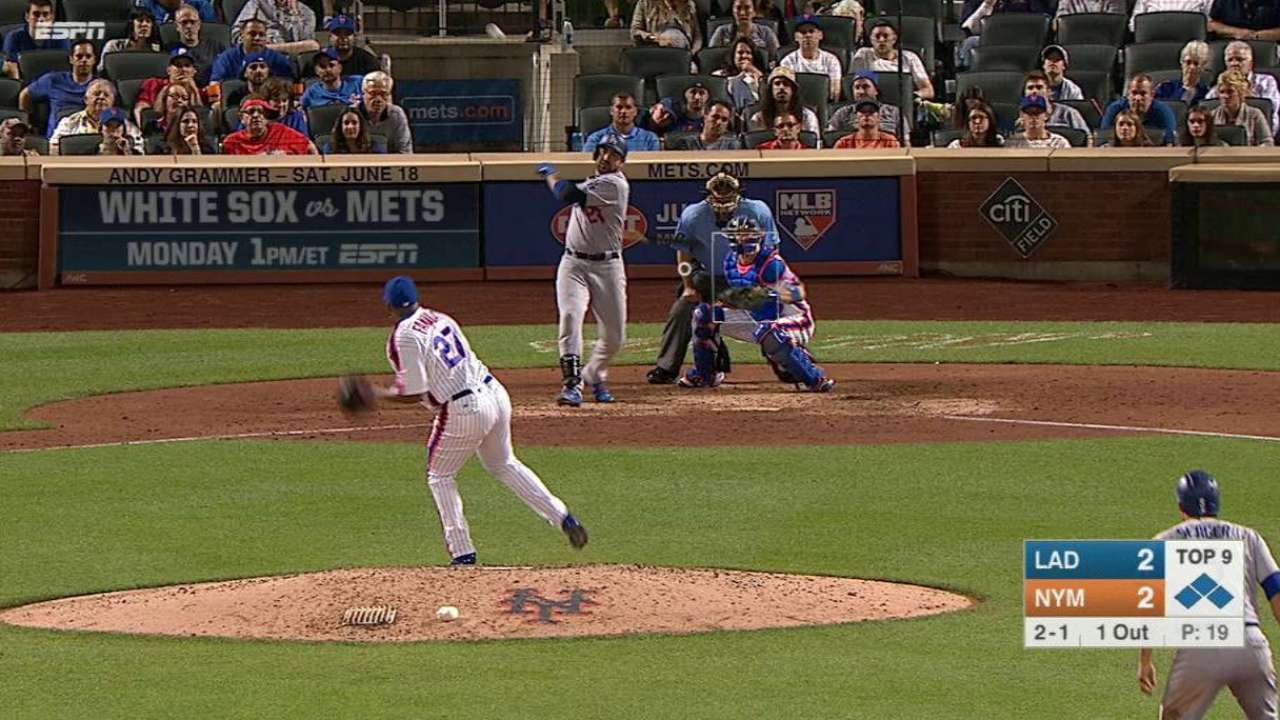 NEW YORK -- Adrian Gonzalez's tiebreaking hit in the ninth inning against the Mets on Sunday night was emblematic of what he means to the Dodgers, the capper on a series in which one of the game's better pure hitters returned to form.
The danger returned to Gonzalez's bat at Citi Field, where he raised his batting average 25 points with three straight multihit games, closing his series with a two-run single off Mets closer Jeurys Familia in a 4-2 Dodgers win in the finale.
Gonzalez is healthy after dealing with back problems for the first month and a half of the season that forced him to miss several games and get an epidural in mid-May. The issue is out of his mind for now, and he said he's been able to refocus at the plate.
"For the most part, I think I just stopped trying to figure out a way to drive the ball, and I'll just get my singles," Gonzalez said. "And if I drive the ball, I'll just be surprised. ... So far it's felt good these three games."
Gonzalez finished the series 8-for-13, with a homer, a double and four RBIs, including the go-ahead hit Sunday just after the Mets rallied to tie the game in the eighth.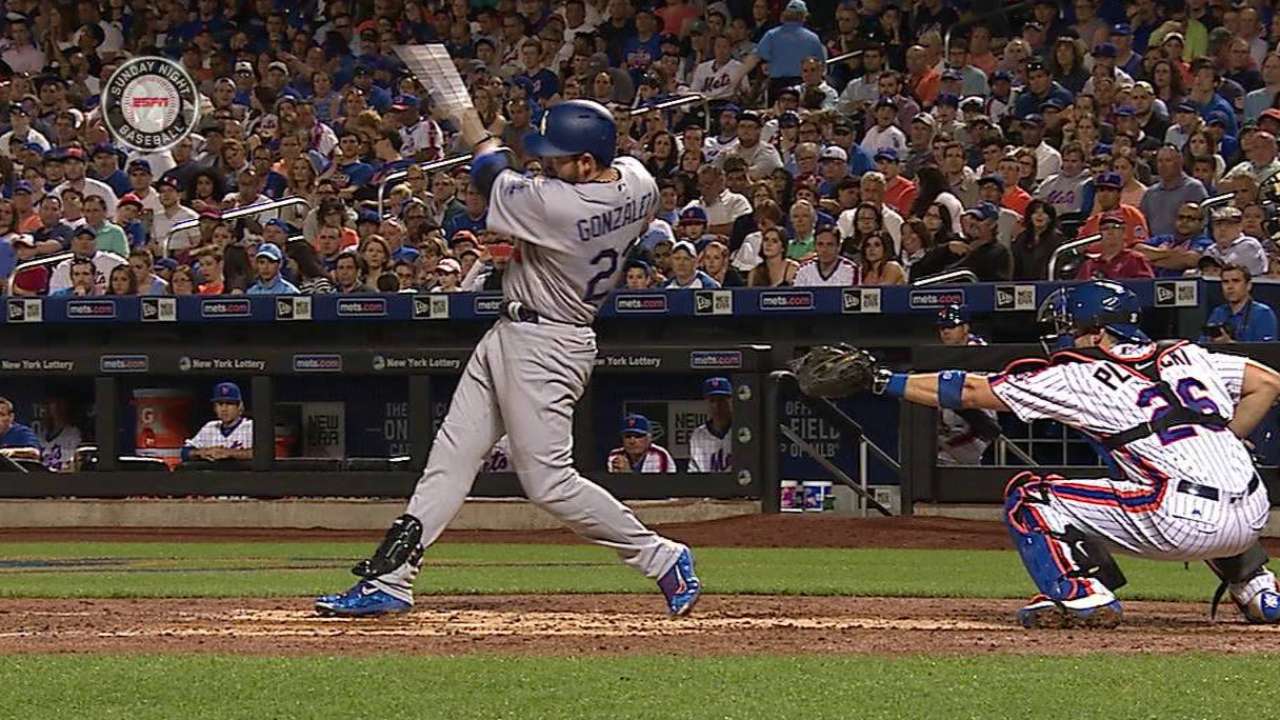 Against a pitching staff like the Mets have, what Gonzalez was able to do was impressive -- and, as arguably his team's most important hitter, critical for the Dodgers. When Gonzalez is right, he can win the upper hand even from a pitcher like Familia, one of the top closers in the league.
"Adrian had a plan and was gonna execute it," catcher A.J. Ellis said.
Familia had surprised Gonzalez in Friday's series opener by showing him a pair of four-seam fastballs instead of his trademark sinkers. It was the first time, Gonzalez said, that Familia had ever thrown him that pitch. So he adjusted. On Sunday, he was waiting for it.
"I didn't really care how he was throwing the ball the previous at-bats. He's gonna come after me the way he's gonna come after me," Gonzalez said. "Today I just had an idea or mentality of, 'If he throws me the four-seamer in, I'm gonna be ready for it and not let it jam me and get a short fly ball and get the run in.'"
Gonzalez said he was looking for four-seamers in and splitters down. Instead of splitters, he got sliders. But then he got the four-seamer he wanted -- at 99 mph -- and punched it through the middle of the diamond.
Gonzalez spoke calmly of the plan, and its precise execution, after the game. It was just something a hitter of his caliber can do. Nothing unexpected, for him or his teammates. When the hitters in front of Gonzalez were batting, Ellis said, they were just trying to pass the baton.
"Get the guy up there who's one of the best run-producers in all of baseball," Ellis said.
David Adler is a reporter for MLB.com based in New York. Follow him on Twitter @_dadler. This story was not subject to the approval of Major League Baseball or its clubs.