Pomeranz's recovery helps preserve bullpen
Padres starter allows 6 runs through 2, then tosses 3 hitless frames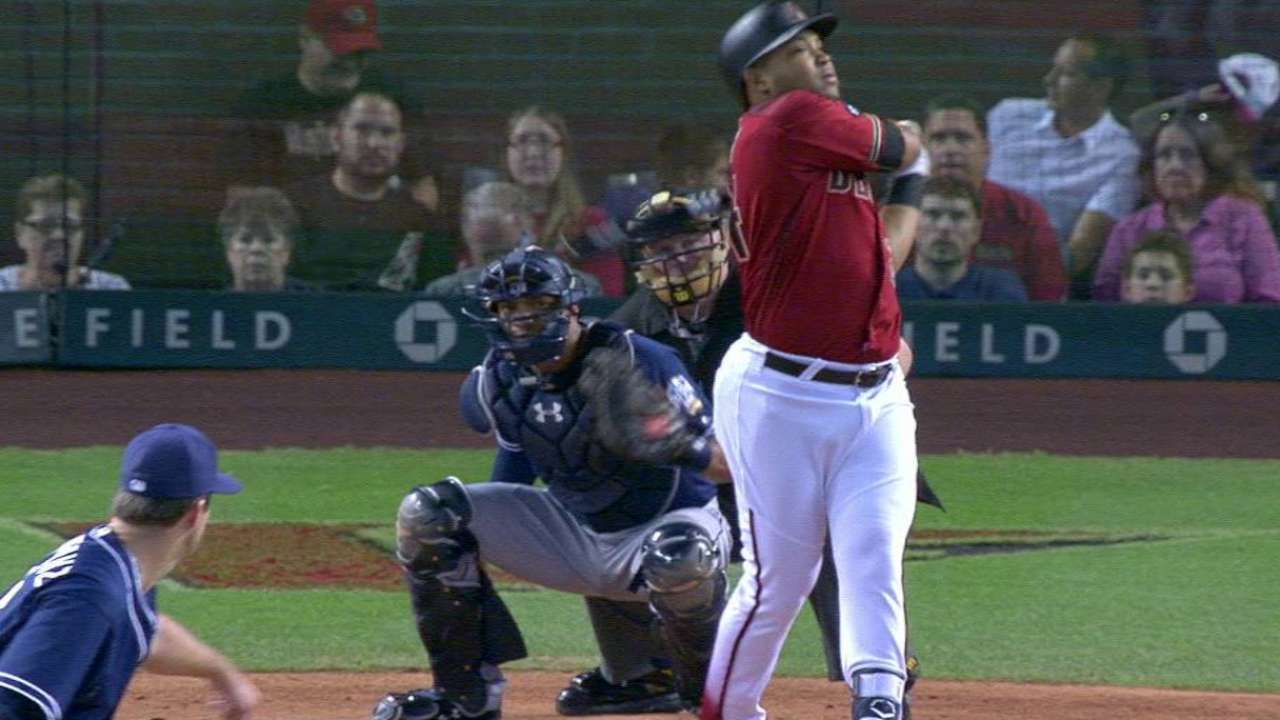 PHOENIX -- Through nine starts with the Padres, everything had gone smoothly for left-hander Drew Pomeranz -- perhaps a bit too smoothly, considering that the sport he plays typically ensures that things don't go according to plan.
"I guess I was due for one of those crazy innings where stuff happens," Pomeranz said.
That crazy inning came in the second frame of Sunday's 6-3 loss to the D-backs, Pomeranz's first truly rough outing of the season and the first in which he allowed more than three earned runs. He surrendered five runs in the second, before settling down for a hitless third through fifth.
By then, however, the damage had been done.
"They had a good approach that inning," Pomeranz said. "They were sitting on some good pitches, and they picked good pitches to hit. They had a lot of things go their way, hit a couple of balls hard."
No errors were committed in the frame, but Pomeranz's defense did him no favors. On a squeeze bunt with no one out, first baseman Wil Myers initially attempted to come home, before throwing the ball errantly to first base. The play was ruled a single, but had Myers gone first right away, he would've likely had the out.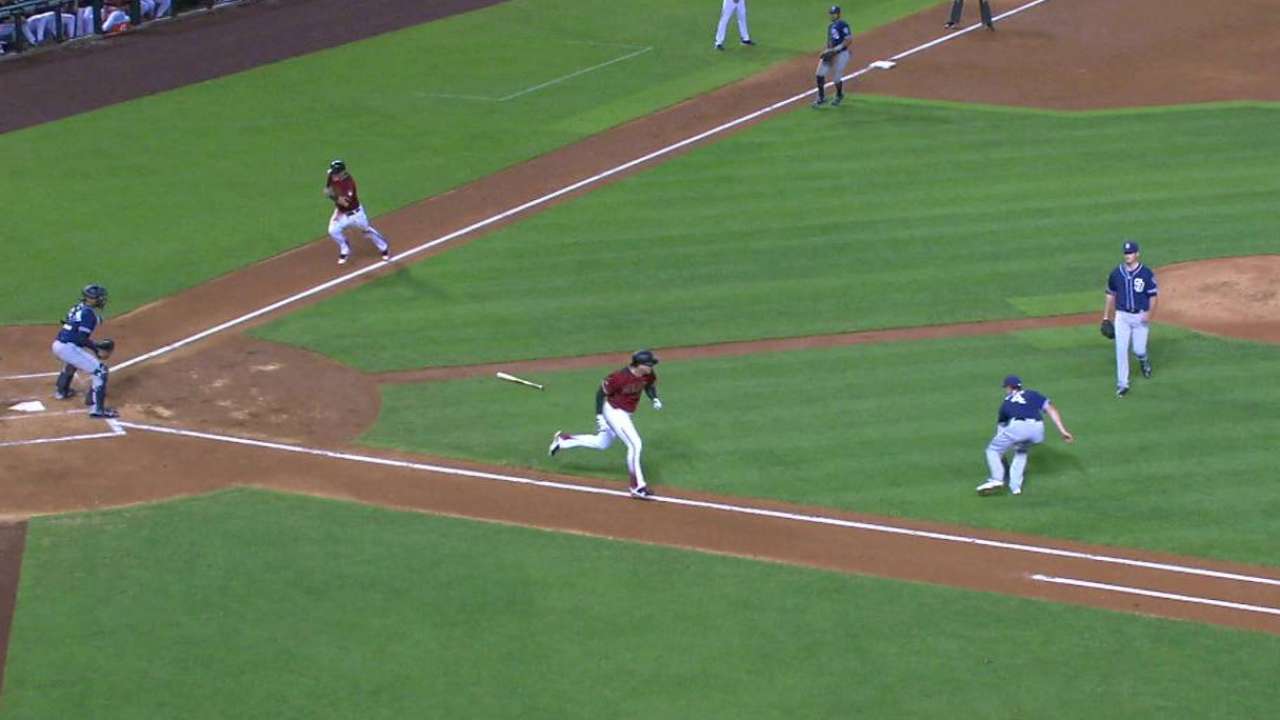 Two batters later, second baseman Alexi Amarista opted to throw home instead of taking an out at first, and Nick Ahmed was ruled safe at the plate after a replay review.
"You don't need to make a hero's play at the plate; just get the out on the bunt," Padres skipper Andy Green said afterward. "Then as the inning developed, we were kind of forced to make some more aggressive choices. That kind of spun it out of control."
But that's not to say Pomeranz wasn't hit hard. Chris Owings' homer, Nick Ahmed's single and Paul Goldschmidt's double were all rockets that left the bat at over 100 mph.
Following Goldschmidt's double, Pomeranz found a rhythm. He didn't allow a hit to any of the final 13 batters he faced -- striking out eight of them, while walking two.
"We didn't do him any favors, but he battled, third through fifth, ended up giving us five innings," said Green. "I thought he was sharp. The last three were kind of what he's given us all year."
After the rough second, Pomeranz began to use his cutter with a bit more frequency -- to much success. He ended the top of the fourth by getting Phil Gosselin to bounce weakly to short on a cutter before blowing one by Goldschmidt.
Pomeranz's past struggles were partially caused by a predictable pitch mix, he admits. During the offseason, he developed the cutter, practically by accident. And while his fastball and curveball are, without question, his top two pitches, the cutter has allowed him to thrive as a starter.
"It's just another look, the way his fastball plays up in the zone," said Green. "The cutter comes in on the hands of guys. It's just another look, and it was very effective today once he started incorporating it."
In the end, Pomeranz took a deserved loss, considering the shaky start to his outing. He finished with six runs on five hits and four walks.
But one day after the Padres' bullpen was called upon in the second inning, Pomeranz at least helped salvage the bullpen arms a bit by working through five frames.
"I just kind of had to regroup and go back out there and try to stay in the game as long as I can, not blow up our bullpen," Pomeranz said. "Becoming a better pitcher and learning how to stay in the game -- I was never good at that before. But I found a way to stay in there a little bit longer today."
AJ Cassavell covers the Padres for MLB.com. Follow him on Twitter @ajcassavell. This story was not subject to the approval of Major League Baseball or its clubs.