A's make Tigers pay for error in series finale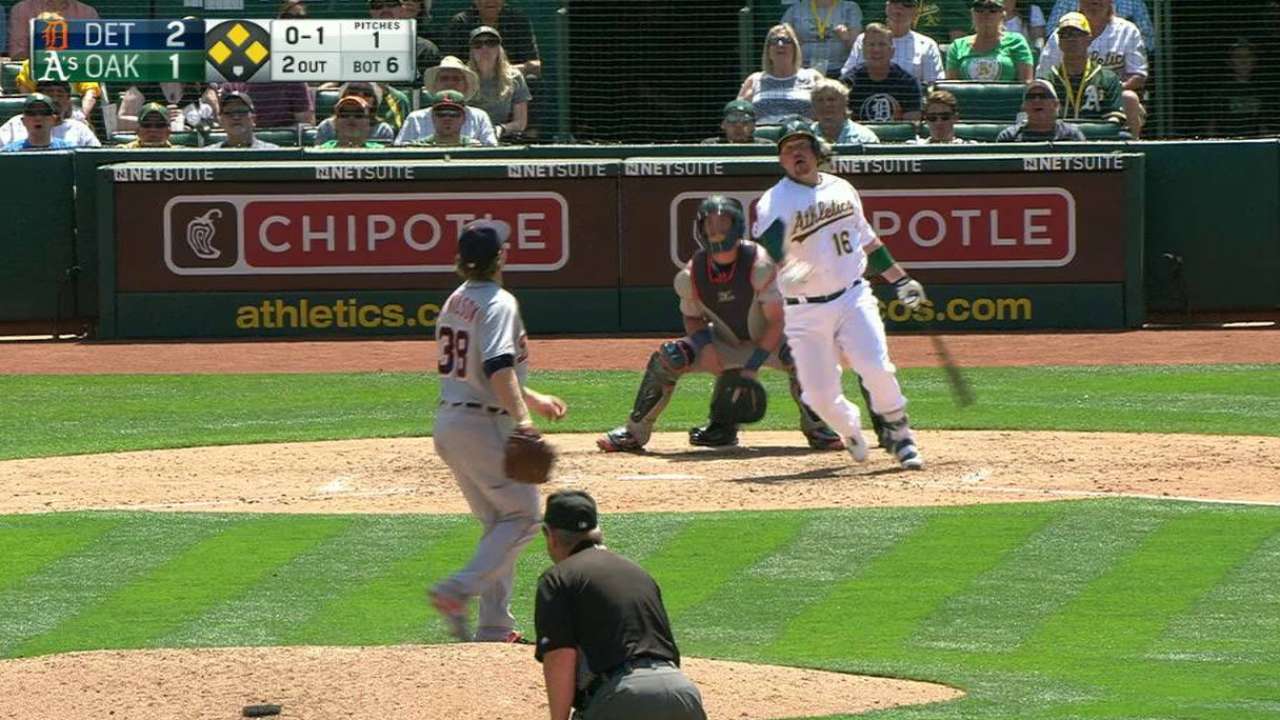 OAKLAND -- Billy Butler hit a pinch-hit go-ahead single in the sixth before A's starter Rich Hill departed with a mild groin strain in Sunday's 4-2 series-finale win over the Tigers at the Coliseum.
Hill left with a trainer after striking out James McCann in the top of the seventh inning, abruptly halting another quality outing, as he struck out nine and left in line for his eighth win of the season.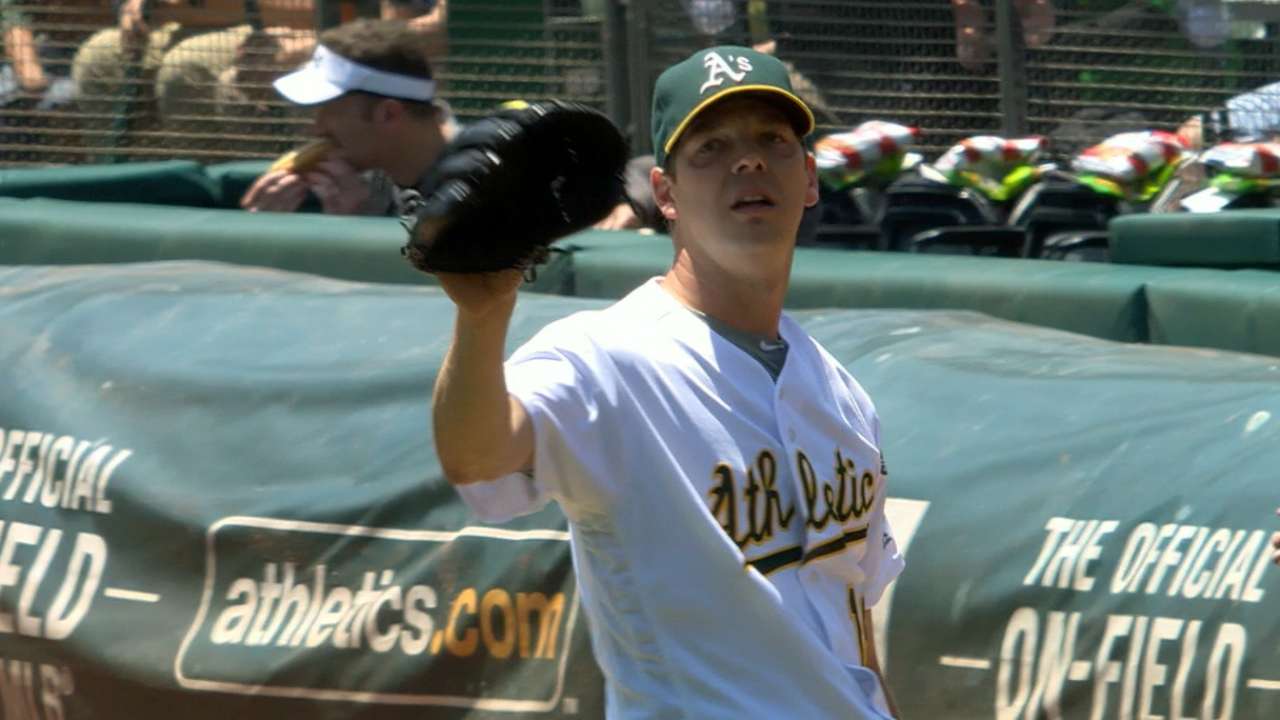 Hill's departure came only a half-inning after Butler connected off Tigers reliever Justin Wilson to make it 3-2. A costly error by second baseman Ian Kinsler on a Yonder Alonso ground ball prolonged the inning and hurt Tigers right-hander Mike Pelfrey, who then walked Marcus Semien to load the bases before departing, saddled with three unearned runs.
"That's a big hit," A's manager Bob Melvin said. "He didn't strike it as hard as he did the other day, but they were playing pretty deep. ... He had the right approach and it worked out for him. It worked out for us."
Detroit got on the board first on RBI singles from McCann in the second and Victor Martinez in the third, but only two Tigers reached base over the game's final six innings. The A's tacked on an insurance run in the eighth on a Jake Smolinski sacrifice fly, and Sean Doolittle earned his third save of the season in the ninth.
MOMENTS THAT MATTERED
Not on him: Pelfrey took the loss, but it was hardly his fault. He had his best outing of the season and was in line for his first win until the A's scored three unearned runs in the sixth. Pelfrey wasn't clean -- he pitched with runners on base in four of his six innings -- but deserved a better outcome.
"The one thing that bothers me more than anything is the sixth inning," Pelfrey said. "For some reason I've been struggling to get through the sixth inning. It bugs the [heck] out of me. At the end of the day, I'd love to win games. ... Obviously, that didn't happen today."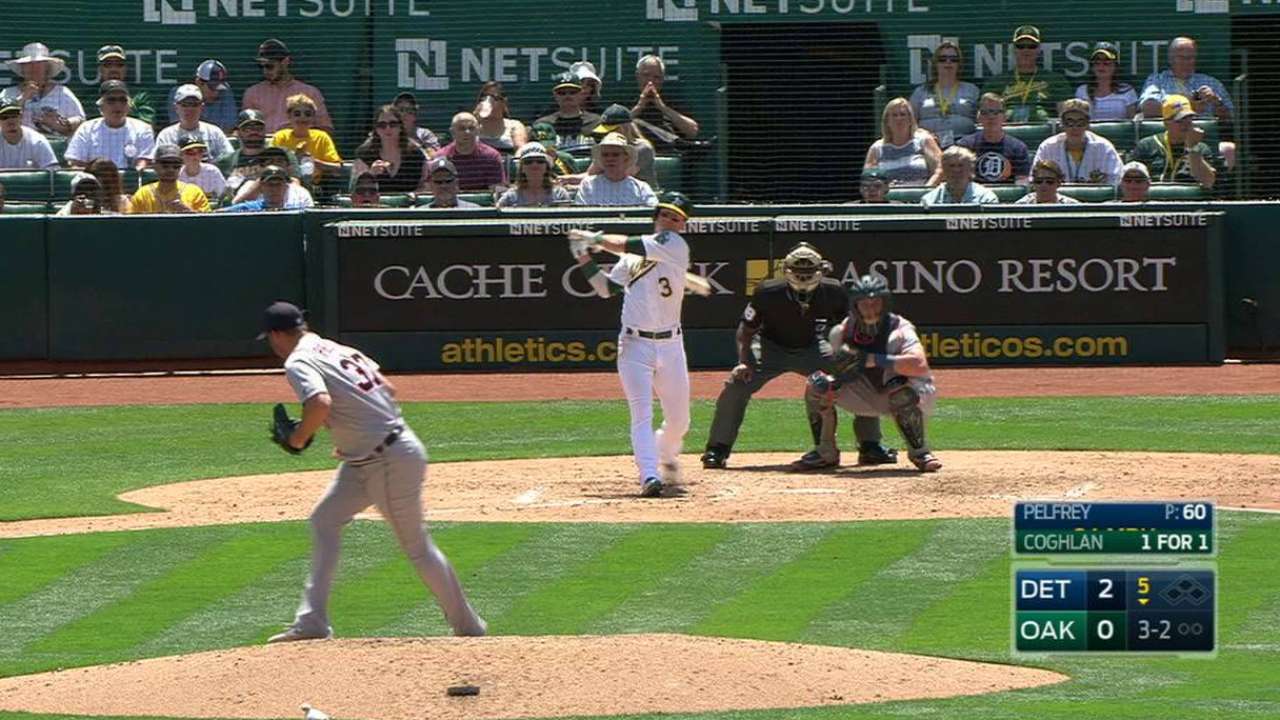 Butler's big inning: Butler played the hero for the second straight day, as his go-ahead two-run single to center in the sixth gave Oakland a one-run lead. His appearance was brief, as he was replaced by pinch-runner Smolinski after pinch-hitting for Chris Coghlan. He also hit the go-ahead single in the sixth inning on Saturday in a game in which he went 2-for-3, including his first homer of the year.
"You just have to be ready for your time and be prepare to do it. You can only control what you can do," Butler said. More >
Kinsler's costly error: The A's had two outs with runners on the corners in the sixth when Alonso hit a grounder to Kinsler. Kinsler could not field the ball cleanly and was charged with an error, opening the door for Oakland to score three unearned runs. More >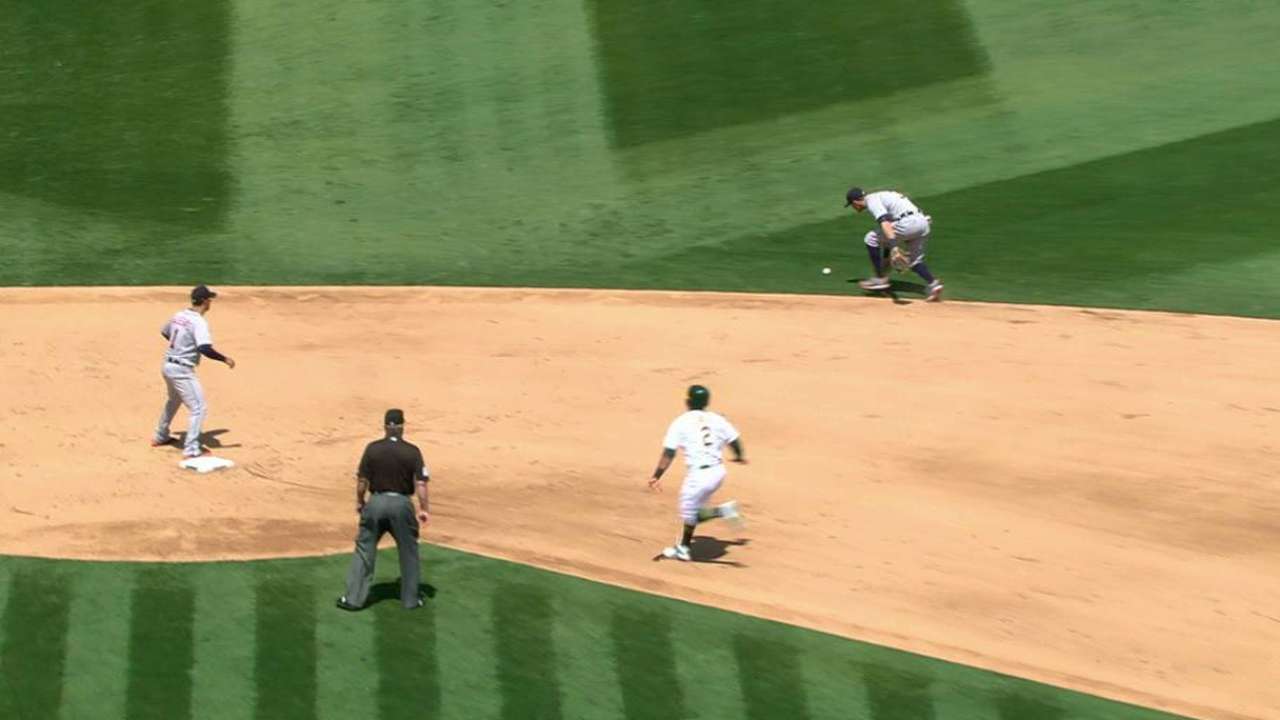 Hill leaves in the seventh: Hill left with a trainer, but it wasn't immediately clear how his injury occurred. He had settled down after a stressful start, retiring 12 of the last 14 Tigers he faced, before departing after throwing 104 pitches. Oakland has a league-high 11 players -- seven of whom are pitchers -- on the disabled list; losing Hill, who has been the team's most reliable pitcher, for any extended period of time would hurt.
"It's a real mild groin strain," Melvin said. "He wanted to stay in, but I didn't want to put him in a position where it could get worse." More >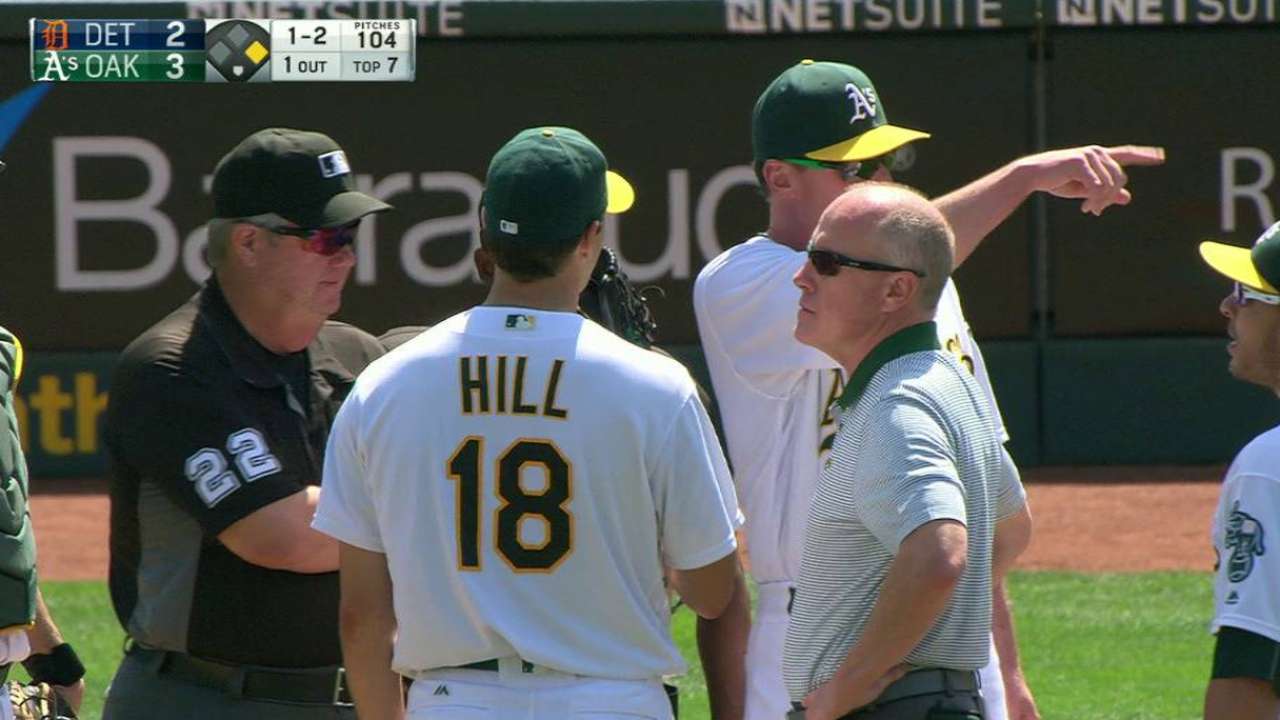 WHAT'S NEXT
Tigers: Right-hander Justin Verlander will pitch the series opener in Anaheim on Monday at 9:05 p.m. ET. It's Verlander's first appearance against the Angels since taking a no-hitter into the ninth inning on Aug. 26, 2015.
A's: Kendall Graveman opens a three-game set against the Twins at the Coliseum. Graveman has struggled in May, going 0-4 with a 6.57 ERA while allowing 36 hits in 24 2/3 innings.
Watch every out-of-market regular-season game live on MLB.TV.
Mark Chiarelli is a reporter for MLB.com based in Oakland.

Michael Wagaman is a contributor to MLB.com who covered the Tigers on Saturday.

This story was not subject to the approval of Major League Baseball or its clubs.