Padres say they can build on near comeback
Three-run rallies in sixth and ninth show club's fight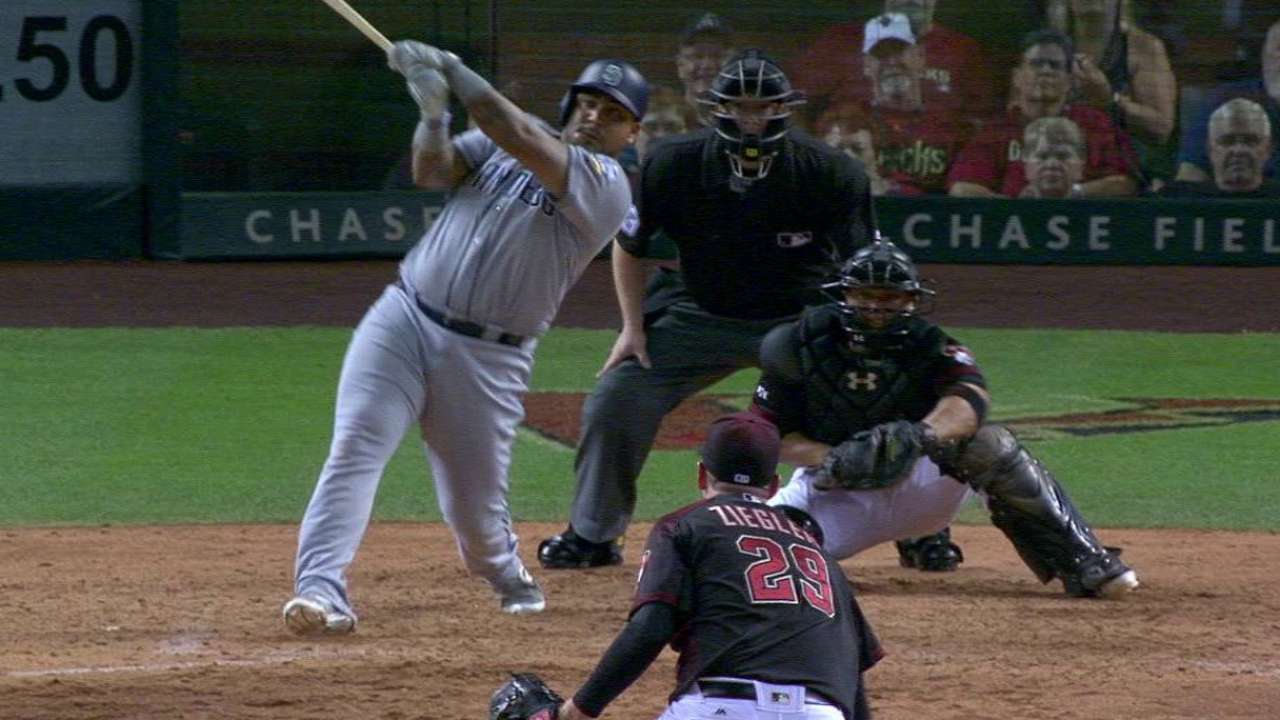 PHOENIX -- Trailing by seven with D-backs ace Zack Greinke on the mound Saturday, the Padres' night seemed just about over. Evidently, nobody told the Padres that.
They rallied for six late runs -- three in the sixth and three in the ninth -- before falling short to the D-backs, 8-7, in yet another harsh one-run loss.
Following the game, Padres skipper Andy Green was quick to note that his clubhouse isn't one for moral victories. But he added that Saturday's near comeback is something his team could potentially "build on."
"It's a tribute to the guys, how hard they fight, to get all the way back to one against a very good closer," Green said. "... When you're down 7-1 to Zack Greinke and you come back and make it an 8-7 ballgame, there's a lot to build on the next day."
Yangervis Solarte, Melvin Upton Jr. and Hector Sanchez all hit sharp singles in the ninth inning, and an error by D-backs closer Brad Ziegler contributed to the rally.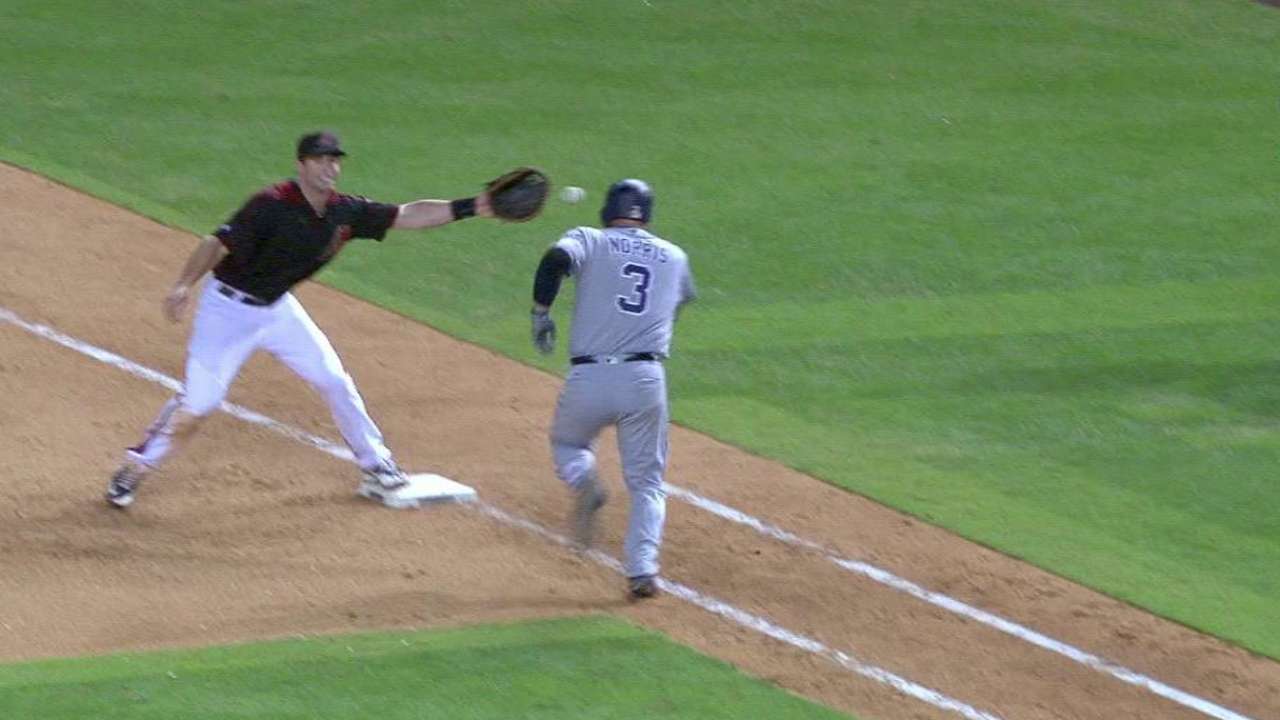 With one out, Alexi Amarista came to the plate as the game's tying run, before bouncing into a 3-6-3 double play to end the rally.
The loss dropped the Padres to 7-13 in one-run games, an upsetting trend for a pitching-based team that figures to play its share of close contests.
"We've got to find a way to get over that hump," Upton said. "One-run ballgames, two-run ballgames, we're close. We've had a lot of them. That's the difference for us. We've got to figure out how to win the close ones."
The Padres certainly had their chances. Amarista's double play ended the night, but the conclusion to the sixth inning was equally frustrating.
San Diego appeared to have Greinke on the ropes. With three runs already across, Brett Wallace lined a single off the glove of second baseman Jean Segura. The ball trickled away -- but ultimately not very far, and third-base coach Glenn Hoffman put up the stop sign for Solarte, who was rounding third. Solarte ran right through it and was toast at the plate.
"If we had it back to do it all over again, we might've not been as aggressive in that moment," Green said. "But you make split-second decisions out there, they're sometimes very difficult in the heat of the moment, and we've erred on the side of aggression for the majority of the year. I'm OK with that."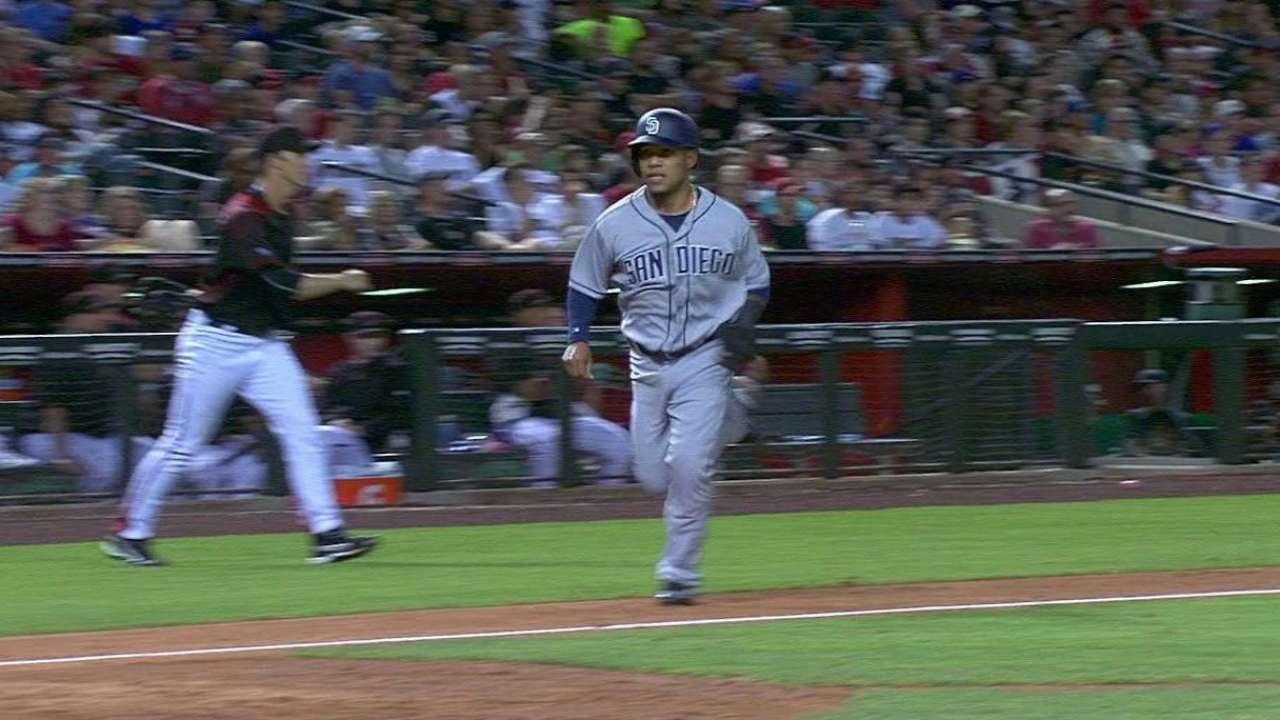 Aggressive mistakes aside, the Padres simply dug themselves a hole they couldn't climb out of -- though they certainly tried.
"We've got a lot of gamers on this team, and we know the game's not over until the last out's made," Upton said. "We pieced together some runs to bring it a little closer, had some good ABs that last inning -- especially against a guy who knows how to pitch. We just fell a little short, but you've got to love the fight."
AJ Cassavell covers the Padres for MLB.com. Follow him on Twitter @ajcassavell. This story was not subject to the approval of Major League Baseball or its clubs.