Mazara, Desmond OK after scary OF collision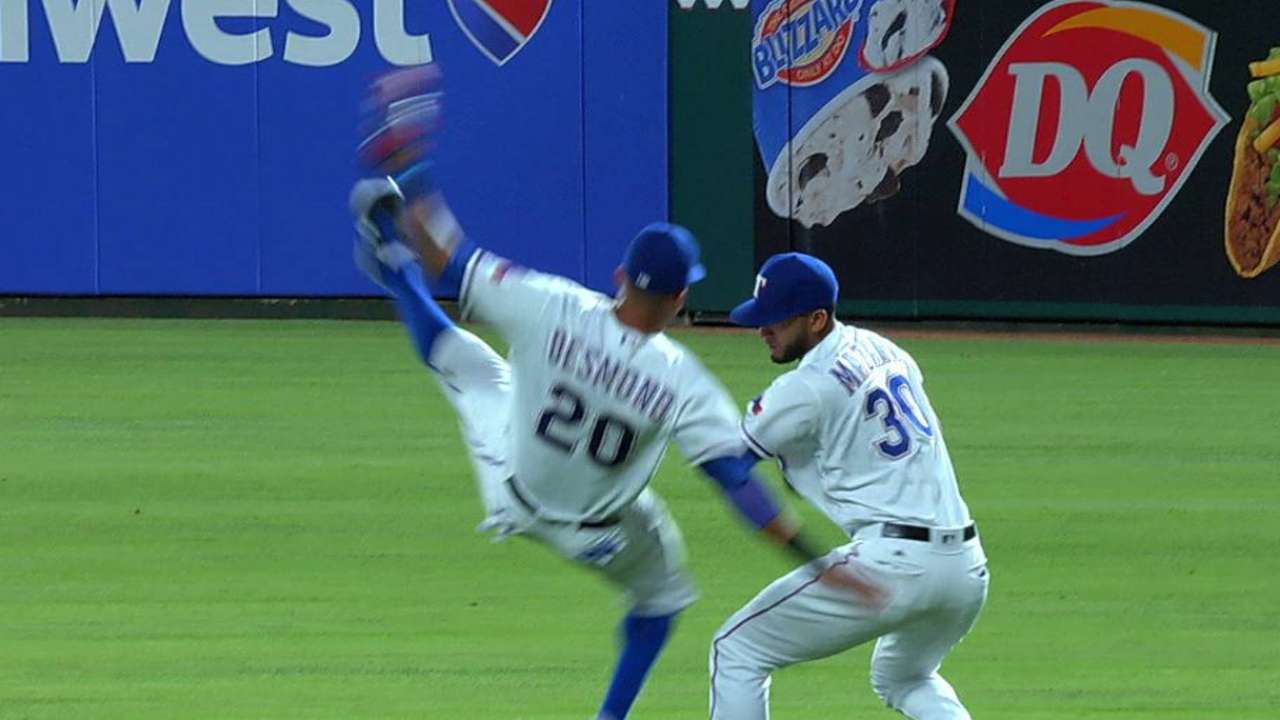 ARLINGTON -- Rangers outfielders Nomar Mazara and Ian Desmond both remained in the game after a near head-on collision during the top of the sixth in the team's 9-1 loss to the Pirates Friday night.
Desmond and Mazara converged toward right-center after Jung Ho Kang hit a drive into the gap. Desmond had the ball in his glove for a split-second, before the collision forced it out.
Both outfielders had been running at full speed before bracing for the impact with their hands at the last moment.
"You could see it getting ready to happen," Ranger manager Jeff Banister said. "Two guys going after a baseball and one not conceding to the other."
"The ball was right in the middle. We were calling the ball at the same time and we couldn't hear each other, then we collided," Mazara said.
After the collision, Desmond got to his feet and fired to the infield to hold Kang to a single. Mazara remained on the ground for a few minutes following the play as Desmond's arm clipped him on his right ear.
"Lucky it wasn't the lower half [of his body]. He was in good shape," Banister said of Mazara.
Desmond and Mazara have been two of the hottest hitters for the Rangers of late.
Mazara, April's American League Rookie of the Month, has homered in four of his last eight games and is hitting .500 with five RBIs and three runs scored on the current homestand.
Desmond has become a force at the top of the Rangers' lineup, and is batting .458 with a double, two RBIs and three runs scored over his last five games.
Ryan Posner is a reporter for MLB.com based in Texas. This story was not subject to the approval of Major League Baseball or its clubs.