Overturned DP highlights crazy eighth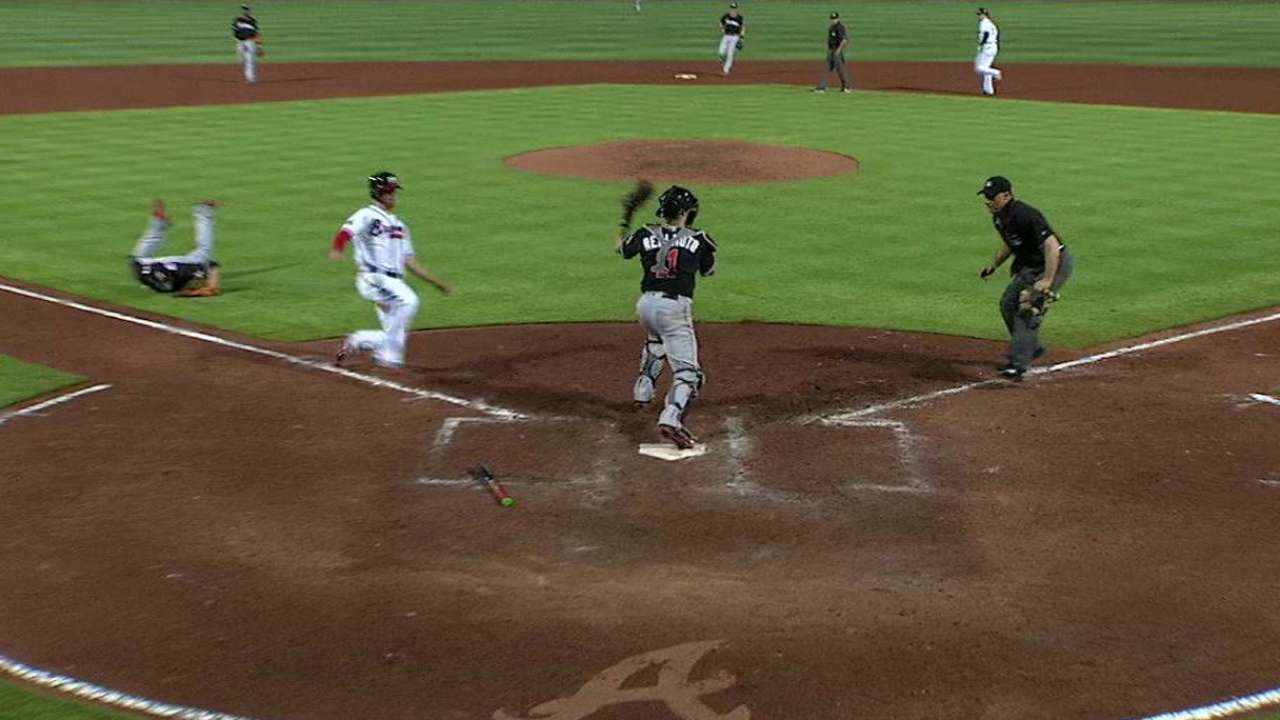 ATLANTA -- In a wild eighth on Friday night, the Marlins went from celebrating what was initially ruled an inning-ending double play to instead watching the Braves cash in on a second chance.
Tyler Flowers' hustle and Nick Markakis' soft liner proved the difference in a deflating frame for the Marlins, who fell 4-2 to the Braves at Turner Field.
Flowers got down the first-base line just fast enough to avoid being doubled-up on what initially was ruled a 1-2-3 double play. Reliever David Phelps made a nice play off the mound to throw home for a force out, and catcher J.T. Realmuto threw to first. Flowers was called out, as Phelps and the rest of the Marlins began to celebrate.
However, replay overturned the call, as Flowers' foot touched the front of the base just in time.
"I thought we had the double play," Phelps said. "I was pretty excited about that."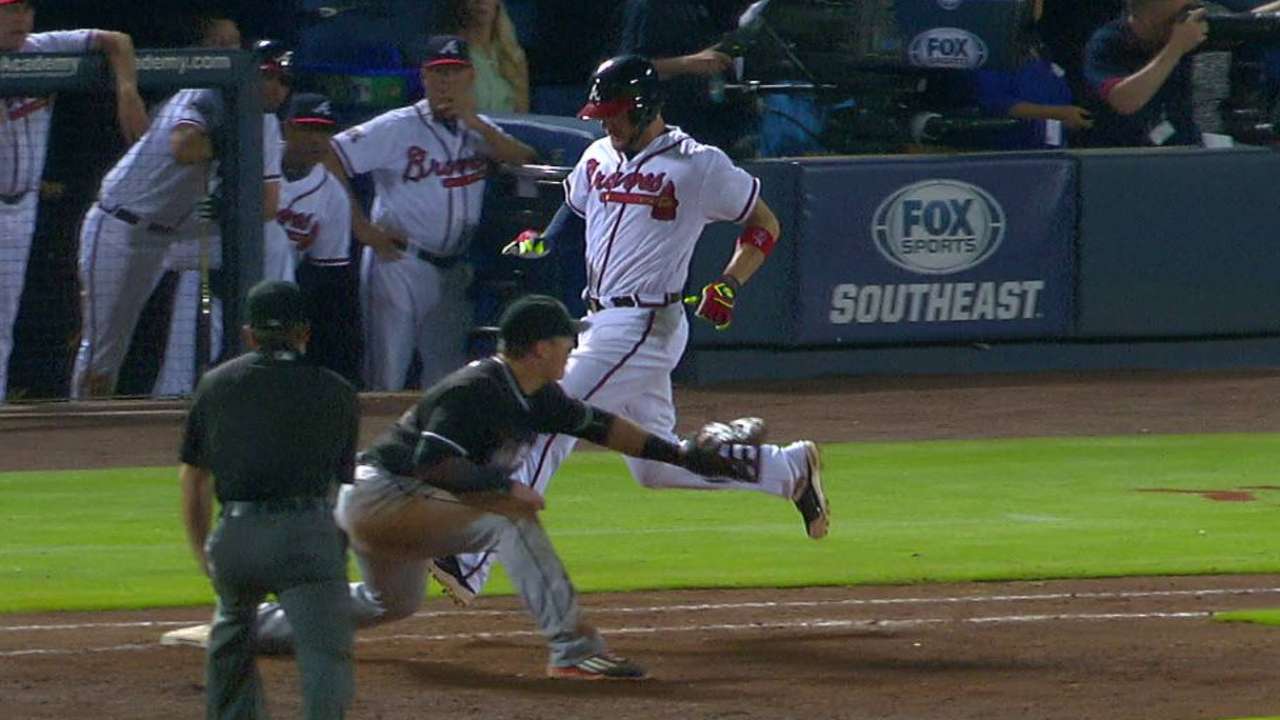 From the dugout, Chris Johnson informed Phelps to regroup in anticipation of the call being overturned. The right-hander settled and prepared to face Markakis.
Phelps still had the bases full, and on a 2-2 pitch, Markakis hit a soft liner to third that Martin Prado couldn't handle. It deflected off his glove, allowing two runners to score. It was initially ruled an error, then reversed to a hit. Prado has made just one error all season.
"I've just got to make a better pitch to Markakis," Phelps said. "I got him in a place I could either put him away or get some weak contact."
Prado took the play hard, and he said he should have been charged with an error. Changing the call made both runs earned to Phelps.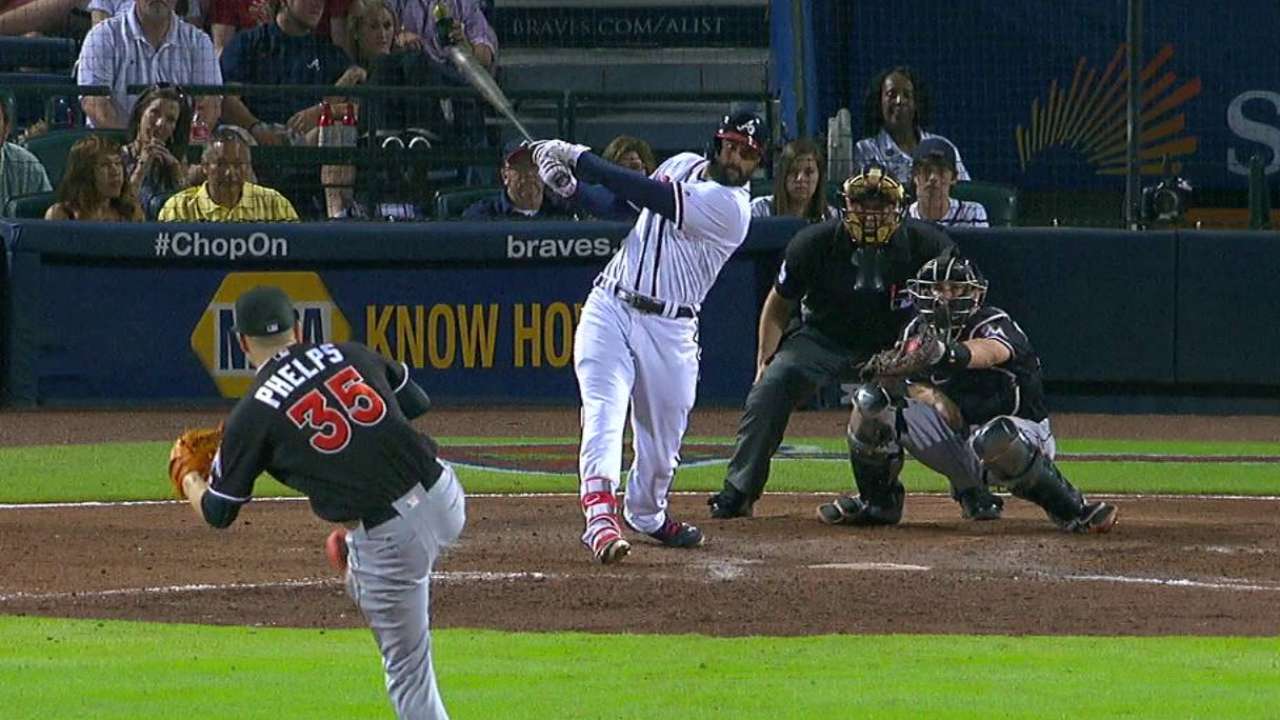 "I don't know if I just misjudged the ball," Prado said. "I thought it was hit harder than that, but that is a ball I have to catch every day. It's a shame because Phelps, he came back. He was getting out of that mess. Things happen in baseball. Just move on and come back tomorrow, and do whatever I can to help the team win.
"You can't give that a hit. Somebody has to call [MLB about a change]. That's not going to be fair for [Phelps]."
The inning started off a mess for Miami as it opened with pinch-hitter Kelly Johnson being credited with a double on a routine fly ball. But neither left fielder Cole Gillespie nor shortstop Adeiny Hechavarria took charge as the ball dropped.
"Either guy I think can catch it," manager Don Mattingly said. "Somebody has to take charge, that's all."
Joe Frisaro has covered the Marlins for MLB.com since 2002. He writes a blog, called The Fish Pond. Follow him on Twitter @JoeFrisaro and listen to his podcast. This story was not subject to the approval of Major League Baseball or its clubs.