As Yanks weigh DH options, A-Rod, Beltran homer
Dilemma seems like less of issue as both players produce vs. Rays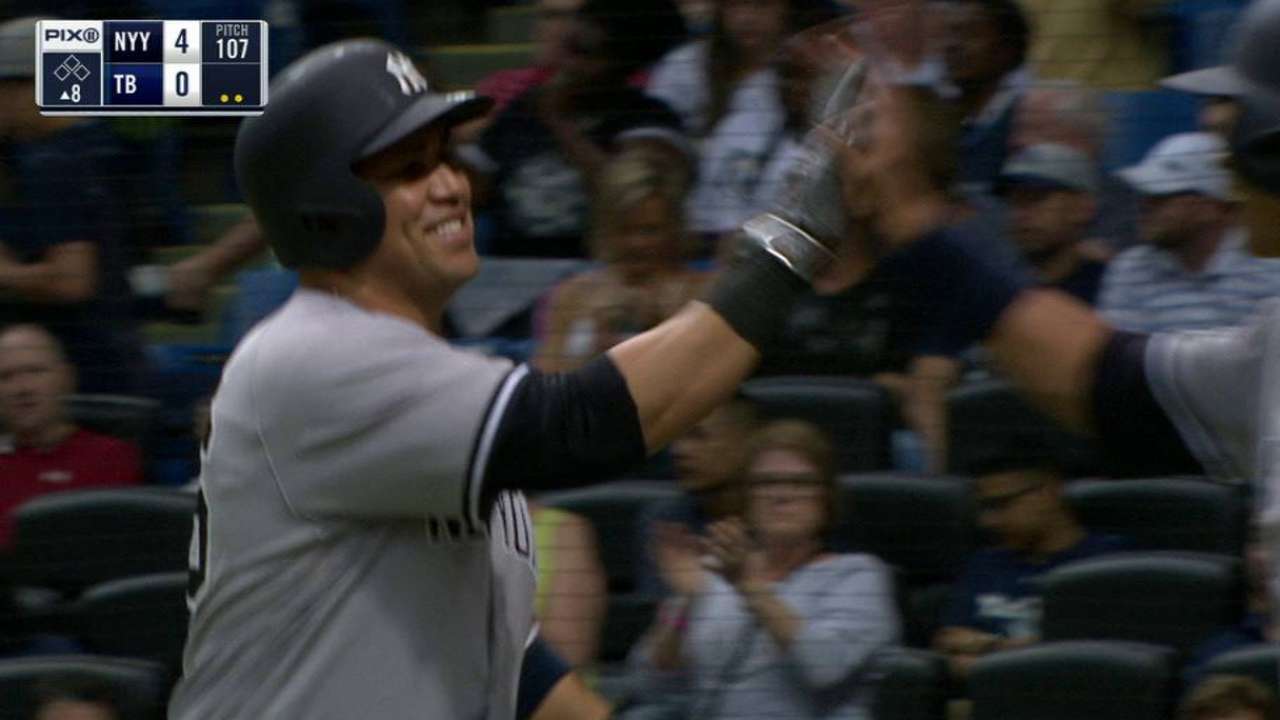 ST. PETERSBURG -- The Yankees' designated-hitter dilemma seems like it became much less of an issue when Alex Rodriguez and Carlos Beltran both hit the ball out of the ballpark.
Rodriguez smashed a two-run homer for career blast No. 693, celebrating the moment with a little bat flip, and Beltran tacked on a solo shot that helped push the Yankees past Chris Archer and the Rays, 4-1, on Friday at Tropicana Field.
• Cast your Esurance All-Star ballot for A-Rod, Beltran and other #ASGWorthy players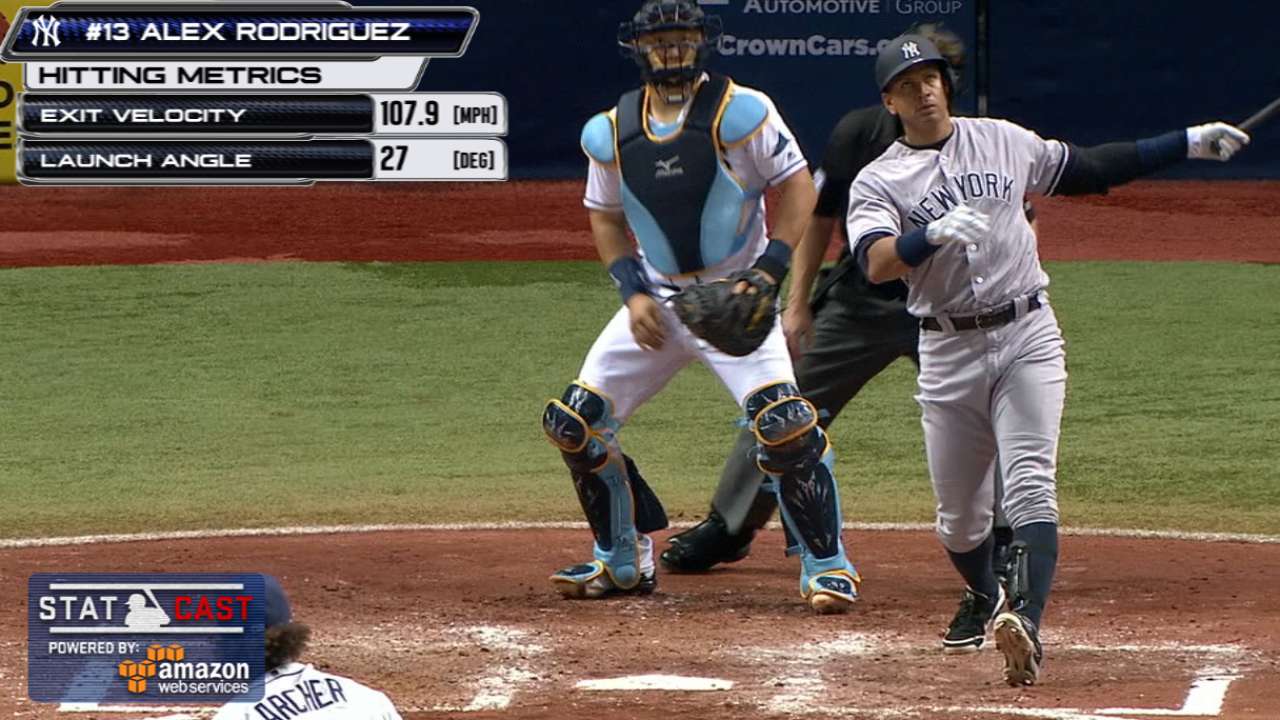 "That's my version of a bat flip, yeah," Rodriguez said. "At 40, you don't have too much cool style. All that has left me. I don't know if I ever had it, actually."
The homer was Rodriguez's sixth of the season and his first since returning from a strained right hamstring.
Estimated at 440 feet by Statcast™, it was the Yanks' third-longest homer of the year, following blasts by Aaron Hicks (446 feet, May 6 vs. Boston's Rick Porcello) and Austin Romine (442 feet, May 25 vs. Toronto's Chad Girodo).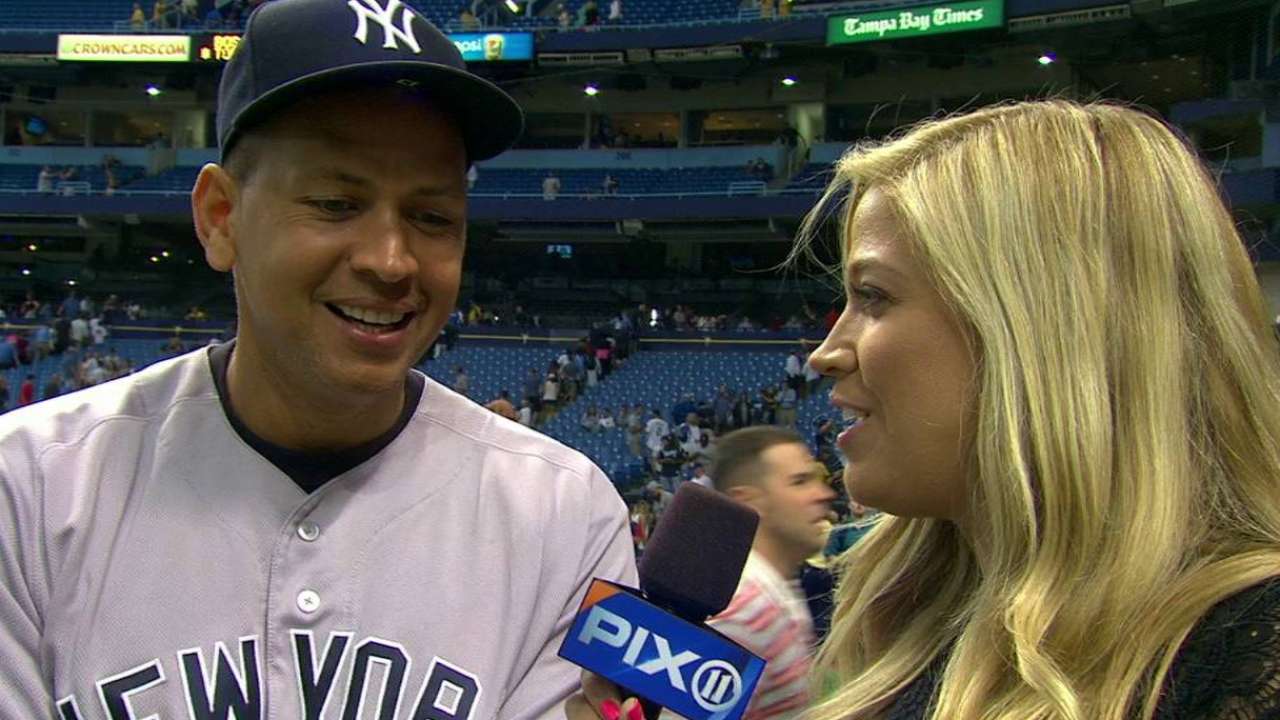 "It's encouraging," manager Joe Girardi said. "He was swinging the bat pretty good before he got hurt, so you hope that he picks up where he left off."
A-Rod and Beltran became the first Yankees age 39 or older to homer in the same game.
"I can't say enough about Carlos Beltran and the way he's been swinging the bat the last two weeks," Rodriguez said.
Earlier on Friday, Girardi had again been quizzed on how he intends to fit the puzzle pieces together at designated hitter, considering Rodriguez's lackluster performance at the plate this year and Beltran's mediocre defensive play in right field.
Girardi said that he still plans on using Rodriguez as his primary DH, though Beltran's recent success in the role has been difficult to ignore. The Yankees went 14-7 while Rodriguez was on the disabled list, and Beltran has posted a .322/.344/.780 slash line in 59 at-bats as a DH this season.
"We'll look at it every day and decide what we think is best," Girardi said. "Is there an exact plan? No, because I have found that exact plans never seem to pan out, because things change."
Girardi said that he does not expect to play Beltran on the right-field turf all three games against the Rays at Tropicana Field, so Rodriguez is likely to sit for one game this weekend while Hicks takes over in right field.
The Yankees then travel to Toronto, another turf stadium, so Girardi could opt to do the same. Then again, if Rodriguez is back to crushing the ball, the urgency of shaking up their original plan would be reduced.
"When he's swinging the bat, he's an on-base guy and an RBI guy that hits the ball out of the ballpark," Girardi said. "That's important. Getting guys on base is how you start rallies. They have to pitch him carefully, and he can be pretty selective."
Bryan Hoch has covered the Yankees for MLB.com since 2007. Follow him on Twitter @bryanhoch, on Facebook and read his MLBlog, Bombers Beat. This story was not subject to the approval of Major League Baseball or its clubs.