Lawrie isn't dwelling on past incident with KC
White Sox infielder may hear some boos from Royals fans this weekend
KANSAS CITY -- White Sox infielder Brett Lawrie isn't dwelling on the past.
To be more specific, Lawrie said he isn't focusing on the incident that led to the benches clearing at Kauffman Stadium on April 18, 2015, when Lawrie was a member of the A's.
Looking to beat out a throw, Lawrie slid hard into second base. He ended up sliding into Royals shortstop Alcides Escobar, who sustained a mild sprain to his left knee. Escobar exited the game and didn't appear for the rest of the series.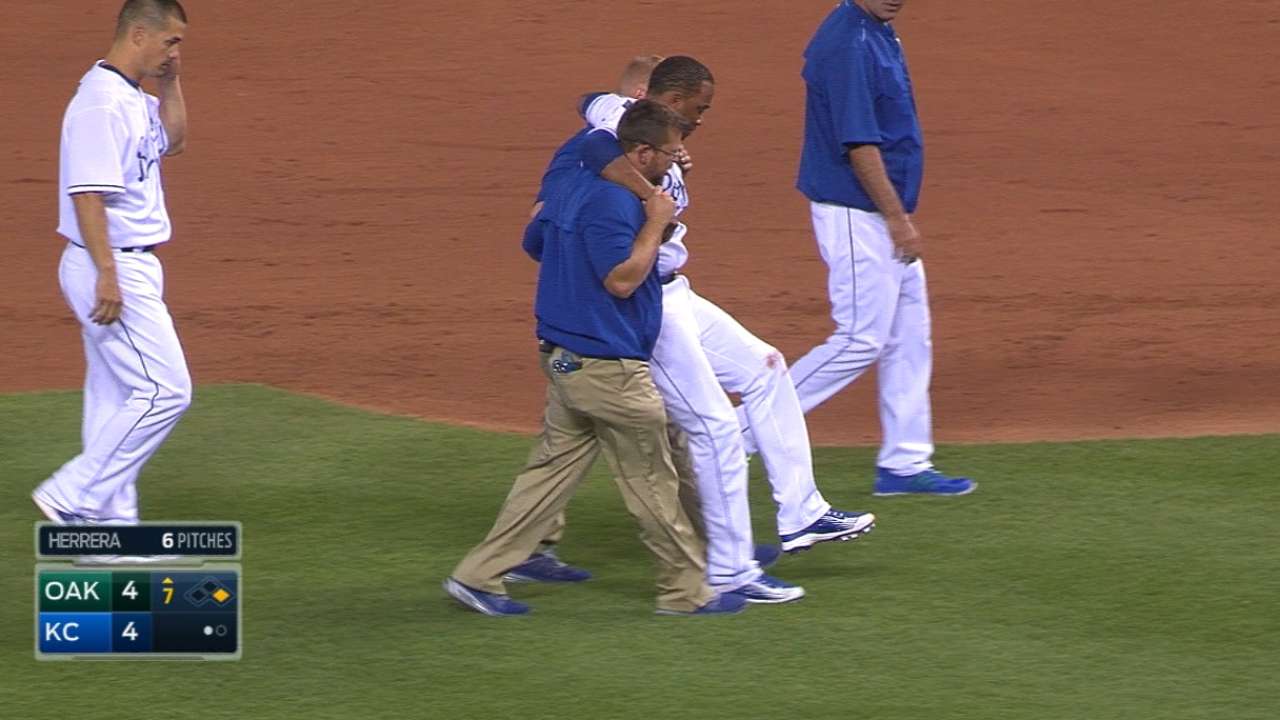 "I don't really have anything to say about it, to be honest with you," Lawrie said.
Lawrie made his return to Kauffman Stadium for Friday night's series opener. While several players said they've moved on from the incident, that doesn't mean the fans feel the same way.
Royals fans tend to have a long memory with players, regardless of the team they play for. The crowd was relatively subdued before Lawrie stepped into the box for his first at-bat in the second inning, but they roared after Lawrie struck out against Royals starter Danny Duffy to end the inning.
In a much different set of circumstances, when Robinson Cano didn't select Billy Butler to participate in the 2012 Home Run Derby prior to the All-Star Game at Kauffman Stadium, Royals fans booed him all throughout the event. They also created the hashtag #BooCano, which you can still see on Twitter every couple of days, nearly half a decade later.
"I don't really think about that stuff," Lawrie said.
The boos for Cano have continued, even after he signed with the Mariners.
"Everything that went on last year -- that happened last year," Royals outfielder Lorenzo Cain said. "[Lawrie] is a good player. He's a good guy."
Regardless of how the players feel, there's probably very little that could stop at least some members of what Cain called an intelligent crowd from letting Lawrie hear it when he steps to the plate. Some fans said they could see the reaction being pretty hostile.
"If the Royals fans are here that know who he is, I'm sure he'll be getting some boos," said Jason Thompson, a Kansas City fan from Overland Park, Kan.
Others, like Cain, said they've moved on.
"It depends on the person I suppose. I'm not going to boo him," said Clint Bowman of Larned, Kan. "If you're going to live on that all the time, you're going to be bitter until the end."
Cain said he wasn't sure what the fans will do, cracking a smile when asked if he thought the fans would boo Lawrie.
"They might," Cain said. "If they do they do, if they don't they don't."
Scott Chasen is a reporter for MLB.com based in Kansas City. This story was not subject to the approval of Major League Baseball or its clubs.