MLB.com Columnist
Terence Moore
Rotation leader Teheran too valuable to deal
At 25, Braves ace could fetch hefty bundle as Atlanta rebuilds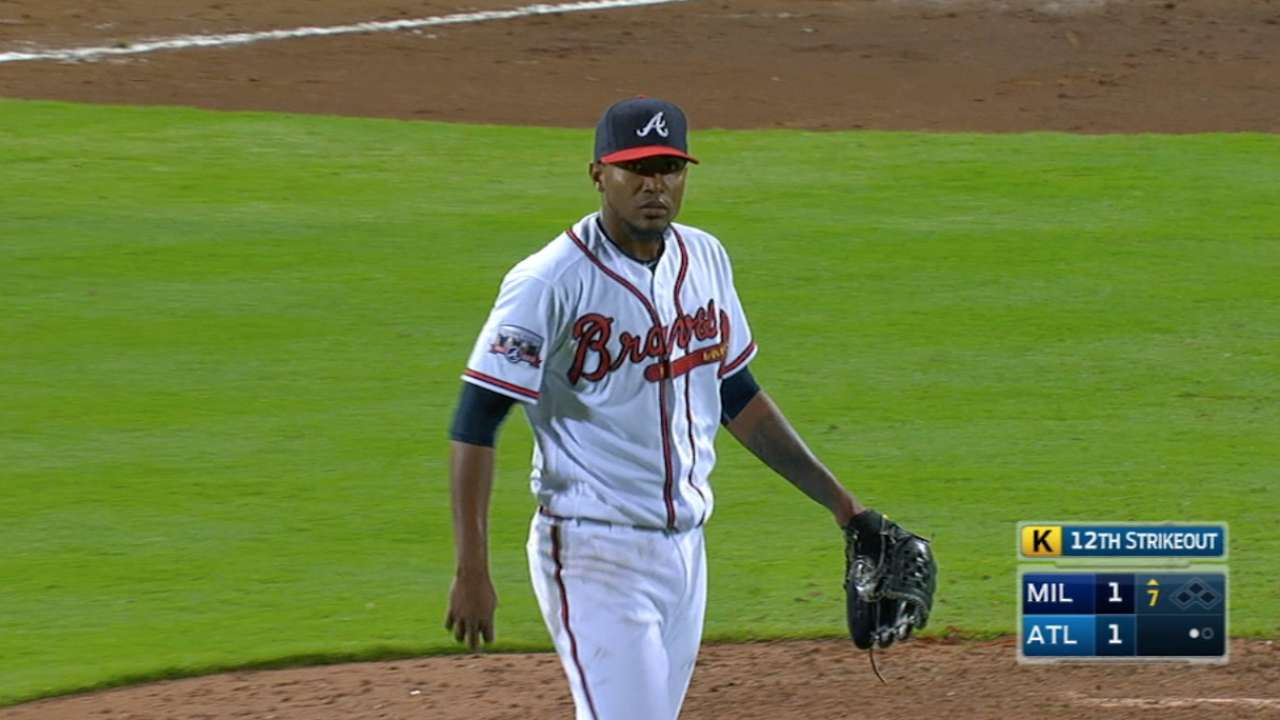 This rebuilding of the Braves is baseball's version of watching sausages being made. It's not pretty, but it'll taste good in the end. With that big picture in mind, every trade of a Jason Heyward here or a Craig Kimbrel there makes sense.
Braves officials wish to build for the future, with their immediate thoughts on 2017, when they open SunTrust Park just northwest of Atlanta. So they've exchanged as many established players as possible for prospects who are destined for their Major League roster or who will help them acquire significant players down the road for a championship run.
I get it. I just don't get these whispers that are slowly becoming shouts about the Braves letting Julio Teheran play somewhere else in the near future.
Well, I do get it. At 25, and with an impressive right arm, Teheran would fetch a lot for Atlanta as the ace of the Major League's youngest pitching rotation, where he is the old man of the group. Not only that, but he has a trade-friendly contract. Teheran is signed through 2019 with a club option of $12 million for '20. In a year with so many teams already positioning themselves for a mad dash toward a division title or Wild Card spot, you can't get enough quality pitchers, and Teheran fits well with most staffs.
Teheran fits better with the Braves. Just ask him.
"Yeah, of course I'd love to stay here, because it's the organization I first signed with, and I want to be with the Braves my whole career, but I understand it's a business," said Teheran, who was a non-drafted free agent when he signed with Atlanta at 16 out of Cartagena, Colombia.
It was a splendid move for both sides. The Braves were continuing their tradition since the mid-1980s of acquiring young arms with promise, and Teheran idolized Greg Maddux, Tom Glavine and John Smoltz, the Hall of Fame pitchers who helped Atlanta dominate the 1990s.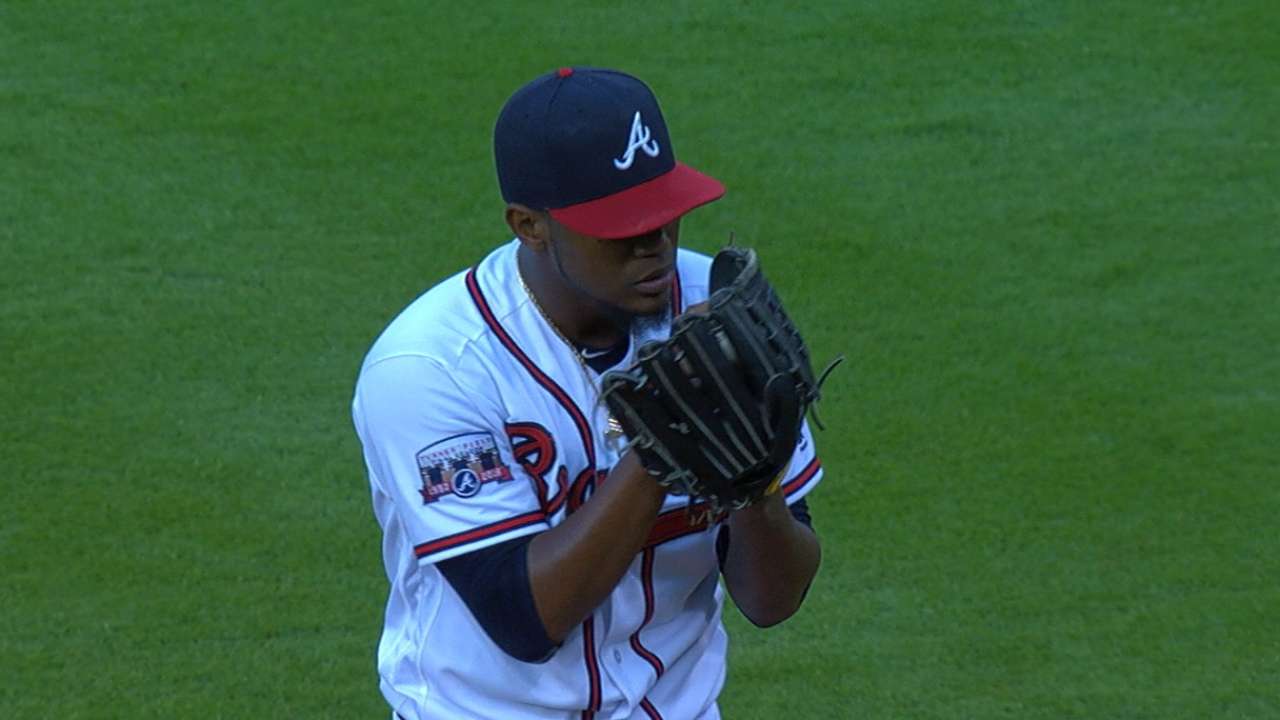 As Teheran cheered for the Braves as a youth, he never envisioned himself as a successor to that trio.
"Oh, no," Teheran said, chuckling. "As a kid, I watched them play, but I never even thought I would be in their organization. So it really feels special to be a part of the rotation that [once featured Maddux, Glavine and Smoltz]. Even though I'm not one of them, I'm happy to be somebody who can try to help keep what they did going."
Mission accomplished. After six Major League seasons, including the past four as a regular in Atlanta's rotation, Teheran has used his variety of pitches -- led by a four-seam fastball in the low 90s -- to accumulate a 41-34 record with a 3.36 ERA. The right-hander is durable, too. He's posted 30 or more starts every season since he became a full-time starter.
There are all of those plusses for Teheran, along with his easygoing demeanor in the clubhouse. And other teams know his 1-4 record these days means nothing, since the Braves join the Twins with the worst overall mark in baseball at 12-34, entering play Friday. Teheran's ERA is an impressive 2.57, and during his last seven starts, it's 1.17.
This is not the Teheran who was crushed in consecutive starts in April. After he allowed five runs (four earned) in four innings during a home game against the Cardinals, he lasted seven innings during a road game against the Nationals, but he relinquished six earned runs and two homers.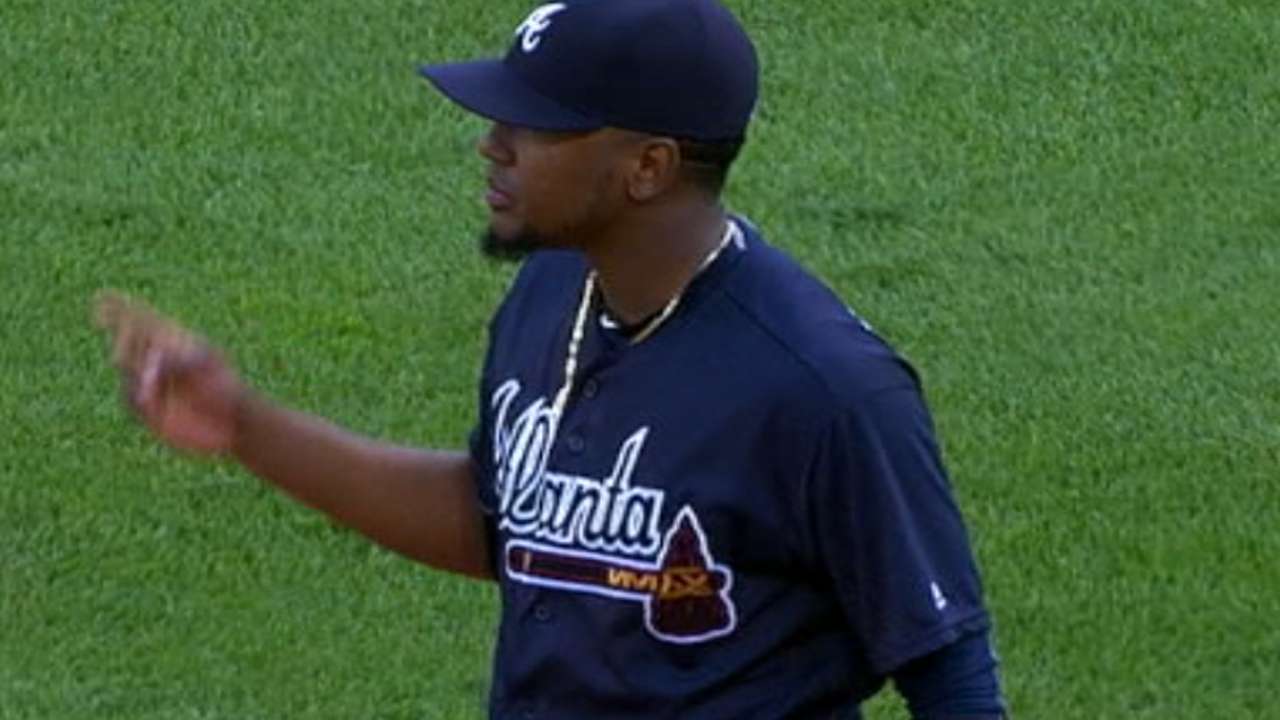 Teheran has been nearly impeccable since then.
"Is there one thing that's turned him around? Absolutely," said Braves pitching coach Roger McDowell. "He's been able to manage the four-seam fastball on his glove side. Now that he's able to execute that pitch, it's given him more confidence, and it's opened up a lot of different areas for him to make pitches to all four quadrants of the zone. Previously, he was just commanding the arm side. Now he's able to command the glove side, and it's allowed him to get ahead of counts, not give in to the hitter and do all the things you look for in a successful pitcher to get deep into a game."
So, in addition to everything else that should make Teheran a keeper for the Braves, I'll paraphrase McDowell and mention this: Why get rid of a young pitcher with the combination of talent and the ability to adjust along the way?
If that isn't enough, Teheran is a mentor for Mike Foltynewicz, Matt Wisler, Williams Perez and other young guys on the staff.
"Sometimes they ask me [for advice] because of some of the little things I've been through, and sometimes they don't ask me, and I'll just go to them and talk to them about it," Teheran said. "Whenever they have questions, they know we have a good enough relationship for them to ask me. I feel special to be here with this young group of guys that we have here, and I'm just glad that I'm still a part of the rotation."
For now. Hopefully, for much longer than that.
Terence Moore is a columnist for MLB.com. This story was not subject to the approval of Major League Baseball or its clubs.