Duffy deals with ebbs and flows all the same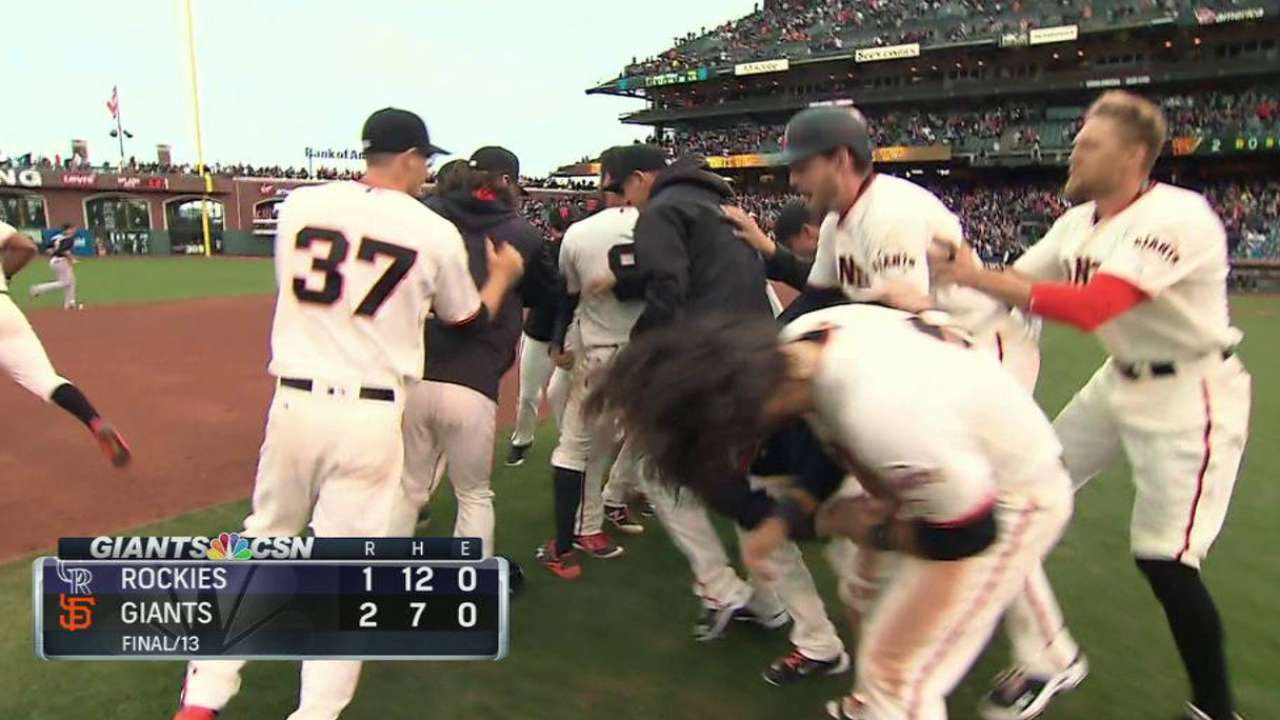 SAN FRANCISCO -- In academic terms, Giants third baseman Matt Duffy is undergoing his postgraduate education as a Major Leaguer. As he proved during his rookie season in 2015, he's a quick learner.
Duffy already has weathered two nagging batting slumps, but he remains an integral part of the Giants' offense. He has reclaimed the No. 3 spot in the batting order, which he occupied in nearly half of his starts last year. The right-handed batter continued his latest resurgence with a 10th-inning single that set up Brandon Crawford's walk-off double on Wednesday in San Francisco's 4-3 win over San Diego. It was the Giants' 13th victory in 14 games, a surge that Duffy has helped generate.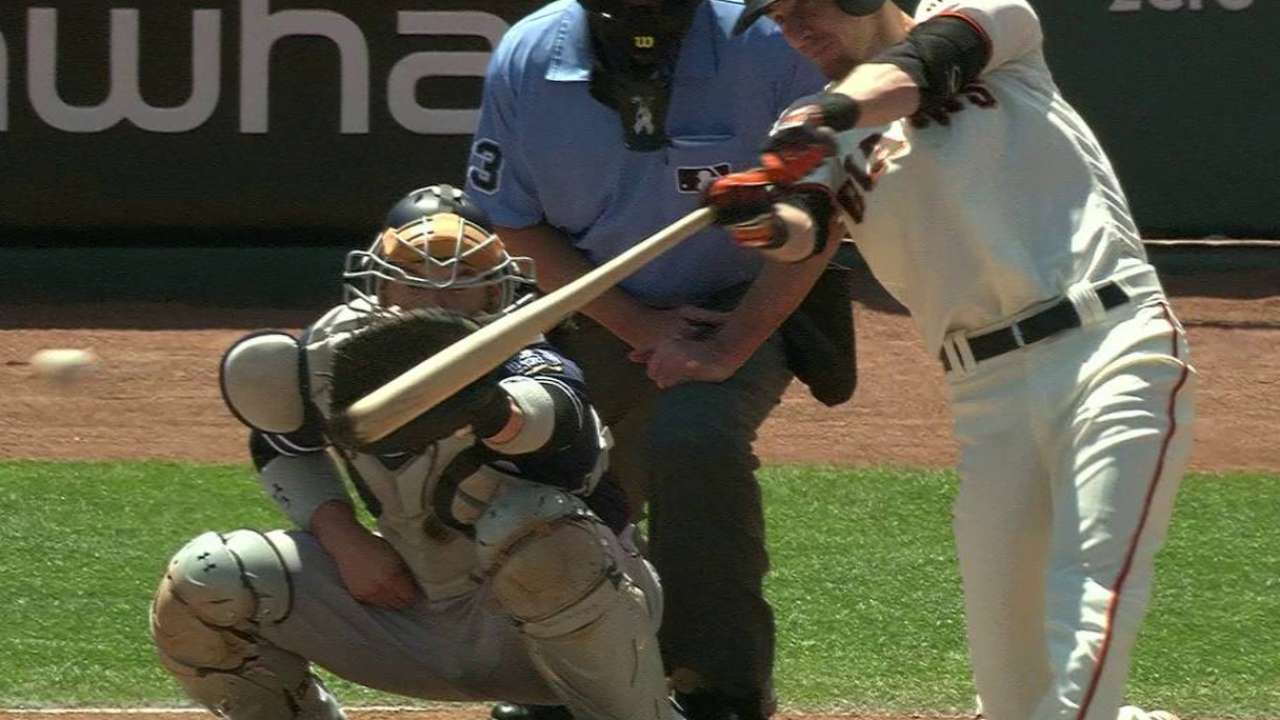 Duffy's emergence from his doldrums at the plate has reaffirmed his legitimacy as an everyday player, which he established last season by hitting .295 while finishing second in the National League Rookie of the Year Award balloting to Chicago's Kris Bryant. The 25-year-old's attitude has buoyed his performance. Whether Duffy is thriving or struggling, his calm remains constant.
• Cast your Esurance All-Star ballot for Duffy and other #ASGWorthy players
"It's kind of amazing to me," Crawford said. "You can't tell if he went 0-for-4 or 4-for-4 that day. As even-keeled as I am or Buster [Posey], it's frustrating not getting a hit for four at-bats, let alone a few days in a row. With him, you can never tell, and I think that's awesome. I actually love that about him. He just keeps playing hard no matter how he's doing with the bat, and he's able to break out of those slumps."
Duffy's first skid occurred at the season's outset, as he went 4-for-35 (.114) from April 8-18. That dropped his batting average from .278 to .170. Duffy responded with a 15-for-38 binge (.395) from April 19-29 that lifted his average to a respectable .261.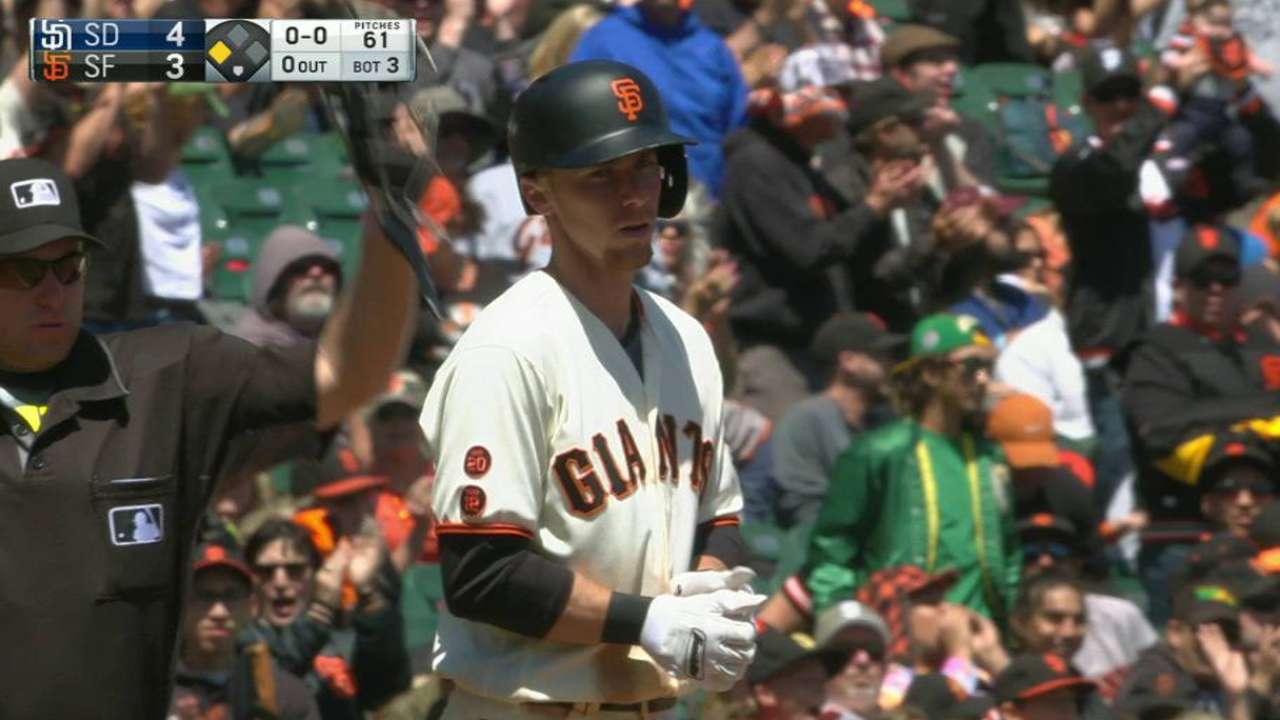 More recently, Duffy went hitless in 21 at-bats. This preceded his current 8-for-20 (.400) surge that he'll take into Friday's opener of a three-game series in Denver against the Rockies. Duffy's overall .250 batting average does not reflect his constant efforts to improve.
"It's baseball. You're going to have those highs and lows," Duffy said. "The biggest thing for me that I've learned is, don't hit the panic button mentally. A saying I was told as a kid was, 'If you haven't gone 0-for-20, you haven't been playing long enough.' It's a little bit frustrating, obviously. I feel like consistency was my strength last year. It hasn't quite been there this year."
Fortunately for Duffy, he has identified the source of some of his problems -- and productivity -- without distracting himself through overanalysis. An excellent opposite-field hitter, Duffy realized that he must find the proper balance between finesse and force when he tries to hit to right.
"I think I was letting the ball get too deep overall," Duffy said. "I know going the other way is my strength, but at the same time, it [has to be] an aggressive mind-set of going the other way, not guiding the ball the other way."
Giants manager Bruce Bochy acknowledged that Duffy's bouts with adversity should further his professional growth.
"No question it helps you mature and learn to deal with the ups and downs of baseball," Bochy said. "It's not easy sometimes. It can humble you. What's important is, you keep going, you keep grinding, and he's that kind of guy. He's going to be fine."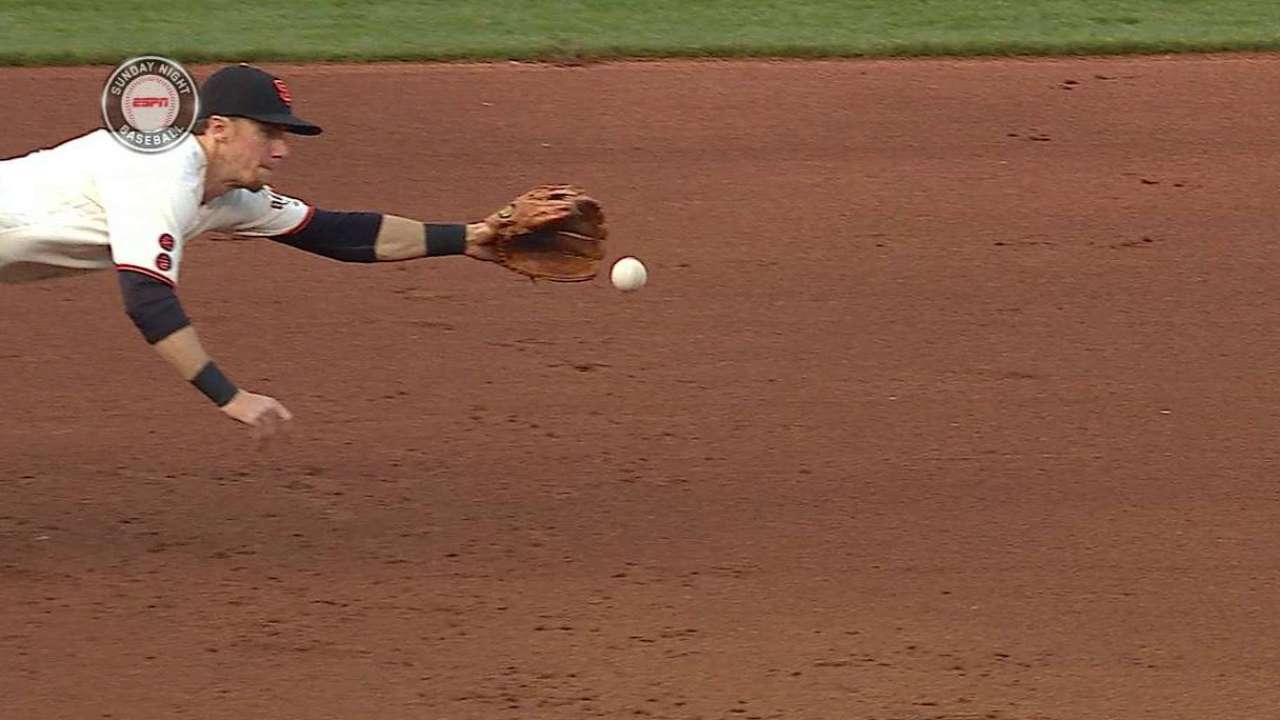 Duffy's undiminished fielding prowess reinforces Bochy's faith in him. Some players allow their offensive shortcomings to distract them defensively. Not Duffy, who ranks among the leaders for NL third basemen in most sabermetrics, as well as traditional defensive categories, ranging from fielding percentage, total assists and putouts to ultimate zone rating and per-game range factor.
"If you can play good, solid defense that keeps you in games, then you can be put in the lineup with confidence by the manager and not have to worry about, 'Is his offense affecting his mind-set on defense?'" Duffy said. "I'm still trying to stay positive, stay in the moment. ... The big thing is confidence. In my mind, I try to challenge the hitter to see if he can hit the ball by me."
Chris Haft has covered the Giants since 2005, and for MLB.com since 2007. Follow him on Twitter at @sfgiantsbeat and listen to his podcast. This story was not subject to the approval of Major League Baseball or its clubs.