Atkins to wait before mulling potential moves
Tulo still dealing with quad issue; Morales making progress in rehab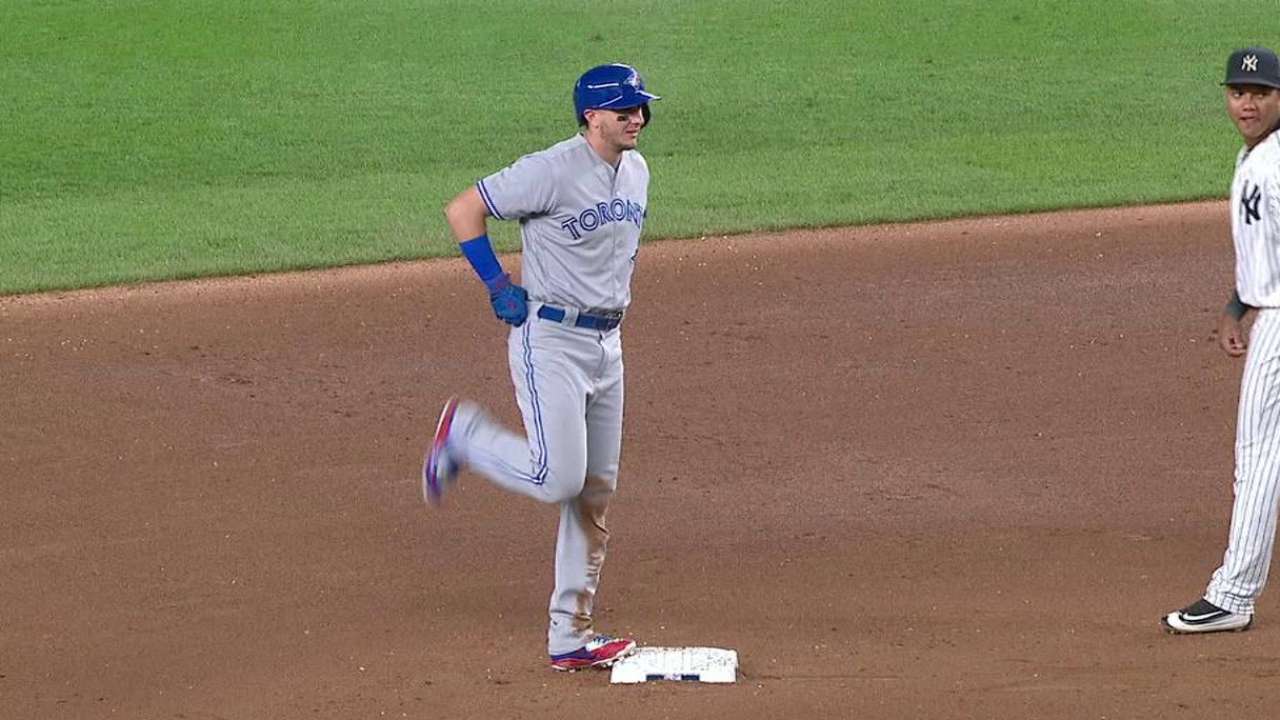 NEW YORK -- The Blue Jays' series of trades that were made prior to last year's non-waiver Trade Deadline will have a direct impact on what the club is able to do this July. General manager Ross Atkins believes his current Minor League system is better than most people believe, but he did concede that it lacks "depth." The lack of a large talent pool means the Blue Jays will have some difficult decisions to make over the next two months.
Atkins did not rule out making a move, and he will have to wait and see how his team is doing in the middle of the summer before making a final decision. He'll have to balance whether the club should sacrifice more of its future for another run at the division title.
"There's no question that it impacts it," Atkins said when asked about the depth issues and potential trades. "We will have to keep our eyes on the future, but we recognize this window and opportunity.
"I think we also recognize how hard it is to win, so if we're in a good position, we'll be able to appropriately balance that. And I think, fortunately, we do have enough assets that if we wanted to make a move like that, we could. I think the question then becomes at what expense and at what level of sacrifice."
Former Toronto GM Alex Anthopoulos made four big deals last summer that saw David Price, Troy Tulowitzki, LaTroy Hawkins, Mark Lowe and Ben Revere join the club. The deals saw the Blue Jays trade away 10 prospects, including top talent such as Daniel Norris and Jeff Hoffman.
The decision clearly paid off, as the Blue Jays went on a memorable run in the second half that resulted in a division title and an appearance in the American League Championship Series. But it's clear a similar approach will not be possible in 2016.
"I think there are some positives within our system," Atkins said. "I think there are some things that you guys saw in Major League Spring Training that give us reason to believe that we have some guys who could be everyday Major League players.
"I think where we're lacking is the depth of those guys that could turn into Major League players. That larger number of what we call in the industry a 'Role 4 player,' so someone who is maybe not an everyday player but a solid contributing player, who could turn into a five. That's where we're lacking, a little bit of depth. Less margin for error. We have to make sure the guys that we feel are going to be great every day Major League players, become them."
Quad issue still bothering Tulo
Tulowitzki was held out of the Blue Jays' lineup on Thursday for the second consecutive day as he continues to recover from tightness in his right quad. He sustained the injury while stealing second base in the seventh inning of Toronto's 6-0 loss to the Yankees on Tuesday night. He initially remained in the game but was removed in the bottom half of the inning and then missed the following day.
Manager John Gibbons believes Tulowitzki could have played Thursday, but the club wanted to maintain its cautious approach. The expectation is that Tulowitzki will play Friday night against the Red Sox.
"He feels a little better, but I think it's smart to give him another day," Gibbons said. "He's definitely feeling better."
Once Tulowitzki is cleared to play, the Blue Jays are expected to option either Darwin Barney or Ryan Goins to Triple-A Buffalo. That would open a spot on the roster for the club to add a seventh reliever, which likely would be lefty Aaron Loup, who is currently on a rehab assignment from a strained flexor tendon in his left elbow.
Morales making some progress
Injured reliever Franklin Morales finally appears to be making some progress in his rehab from a left shoulder injury. Morales still does not have a timetable for the start of a rehab assignment, but he's gradually increasing his workload. The left-hander made two appearances for the Blue Jays earlier this season before he was placed on the 15-day DL with what the club described as "shoulder fatigue."
"He's been out to 120 feet at different phases of his recovery," Atkins said. "Now is the first time that we're seeing a steady progression of strength."
Fellow lefty Brett Cecil also appears to be making some progress. He is scheduled to resume throwing this week as he recovers from a torn lat muscle.
"He's feeling great," Atkins said. "All systems are go that we feel like he's on the mend and we'll know a lot more soon when he starts to get stretched out and throwing."
Gregor Chisholm has covered the Blue Jays for MLB.com since 2011. Follow him on Twitter @gregorMLB and Facebook, and listen to his podcast. This story was not subject to the approval of Major League Baseball or its clubs.