Inbox: After slow start, are changes in store?
Twins beat reporter Rhett Bollinger answers fans' questions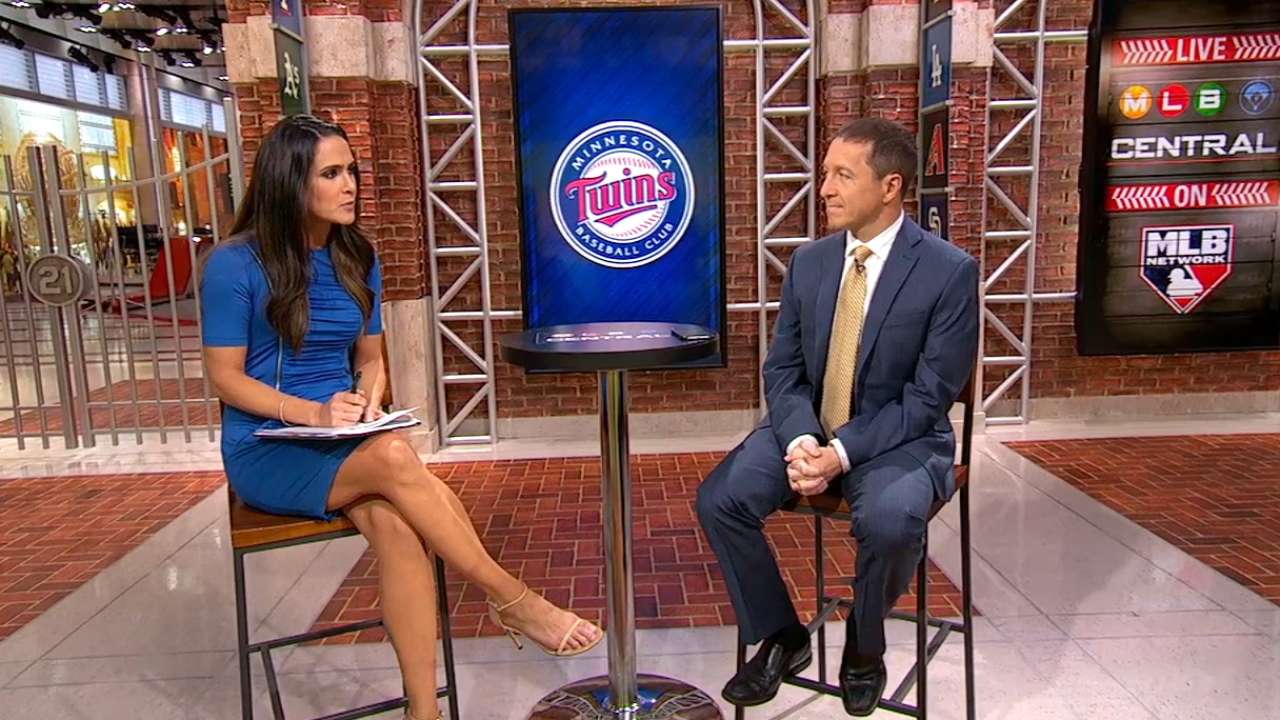 MINNEAPOLIS -- The Twins entered the season with playoff aspirations after just missing out on the postseason last year, but things have gone worse than anyone could've expected.
The Twins have the worst record in the Majors at 12-34, and have lost eight of their past 10 games. They aren't getting it done offensively, ranking last in American League in runs scored, and they also aren't pitching well, as they have the second-worst ERA in the Majors. It's been a step back for Minnesota after last year's surprising season, and there are lots of questions to be answered. With that in mind, here's this week's Twins Inbox:
• Submit a question to the Twins Inbox
Do you see the Twins making any in-season changes in the front office or with the coaching staff?
-- John L., Rochester, Minn.
Twins owner Jim Pohlad has publicly stated his support for general manager Terry Ryan, and Ryan reiterated his support of manager Paul Molitor and his coaching staff this week. Ryan and Molitor appear safe this season, as Molitor is only in his second year and making front-office changes before the Draft and the Trade Deadline wouldn't make sense. But there's always a chance of a coaching shakeup if the offense and pitching staff continue to struggle. But as of now, nothing of that nature is in the works.
After the season, however, ownership will have to evaluate what has happened this season, and determine if any changes will be made. Ryan has been with Minnesota since 1986, and he is still highly regarded within the organization. Some fans have called for him to step down after the season, but that seems unlikely, as he knows if that were to happen, it wouldn't bode well for the rest of the front office he helped assemble. The Twins are known for their loyalty and continuity, and it would be a break from that to move on from their current regime, so it's an interesting situation to monitor.
@RhettBollinger Any Twins players you see that might be traded around the deadline?

— Matias Guerrero (@fatmanMG79) May 25, 2016
There's still roughly two months until the Trade Deadline, but at this point, the Twins are already destined to be sellers. Interim closer Kevin Jepsen, who is a free agent after the season, would've been a prime trade chip, but he has lost value with his 5.89 ERA. But lefty Fernando Abad, who was signed to a Minor League deal, has been a revelation with a 0.51 ERA in 21 appearances, and he could be moved.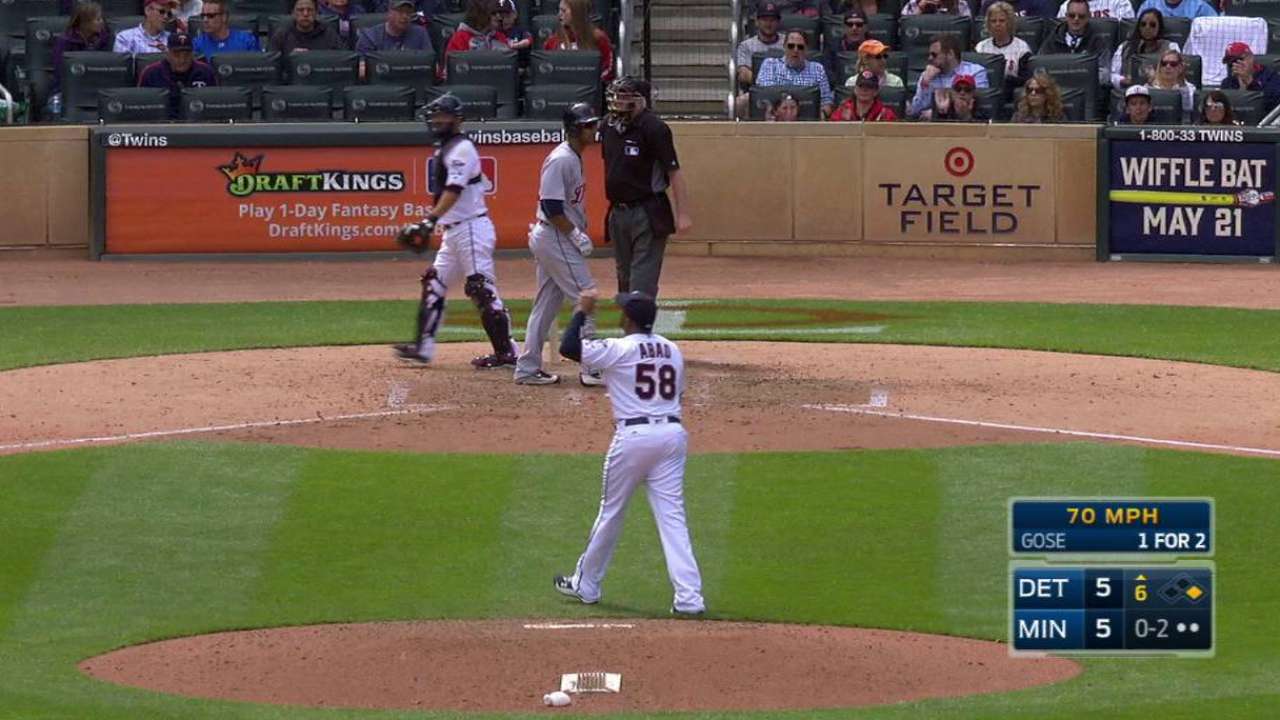 Minnesota also could explore trading third baseman Trevor Plouffe, which would open up third base for Miguel Sano. The Twins were reluctant to trade him this offseason, as they feel like he's developed into an above-average third baseman, and the club wanted his bat in the lineup along with Sano and designated hitter Byung Ho Park. Plouffe has one more year left before free agency, so they could also wait until the offseason, but they could get more value at the Deadline. It's worth noting, however, that Molitor is one of Plouffe's biggest supporters and likely wouldn't want him traded.
When do you see Byron Buxton getting called back up?
-- Ben S., Wayzata, Minn.
Buxton has certainly played well since his demotion to Triple-A Rochester, hitting .333/.394/.576 with five homers, 11 RBIs and four stolen bases in 24 games. More importantly, he's cut back on his strikeouts, reducing that rate from 49 percent of his plate appearances in the Majors to 22 percent at Triple-A. The Twins want to see Buxton continue to cut down on his strikeouts and increase his walk rate before he's called up. But with the way he's playing, he could be the club's everyday center fielder again by early June.
What's been the biggest issue with Sano? The strikeouts?
-- Jill M., Fargo, N.D.
Sano does lead the Majors with 67 strikeouts, but his strikeout rate is nearly identical to last year, when he hit .269/.385/.530 with 18 homers in 80 games en route to a third-place finish in the balloting for the AL Rookie of the Year Award.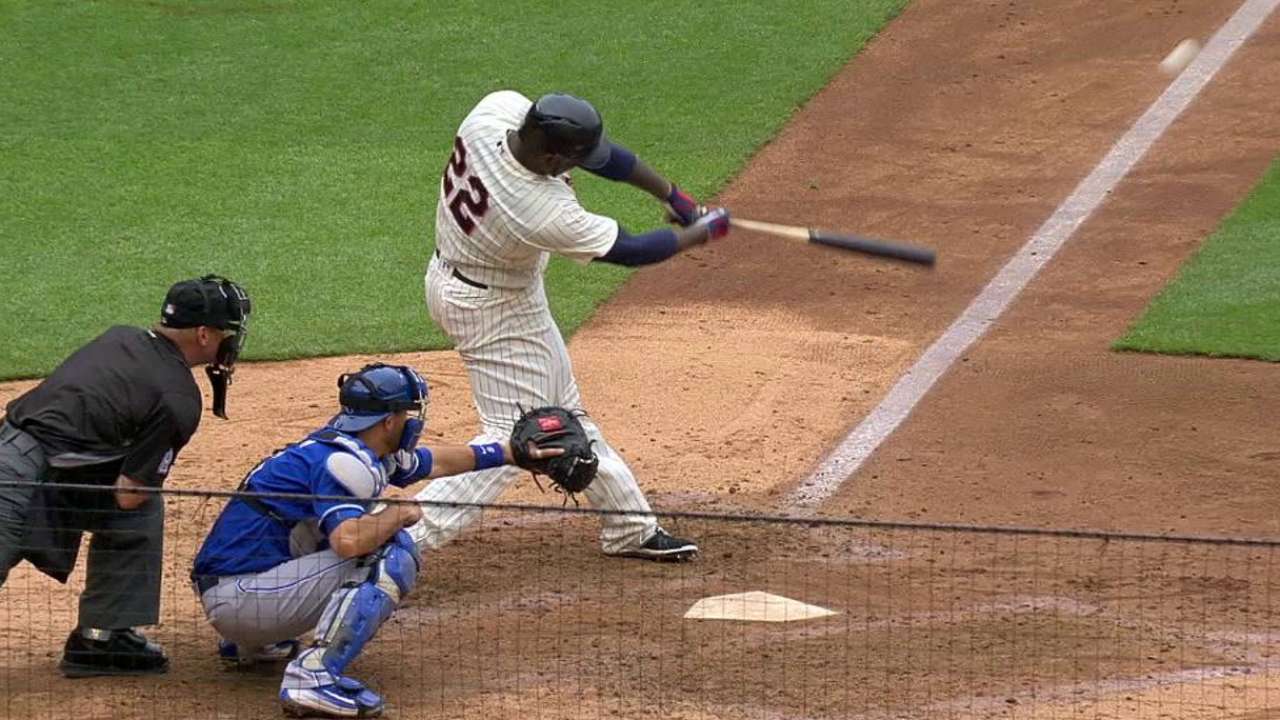 The biggest difference is in the power department, as Sano has seen his isolated power (slugging percentage minus batting average) drop from .262 to .190. His batting average on balls in play has also tumbled from .396 to .311, despite his line-drive rate going up from 24.7 percent to 25.5 percent and his average exit velocity remaining roughly the same (94.8 mph in '15, 94.4 mph in '16, per Statcast™). That indicates a little bit of bad luck compared to last year, but Sano needs to get his extra-base power going to have the kind of success he had as a rookie.
Sano's go-ahead homer on Wednesday was a good sign, as it was the hardest-hit ball he hit all season by exit velocity, and it came after a 2-for-22 slump. He's been streaky with homers this year, so maybe Wednesday will get him going.
Rhett Bollinger has covered the Twins for MLB.com since 2011. Read his blog, Bollinger Beat, follow him on Twitter @RhettBollinger and listen to his podcast. This story was not subject to the approval of Major League Baseball or its clubs.