Madson's comeback inspired by teen righty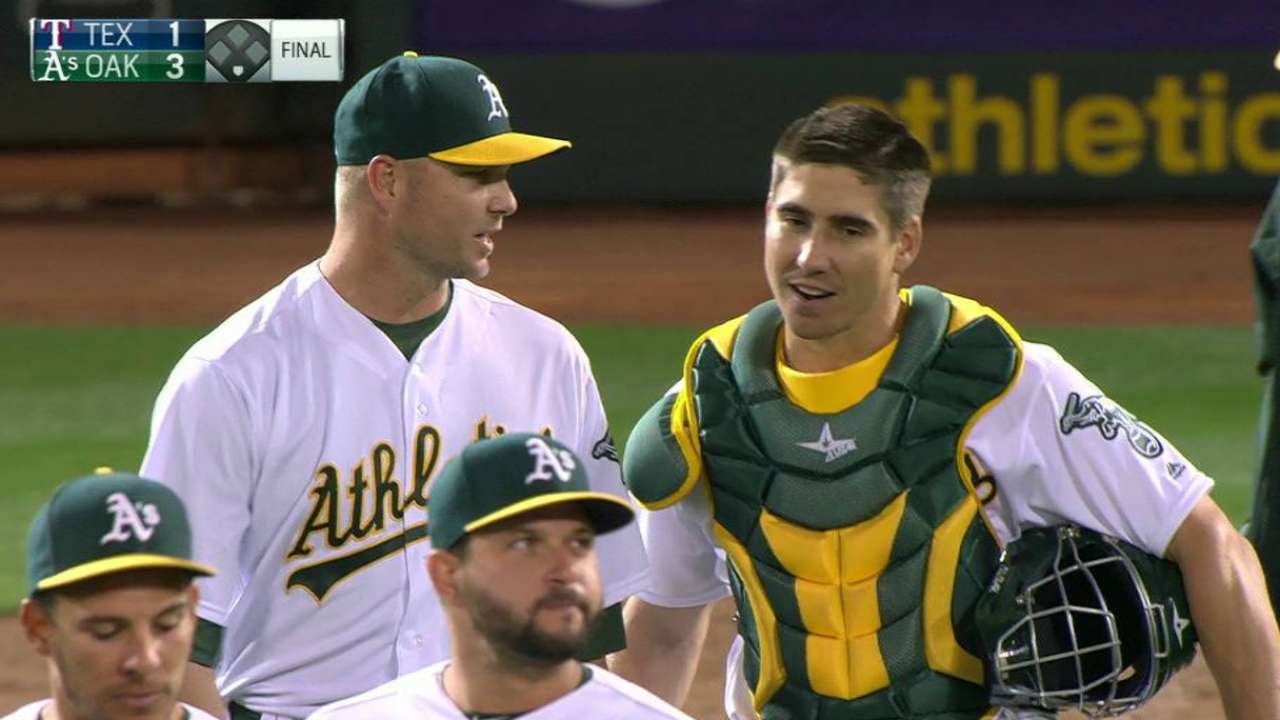 SEATTLE -- Ryan Madson pulls out his phone and scrolls down his contacts. He stops at one, "Lil Johnny," and smiles.
Madson knows that the comeback to Major League Baseball after three seasons outside those lines, the World Series ring he so improbably earned with the Royals in 2015, the three-year, $22 million contract he signed with Oakland last offseason, the trust A's manager Bob Melvin has in him right now as his team's closer … probably none of it happens without Lil Johnny.
He's Johnny Morell, now an 18-year-old right-handed pitcher for Basha High School in Chandler, Ariz. He's 6-foot-3 and 210 pounds, he threw a no-hitter in a March prep game, he's committed to Grand Canyon University, he has a fastball that's reached 94 mph and he could get selected in the MLB Draft in June.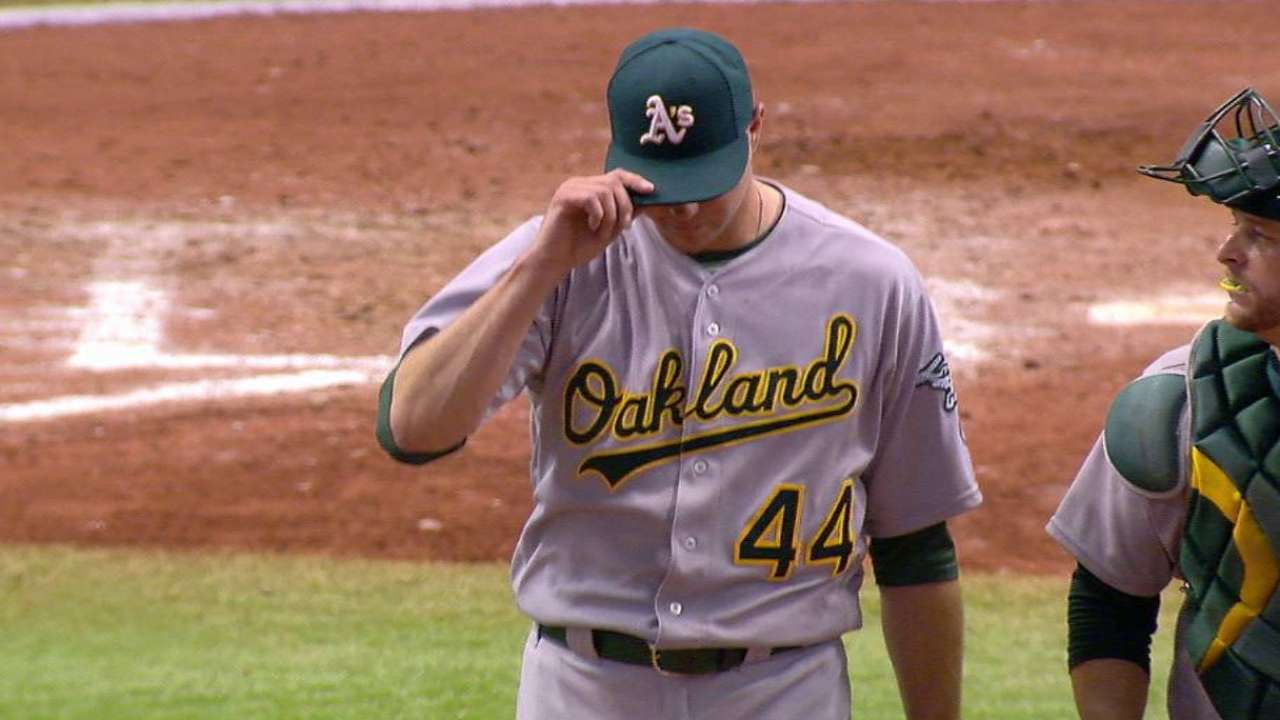 Madson met Morell in Temecula, Calif., where Madson was hanging out at home in February 2014, being a husband to Sarah and father to five children and hardly ever thinking about the Majors after a blown-up elbow had sabotaged what had been a dynamic career at the game's highest level.
"I was just drained, spent," Madson said. "I had lost the passion for the game, and honestly, didn't think I'd ever get it back. But Johnny and I talk about this a lot … we found each other for a reason."
Madson rose to prominence in the Majors as a setup man for the Phillies, using a power fastball and a Cartoon Network changeup to handle the eighth inning for the club that won the World Series in 2008. Madson was a dominant bridge to dominant closer Brad Lidge, and Philadelphia had a baseball-themed parade for the first time since 1980.
Madson parlayed that success into a full-time closer's role three years later and saved 32 games. But elbow ligaments snap, and his flamed out. Madson fell off the hardball radar completely in 2012 and '13, unable to cash in on opportunities from the Reds and Angels. And even after getting arm-healthy and fitter than he'd ever been with the help of a new exercise regimen he discovered at EVO UltraFit in Arizona in the fall of '13, he still didn't want to pitch.
But Morell did.
Former Phillies scout and Royals special assistant Jim Fregosi Jr. knew Morell, who was living in Temecula at the time. He knew the kid had a future on the mound, he knew his father, "Big John," and he knew that Madson was kicking around town, helping out Little Leaguers when he wasn't tending to his own flock.
The two were introduced and began working out together. The ball began exploding out of Madson's right hand again. With Morell's encouragement, the competitive fire returned.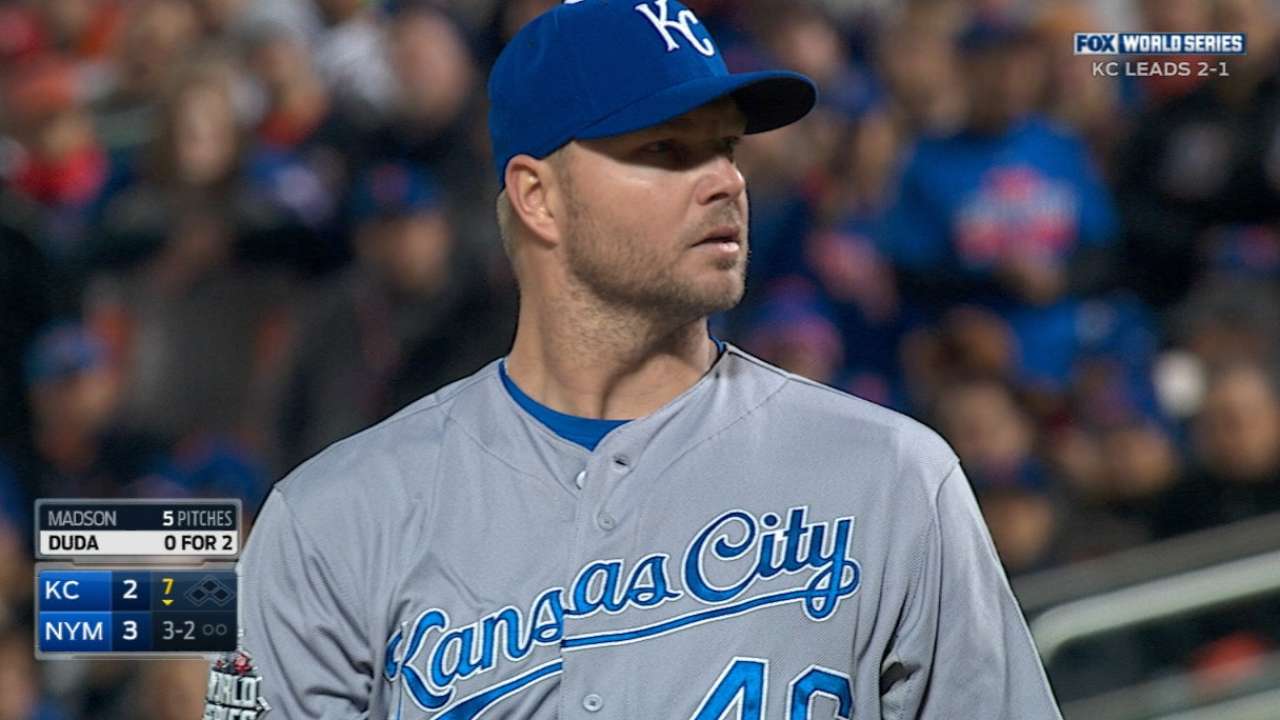 And two years later, Madson is all the way back. The Minor League flyer taken by the Royals prior to 2015 paid off in a huge way. Madson made the team out of Spring Training, and he was topping out at 97 mph on national TV on the October stage.
The 35-year-old Madson earned his second World Series ring, another multiyear deal and the closer's gig in Oakland a few weeks into this season. Even after blowing a save in Seattle on Tuesday night, he has a 2.66 ERA, 11 saves and a team with a young bullpen to mentor.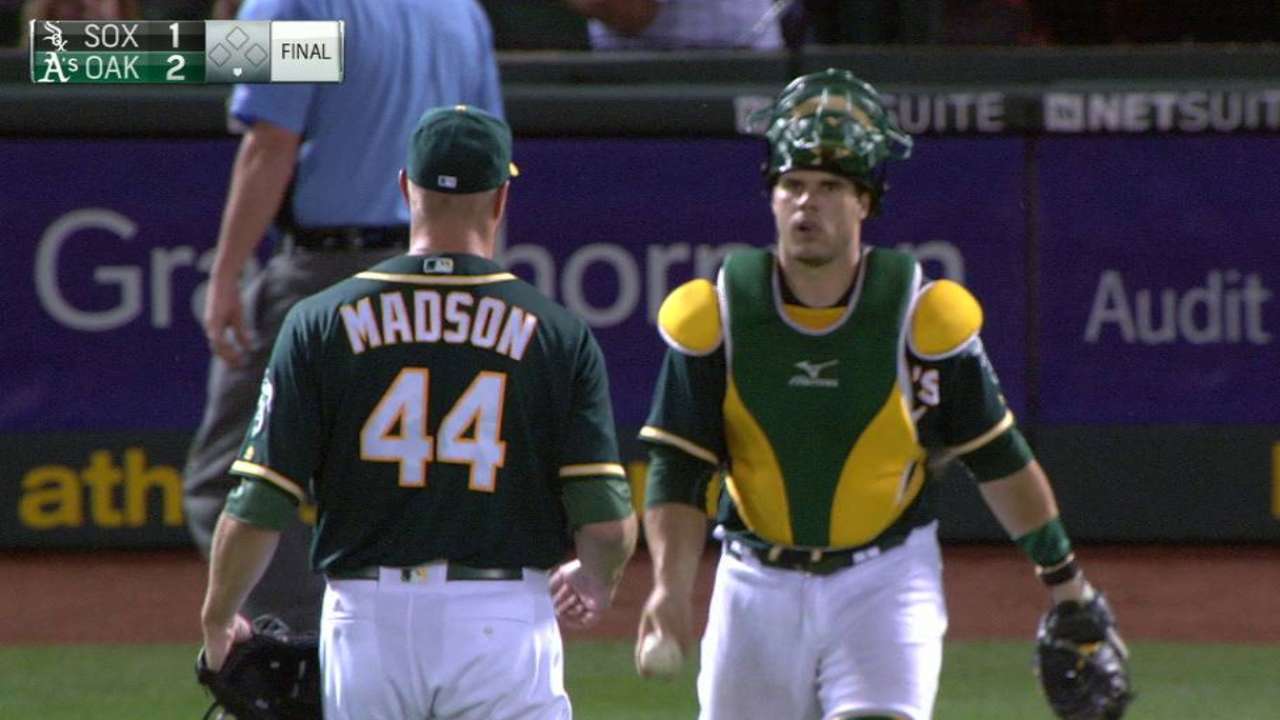 That, after all, might be what Madson does best.
"You wouldn't know if he saved the game or gave up three runs," A's reliever Ryan Dull said. "He's the same guy, day in and day out."
Madson has been too far away from the game to not come back and be appreciative of everything he has. That attitude is rubbing off on everyone around him in Oakland.
"As good as his story is, he's even a better guy," Melvin said. "He's a terrific teammate, and on top of it, he's done really well for us."
Doug Miller is a reporter for MLB.com based in Seattle. Follow him on Twitter @DougMillerMLB. This story was not subject to the approval of Major League Baseball or its clubs.