First start a learning lesson for A's righty Neal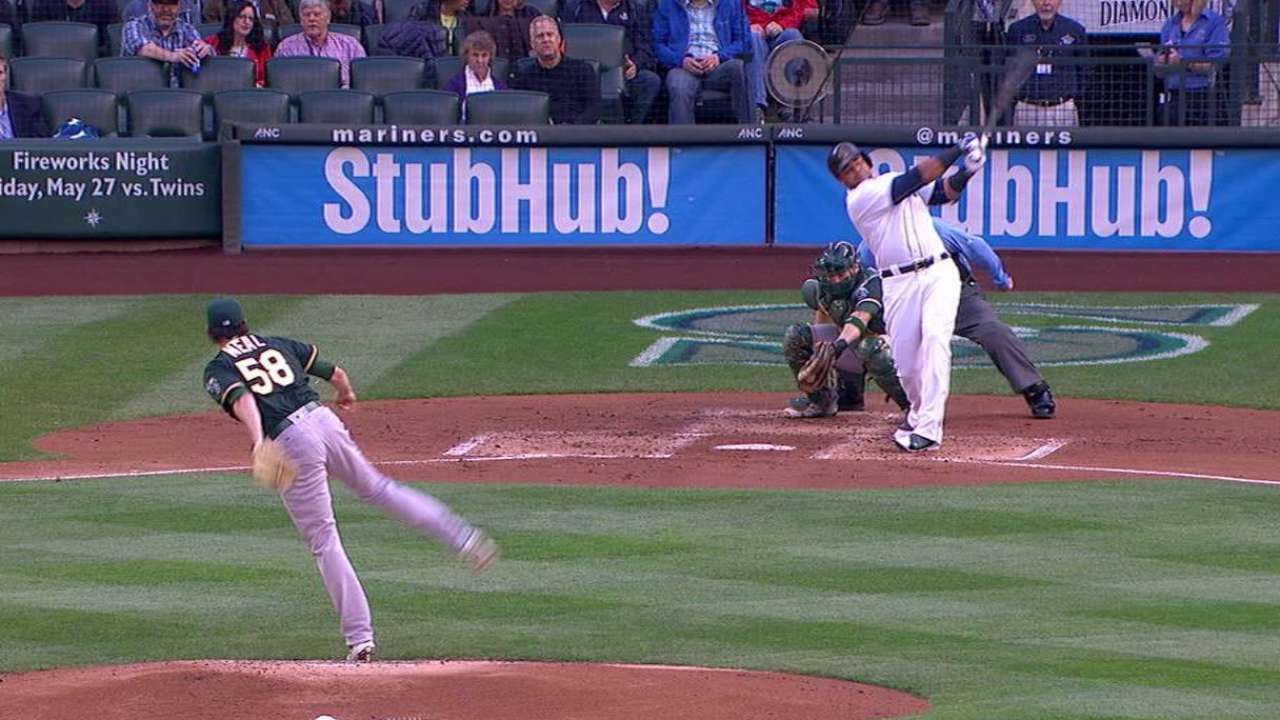 SEATTLE -- Zach Neal threw strikes. That's what he did in Triple-A in the months leading up to his first Major League start, and that's what he did when the lights came on at Safeco Field on Wednesday night.
But Neal has a lot to learn about competing at this level, and the education process began in the early stages of his A's team's 13-3 loss to the Mariners. Throwing strikes sometimes isn't enough, and while Neal had his moments in a four-inning outing, but he also ended up having crooked numbers attached to his line.
"It kind of seemed that everything they hit was finding a hole," Neal said. "That's how baseball is sometimes."
The A's right-hander, who had made one appearance in the big leagues -- a three-inning relief stint in Boston on May 11 -- prior to getting the call to replace injured ace Sonny Gray, didn't issue a walk and threw perfect innings in each of his first and last frames.
But an Adam Lind solo home run got him in the second and everything unraveled in the third.
The pivotal inning started off with a flurry of hits. Luis Sardinas singled, Norichika Aoki doubled him to third, and Leonys Martin singled in a run to give Seattle a 2-1 lead. After Martin stole second base, Seth Smith singled in Aoki and pushed Martin to third.
It was now 3-1, but there was subsequent reason to be encouraged when Neal got two big outs in one play. Robinson Cano's ground ball to first base ended up being a nifty 3-2-5 double play. Neal made a good pitch to the next batter, Nelson Cruz, and got weak contact on a slow roller to shortstop. But the ball was hit so slowly that Cruz was able to beat out the throw for an infield single.
Kyle Seager singled in the Mariners' fourth run, and then Lind dropped the hammer on Neal and the A's, unloading for his second homer in as many innings, a three-run blast into the right-field bleachers that put the game out of reach at 7-1.
There wasn't much more Neal could do, but he did retire the side in order in the fourth. He departed after that, having thrown 60 pitches, 40 of which were strikes.
After the game, A's manager Bob Melvin said he appreciated not only the way Neal responded to the nightmarish third but that he was able to give the team another inning and help a beleaguered bullpen.
"I needed some innings," Melvin said. "There's some times you just can't take a guy out early and run through your whole bullpen again, as we've been doing quite a bit this year. Sometimes a guy's got to figure it out a little bit and give you some innings."
Neal didn't get too philosophical about the emotional experience of a first start in the Major Leagues. He had his, it didn't go very well, and he was disappointed but ready to build off of it and prepare for the next one.
"It started off good and everything after that wasn't ideal, for sure," Neal said. "Obviously, the third [inning] still can't happen, but that is a positive to come back and get three outs."
Doug Miller is a reporter for MLB.com. Follow him on Twitter @DougMillerMLB. This story was not subject to the approval of Major League Baseball or its clubs.