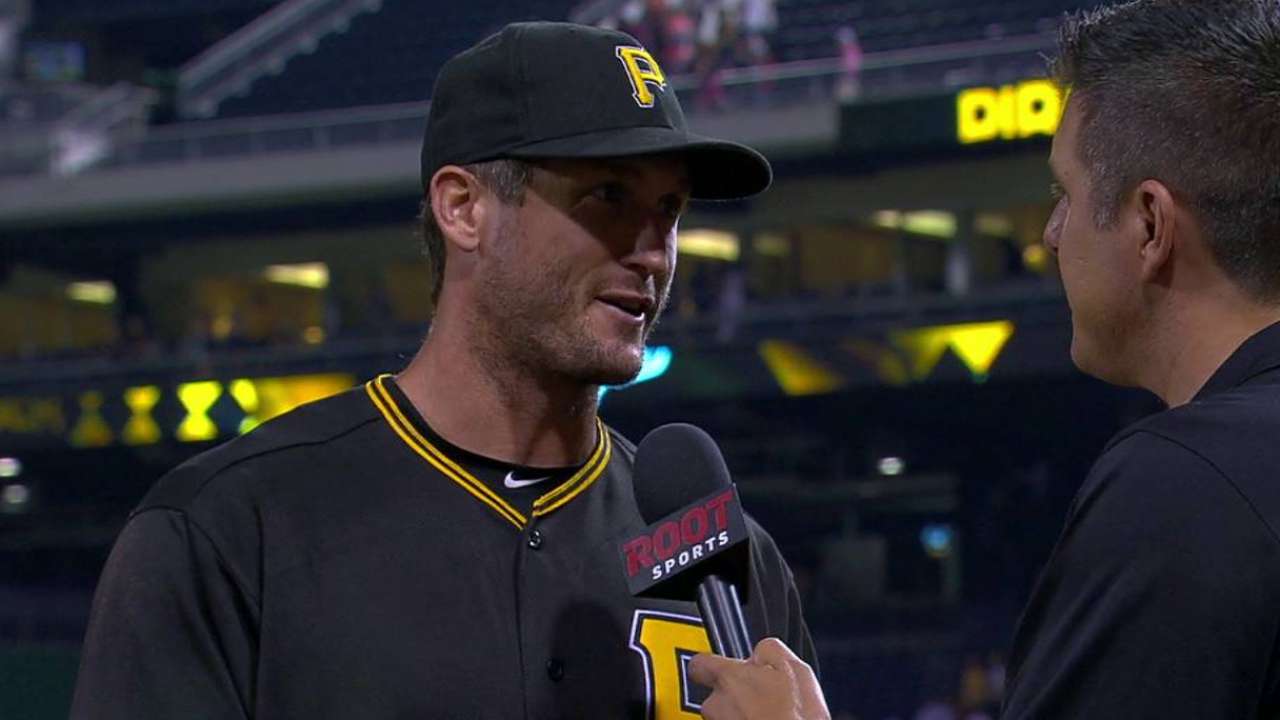 PITTSBURGH -- Infielder David Freese homered to center field in the fifth inning, giving the Pirates their first lead of the day and an eventual 5-4 win vs. the D-backs.
Freese's two-run homer scored Gregory Polanco as it soared 451 feet, gliding into the Pirates' bullpen and dropping into the outstretched glove of Neftali Feliz. Pittsburgh had stranded five men on base through the first four innings, and Freese was happy to offer starting pitcher Jeff Locke some run support.
"We didn't help him out too well early with guys in scoring position, me in particular a couple times, so it was nice to kinda show up there," Freese said.
Freese's role has changed since the return of third baseman Jung Ho Kang, who was sidelined by severe left leg injuries from last September until May 6. Freese has started 10 games and played eight complete games this month.
"We revisited it right before we felt Kang was headed our direction," Pirates manager Clint Hurdle said. "There's going to be ample opportunity for him to play, whether it be at third or at first. We'll see what situations might be created. He's a pro, he's having a blast, he's working hard, so he's been a nice addition to the club."
Though playing more sporadically could obviously affect a hitter's rhythm, Freese said it's also a challenge to stay sharp on defense when not playing every day.
"You've just gotta keep working and I think the tough thing with all that is you might not get a certain play for a week or two maybe, so when you're getting your work in, you've gotta simulate certain grounders and certain movements," Freese said.
Freese said he takes pride in his role on the team, even if it's limited -- particularly because depth becomes more important toward the end of a 162-game stretch, or when teams want to remain competitive in the postseason.
"I think it's easier when you love where you're at," Freese said. "I love being here. It makes it a lot easier coming to the yard. I think when you're on winning teams, you understand it takes more than 25 guys, sometimes 35 at later points in the season."
Sarah K. Spencer is a reporter for MLB.com based in Pittsburgh. This story was not subject to the approval of Major League Baseball or its clubs.