Righting the ship: Peavy, Kontos rebound
Giants right-handers play big role in win after recent struggles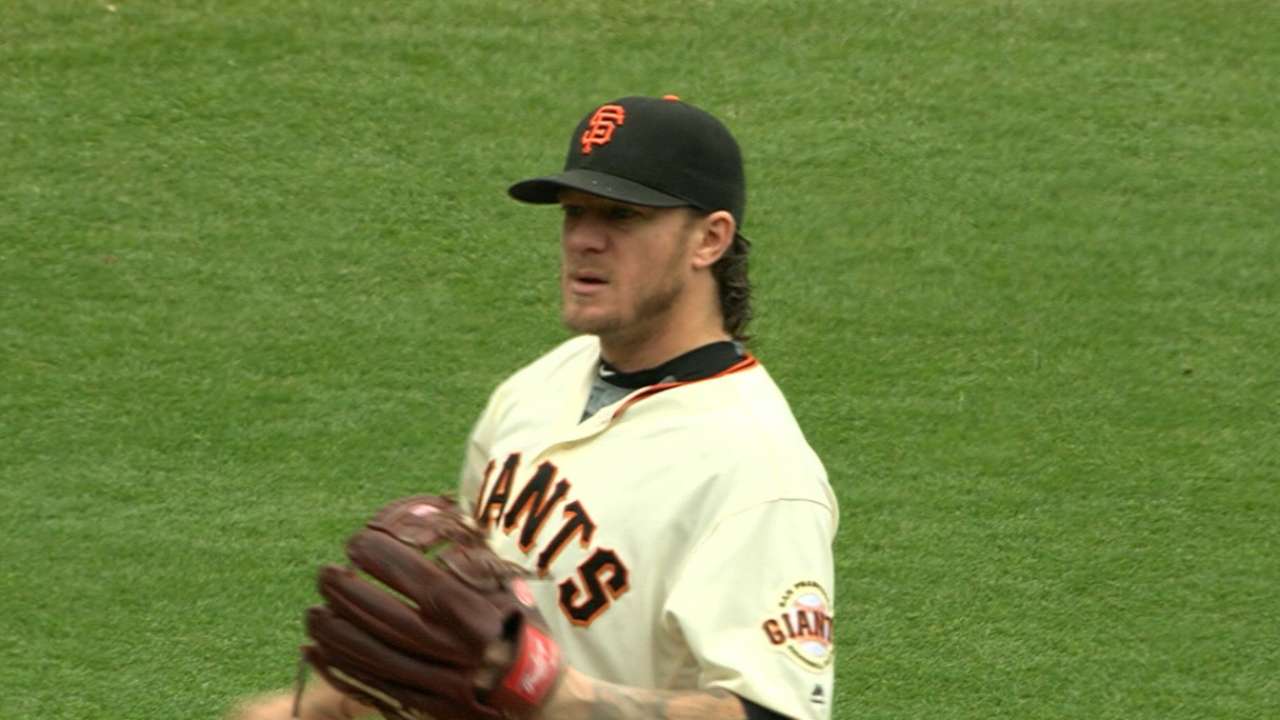 SAN FRANCISCO -- The Giants' 4-3, 10-inning victory over the Padres on Wednesday included redemptive performances from a pair of right-handers needing a boost.
First came Jake Peavy, who limited San Diego to one run in 6 2/3 innings. Peavy's performance represented a welcome turnaround from his previous outing last Friday, when he allowed five runs to the Cubs in 1 2/3 innings.
The Giants' fifth reliever on the day was Kontos, who was activated from the 15-day disabled list May 17 after missing almost a month with a flexor strain in his throwing elbow. Kontos, who had developed into an integral member of the bullpen, had allowed three runs in two appearances since being reinstated, despite feeling strong. This time, Kontos' optimism was justified as he recorded the final two outs in the 10th and earned the decision.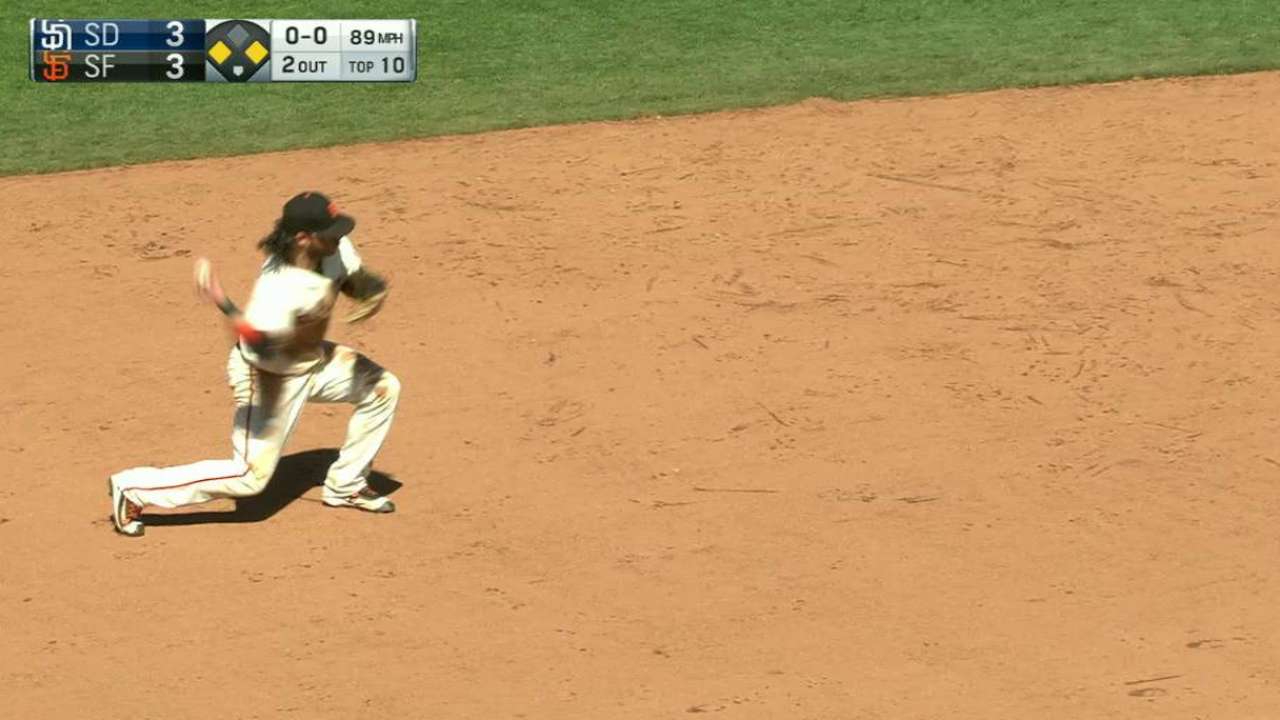 They joined San Francisco's ongoing party that has produced 13 victories in the club's last 14 games. The National League West-leading Giants (30-19) climbed to 11 games over .500, equaling last year's zenith.
Should Peavy sustain his turnaround, San Francisco's record could climb even higher. Giants starters are 9-1 with a 1.56 ERA during the 14-game stretch. That surge has been sustained with significant help from every starter except Peavy, who entered Wednesday with an 0-4 mark and a 9.58 ERA in his last five outings. He was well aware of the legions of fans calling for his removal from the rotation.
"It doesn't bother me. Those are the same fans who cheered today," Peavy said, demonstrating a 15-year veteran's perspective. "I certainly understand the frustration of many fans with a lot of the starts. That said, I don't think anybody in this clubhouse was in any kind of panic form, nor are we. In knowing what we had done here the past few years, we all believe that same guy's coming."
That guy -- Peavy -- received considerable assistance in the first inning from left fielder Kelby Tomlinson, who threw out Yangervis Solarte at home plate. "Kelby played his rear end off," said an appreciative Peavy.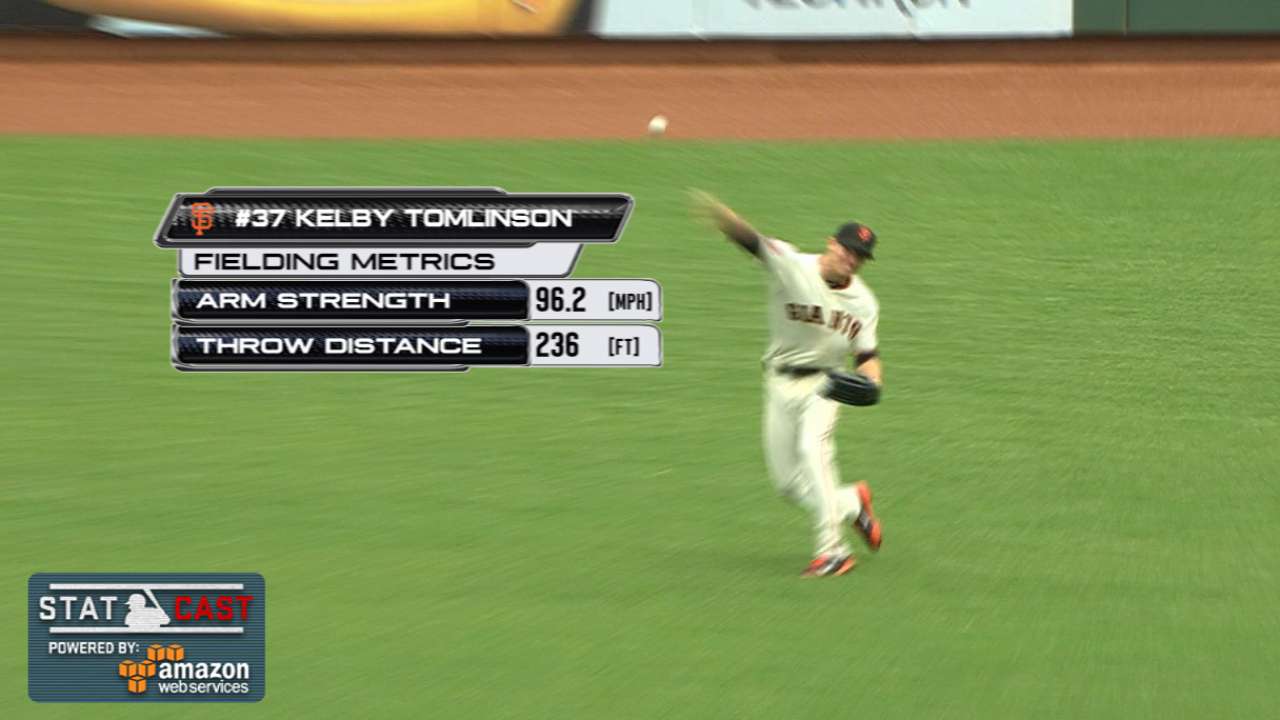 Then it was Peavy's turn to pitch his rear end off. He retired 13 of 14 batters from the third through seventh innings until Brett Wallace's double and Alexei Ramirez's RBI single finished him.
"He just looked so determined out there," manager Bruce Bochy said of Peavy. "He wasn't really happy with his last start. ... He was frustrated with himself. He just got back to being himself. It looked like he stopped overthinking some things out there and had a good rhythm. If anybody can handle what he's gone through, he can. He's such a tough competitor."
Kontos entered the game with runners on the corners and one out in the 10th. After fanning Solarte, Kontos found himself facing Matt Kemp, a significant figure from his past. It was Kemp, the ex-Dodger, whom Kontos struck out in a crucial situation at Los Angeles late in 2012 to win a spot on the postseason roster. Kontos prevailed again, coaxing a fielder's-choice grounder to shortstop.
"I made some really good pitches in my last couple of outings. A couple of mistakes just got put in play and I gave up a couple of runs," Kontos said. "Coming into today, just thrown right into the fire, you don't really have time to think. You just have to go right in there and execute pitches. It really helps you get back on track as far as going out there today and doing your job."
Chris Haft has covered the Giants since 2005, and for MLB.com since 2007. Follow him on Twitter at @sfgiantsbeat and listen to his podcast. This story was not subject to the approval of Major League Baseball or its clubs.