Travis returns, lengthening Blue Jays' lineup
Venditte optioned to Triple-A Buffalo to create roster spot for second baseman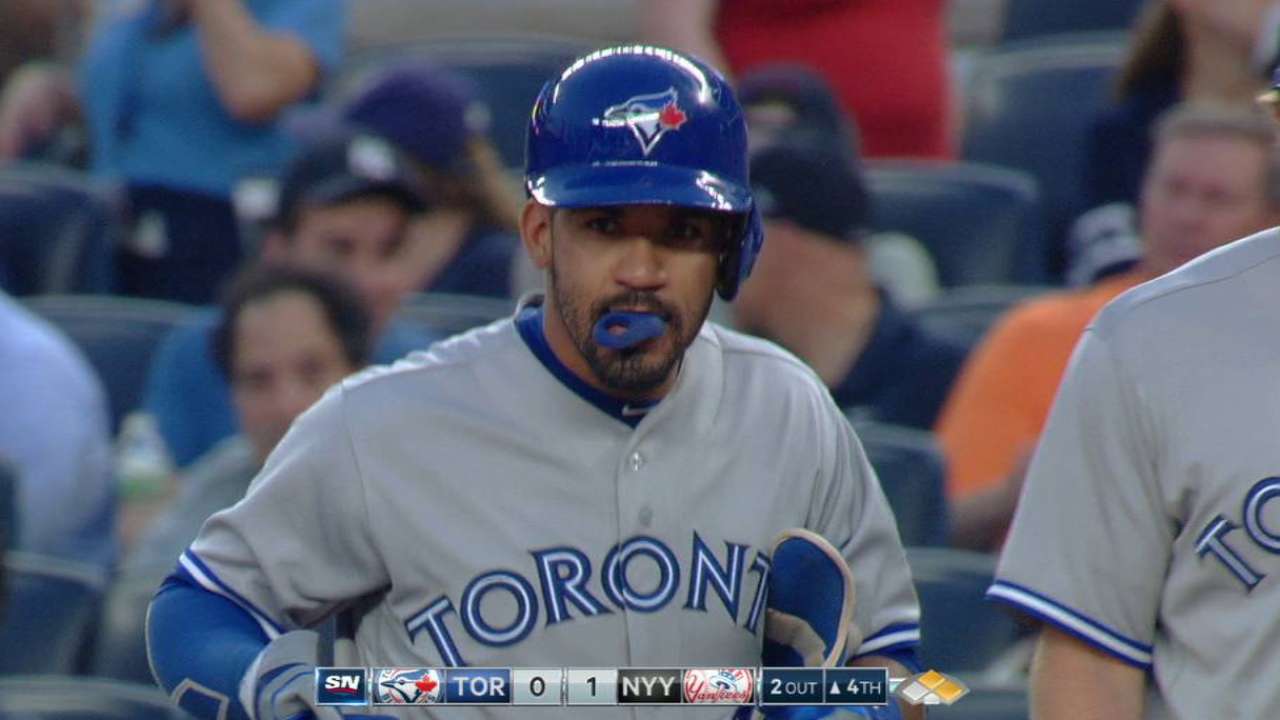 NEW YORK -- The Blue Jays received a much-needed boost to their struggling lineup on Wednesday with the long-awaited arrival of Devon Travis. It didn't take long for his presence to be felt.
Toronto activated its second baseman from the 15-day disabled list prior to an 8-4 victory over the Yankees. Travis hit out of the No. 8 spot and singled in his second at-bat before scoring all the way from first on a two-run double by Ryan Goins.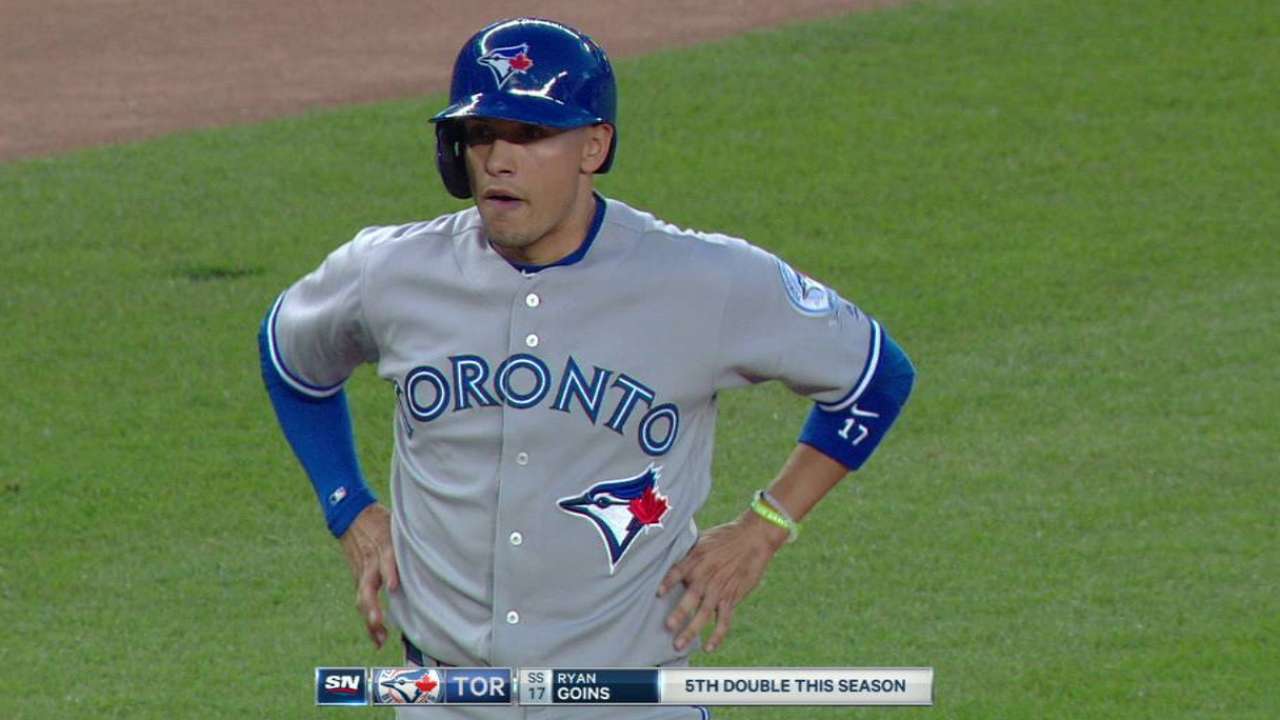 Travis had been out since last July 28 with a left shoulder injury that was initially diagnosed as inflammation. He later underwent surgery, however, to fuse an overgrown bone in his shoulder. The rehab was long and hard, but the most important thing is that Travis is back.
"Man, it has been tough," admitted Travis, who went 1-for-4 in his season debut. "These were the hardest 10 months of my life. I've never in my life doubted -- not just doubted myself -- but really doubted the fact that I could ever come back and just swing a baseball bat again.
"For the first three months, I couldn't lift my arm over my shoulder in rehab. All of those little things, I've grown to appreciate, just having two working arms. It has been a really, really tough process ... just countless hours of grinding mentally and physically. I'm just happy to be back here now."
Toronto initially announced plans to have Travis play nine innings at second base for Triple-A Buffalo on Wednesday, with a game at designated hitter scheduled for the following day. That stance changed when shortstop Troy Tulowitzki left Tuesday night's 6-0 loss to the Yankees in the seventh inning with a tight right quad.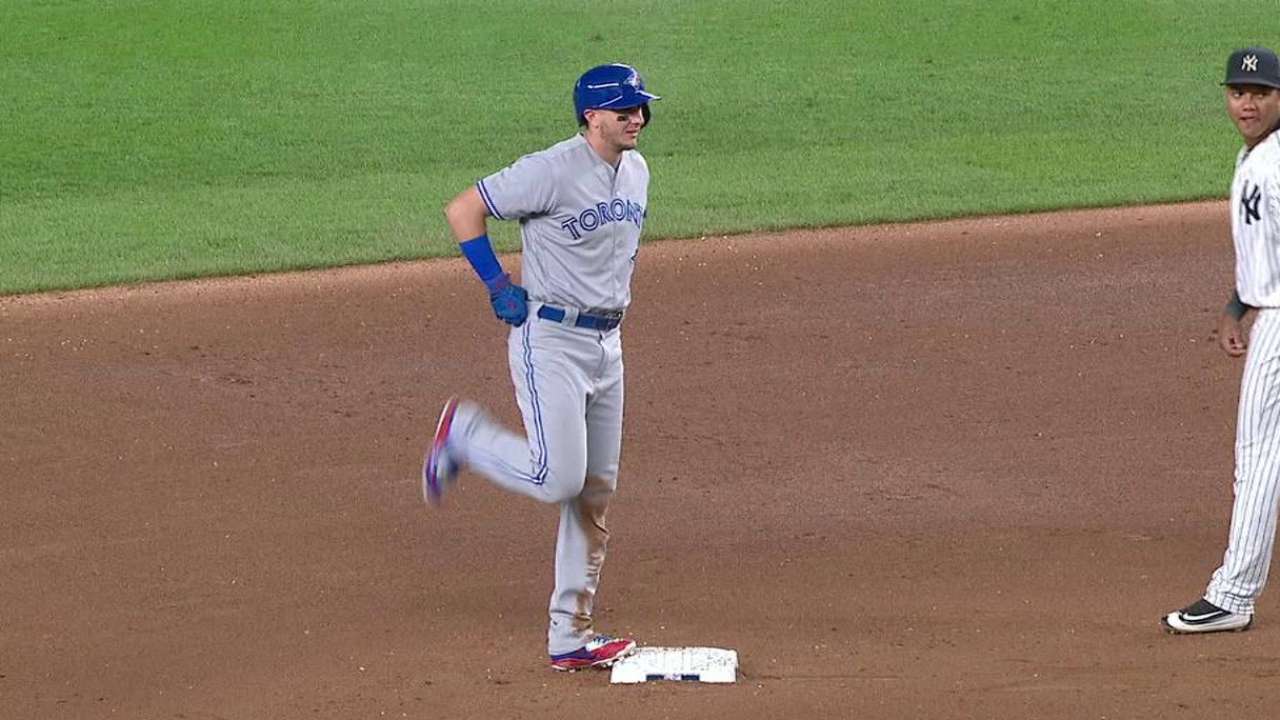 Tulowitzki was held out of the lineup on Wednesday night, with Goins getting the start at shortstop. Tulowitzki is considered day to day, but to protect against the risk of further injury, the Blue Jays decided to temporarily shift to a six-man bullpen, optioning switch-pitcher Pat Venditte to Triple-A Buffalo to make room for Travis.
The abrupt promotion caught Travis a off guard a bit, as he was pulled midway through Buffalo's game on Tuesday night, but it didn't take him long to figure out what was going on.
"At first, I was like, 'Man, I know I was supposed to play nine innings today and I know I didn't read the schedule wrong," said Travis, who had 11 hits in 36 at-bats on his rehab assignment. "So I got back to the dugout ... and was like, 'What's going on?'
"I went in and checked the game, and I had it in the back of my mind that I could be going back up. I looked and saw that Tulo had come out of the lineup. I was not excited to find out about that, but they told me at about 11:30 [p.m. ET], and I'm just glad to be back."
Blue Jays manager John Gibbons said he would give Travis a couple of days to see how he looks before moving him up in the batting order. The expectation is that it's only a matter of time before Travis becomes the regular leadoff hitter, and that could happen as soon as Friday night's game against the Red Sox.
Gibbons also mentioned that Travis will receive an occasional day off, but for the most part, he is here to play every day. That likely means that Goins will be the odd man out when Toronto returns to a seven-man bullpen later this week, with utility infielder Darwin Barney expected to stick around.
"We'll give him a couple of games, see how he's swinging it," Gibbons said of Travis. "If he looks like he's the guy, then we'll put him up in the top spot. In Spring Training, we kind of talked about that when we were searching for a leadoff guy. 'Well, when Travis comes back, he could be that guy.'"
Gregor Chisholm has covered the Blue Jays for MLB.com since 2011. Follow him on Twitter @gregorMLB and Facebook, and listen to his podcast. This story was not subject to the approval of Major League Baseball or its clubs.