Rodon building confidence year into Majors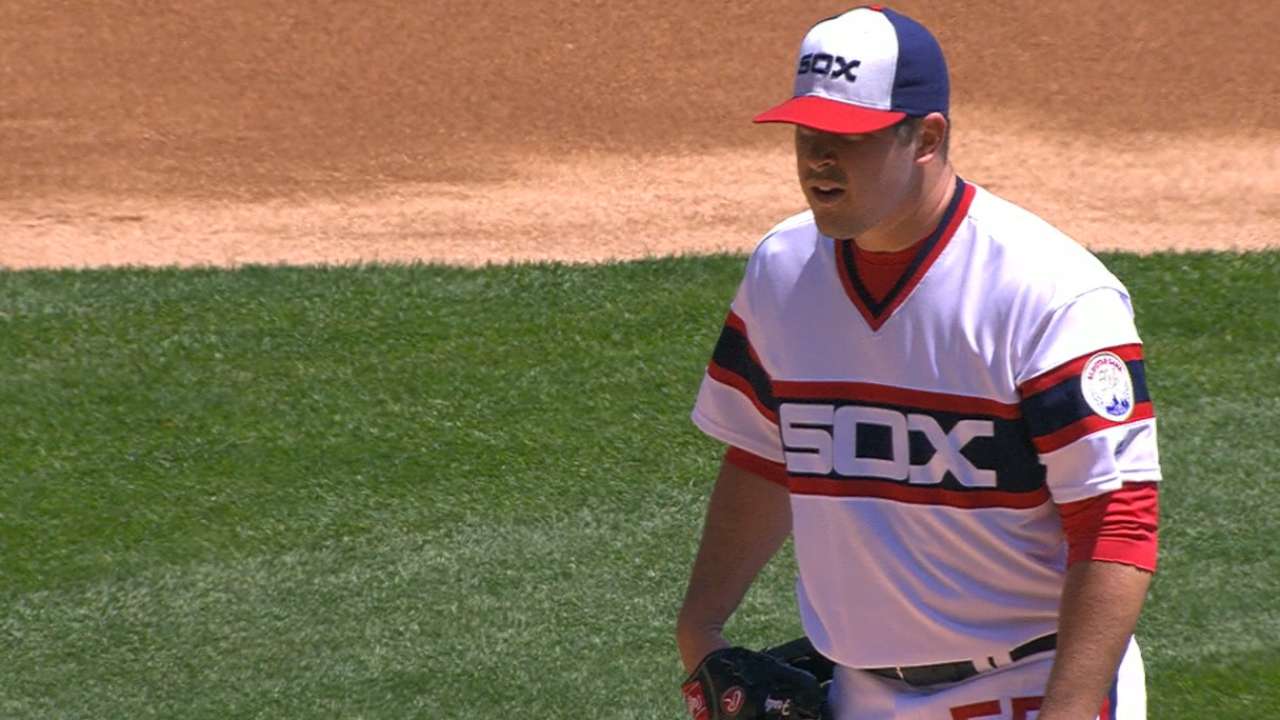 CHICAGO -- In talking about Carlos Rodon's first year as a Major League starting pitcher, White Sox pitching coach Don Cooper decided to interject his own question into the conversation.
"What's the difference between those two guys (Chris Sale and Jose Quintana) and Rodon?" Cooper asked.
"Confidence," was the response.
"No, Not confidence. I think they are all confident," Cooper said. "It's strikes. Strikes, period."
Rodon's next trip to the mound on Friday in Kansas City marks career start No. 33, a total that sums up one season in a rotation. Over that time, including parts of 2015 and this current campaign, Rodon features an 11-10 record with a 3.98 ERA. He has fanned 186 batters over 185 1/3 innings but also walked 86, a number which lends itself to Cooper's strike theory.
But there is something to be said for the 23-year-old southpaw gaining confidence in his ability to get out of jams or bounce back from rough starts as he progresses on the mound. It's true even for a 23-year-old with the immense talent level possessed by Rodon.
"Lost confidence, gained it back. It's part of it, man. That's baseball," Rodon said. "That's at every level. Once you find that confidence, look at Jake Arrieta. Every night he comes out and has that confidence. You can see it on the mound.
"It makes you that much better. That's the edge in this game. I think it's once you find that confidence like those guys, guys that are established, guys that are just coming up, you find that confidence and it makes you pretty exceptional.
"They drafted me for a reason, I'm here for a reason. It's trusting myself in doing the job. When you are at this level, that's the way it is. Everyone is good. It's just confidence."
Cooper mentioned as far back as Spring Training that Rodon was a work in progress. His eight straight quality starts to end '15 and then two straight to open '16 made it easy to see the big three at the top of the White Sox rotation with Sale and Quintana. Rodon understands it takes time to reach that lofty level.
"Like Coop always says, 'Sale wasn't Sale overnight.' It just didn't happen like that. Q, the same thing," Rodon said. "It takes time. I'm still learning, still developing and we are getting there."
"When I see something happening in the bullpen, if I see it getting better and better and see it out there in the bullpen, now I have a right to expect to see it in the game," Cooper said. "As opposed to not seeing it in the bullpen and if it happens in the game, it's luck. What pitchers do isn't luck. It's an acquired skill. Like everybody else, no matter where they are at in the process, he is trying to acquire more skills. He's an up-and-coming, good-looking left-hander that has a lot more to learn and to get better at. But I see it happening."
Scott Merkin has covered the White Sox for MLB.com since 2003. Read his blog, Merk's Works, follow him on Twitter @scottmerkin, on Facebook and listen to his podcast. This story was not subject to the approval of Major League Baseball or its clubs.