Wright settles in after anxious first inning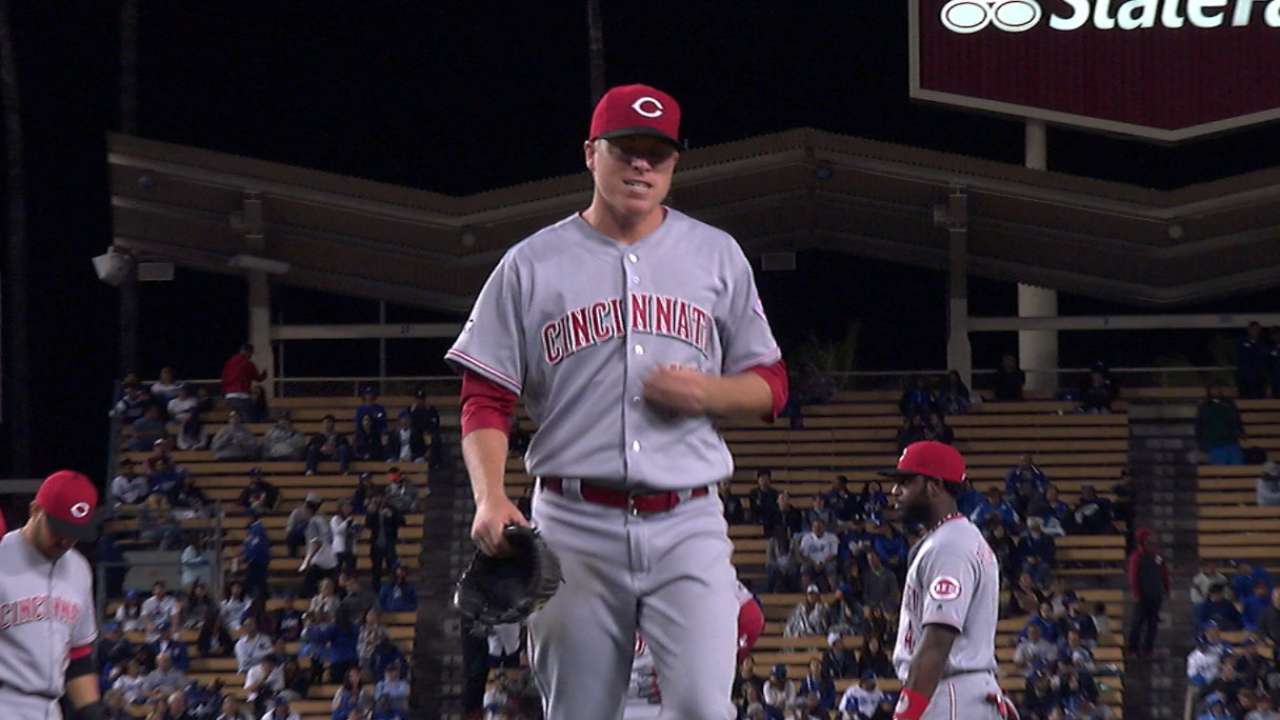 LOS ANGELES -- On a night where very little worked for the Reds in an 8-2 loss to the Dodgers, a player who started the year as a Double-A reliever provided an unexpected silver lining.
Right-hander Daniel Wright, who didn't even appear in the Reds' big league camp during Spring Training, lasted into the sixth inning Tuesday at Dodger Stadium, allowing three earned runs and striking out four. While not the prettiest line, it was still a performance that impressed manager Bryan Price in his first chance to see the young pitcher.
"He did a fine job. You can't set expectations for these kids that are 23, 24, 25 making their debut in Dodger Stadium," Price said. "Just want to throw it over the plate and let the defense work. For the most part, he did that. Was a little erratic in the first inning, gave up a couple hard-hit balls and a soft base hit for a run, but all in all, he did a fine job."
It looked like Wright was destined for a tough outing when Chase Utley, Corey Seager and Justin Turner all led the Dodgers off with singles in the first inning, but the rookie was able to work through it and strike out Adrian Gonzalez in the next at-bat.
"I was definitely anxious to get out there," Wright said. "First inning, a little bit fast for me, but I think was able to settle down. Throughout the game, I kind of put myself in tough situations, got behind in counts, but overall, I battled. Got through five, wish I could have gone a little bit longer. It's good to get my feet wet."
However, Wright's difficulties for the night weren't limited to his own creation. The Reds' defensive problems popped up again Tuesday, committing three errors for the second consecutive game.
A throwing error by Tucker Barnhart allowed Joc Pederson to take home after stealing third, giving the Dodgers a 3-2 advantage and the final lead.
"I thought he was really good," Barnhart said. "Minimized some damage early and got through five solid innings. Had I not thrown a ball away, better chance of him maybe getting through that inning with less damage."
Wright and Price credited the right-hander's changeup as his most consistent pitch, with Wright elaborating that all of his other pitches came and went.
For where started the year, Wright's present is a pleasant surprise for a team that is giving plenty of opportunities to young pitchers this year.
Jack Baer is a reporter for MLB.com based in Los Angeles. This story was not subject to the approval of Major League Baseball or its clubs.