Papi's 4 RBIs back Price as Sox handle Rox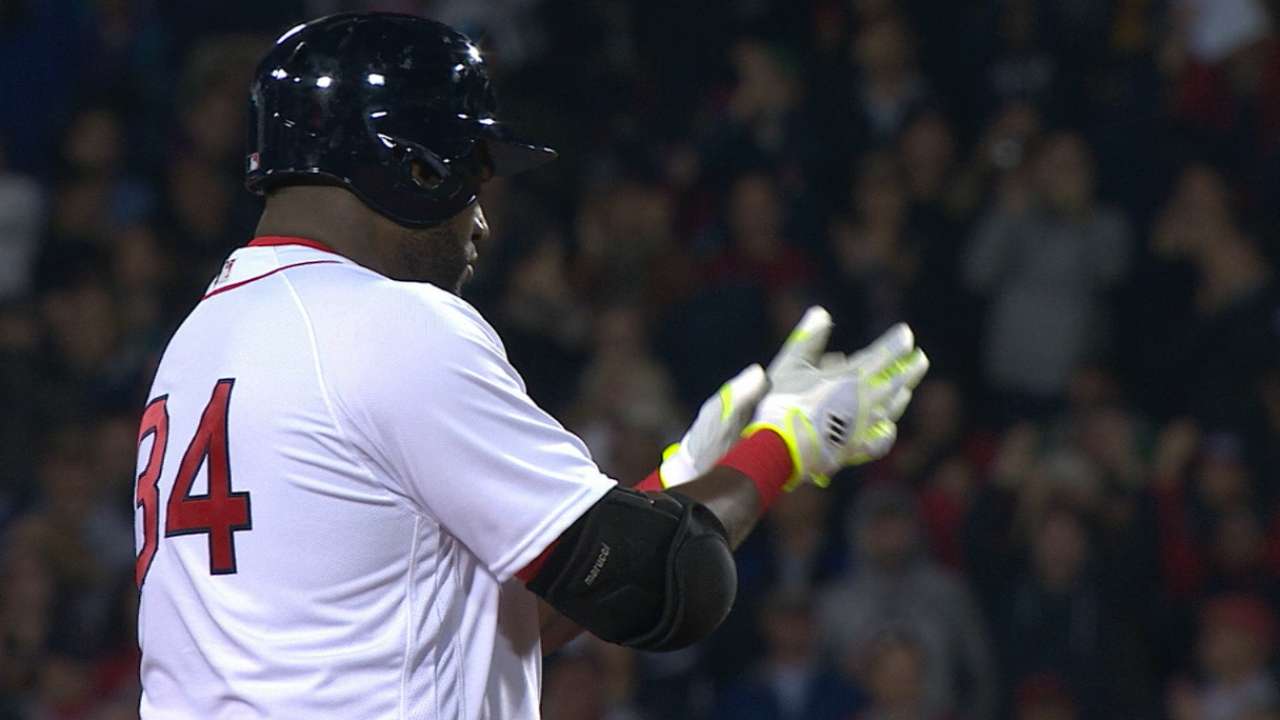 BOSTON -- The Red Sox continue to pound the baseball at Fenway Park, making the Colorado Rockies their latest victims en route to an 8-3 victory on Tuesday night.
David Ortiz had four RBIs, Jackie Bradley Jr. ran his hitting streak to 28 games and David Price (7-1, 5.34 ERA) produced his third straight strong performance to earn the win. Boston is 12-2 in its last 14 home games and has recorded 10-plus hits in 16 of 18 games at Fenway since April 20.
"We've done a tremendous job of scoring a lot of runs early, especially in the first inning," said Price, who averages an American League-high 6.2 runs of support through 10 starts. "To go out there and know you don't have to be perfect every pitch, it definitely takes a lot of stress off the starting pitcher. It's huge."
Bradley is six games shy of Dom DiMaggio (1949) for the longest hitting streak in Red Sox history, and halfway to Joe DiMaggio's all-time record of 56 games, set in 1941.
"I'm just being reminded about it a lot," said Bradley. "Just swinging. Having fun."
• JBJ halfway there! Streak reaches 28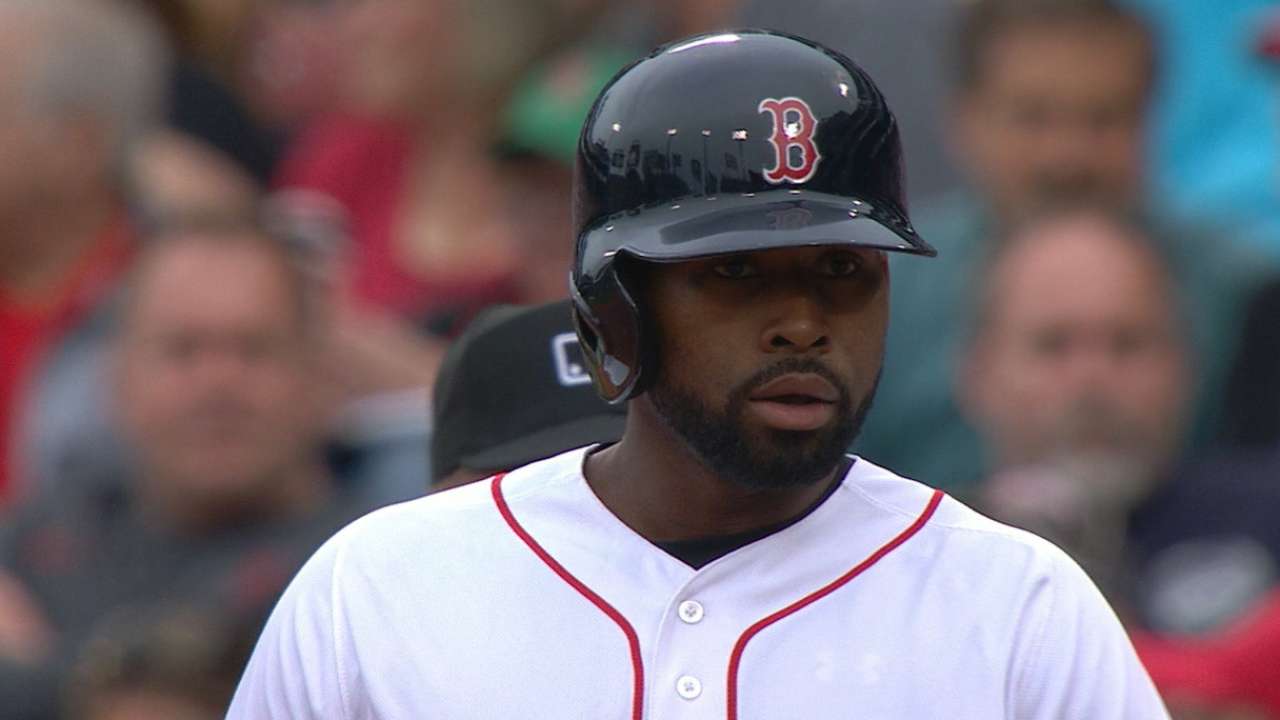 Bradley extended his streak on the first pitch he saw, lacing a double against Rockies starter Jorge De La Rosa in the second. Ortiz ripped a two-run single in the first inning, and the Red Sox led for the rest of the night.
Over seven innings, Price gave up five hits and three runs, walking one and striking out six. Charlie Blackmon hit a solo homer against Price in the third on a mostly quiet night for the Rockies.
MOMENTS THAT MATTERED
Bogaerts also on tear: With all the attention on Bradley's streak, the fact that Xander Bogaerts is also red-hot has been a bit overshadowed. Bogaerts ran his career-long hitting streak to 17 games with two hits, including a double. The shortstop leads the American League with a .349 average.
"He's smoking it, aint he?" said Bradley. "He's a really good player, a special player. I feel like every time he goes up there he has a consistent plan. He's sticking to it. He's our three hitter and he's doing a very good job of it." More >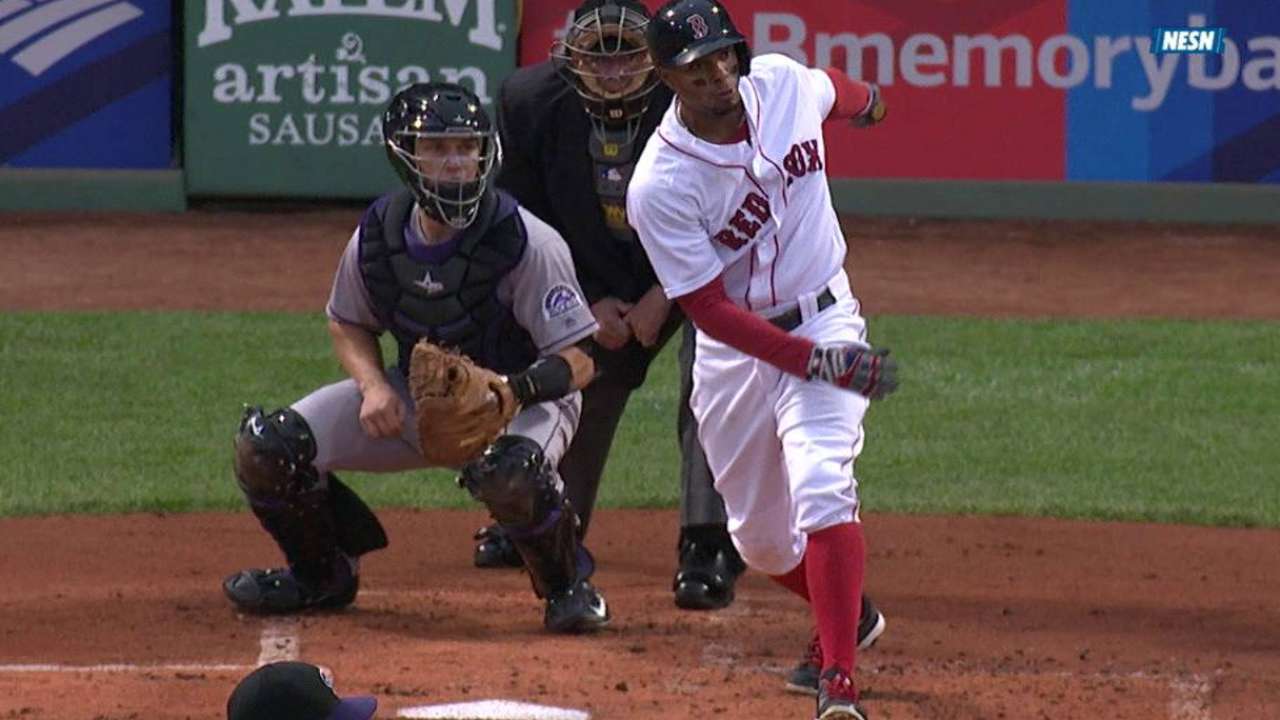 De La Rosa's first time back: De La Rosa returned from nearly a month on the disabled list with a groin strain to make his first career appearance against the Red Sox. The lefty allowed seven runs on nine hits and three walks with one strikeout in 3 1/3 innings. He fell to 1-4 on the season while his ERA went up to 11.41.
"I always say it starts and ends with your pitching, your starting pitching especially," Rockies manager Walt Weiss said. "When you get behind, you have to play from behind. Makes it tough on everybody."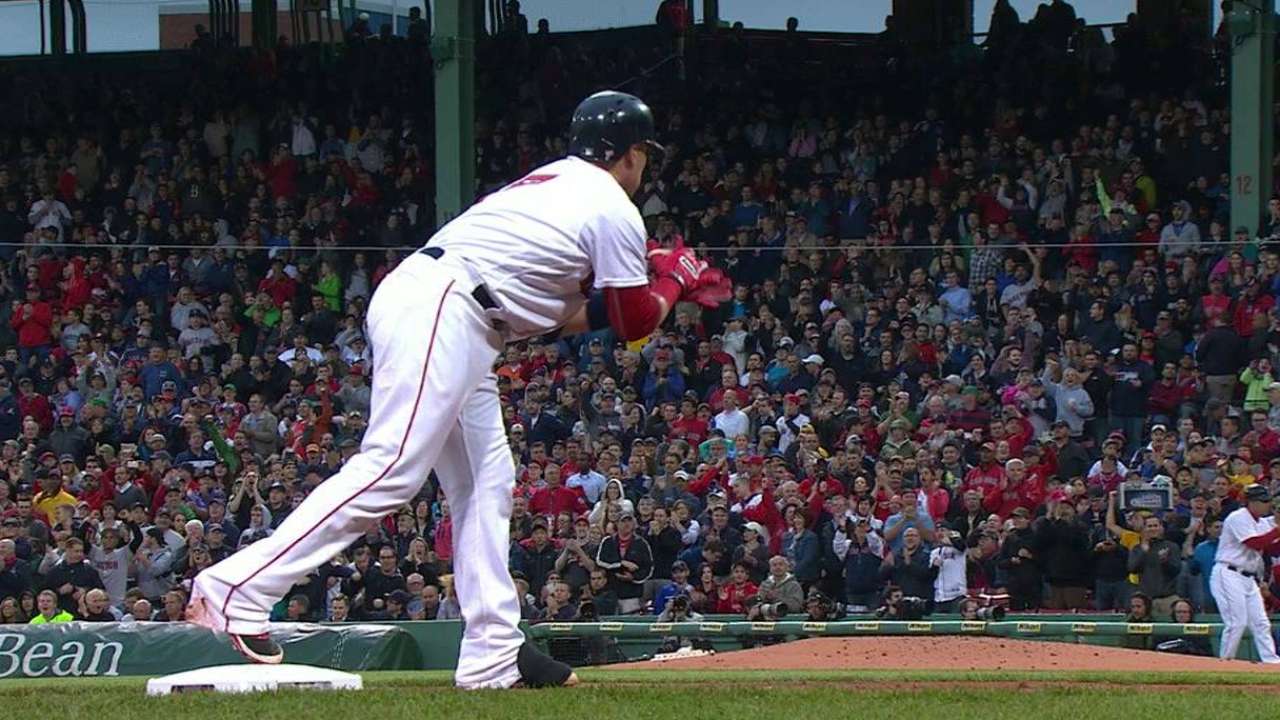 Papi stays hot: Ortiz continues to be on an extra-base and RBI tear, ripping a two-run single and a two-run double in his first two at-bats on Tuesday night. In his last 13 games, he has 13 extra-base hits and 16 RBIs.
"He's been outstanding, and tonight he takes what the pitcher gives him," said Red Sox manager John Farrell. "We're privy to everything that goes on before the game and the work that he puts in. But to see it come out and play as consistently, yeah, you wonder how long it can continue, but he's in such a great stretch right now."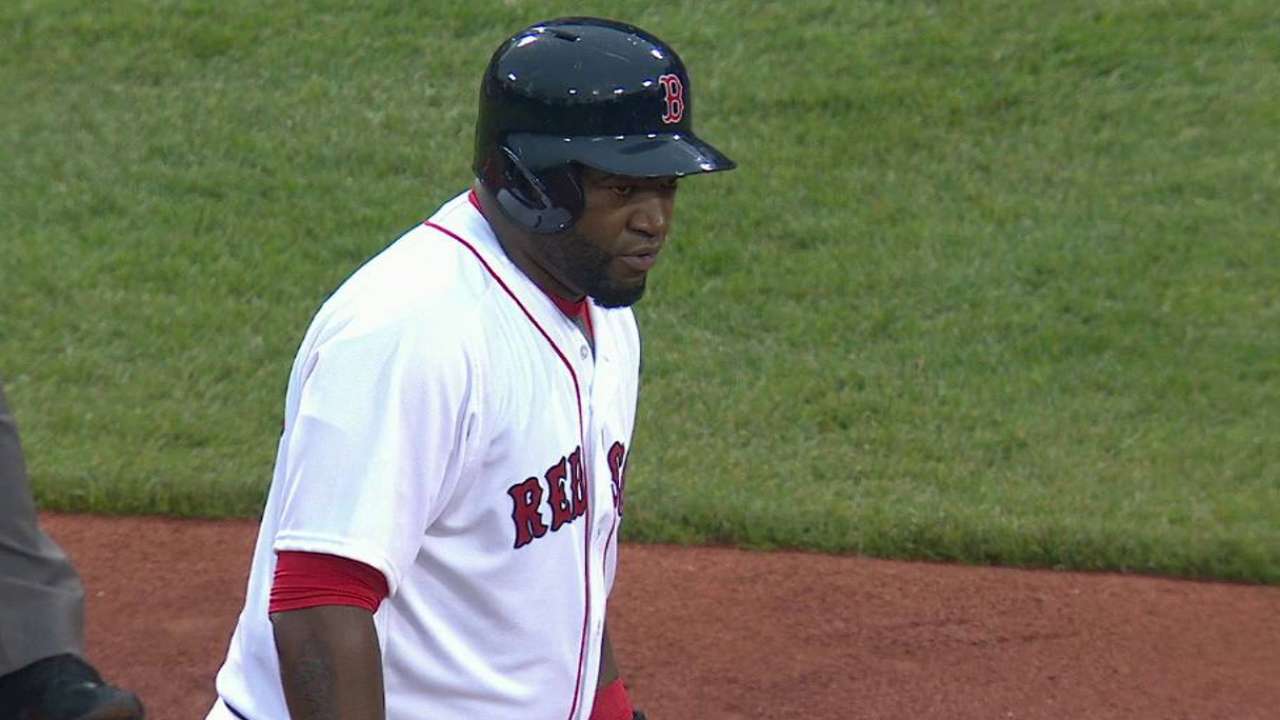 Reynolds reaches 1K milestone: Rockies first baseman Mark Reynolds earned his 1,000th career hit on a line drive into center field in the fourth inning against Price to extend his hitting streak to six games. Though he's proud of the milestone, Reynolds wants his team to get back on track.
"I remember my first time coming here, and I don't want to say it's intimidating, but you get caught up in the aura of Fenway Park and the Red Sox, the name on the chest, it's pretty neat," he said. "I was caught up in that, too, when I was young. Just have to get some of these young guys to not worry about that and know that these guys are baseball players just like us." More >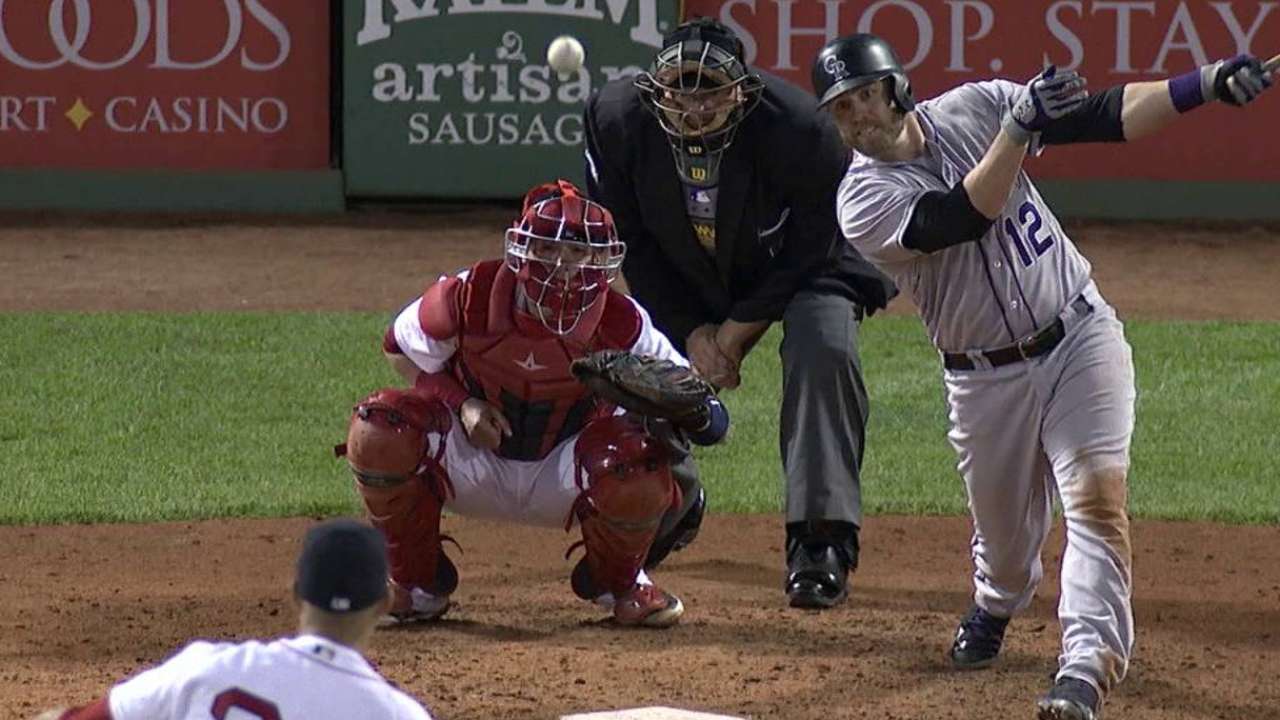 HANLEY EXITS AFTER PLUNKING
Red Sox first baseman Hanley Ramirez had to exit the game with a contusion on his right big toe. The injury occurred when Ramirez was plunked in the fourth inning on a pitch by De La Rosa. X-rays were negative and Farrell thinks Ramirez will return to the lineup on Wednesday. More >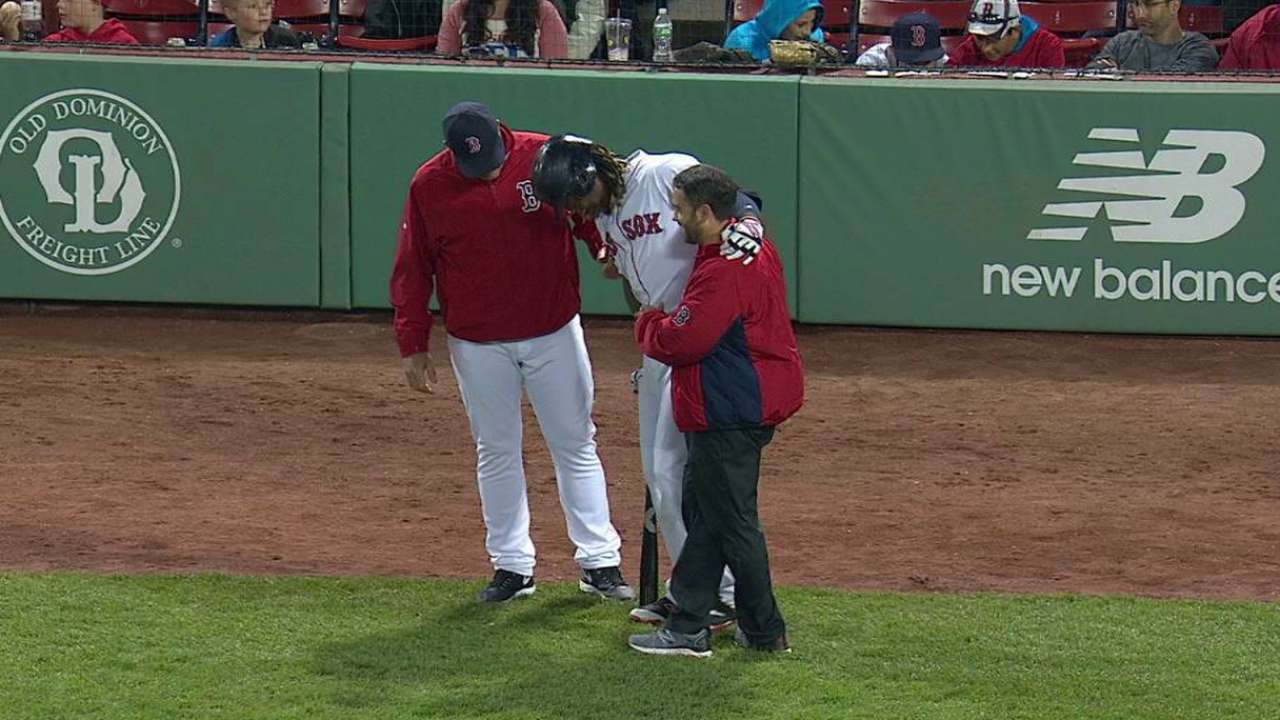 AFTER FURTHER REVIEW
In the second inning with two outs, Rockies designated hitter Ryan Raburn was thrown out trying to score on Gerardo Parra's triple to left field, but Colorado manager Walt Weiss challenged the call. After a one-minute, 13-second review, the call was overturned and the Rockies had their first run.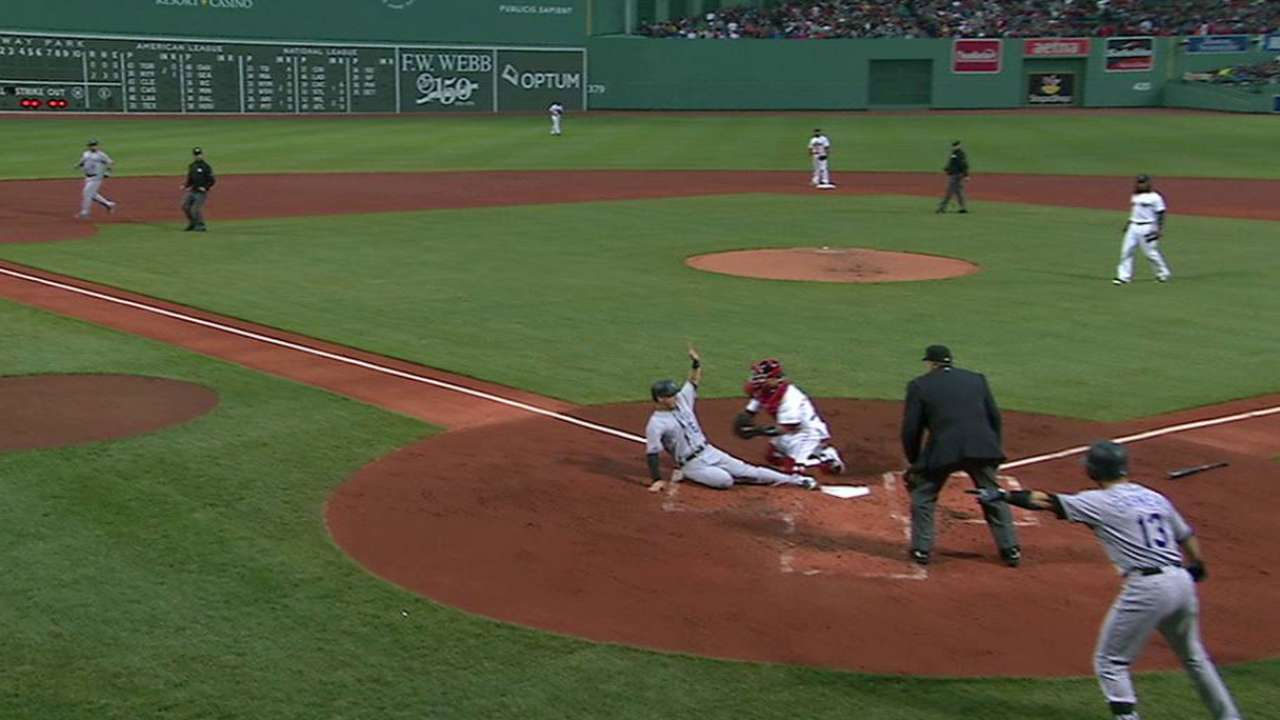 WHAT'S NEXT
Rockies: Chad Bettis (4-2, 4.18 ERA) will make his ninth start of the season at 5:10 p.m. MT on Wednesday night vs. the Red Sox. The 27-year-old righty pitched one inning against the Pirates on Sunday before the game got rained out. Bettis has five quality starts and has pitched through six or more innings in every start but his season debut, on April 5 against the D-backs.
Red Sox: Knuckleballer Steven Wright (3-4, 2.52 ERA) will try to continue his early-season roll when he starts Wednesday night's 7:10 p.m. ET game against the Rockies. Wright had a complete-game loss at Kansas City his last time out, and he's struggled to get run support for most of the season.
Watch every out-of-market regular-season game live on MLB.TV.
Ian Browne has covered the Red Sox for MLB.com since 2002. Follow him on Twitter @IanMBrowne and Facebook.

Deesha Thosar is a reporter for MLB.com based in Boston. She covered the Rockies on Tuesday. This story was not subject to the approval of Major League Baseball or its clubs.