Legends ready for 70th Yankees Old-Timers' Day
Hall of Famers Ford, Gossage, Henderson, Jackson and Torre to attend June 12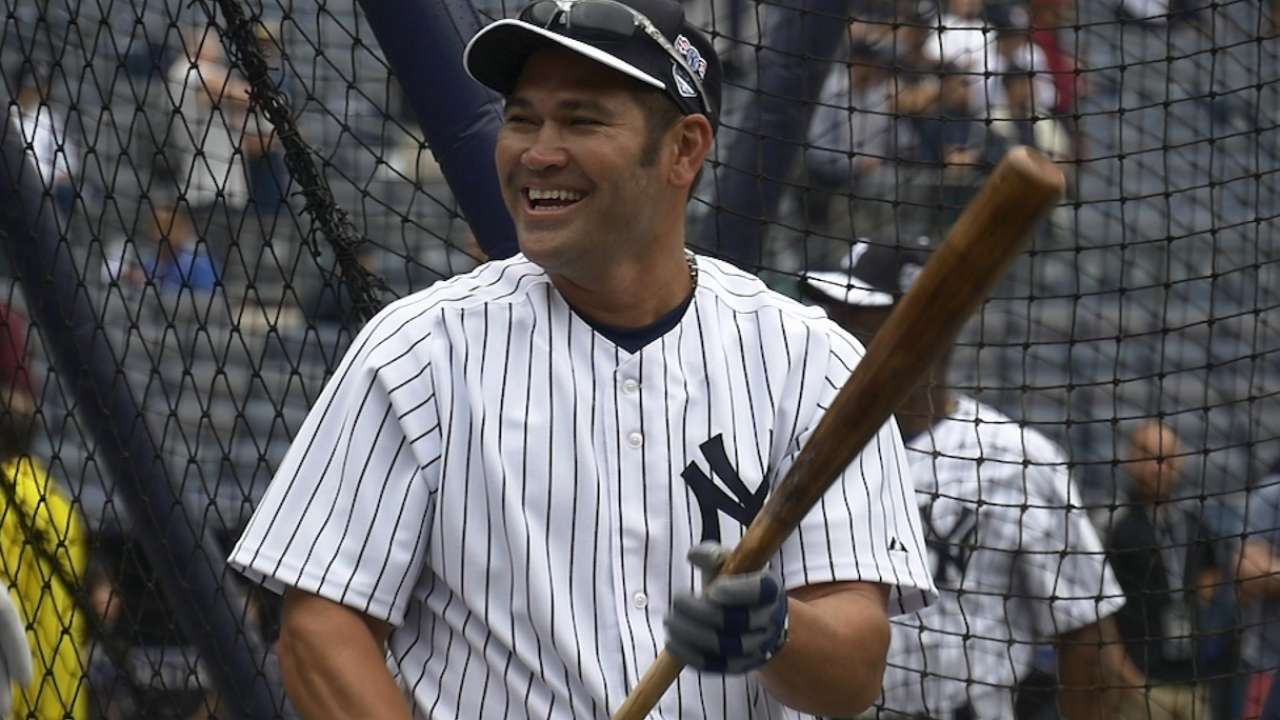 Attendees have been announced for the 70th annual Old-Timers' Day on June 12 at Yankee Stadium.
Headliners for the event, the eighth since the new Stadium opened in 2009, include Hall of Famers Whitey Ford, Rich "Goose" Gossage, Rickey Henderson, Reggie Jackson and Joe Torre. Former Yankees and current YES Network broadcasters David Cone, John Flaherty and Paul O'Neill also will be part of the festivities.
Three-time All-Star closer John Wetteland highlights the players making their Old-Timers' Day debut. The 1996 World Series Most Valuable Player will be joined by fellow first-timers Mariano Duncan, Bubba Crosby and Eddie Robinson.
Joining the former players on the field will be Arlene Howard, widow of Elston Howard; Helen Hunter, widow of Jim "Catfish" Hunter; Jill Martin, widow of Billy Martin; Diana Munson, widow of Thurman Munson; and Kay Murcer, widow of Bobby Murcer.
Gates open at 10 a.m. ET and fans are encouraged to be in their seats at 11:30 a.m. for the festivities, with the traditional game to follow before the Yankees' contest against the Tigers at 2:05 p.m. The pregame celebration will be aired on the YES Network.
*****

Yankees Old-Timers' Day participants
Jesse Barfield
Brian Boehringer
Scott Bradley
Dr. Bobby Brown
Homer Bush
David Cone
Bubba Crosby
Bucky Dent
Al Downing
Brian Doyle
Mariano Duncan
John Flaherty
Whitey Ford
Oscar Gamble
Joe Girardi
Rich "Goose" Gossage
Ron Guidry
Charlie Hayes
Rickey Henderson
Arlene Howard
Helen Hunter
Reggie Jackson
Scott Kamieniecki
Pat Kelly
Don Larsen
Graeme Lloyd
Hector Lopez
Jill Martin
Hideki Matsui
Lee Mazzilli
Ramiro Mendoza
Stump Merrill
Gene "Stick" Michael
Gene Monahan
Diana Munson
Kay Murcer
Jeff Nelson
Paul O'Neill
Joe Pepitone
Lou Piniella
Willie Randolph
Mickey Rivers
Eddie Robinson
Tanyon Sturtze
Ralph Terry
Marcus Thames
Joe Torre
John Wetteland
Roy White
Bernie Williams
Cash Kruth is a reporter for MLB.com. Follow him on Twitter at @cashkruth. This story was not subject to the approval of Major League Baseball or its clubs.