Giavotella shows knack for defensive gems
Second baseman flashes glove skills in 3 straight games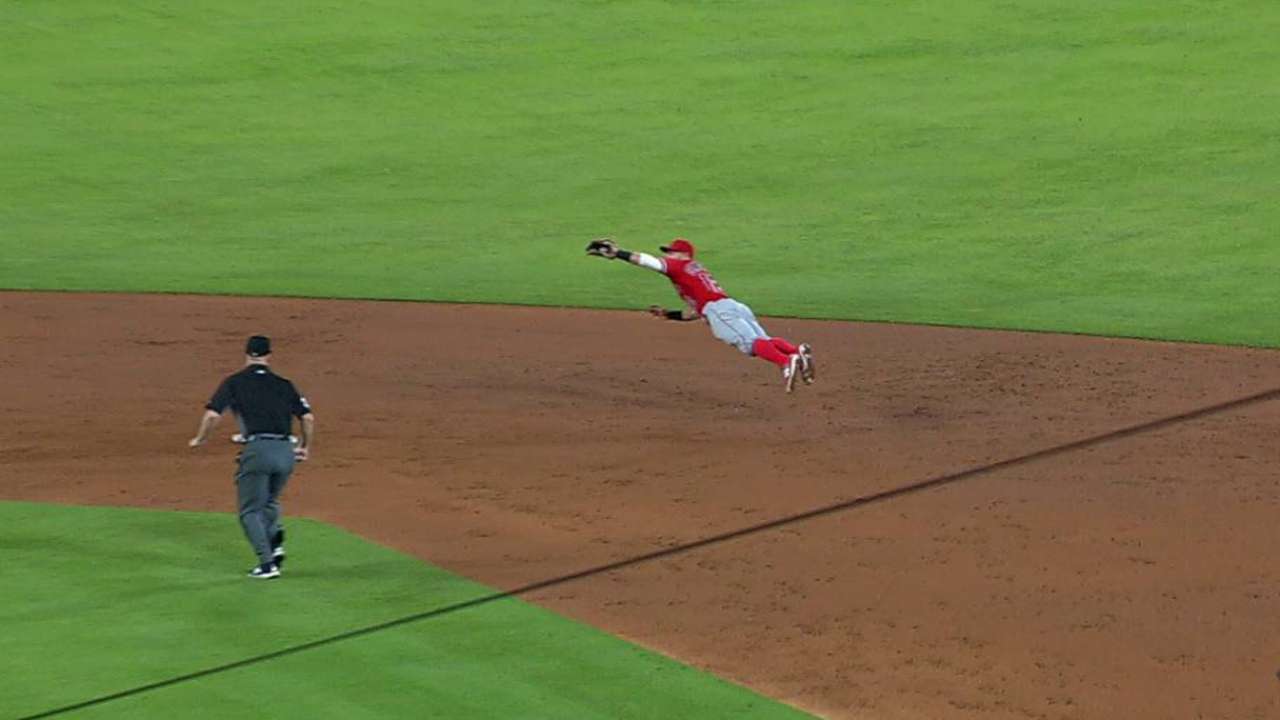 ARLINGTON -- Angels second baseman Johnny Giavotella is on something of a tear offensively, with a career-high 12-game hitting streak and a .381 batting average over his last 17 contests -- but it's his defense that continues to impress.
Giavotella, rated one of the worst defenders at his position last year, has shown marked improvement with the glove. He has only one error in 124 chances and has converted a highlight-reel play in each of his last three games, making an off-balance throw on a slow roller in a crucial spot on Saturday, sprawling to his left to field a hard grounder on Sunday and diving to his right to rob Adrian Beltre of a potential game-tying single on Monday in a 2-0 win for the Angels.
Giavotella spent the offseason training with former Rangers manager Ron Washington, who is currently the A's third-base coach. But the 28-year-old infielder has also gleaned from the Angels' last two shortstops, Erick Aybar and Andrelton Simmons.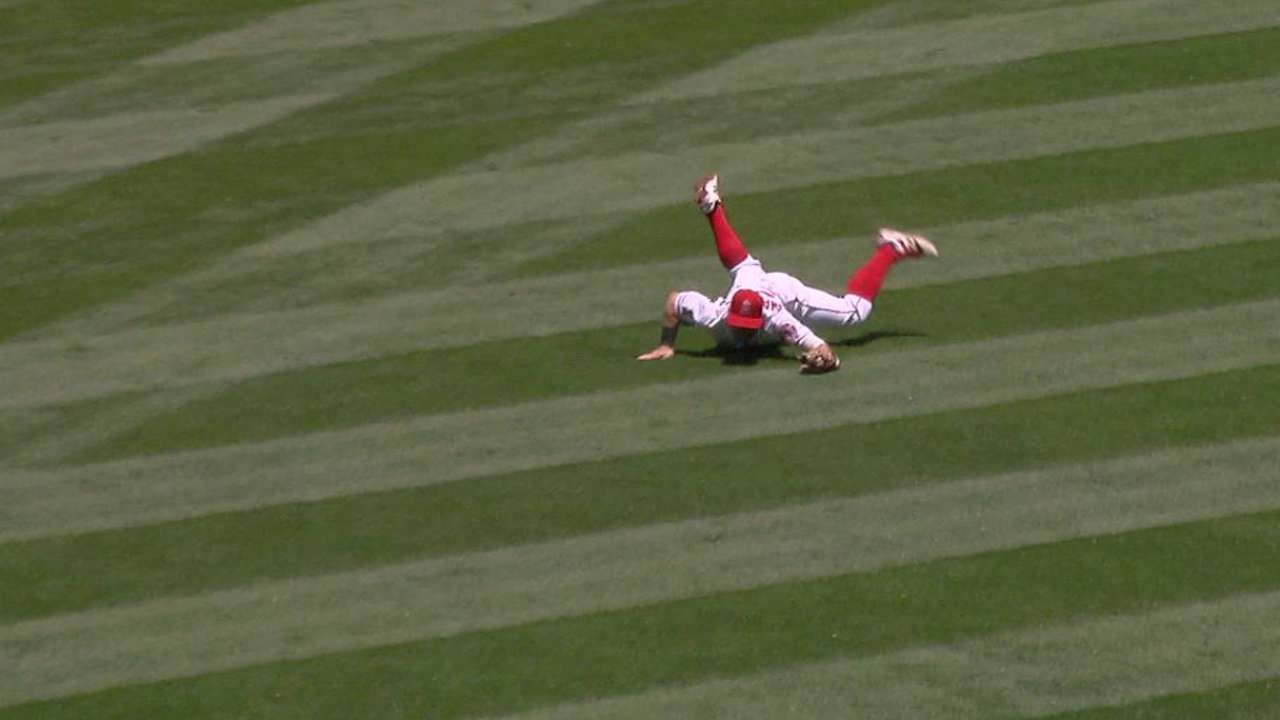 They taught him to be himself.
"They just rely on their natural ability, and that's something that I've become accustomed to doing, instead of trying to look good doing it," Giavotella said. "Just make the play the way I need to make it. Even though it may not look good, it may not look smooth or whatever, just understand that that's the way I make the play. And even if it doesn't look right, it doesn't look as smooth as other people, the play gets made. That's the most important thing."
Giavotella produced offensively at every level he's played, but defense, admittedly, always eluded him.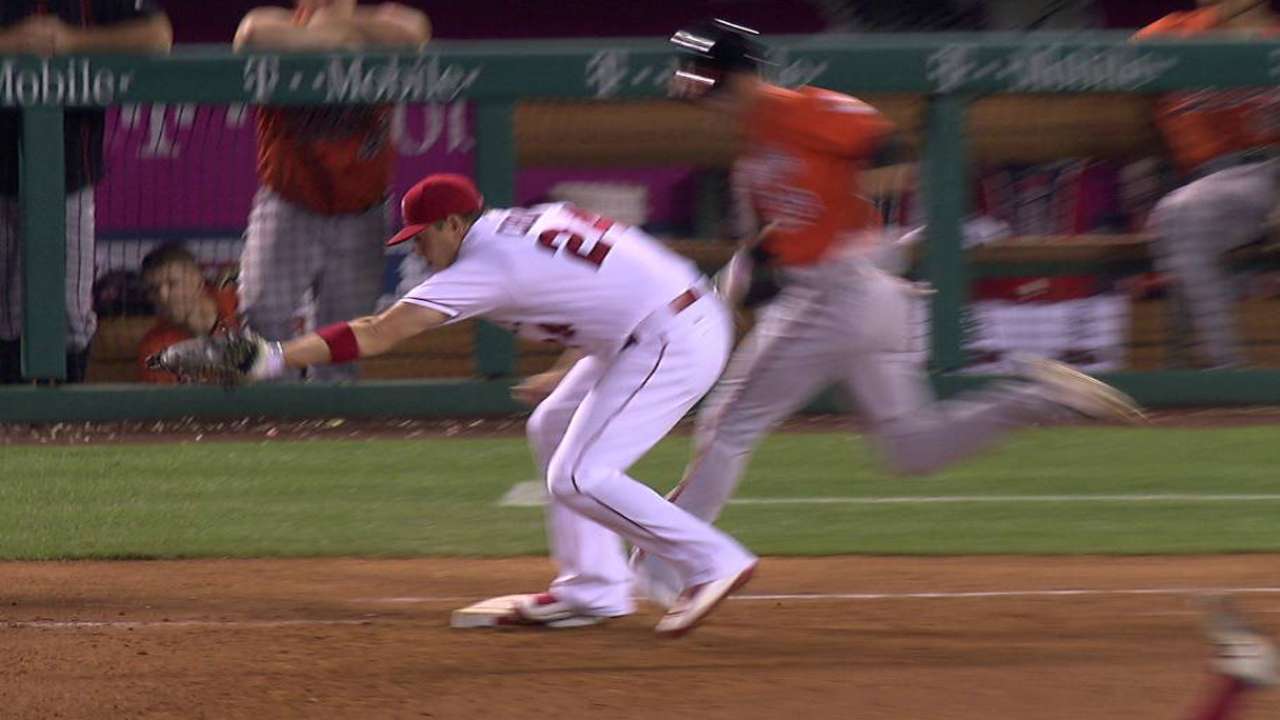 His short stature (listed at 5-8) limited his range, his arm didn't necessarily impress, and scouts considered his fielding of grounders too stiff. Last year, Giavotella started 124 games at second base and was given the second-worst defensive rating among peers by FanGraphs. He cost the Angels 12 runs on defense, tied with Howie Kendrick for the most among Major League second basemen, and his Ultimate Zone Rating was minus-7.2, ahead of only Robinson Cano.
"I had that label early in my career as being a subpar defender," Giavotella said, "and I was always just trying to look good and not screw up, as opposed to just playing free."
Giavotella believes he's finally playing freely now. He's constantly moving his feet in pursuit of a perfect hop, and he's no longer concerned with the aesthetics of his fielding. The advanced metrics don't reflect it yet, but Giavotella is a better defensive player.
"I believe that with hard work, the sky's the limit with what you're capable of doing," Giavotella said. "There's a lot of guys in this game that don't have a whole lot of talent but get the job done because of their work ethic. That's something that I take pride in."
Alden Gonzalez has covered the Angels for MLB.com since 2012. Follow him on Twitter @Alden_Gonzalez and Facebook, and listen to his podcast. This story was not subject to the approval of Major League Baseball or its clubs.