In a pinch, Giants get stunner from Pence
RF delivers off bench in 9th after resting strained hamstring
SAN FRANCISCO -- This is how well things are going for the Giants these days: Hunter Pence began Monday's series opener against the San Diego Padres resting his strained right hamstring, then finished it by launching a harmless-looking popup that turned out to be the game-winning hit.
The Giants triumphed, 1-0, on Pence's fly ball off Padres reliever Brad Hand that fell between second baseman Alexi Amarista and right fielder Matt Kemp. It was scored a double, driving in Brandon Belt from first base. It also sealed the Giants' 11th victory in 12 games and extended their winning streak against San Diego to nine games, including seven this year.
Pence left batting practice early, but not because he had aggravated his injury. Rather, the right fielder wanted to avoid further discomfort as the Giants weighed returning him to the starting lineup. Ultimately, Pence did not start for the third game in a row.
"I knew I could handle some swings, but I didn't feel like taking a bunch of BP swings when I could feel pain," he said. "I wanted to get healed so I could play."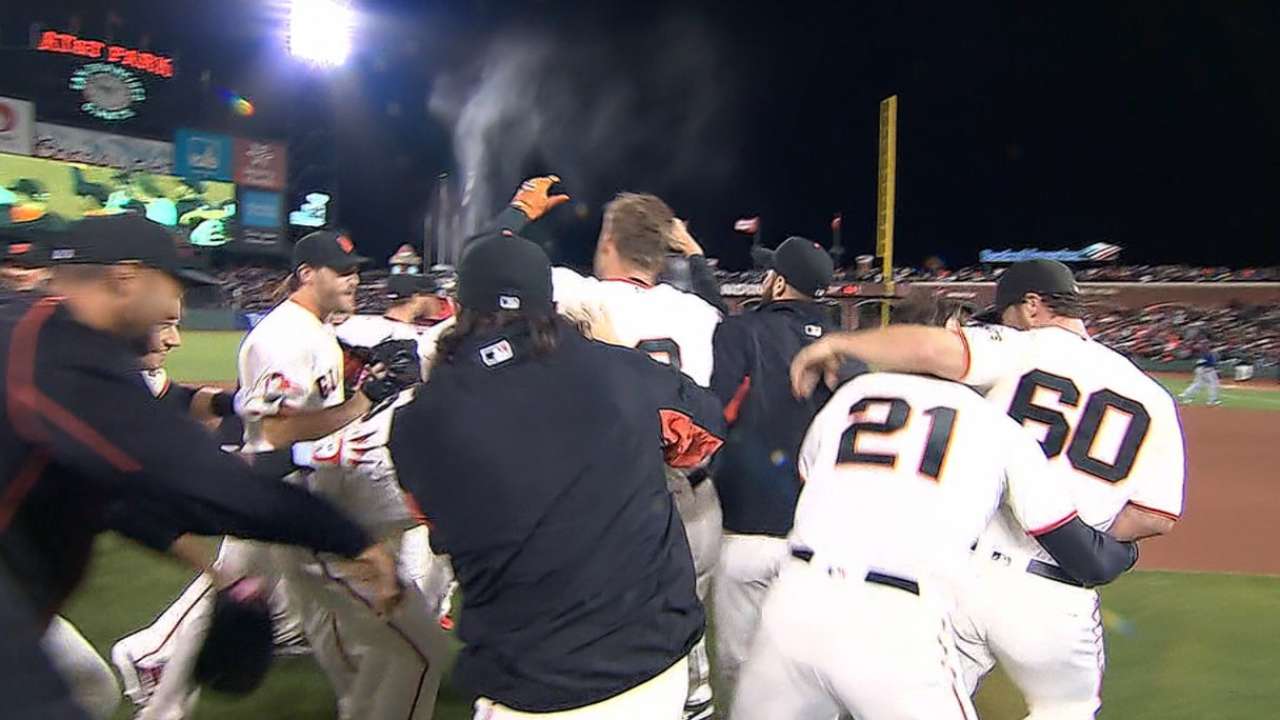 Pence, who underwent an MRI earlier Monday that confirmed the diagnosis of a mild hamstring strain, indicated that he could return to the lineup as soon as Tuesday.
"I'm any day now," he said. "I'm really close. I'm not that far off. For me, it's tough to rest it because I keep wanting to do stuff. I felt fine for that at-bat. I know I could definitely play a game if needed."
Pence was needed in the ninth after Hand, a left-hander, had the luxury of facing three consecutive left-handed batters. Belt punched a bloop to center field for a leadoff single, which happened to be San Francisco's second hit since the first inning. Hand recovered by striking out Brandon Crawford and retiring Gregor Blanco on a popup. Up came Pence, who had kept his ailing leg warm and went to the tunnel to scrutinize Hand on television.
"Sometimes on the TV you can see a little better," Pence said.
His advance scouting had limited effect, as evidenced by the fly ball he lifted to shallow right field. Amarista appeared to have a chance at catching the ball but yielded in his pursuit to Kemp, who was playing deeper than usual in a "no-doubles" alignment. The handful of feet made an enormous difference, as Kemp was forced to dive for the ball and couldn't hold onto it. Belt, running unbridled with two outs, raced home.
Belt doubted that Pence had delivered the clinching hit. But, he said, "I guess there's always a chance. That's why you keep going in the first place. But you see so many balls like that. You see them caught every time. That kind of was routine. But you never know in a game like this. Kemp was back at the wall playing no-doubles. That's what happens when you put the ball in play."
Chris Haft has covered the Giants since 2005, and for MLB.com since 2007. Follow him on Twitter at @sfgiantsbeat and listen to his podcast. This story was not subject to the approval of Major League Baseball or its clubs.