Padres temporarily option Rea to fortify 'pen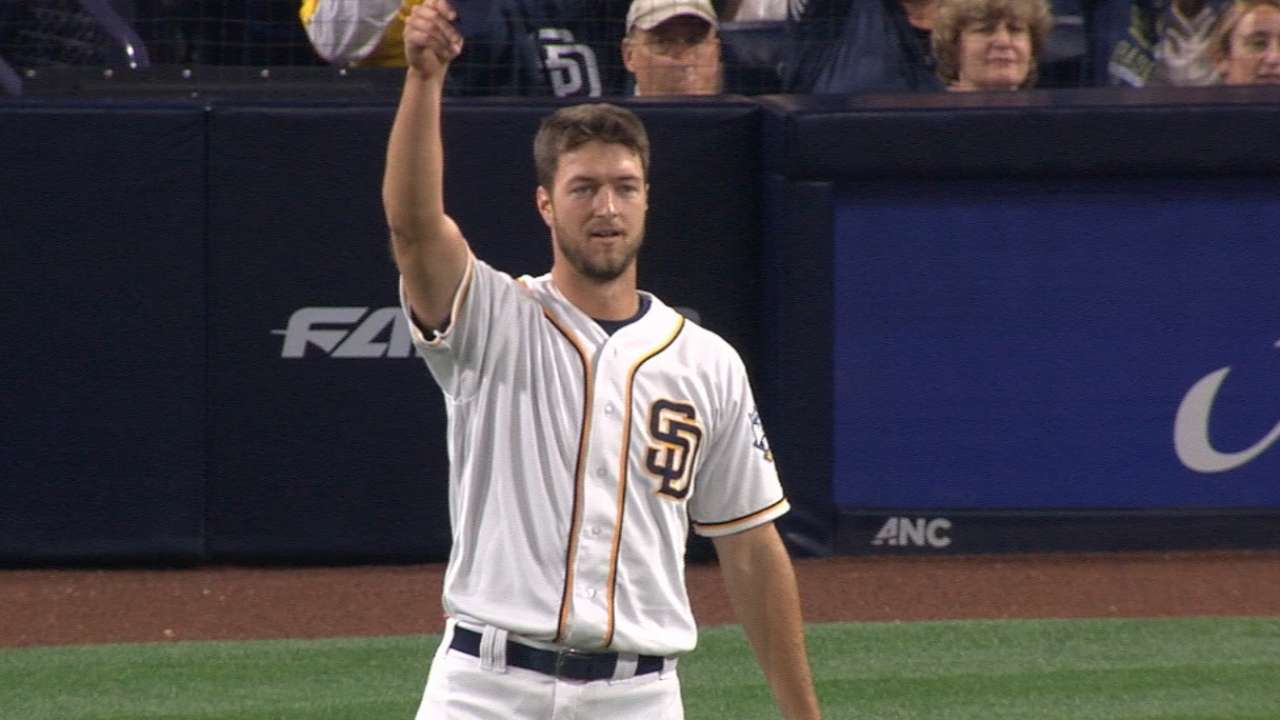 SAN FRANCISCO -- On the surface, it seems like twisted logic, but the Padres like what they've seen out of 25-year-old right-hander Colin Rea -- so much so that they optioned him to Triple-A El Paso on Monday.
In his six-year professional career, Rea has never pitched more than 139 innings. He has already thrown 50 1/3 through about a quarter of this season, with a 4.47 ERA and a 1.37 WHIP.
Rea has shown marked improvement over the past month, but will nonetheless make his next start on Sunday for El Paso. It's unclear when Rea will be recalled, but manager Andy Green doesn't expect it to be too long after his mandatory 10 days in the Minors are up.
"It was something we had talked about from the beginning of the year," Green said. "There were going to be points in time where we gave our young arms -- who weren't ready to go 200 innings -- a little reprieve from the grind of the schedule."
Green added that it's "a reasonable assumption" 24-year-old Cesar Vargas -- who is transitioning from the bullpen to a starting job this season -- could receive similar treatment at some point.
In meeting with Rea before the transaction, Green explained the logistics of the move, noting that it's by no means an indictment on Rea's performance. Rea will make his next appearance after six days of rest, and he's only scheduled to throw about three innings. That doesn't mean it was an easy conversation.
"We're going to put you in a position to be successful all year and in the future as well," Green said he told Rea. "With that in mind, this basically sucks to have to tell you this, but we're going to option you down, give you the opportunity to take a step back, have a shortened outing."
As a corresponding move, the Padres called up left-hander Keith Hessler, who they claimed off waivers from the D-backs earlier this month.
There's a chance Hessler won't be around long, with right-hander Andrew Cashner set to come off the disabled list Tuesday. But the Padres needed Hessler's arm after using six relievers to work 12 innings during Sunday's 9-5 loss to the Dodgers, which went 17 frames.
"We were pretty shot in the 'pen after yesterday," Green said. "We fired pretty much all of our bullets with the exception of Brad Hand, who had thrown multiple innings the day before in extra innings. So we've got Keith Hessler here. He's thrown in Triple-A, done well for us since he went down there."
Monday's transaction means right-hander Christian Friedrich remains on the big league roster and will likely be given the start Friday night in Arizona.
Friedrich had his contract selected from Triple-A when Cashner went down with his hamstring injury. He was very sharp in his first start (one run over six innings vs. Milwaukee) but struggled last Friday, going only 3 1/3. He allowed three walks and six hits, but limited Los Angeles to two runs.
"I don't think we want to make a final determination on him right now," Green said of Friedrich. "We want to give a little bit of time for him to find his rhythm with us, get back into the flow of things and see if there's something there -- because we all believe there is."
AJ Cassavell covers the Padres for MLB.com. Follow him on Twitter @ajcassavell. This story was not subject to the approval of Major League Baseball or its clubs.