Joseph starts at 1B, homers; Howard scuffles
Rookie gets nod in field, while veteran at DH as Phils sort out first-base situation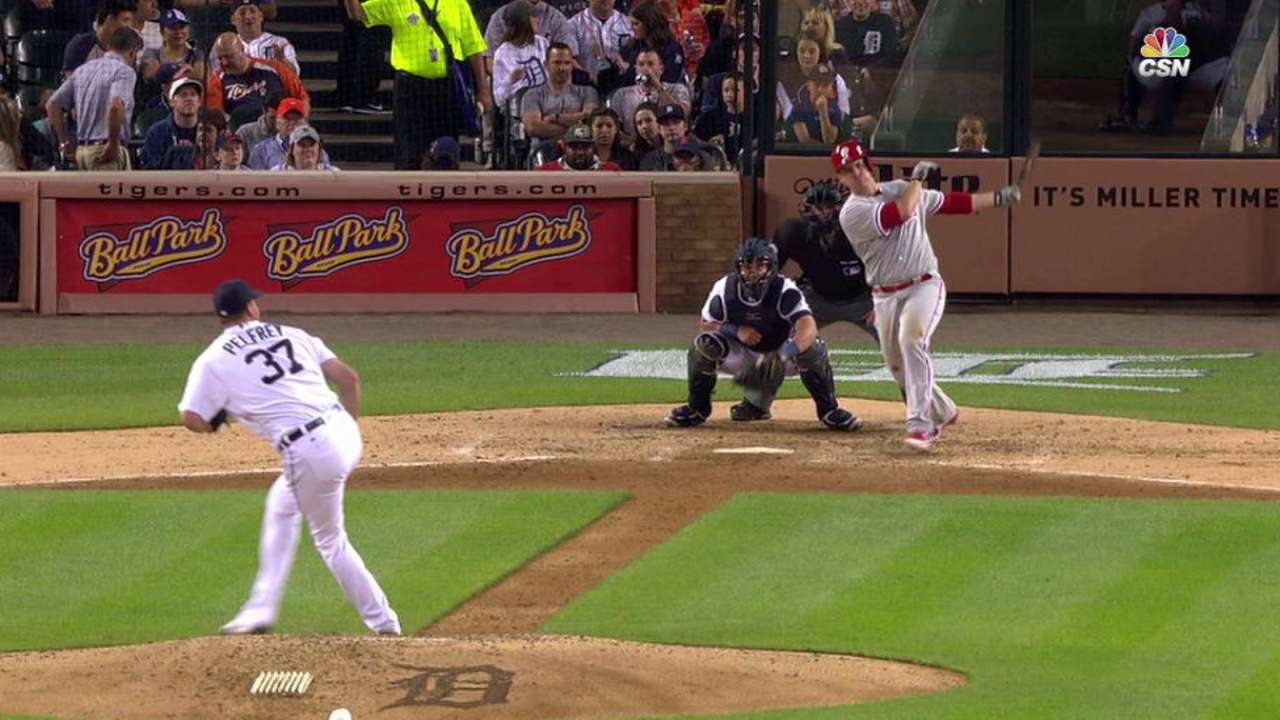 DETROIT -- Tommy Joseph helped his case for the Phillies' starting first-base job on Monday night. The rookie went 2-for-4 with a solo home run and a double in the Phillies' 5-4 loss to the Tigers.
Joseph has been splitting time with Ryan Howard since being called up earlier this month. With the Phils at Comerica Park for an Interleague series, Joseph got the nod at first base Monday, while Howard started at designated hitter. That is the expected lineup throughout the three-game series.
Joseph hit a game-tying shot to left field in the sixth inning off Tigers starter Mike Pelfrey. Howard went 0-for-4 with two strikeouts. The veteran slugger is now hitting .156 on the season.
Manager Pete Mackanin said he is going to look at the first-base position one week at a time, but he said it is possible that Joseph may earn the starting job at some point in the future.
"At some point, it may come to that, but I wouldn't say it's imminent," Mackanin said.
The 24-year-old said he's not focused on getting the starting role, but just wants to make an impact as he takes the opportunity to start his Major League career.
"Any time you get the opportunity to play, you're also expected to produce," Joseph said. "Especially with as well as this ballclub had been playing when I got called up. There's no time to mess around, and you can see it with everybody on this team. Everybody wants to win. I'm just trying to follow that lead."
Joseph said it was a good feeling to hit his home run in the sixth following the Tigers' three-homer fifth inning.
"Anything I can do to contribute is great," Joseph said. "It was just a 2-2 slider that stayed in the middle of the plate."
Worth noting
The Phillies signed Cuban outfielder Osmel Aguila to a Minor League contract. He has reported to extended Spring Training in Clearwater, Fla.
Aguila had a .280 batting average and 33 home runs during six seasons in Cuba.
Kyle Beery is a reporter for MLB.com based in Detroit. This story was not subject to the approval of Major League Baseball or its clubs.