Versatile Rusin proves valuable out of bullpen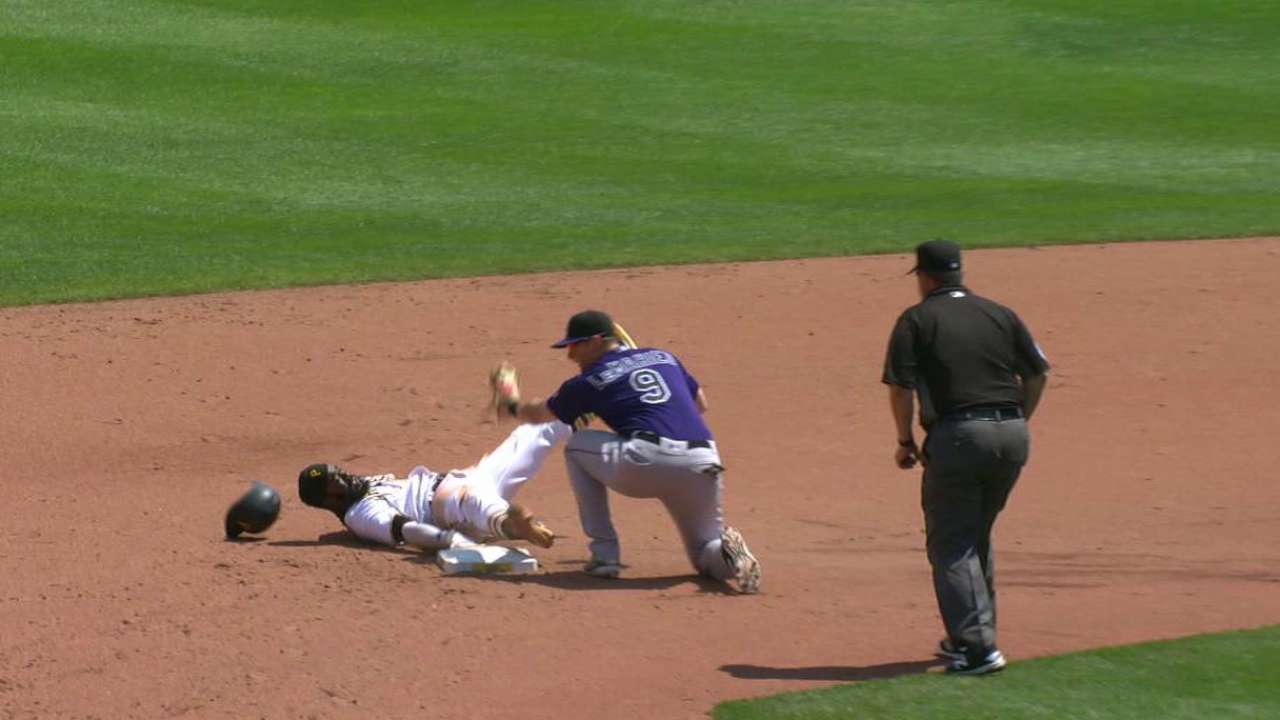 PITTSBURGH -- Chris Rusin figures no matter when the Rockies ask him to pitch, his job is the same. The left-hander handled that job well with 4 2/3 scoreless innings during Colorado's 6-3 loss to the Pirates on Monday afternoon at PNC Park.
After a solid start last week in St. Louis, Rusin was moved to long relief -- and possible lefty-specialist duty -- to accommodate lefty Jorge De La Rosa's return to the starting rotation Tuesday vs. the Red Sox.
"You've just to keep trying to do the things that you do, whether it's long relief or lefty specialist or a starter," Rusin said. "You've got to get hitters out. You can't change your plan."
Rockies starter Jordan Lyles coughed up six runs (four earned) in 2 1/3 ineffective innings, during which he hit Pirates starting pitcher Ryan Vogelsong in the helmet and left cheek with a fastball with the bases loaded in the second. Because Rusin stifled the Pirates, the Rockies were able to bring the potential tying run to the plate in the ninth.
Inflammation of his left middle finger knocked Rusin out of competition for a rotation spot in Spring Training. He has been solid no matter what the Rockies have asked.
After giving up three runs in 1 1/3 innings in his first relief appearance, Rusin threw 9 2/3 scoreless frames over three appearances before moving into the rotation with five innings of one-hit ball in a win at Arizona on April 30.
One of Rusin's four starts start was rough, when he allowed seven runs in a lopsided Rockies win at San Francisco on May 5, but the others were adequate or better. In his last start, he gave up two runs in six innings in a loss at St. Louis before relinquishing his starting spot.
Righty Christian Bergman was the long man until suffering a left oblique strain last week. Also, with Boone Logan the only lefty in the bullpen, the Rockies were without a lefty option in the middle innings. So Colorado asked Rusin to be adaptable.
"We've seen him do it several times; that's what makes him valuable," manager Walt Weiss said. "He can do a variety of things for you.
"I talked to Rusin about protecting us in that relief role. It's been a void for us without a lefty we can go to earlier in the game to give us multiple innings, or even to put an inning down at times against the left-handed part of the lineup."
Pirates pitcher Wilfredo Boscan knocked a single off Rusin to drive in a runner inherited from Lyles. But Rusin struck out the side in the fourth, and the Bucs accomplished little from there.
"Just attack the zone and get quick outs -- that's just what I do and what I try to do every time," Rusin said.
Thomas Harding has covered the Rockies since 2000, and for MLB.com since 2002. Follow him on Twitter @harding_at_mlb, listen to podcasts and like his Facebook page. This story was not subject to the approval of Major League Baseball or its clubs.