Rays' Adames, Dodgers' Bellinger lead Prospect Team of the Week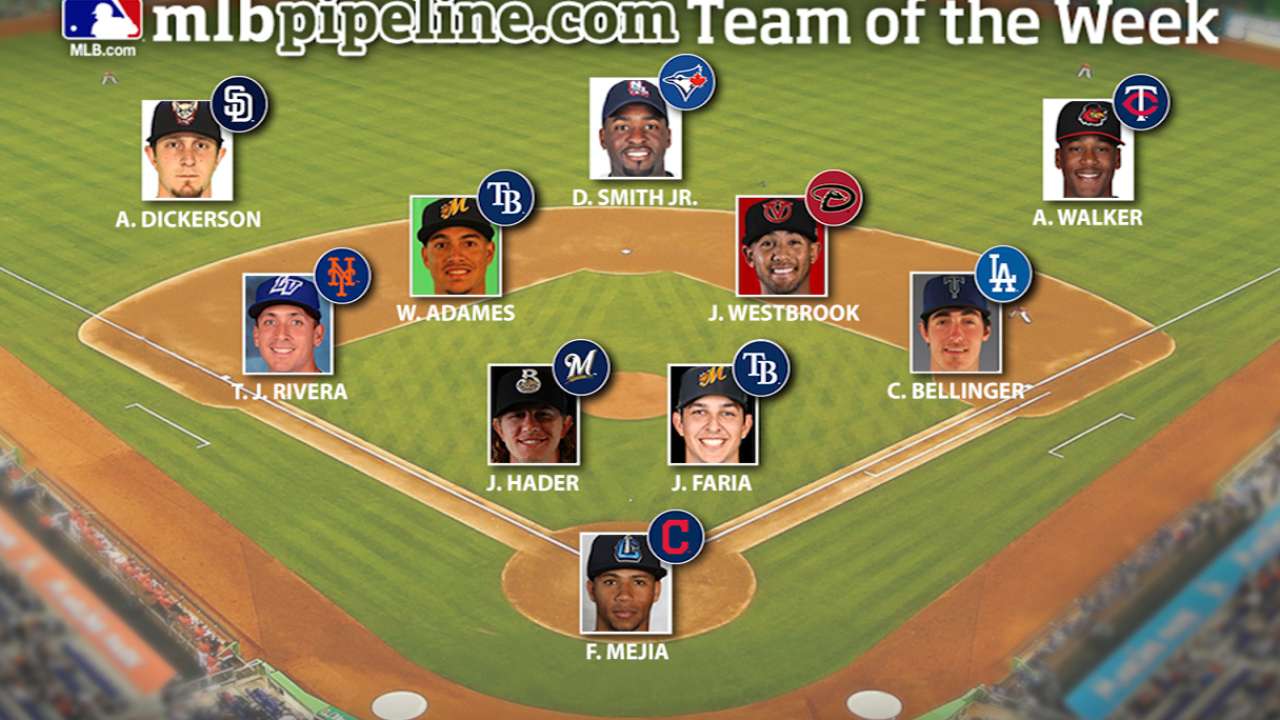 MLBPipeline.com's Prospect Team of the Week honors the best performances from the previous seven days. Any player currently on an organization Top 30 Prospects list on our Prospect Watch is eligible, including big leaguers.
The latest edition of MLBPipeline.com's Prospect Team of the Week, for the week of May 16-22, is highlighted by a trio of 20-year-old prospects in Willy Adames, Cody Bellinger and Jamie Westbrook, all of whom have excelled this season against older competition in their first tastes of the Double-A level.
Both Adames, No. 76 on the Top 100, and Westbrook collected six extra-base hits last week for Double-A Montgomery and Mobile, respectively, while Bellinger (No. 96) accrued five of his own for Tulsa and led the group with three home runs.
Here's our complete Prospect Team of the Week:
C: Francisco Mejia, Indians (No. 8 prospect)
5 G, .348/.400/.522, 5 R, 1 2B, 1 HR, 5 RBIs, 2 BB, 3 K
Mejia collected multiple hits in three of his five games for Class A Lake County to finish the week tied for first among all catchers with eight hits and 12 total bases. The switch-hitting backstop has put up strong numbers this season in his return to the Midwest League, where he has a .311/.356/.444 slash line with 14 extra-base hits and 28 RBIs.
1B: Cody Bellinger, Dodgers (No. 5 prospect)
7 G, .429/.538/.952, 5 R, 2 2B, 3 HR, 5 RBIs, 5 BB, 3 K
Bellinger was sidelined with a hip injury for most of April and then went just 4-for-37 with zero extra-base hits in his first 11 games for Double-A Tulsa upon returning. The 2013 fourth-rounder began to find his groove last week, though, as five of his nine hits went for extra bases. On Sunday, Bellinger powered the Drillers to a 6-4 win over Northwest Arkansas with his go-ahead two-run homer in the top of the 11th inning.
2B: Jamie Westbrook, Diamondbacks (No. 24 prospect)
7 G, .556/.586/.926, 6 R, 4 2B, 2 HR, 10 RBIs, 2 BB, 2 K
Westbrook hit a robust .556 for Double-A Mobile on the week to raise his season average 53 points, from .248 to .301. The 20-year-old collected hits in all seven games -- including six multihit performances -- and led all second basemen in hits (15), doubles (4), total bases (25) and RBIs (10).
3B: T.J. Rivera, Mets (No. 30 prospect)
6 G, .607/.645/.893, 8 R, 3 2B, 1 3B, 1 HR, 12 RBIs, 2 BB, 2 K
Rivera notched multiple hits in six straight games for Triple-A Las Vegas as he paced all prospects on this list with 17 hits and 12 RBIs. Overall, the 27-year-old is leading the Pacific Coast League with 56 knocks and ranks second with a .378 average in 38 games.
SS: Willy Adames, Rays (No. 3 prospect)
6 G, .400/.519/.900, 7 R, 4 2B, 2 HR, 7 RBIs, 6 BB, 3 K
Adames had four multihit performances in six games last week including his first career two-homer game on Wednesday. With six homers in 40 games for Double-A Montgomery, Adames, the key return for Tampa Bay in the David Price trade, is just two shy of matching his career high.
OF: Alex Dickerson, Padres (No. 22 prospect)
6 G, .538/.552/.962, 11 R, 2 2B, 3 HR, 10 RBIs, 0 BB, 1 K
Dickerson returned to Triple-A following a nearly two-week stint in the Majors with the Padres to lead all outfield prospects with 14 hits, 11 runs scored and 10 RBIs while raising his season slash line to .408/.450/.663 in the process.
OF: Dwight Smith Jr., Blue Jays (No. 28 prospect)
6 G, .478/.556/.957, 6 R, 2 2B, 3 HR, 6 RBIs, 3 BB, 7 K, 1 SB
Smith Jr. snapped a 44-game homer draught when he hit his first home run of 2016 on Friday, and he came back Sunday to belt a pair of home runs -- his second career two-homer game -- in a win for Double-A New Hampshire. He finished the week with four consecutive multihit performances, during which he scored six runs and plated five more.
OF: Adam Walker, Twins (No. 10 prospect)
6 G, .350/.480/1.100, 6 R, 5 HR, 7 RBIs, 5 BB, 1 IBB, 11 K
Walker hit a pair of homers on Thursday before exploding for a career-high three home runs on Saturday to pace Triple-A Rochester in a win. After leading his leagues in home runs in each of his three full-season campaigns, Walker is now tied atop the International League leaderboard with nine home runs.
LHP: Josh Hader, Brewers (No. 4 prospect)
0-0, 0.00 ERA, 2 GS, 11 IP, 6 H, 0 R, 0 ER, 4 BB, 13 K, 0.91 WHIP
Hader, No. 56 overall, made two scoreless starts this week for Double-A Biloxi and now has five scoreless outings in nine turns on the season. The 22-year-old lefty has been exceptional in the early going this season, leading the Southern League in both ERA (0.79) and strikeouts (59), and he has yet to allow a home run in 45 2/3 innings.
RHP: Jacob Faria, Rays (No. 9 prospect)
1-0, 1.29 ERA, 1 GS, 7 IP, 1 H, 1 R, 1 ER, 0 BB, 11 K, 0.14 WHIP
One of biggest breakout prospects of 2015, Faria picked up his first win of 2016 on Saturday as he fanned a season-high 11 batters over seven innings of one-run, one-hit ball. After scuffling during April (6.12 ERA in 25 innings), the 22-year-old right-hander has rebounded in May to post a 2.77 ERA with 28 strikeouts in 28 innings over four starts.
Mike Rosenbaum is a reporter for MLB.com. Follow him on Twitter at @GoldenSombrero. This story was not subject to the approval of Major League Baseball or its clubs.