Perdomo takes loss after gritty performance
Padres reliever pitches five innings in 17-inning contest vs. Dodgers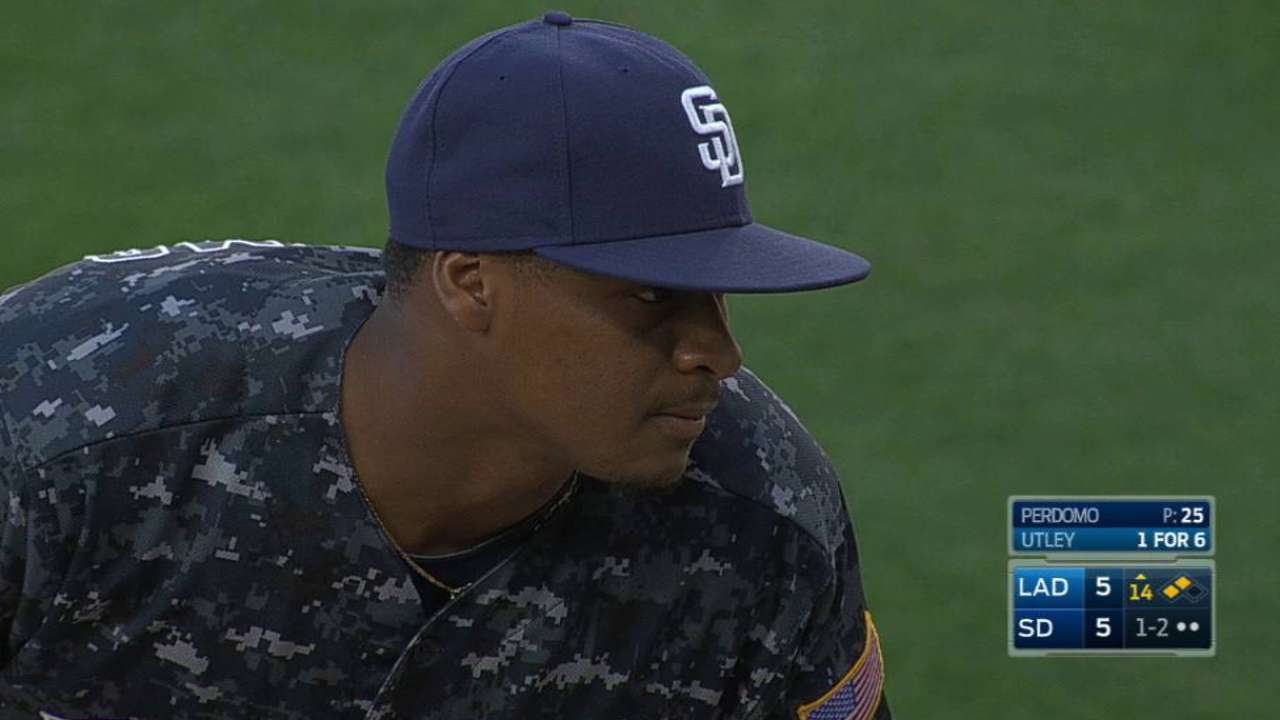 SAN DIEGO -- Luis Perdomo was ripping tags off a new shirt and pants for the trip to San Francisco.
He might be packing a fresh dose of confidence as well.
San Diego fell to the Dodgers, 9-5, in 17 innings on Sunday at Petco Park.
But as the afternoon turned into dusk, Perdomo just possibly morphed into getting more significant relief roles.
"What I hate more than anything is I hate it for Luis Perdomo,'' Padres manager Andy Green said. "He pitched really, really well. He didn't deserve that fate. It would have been nice to scratch one across in one of the other innings he pitched.''
Instead Perdomo (1-1) secured the loss when allowing four runs in his fifth inning.
Before that the right-handed Pedromo, who was obtained from the Mariners as a Rule 5 Draft pick, was stellar. He was charged with four runs on eight hits, but three of those hits and all of the runs came in the 17th.
"It was a good performance,'' Perdomo said through a translator. "But we didn't win. We are just going to have to keep working on the things we need to do to win.''
It was a winning performance in Green's eyes, even if the scoreboard said otherwise.
"Other than that last inning, I thought he was excellent,'' Green said. "That is really tough for a guy to come in who hasn't thrown in seven days and throw the way he did. I couldn't be more pleased with him today.
"He was in the zone attacking hitters, not afraid of big situations. He did a great job but at some point and time you run out of bullets and he kind of did that in the last inning.''
It was in the 14th inning that Perdomo endeared himself to Green and the rest of the squad. The Dodgers loaded the bases with no outs and an unfazed Perdomo wiggled from the jam. He got Carl Crawford to ground into a double play and fanned veteran Chase Utley.
"I was just attacking hitters,'' Perdomo said. "In my other games I wasn't attacking, but I did today.''
Green said he can see Perdomo's growth.
"He's getting better because he is trusting his fastball more,'' Green said. "He had been pitching away from his heater for a long time there and he got back to it today. It played very well.''
So did the Padres -- for 16 innings. Which pinned the loss on Perdomo.
Jay Paris is a contributor to MLB.com based in San Diego. This story was not subject to the approval of Major League Baseball or its clubs.