Pirates considering ways to bolster bullpen
Front end of Bucs' relief corps struggling through early part of season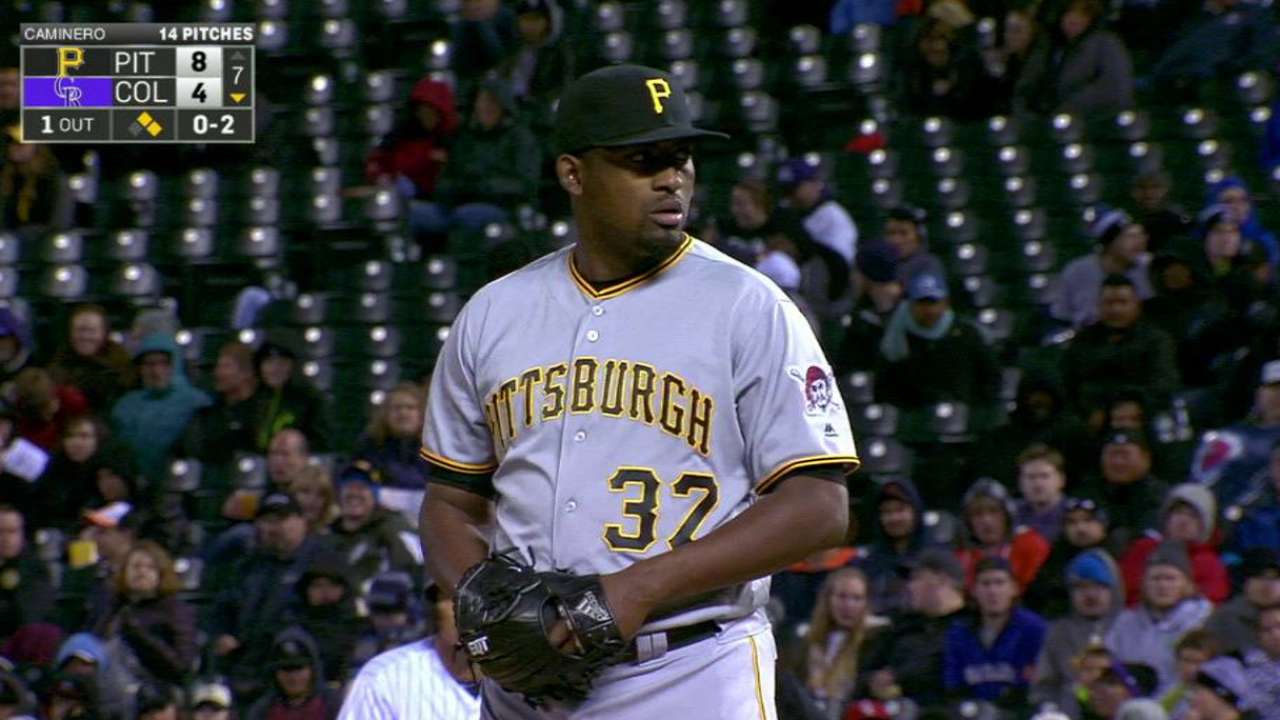 PITTSBURGH -- The Pirates' bullpen has been a strength each of the last three seasons, locking down leads and helping the Bucs reach the postseason three years in a row.
The two most consistent performers, closer Mark Melancon and setup man Tony Watson, are still getting it done for the Pirates. But a quarter of the way into this season, the Pirates are still searching for answers at the front end of their bullpen.
Pittsburgh's relievers entered Sunday with a 4.33 ERA and 1.47 WHIP, the fifth-highest marks in the Majors. Their bullpen has issued 67 walks, fifth-most in baseball, and served up 18 home runs in 139 1/3 innings.
Last year, the Pirates led the Majors with a 2.67 bullpen ERA. They ranked ninth in 2014, and third in '13. Much of last year's bullpen returned this season. What's gone wrong?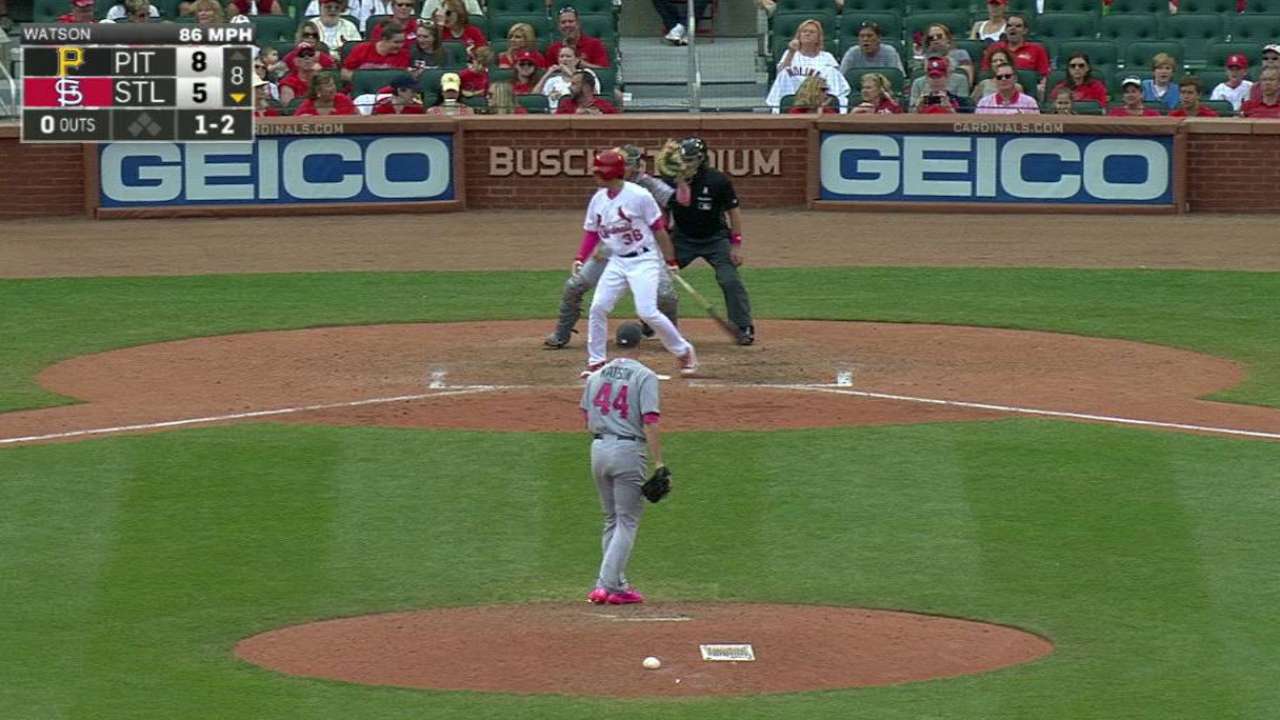 "We've got some guys here that we believe we can get on the right track. We've got some guys at Triple-A that we believe we can get them on the right track and they can help us," general manager Neal Huntington said. "Between the two clubs, we'll get some guys going and we'll be OK."
Melancon has saved 14 games with a 2.41 ERA. After a shaky start, Watson's ERA is down to 2.29, and he hasn't allowed a hit since May 6. Though he's only worked four times since April 30, setup man Neftali Feliz has mostly pitched well when called upon.
The problem lies with the Bucs' "B" bullpen, the group used to preserve big leads or pitch while trailing in games -- one of their strengths last season. Jared Hughes has a 2.04 WHIP in 10 appearances since coming off the disabled list. Arquimedes Caminero has struggled after emerging as a flame-throwing middle-relief option last season.
On Thursday, the Pirates called up Wilfredo Boscan, who had been starting for Triple-A Indianapolis, to bolster their struggling relief corps. Would they consider using more of their top Minor League arms -- perhaps Jameson Taillon, Tyler Glasnow or Chad Kuhl -- out of the bullpen?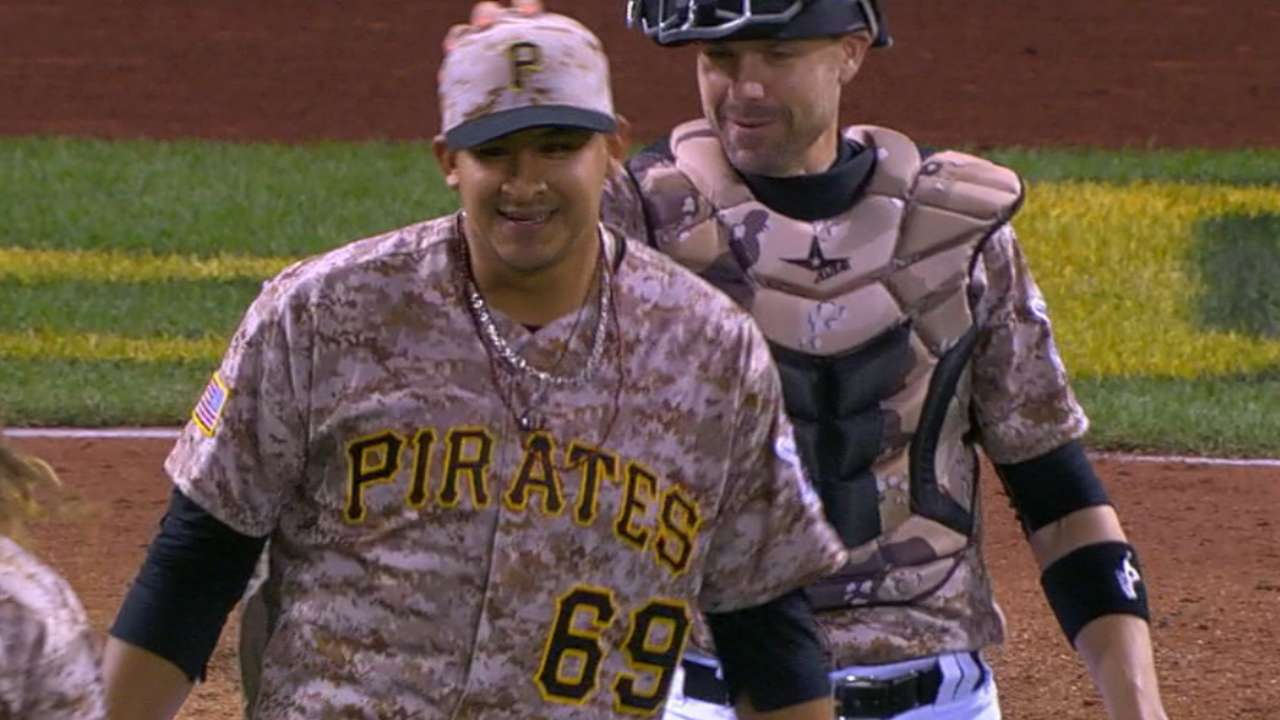 "I know organizations in the past have broken guys in as long men, and I know some organizations in the past have brought guys up late in the season and put them in the bullpen for a postseason run," Huntington said. "In our situation, we're not opposed to it, but on a case-by-case basis, there are some things that we're still accomplishing with our young Minor League starters.
"With our young starters at Triple-A, we've still got some work to do to finish them off as starters before we start trying to [move] them to the bullpen."
In the meantime, Huntington said the Pirates will continue to "scour the Minor Leagues to see if there's another Jason Grilli-type situation out there." Pittsburgh signed Grilli as a free agent in July 2011, and he put up a 2.74 ERA with 36 saves over the next three seasons.
Adam Berry has covered the Pirates for MLB.com since 2015. Follow him on Twitter @adamdberry. This story was not subject to the approval of Major League Baseball or its clubs.