Legends set to welcome stars of the future at 2016 MLB Draft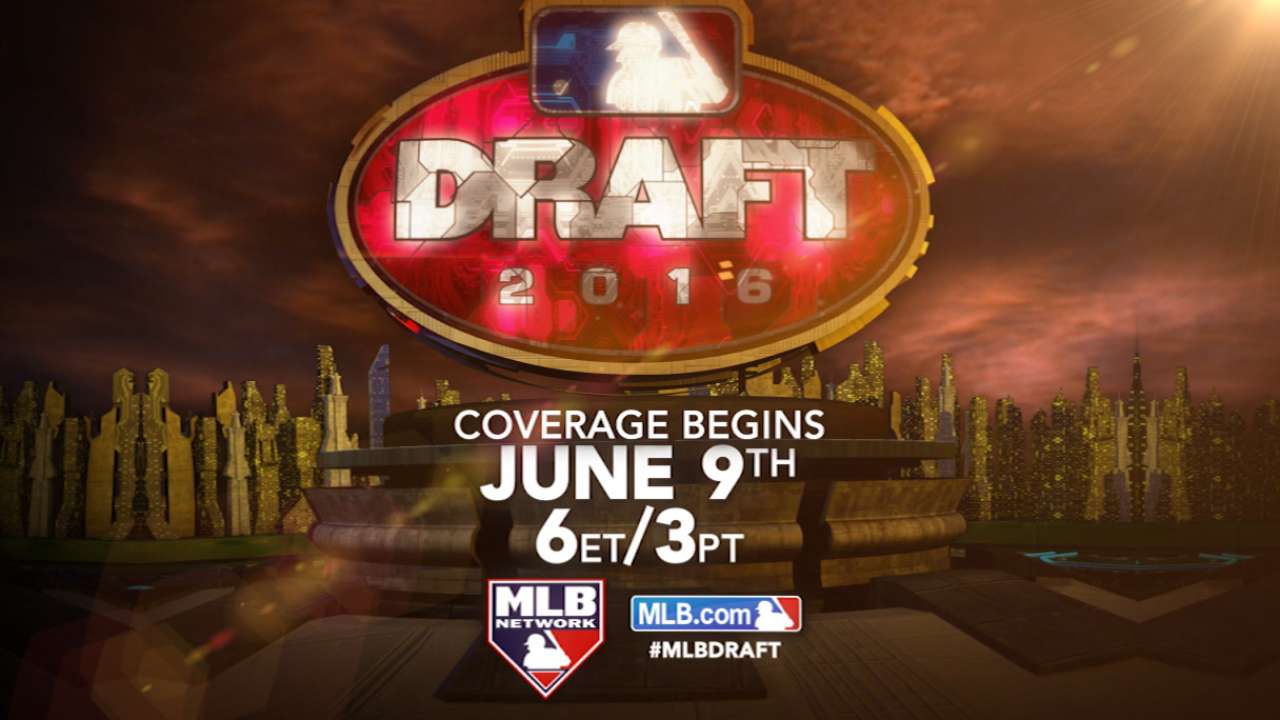 Twenty-three former All-Stars. The winningest pitcher in postseason history. Three pitchers who tossed perfect games. A Most Valuable Player, a Rookie of the Year, a Hall of Fame manager and a Hall of Fame broadcaster.
They will be among team representatives on the floor at MLB Network's Studio 42 when the 2016 MLB Draft gets underway on June 9.
MLB announced the annual list of club reps on Monday, and as usual it is a star-studded gathering from the past that will man the phones and help welcome the future on the first night of selections.
Andy Pettitte, chosen in the 22nd round by the Yankees in 1990 before he went on to win 19 postseason games durng an 18-year Major League career, returns to his primary club in this sort of official capacity for the first time. This is the 20th anniversary of a World Series title that started a new Yankees dynasty, and Pettitte will see a familiar face on the floor in one of the Braves he faced then: Ryan Klesko, who joins Ralph Garr to give Atlanta two former All-Stars as club reps.
For those who are counting on a perfect night, maybe this trio will be a harbinger: 1991 All-Star Tom Browning (Reds), Jim Abbott (Angels) and Dallas Braden (Athletics). Ivan Rodriguez, a 14-time All-Star and 1999 American League MVP who makes his first appearance on the Hall of Fame ballot later this year, will be back again as a Rangers club rep. Also on the floor will be three-time All-Star and '04 National League Rookie of the Year Jason Bay (Pirates), along with Hall of Fame manager Tommy Lasorda (Dodgers) and Hall of Fame broadcaster Dick Enberg (Padres).
Other former All-Stars who will represent the clubs are (alphabetically): Harold Baines (CWS); Jesse Barfield (TOR); Bob Boone (WSH); Jeff Conine (MIA); Morgan Ensberg (HOU); John Franco (NYM); Orlando Hudson (ARI); Mike Lieberthal (PHI); Ted Lilly (CHC); Ryan Ludwick (STL); Jamie Moyer (SEA); Brad Radke (MIN); Brian Roberts (BAL); Freddy Sanchez (PIT); Ben Sheets (MIL); Luis Tiant (BOS); and Alan Trammell (DET).
MLB Network and MLB.com will have live coverage of the Draft's first night, covering the first 77 picks, or through Round 2, starting at 7 p.m. ET. MLB.com will provide live pick-by-pick coverage of Rounds 3-10 on Day 2, starting at 1 p.m. ET. Then, rounds 11-40 can be heard live on MLB.com on June 10, beginning at noon ET.
• Complete 2016 MLB Draft order
Prior to the start of the Draft, MLB Network and MLB.com will air a Draft preview show, starting at 6 ET. Of course, the previewing already is well underway. Go to MLB.com/draft to see the Top 100 Prospects list, projected top picks from MLB.com analysts Jim Callis and Jonathan Mayo, the 2016 order of selection and more. Follow @MLBDraft now to see what Draft hopefuls, clubs and experts are saying.
Philadelphia has the top overall pick for the second time in club history (also 1998 when it took outfielder Pat Burrell), and Lieberthal and Ed Wade will have first-pick duties. Lieberthal is a two-time All-Star catcher, who spent 13 of his 14 Major League seasons with the Phillies. Joining him at the Phillies table is Wade, the club's special assistant for baseball operations and a former MLB general manager.
Commissioner Rob Manfred will announce the first-round selections for the second consecutive year. It is always fun to watch club reps handle that assignment for the rest of the first night's selections, and (oh, my!) one can only imagine how nice it will be to see and hear Enberg in that unique capacity.
There will be a couple of Olympic gold medalists on the floor, as well. Ben Sheets, representing the Brewers, was the 10th overall pick of the 1999 Draft. He will be reunited on the floor with Lasorda, his coach on the 2000 U.S. Olympic team in Sydney, Australia.
The Padres (8th, 24th and 25th) and the Cardinals (23rd, 33rd, 34th) each have three selections in the first round, while the White Sox (10th and 26th), Mets (19th and 31st), Dodgers (20th and 32nd) and Nationals (28th and 29th) each have two selections in the opening round. The Padres have a Major League-high five selections within the first 77 picks during the first day of the Draft.
MLB Network's live coverage will feature news, analysis, interviews with club front-office personnel and representatives, footage from club war rooms and features and interviews with prospects and newly drafted players.
MLB Network's Greg Amsinger, Peter Gammons, Dan O'Dowd, Harold Reynolds and MLB.com's Mayo will anchor the live coverage with contributions from MLB Network's Scott Braun, Sean Casey, Mark DeRosa, Al Leiter, Pedro Martinez, Kevin Millar, Carlos Peña, Dan Plesac, Bill Ripken, Sam Ryan, John Smoltz and Matt Yallof, as well as Callis of MLB.com and John Manuel of Baseball America.
The full list of Draft reps are:
ARI: Hudson, Jim Marshall
ATL: Garr, Klesko
BAL: Roberts, Tripp Norton
BOS: Tiant, Willie Romay
CHC: Ted Lilly
CWS: Baines, Kevin Coe
CIN: Browning
CLE: Chad Ogea
COL: Jeff Francis, Michael Kent
DET: Trammell, Murray Cook
HOU: Ensberg, Mike Wickham
KC: Chris Getz, Art Stewart
LAA: Abbott, Ryan Leahy
LAD: Lasorda, Lon Joyce
MIA: Conine
MIL: Sheets, Gord Ash
MIN: Radke, John Wilson
NYM: Franco
NYY: Pettitte, Mike Thurman
OAK: Braden
PHI: Lieberthal, Wade
PIT: Bay, Sanchez
SD: Enberg, Willie Bosque
SFG: Gene Clines, Gary Davenport
SEA: Moyer
STL: Ludwick
TB: Andy Sonnanstine, Lou Wieben
TEX: Rodriguez
TOR: Barfield
WAS: Boone, Johnny DiPuglia
Mark Newman is enterprise editor of MLB.com. Read and join other baseball fans on his MLB.com community blog. This story was not subject to the approval of Major League Baseball or its clubs.