O's encouraged by Gallardo's bullpen session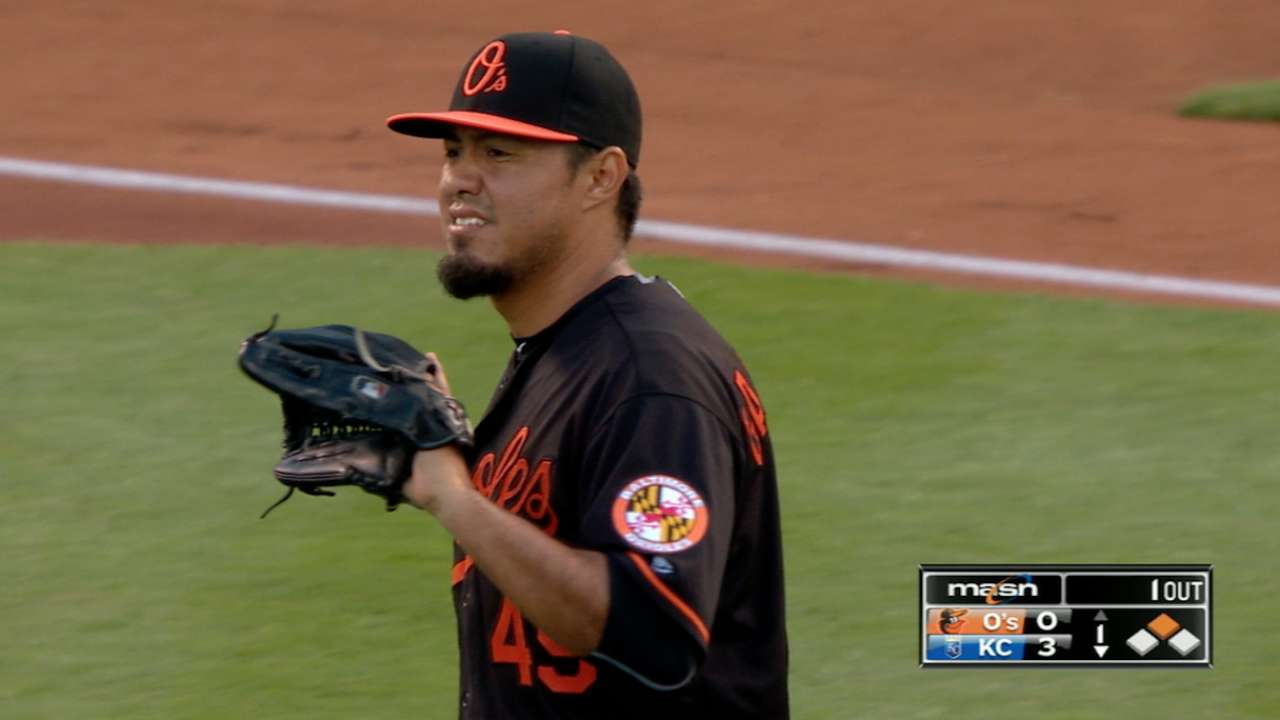 ANAHEIM -- Baltimore Orioles right-hander Yovani Gallardo threw his first bullpen session in his return from right shoulder tendinitis on Sunday morning.
This was the first time Gallardo, 30, has thrown off a mound since leaving his April 22 start at Kansas City. He was placed on the 15-day disabled list, and only started throwing again earlier this week.
"Just being able to throw that first bullpen, getting out on the mound and just trusting [your stuff]," Gallardo said. "It's feeling good."
Showalter said he was encouraged with how Gallardo looked at Angel Stadium.
"It's a step in the process," Showalter said. "Once you get there, things tend to get moving. Once you got a catcher squatting and you're looking down from a hill and a big bump in the ground, that's pretty much what they do."
Showalter said he plans to have Gallardo throw a simulated game either Thursday in Houston or Friday in Cleveland, depending on how he feels after Sunday's session. Gallardo said after Sunday's game that he plans on throwing another bullpen session on Wednesday.
"I really want him as soon as possible," Showalter said of Gallardo's timetable. "I think he's going to pitch well for us the rest of the year, and next year."
Showalter said that while he wants Gallardo to make a quick return, shoulder tendinitis is something that often requires patience.
"I've seen guys with similar issues go out and get great results. You can't rush it. It happened with Kevin Gausman, and another couple guys come to mind. It's encouraging [for Gallardo]," Showalter said.
Gallardo signed a two-year, $22 million contract with a 2018 team option with the Orioles this past offseason, and has posted a 1-1 record with a 7.00 ERA in four starts this season. He went 13-11 with a 3.42 ERA in 33 starts for Texas last season, and has gone 103-76 with a 3.70 ERA in 10 big league seasons with the Brewers, Rangers and Orioles.
WORTH NOTING
• Showalter said postgame that minor league reliever T.J. McFarland's MRI showed no structural damage in his left knee. He said the MRI showed some bruising underneath his patella, and that he will go back to Triple-A Norfolk to rest for a couple days before resuming a work regimen.
Fabian Ardaya is a reporter for MLB.com based in Anaheim. This story was not subject to the approval of Major League Baseball or its clubs.