Catchers flourish as Chirinos nears return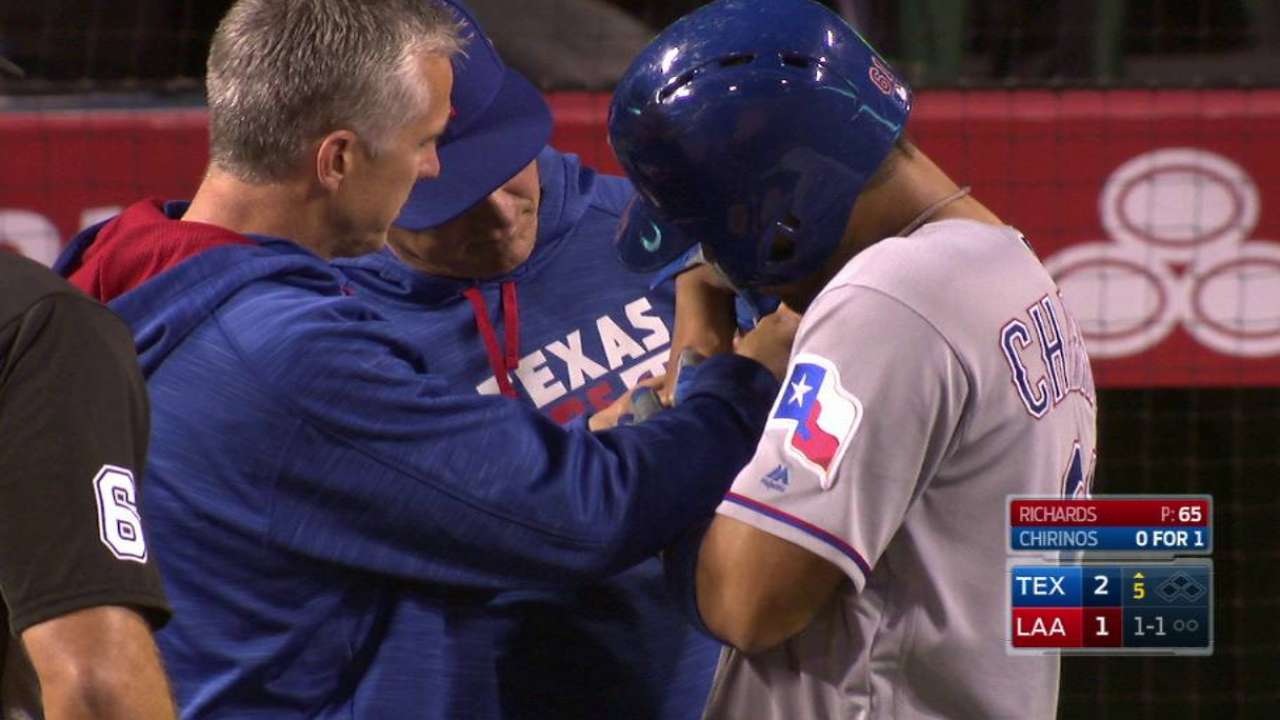 HOUSTON -- Rangers catcher Robinson Chirinos, on the disabled list with a fractured right forearm, is scheduled to be examined by Dr. Keith Meister on Monday. If all goes well, Chirinos could be cleared to start taking batting practice.
He has been limited to swinging a fungo and hitting Wiffle balls. His last game was April 9.
"I'm looking forward to hitting baseballs, go out and play, and then come back here and start helping this team," Chirinos said.
The Rangers have been getting outstanding production from their catchers, as Bryan Holaday and Bobby Wilson rotate at the position.
Holaday had two doubles on Saturday night and scored a run in the Rangers' 2-1 victory over the Astros. He is 8-for-19 with four doubles, a triple and a home run in his last six games.
Wilson went into Sunday's start hitting .265 (9-for-34) for the Rangers, including his two grand slams.
Including Chirinos and Brett Nicholas, Rangers catchers went into Sunday's start hitting a combined .254 with a .321 on-base percentage and a .472 slugging percentage. The slugging percentage and the .792 OPS were also the highest for the Rangers from any position.
Rangers catchers also led the American League in slugging percentage at their position and were tied for second with 23 RBIs.
"It makes us feel great," Holaday said. "Bobby and I take a lot of pride in the way we play the game. It's great to see the results but it's all about winning the game."
Holland dealing with extra rest
Between Thursday's off-day and the Rangers' desire to keep Cole Hamels on a regular schedule, Derek Holland will be pitching on six days' rest when he faces the Angels on Monday.
Holland normally starts on four days' rest, but this will be his first start since last Monday, when he allowed two runs in six innings against the Athletics in Oakland. Prior to that, he allowed a combined 15 runs in his two previous starts.
"I don't know, we'll see," Holland said. "I'm not a big fan of [six] days rest, but it's not my decision. I've still got to go out and pitch. You'd like to have a routine, but you have to respect their decision. Beyond Oakland, my last two starts weren't very good.
"Cole has pitched well. He is the ace of the staff. When my time comes, I go out there and pitch."
Holland is 8-11 with a 4.85 ERA in his career in 27 starts with six-plus days of rest.
"It's more about keeping Cole on time than giving Holland extra rest," manager Jeff Banister said. "He has talked about liking to be on a routine and the numbers indicate that also."
Hamels has a career 3.02 ERA on four days rest, 3.36 on five days and a 4.57 on six-plus days.
Rangers beat
• Yu Darvish pitches on Sunday night for Double-A Frisco and if all goes well, Banister said Saturday would be the earliest he would return to the Rangers' rotation. Sunday is Darvish's fifth start on medical rehabilitation assignment as he completes his recovery from Tommy John elbow reconstruction surgery.
• Rangers starters Colby Lewis, Cesar Ramos and A.J. Griffin average 87-88 mph on their fastballs and have a combined 2.97 ERA. Hamels, Holland and Martin Perez average 92 mph on the fastball and have a combined 3.95 ERA.
• Elvis Andrus' home run on Saturday was the 28th of his career. Seven of those 28 have ended up being the official game-winning RBI. The Rangers are 23-5 when Andrus homers.
• The Rangers had back-to-back 2-1 wins on Friday and Saturday. That's happened just four times in club history, with the last time being May 12-13, 1988. The starters were Jose Guzman and Ray Hayward.
T.R. Sullivan has covered the Rangers since 1989, and for MLB.com since 2006. Follow him on Twitter @Sullivan_Ranger and listen to his podcast. This story was not subject to the approval of Major League Baseball or its clubs.