MLB.com Columnist
Richard Justice
Kelly returns to boost Red Sox's lone weak spot
Righty's no-hit bid comes after month-long absence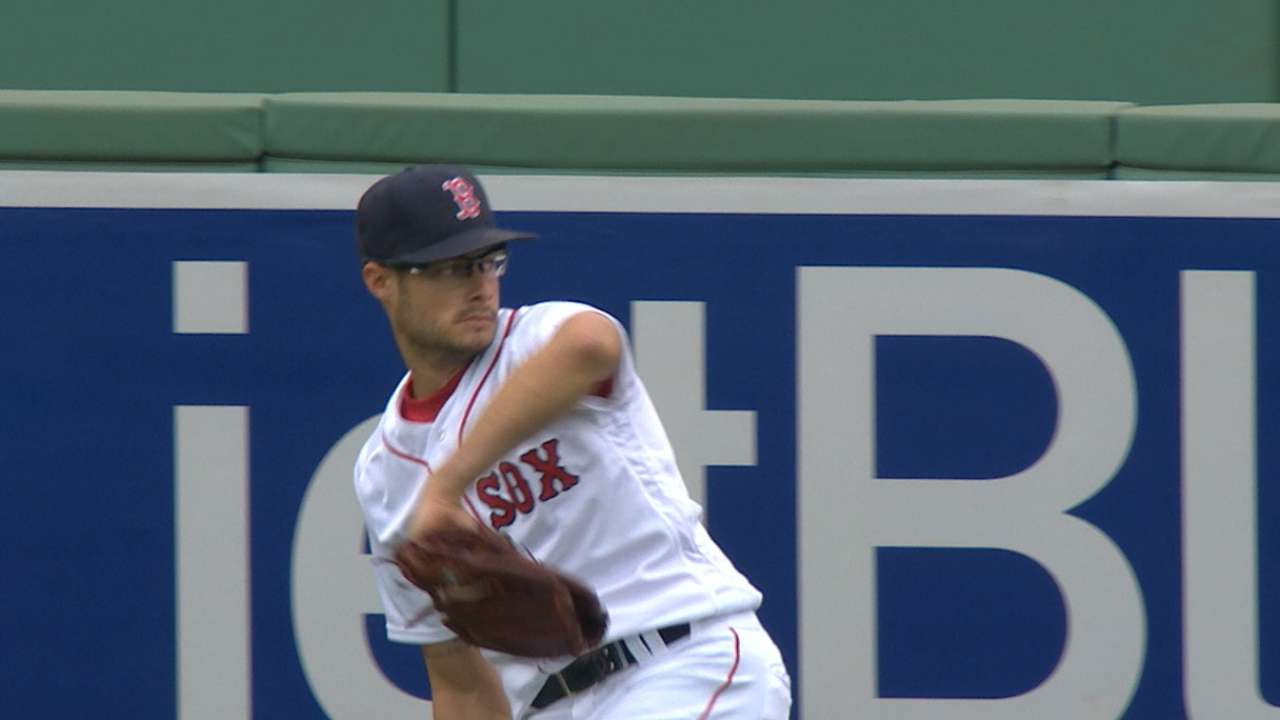 Forget the possibility of Joe Kelly throwing a no-hitter at Fenway Park on Saturday afternoon. Sure, that would have been a sweet, sweet moment.
For Kelly, it would have been a nice reward for all the resilience he has shown the last couple of years in getting through some tough times. He did flirt with the no-no, opening the game by retiring 13 Cleveland Indians in a row and allowing just one ball to leave the infield the first six innings.
Kelly's fastball was clocked as high as 98 mph and his four-seamer induced ground ball after ground ball. Given that Kelly was back after missing a month with a right shoulder impingement, the Red Sox weren't sure what to expect.
Indians third baseman Juan Uribe ended the no-hitter with two outs in the seventh inning by lining Kelly's 104th and final pitch to right-center for a double. In the end, though, it was an afternoon oozing with positives as the Red Sox beat the Indians, 9-1.
"He pitched a beautiful ballgame for us," Red Sox manager John Farrell said. "Powerful. Under control. Good command of his fastball. He's got to come out of it feeling a big sense of comfort."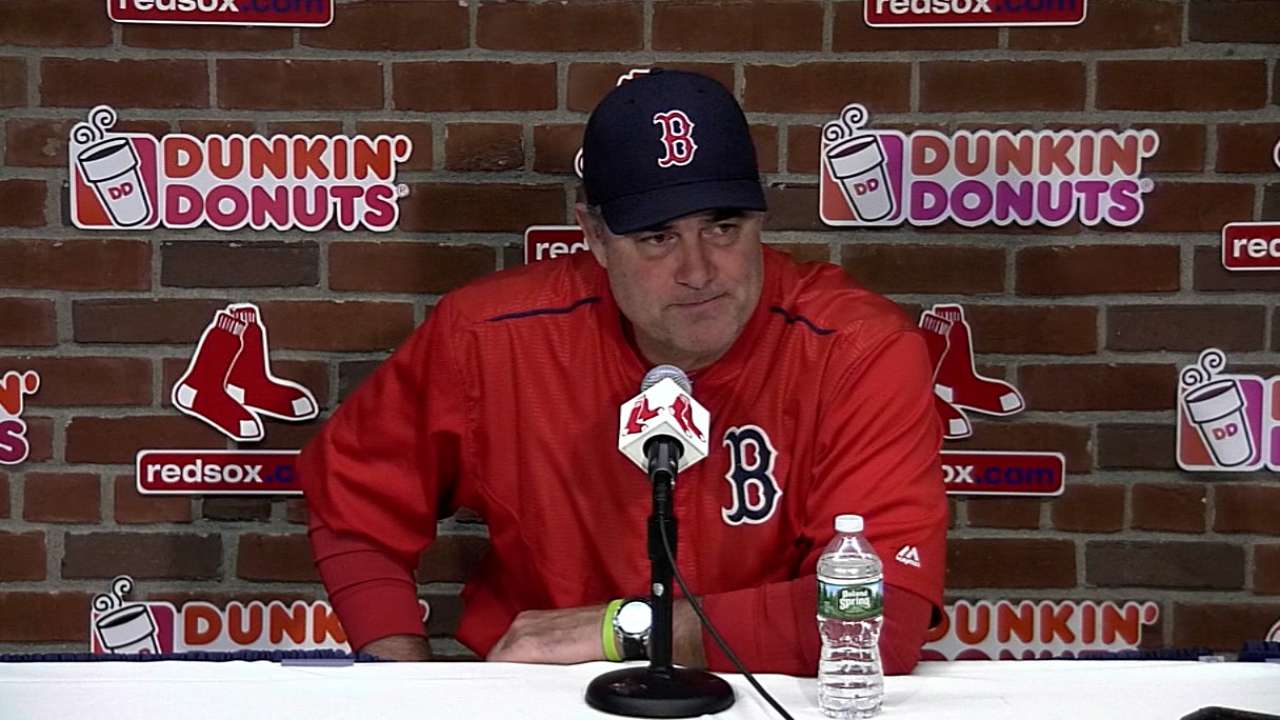 Besides that, there was something a lot larger in play. That would be the construction of a postseason team. Little by little, the Red Sox appear to be getting there.
Let's count the ways. They've got the highest-scoring offense in the Majors. Their bullpen and defense are plenty good, too.
Leadership?
Their core guys -- Farrell, second baseman Dustin Pedroia and designated hitter David Ortiz -- are three years removed from winning a World Series.
These Red Sox have almost everything except, well, one teensy thing. That would be the starting pitching. Their starters have a combined 4.61 ERA -- 20th of 30 teams.
That they've gotten to nine games over .500 (26-17) and are a half-game behind the first-place Orioles (25-15) in the American League East speaks volumes about how strong they are in other areas.
Boston's lineup is scary good. For instance, center fielder Jackie Bradley Jr. extended his hitting streak to 26 games with a sixth-inning single. Right fielder Mookie Betts drove in five runs, and Ortiz raised his batting average to .311 with a double and single.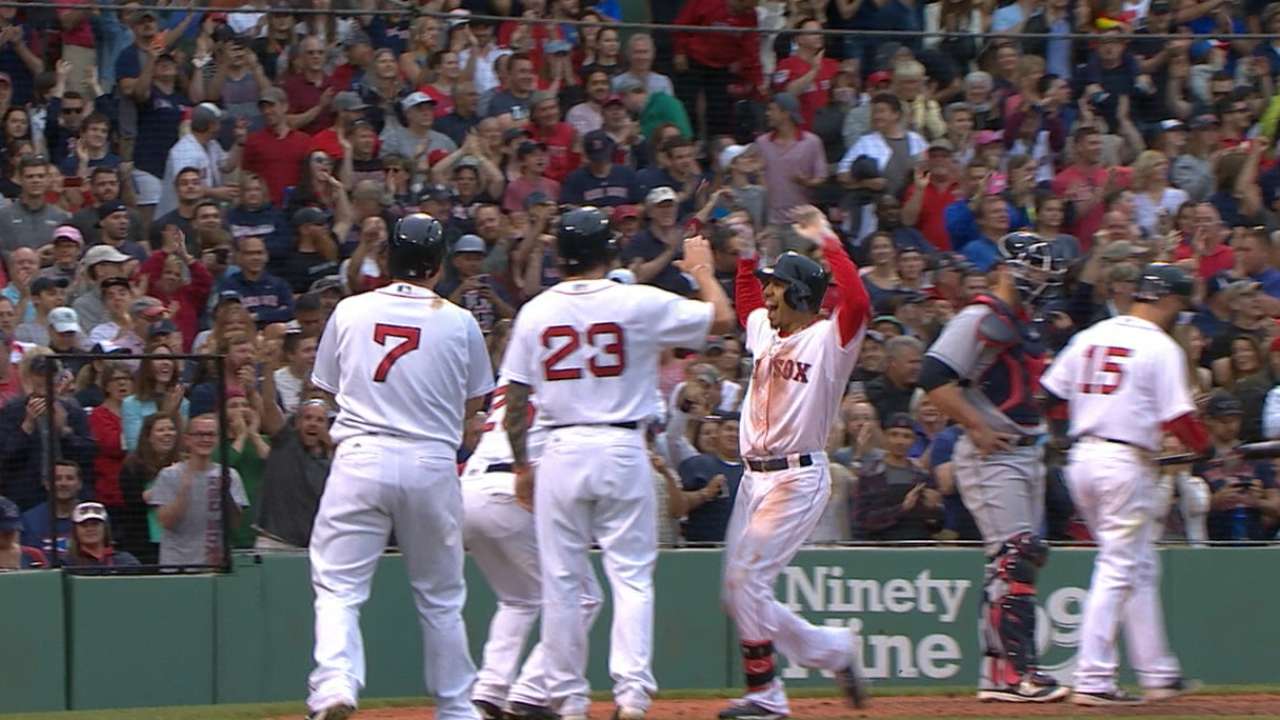 "It's a powerful feeling when you get so many guys on the same page moving in the same direction," Farrell said. "You've got a potential for doing some special things."
Here's the encouraging part about the rotation: The Red Sox see the makings of a nice one. First, right-hander Rick Porcello and knuckleballer Steven Wright have combined for a 3.00 ERA.
Despite David Price's 5.53 ERA, the Red Sox remained convinced their $217 million offseason free-agent prize has turned a corner. In his last two starts, he has allowed three earned runs over 14 innings, and he lowered his overall ERA from 6.75.
Price allowed the Royals two earned runs in 7 1/3 innings on Wednesday with a fastball clocked consistently in the 94-95 mph range and a 92-mph cutter that generated seven swings and misses.
After that, there are worries, and in New England, there has already been a guessing game of names Boston might be able to acquire to deepen the rotation. Among them: San Diego's James Shields and Oakland's Sonny Gray.
But with Kelly returning on Saturday and left-hander Eduardo Rodriguez getting closer, the Red Sox are moving in the right direction.
Kelly gave them every reason to feel upbeat. In his past 13 starts, he's 10-0 with a 3.54 ERA. Farrell said the Kelly he saw on Saturday was the one he'd heard about during the pitcher's final rehab assignment.
"I just felt super strong out there," Kelly said. "Just good to go out there and not even think about it and get a little more extension on the fastball and all the other pitches with that strong shoulder."
For the Red Sox, he could end up being a difference maker.
"Just great to see him return to our rotation," Farrell said, "and honestly, a chance to really give us a boost with his abilities."
Richard Justice is a columnist for MLB.com. Read his blog, Justice4U. This story was not subject to the approval of Major League Baseball or its clubs.