Mackanin: Bats' slump 'hasn't affected our guys yet'
Phillies tied with Braves for fewest runs scored in MLB after Saturday shutout
PHILADELPHIA -- Despite all their offensive woes to start the season, Saturday's 2-0 loss to the Braves was just the second time in 43 games the Phillies were unable to score a run.
The lack of shutouts hasn't translated to any wealth of offense, though. With the two-run margin of victory, the Braves and Phillies pulled even for last place in the Majors in runs scored this season, each now with 137.
"It gets to you after a while," Phillies manager Pete Mackanin said. "I don't know if we can sustain the pace of scoring two or three runs a night. As good as our pitching has been, at some point it's gotta affect everybody. But it hasn't affected our guys yet."
It's true. Although the weather outside has hardly reflected it, there are sunshiney vibes in the Phils' clubhouse. Even after Saturday's loss -- locking in their first series loss since the beginning of May -- Philadelphia sits five games above .500 and half a game behind the second-place Mets in the National League East.
They've continued their success from April into and throughout May, winning 10 of 19 so far this month. More incredibly, the Phillies have done so with effectively a black hole in the middle of the order.
Mackanin moved Ryan Howard down from fourth to fifth in the order before Saturday's game. It was the first time Howard hit lower than fourth in a start since April 15 and the fourth time all season.
The move came on the back of Howard's month-long slump. Since going 3-for-5 with a walk-off home run against Cleveland on April 29, Howard is hitting .083 (4-for-48) -- though all four hits have gone for extra bases (one double, three homers). He has five times as many strikeouts (20) in that time span as hits.
"He's going to be in the lineup," Mackanin said. But Tommy Joseph has a chance to carve out more playing time. Mackanin said Joseph could start Sunday, "to clear Howie's head a little bit." Both will be in the lineup in Detroit, where the Phils can use a designated hitter.
"And we'll just go from there," Mackanin added.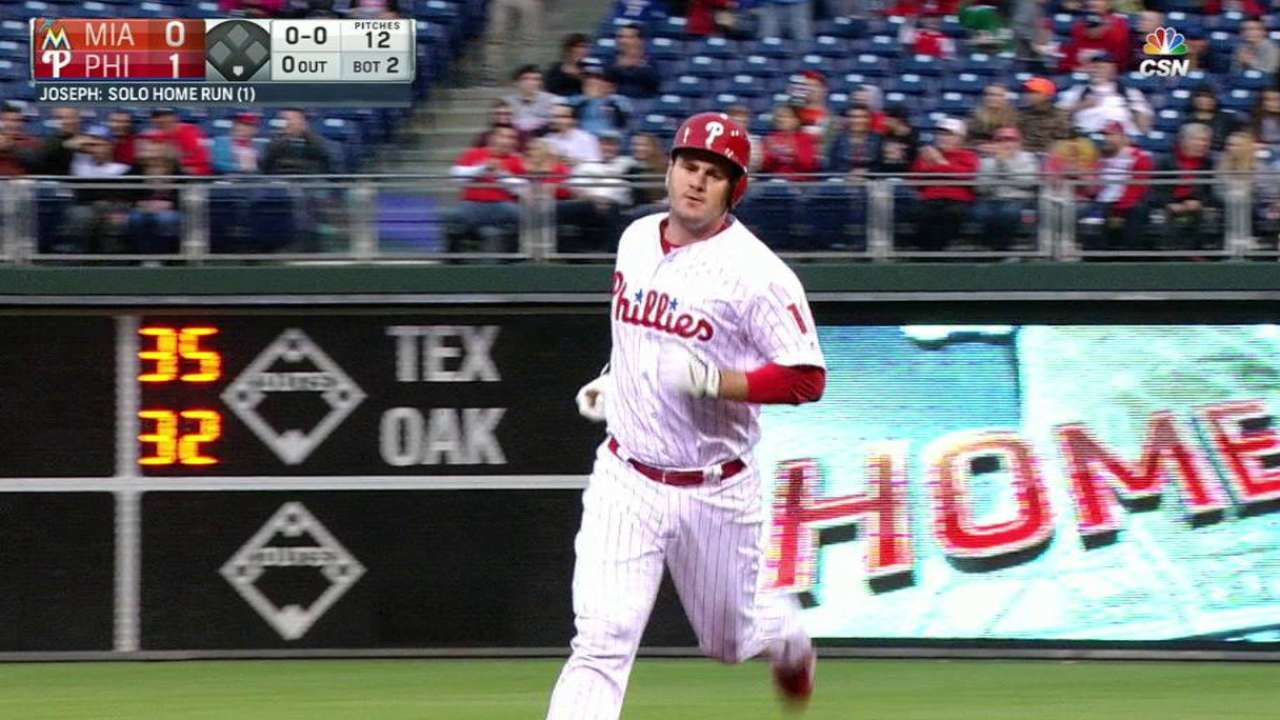 The Phillies added Joseph to the roster hoping to get an offensive boost. In the limited plate appearances he's seen, the 24-year-old first baseman has looked promising. He's 4-for-12 with a walk and home run. In his first pinch-hit appearance on Saturday, he launched one to right field that was caught on the warning track.
But even if Joseph can step into the No. 4 hole and produce, Philadelphia is still waiting for Maikel Franco to bust out of his own slump. Since the month started, Franco is hitting .206 (14-for-68) with as many strikeouts as hits -- not quite on Howard's level, but not what the Phillies are looking for from a hitter they hope to anchor their lineup for years to come.
"You've gotta have a good middle of the lineup," Mackanin said. "You gotta drive runs in and we're not doing it. The team today, we just didn't look good."
Evan Webeck is a reporter for MLB.com based in Philadelphia. This story was not subject to the approval of Major League Baseball or its clubs.