Choo out at least till Monday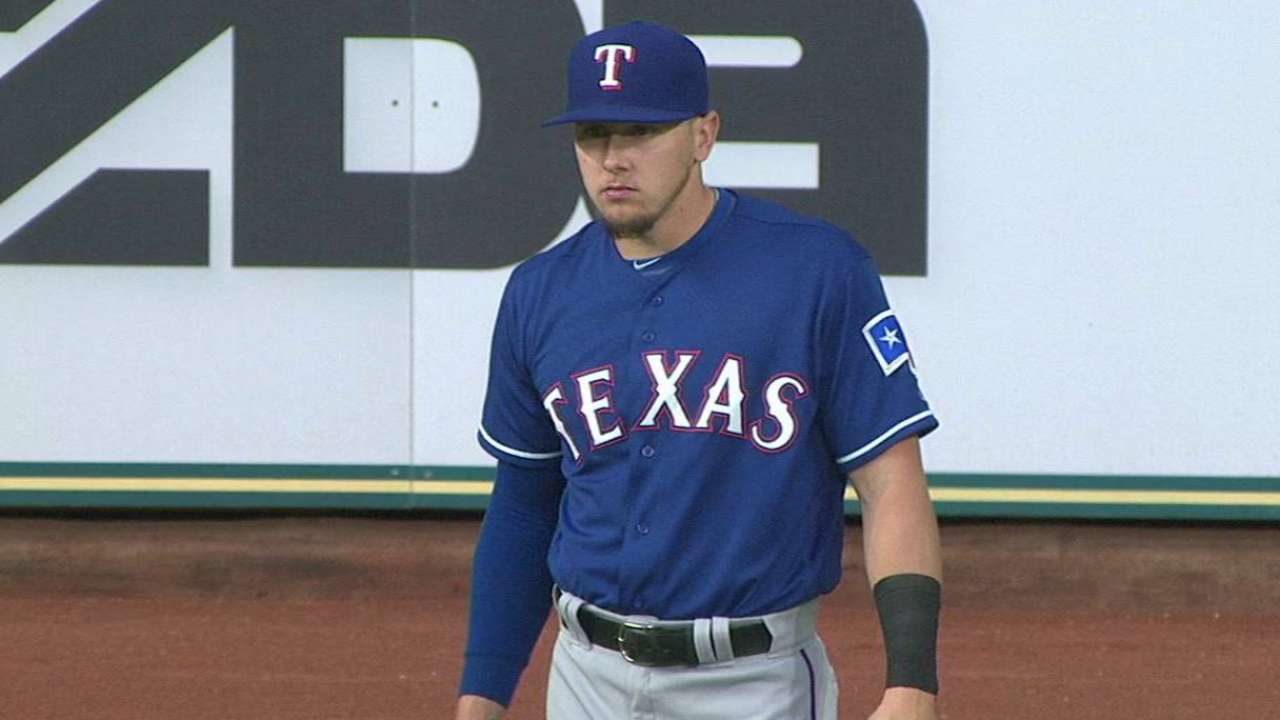 HOUSTON -- Outfielder Shin-Soo Choo was not in the Rangers' starting lineup on Saturday because of tightness in his left hamstring and he is not expected to play in Sunday's series finale against the Astros at Minute Maid Park.
Choo reported some improvement after leaving Friday's game in the third inning. It was his first game back after being sidelined for 40 days with a strained right calf muscle.
The Rangers aren't ready to put Choo on the disabled list again. But that could be unavoidable if he is unable to play when it comes time for Rougned Odor to serve his suspension. Odor is appealing an eight-game suspension stemming from his altercation with the Blue Jays' Jose Bautista, and a decision could come as early as Tuesday. Odor may have the penalty reduced but not removed completely.
When he does serve the suspension, the Rangers can't replace him on the 25-man roster. Instead they have to go one player short and don't want to be two down with Choo unable to play.
"There will be a convergence of decision-making that could present a challenge," manager Jeff Banister said. "We know we'll have to play short, we are not in a position to play ultra-short."
Banister said that's why the Rangers are being conservative right now and holding out Choo for the remainder of the Astros series. He might be used as a pinch-hitter but would require a pinch-runner if he reached base.
Shoo tested the leg running in the outfield before Saturday's game. He said it was better but was only running at half-speed.
"It's not a big injury, but I don't want to be out again," Choo said. "I was just out for 40 days."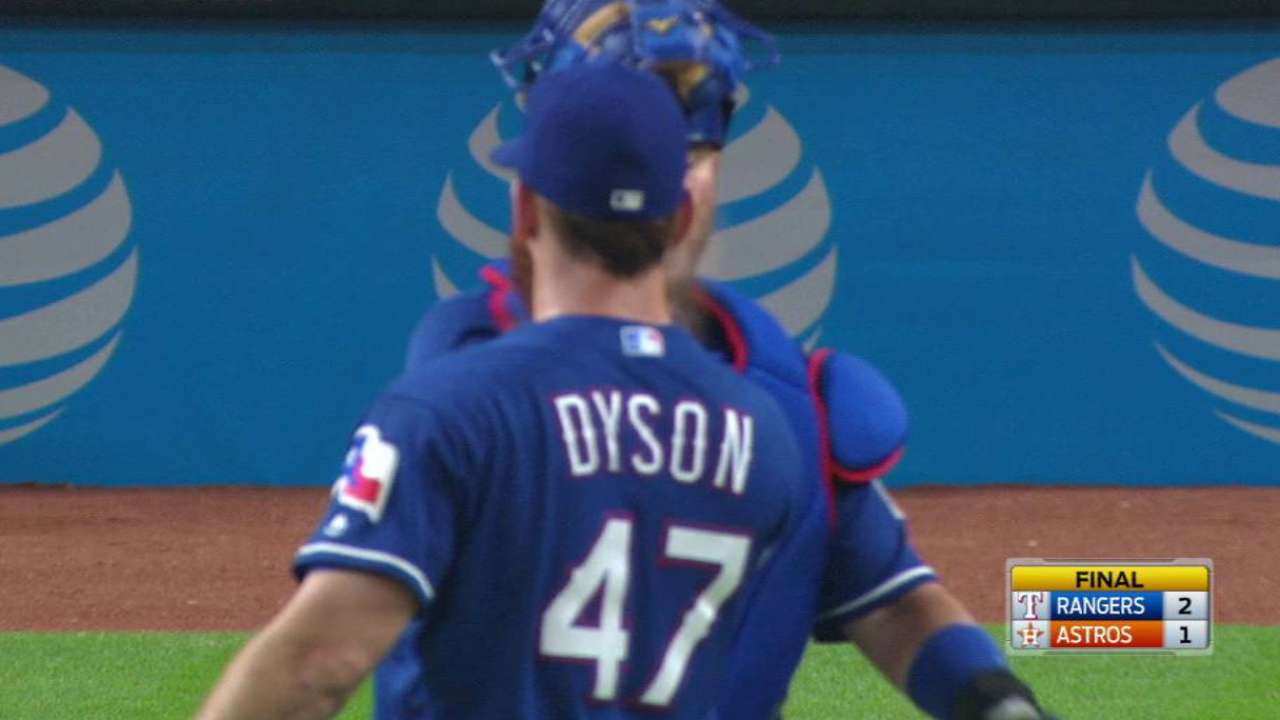 Dyson handles first save
Sam Dyson gave up a run but was still able to close out a 2-1 victory over the Astros on Friday night. It was his first save since being officially elevated into the closer's role. Dyson has five career saves but admitted it's different knowing he is the closer.
"It was new," Dyson said. "The other [saves], I didn't have the opportunity to think about it. They don't tell you that you're going in there. Now you have the whole game to think about it."
Dyson embraces the opportunity to be the go-to guy in the ninth inning.
"Everybody in the bullpen wants to be the closer," Dyson said. "Just like everyone who starts wants to be a No. 1 starter. The whole inning is pretty exciting. You still have to get the same number of outs, but there is a slight increase in stress level."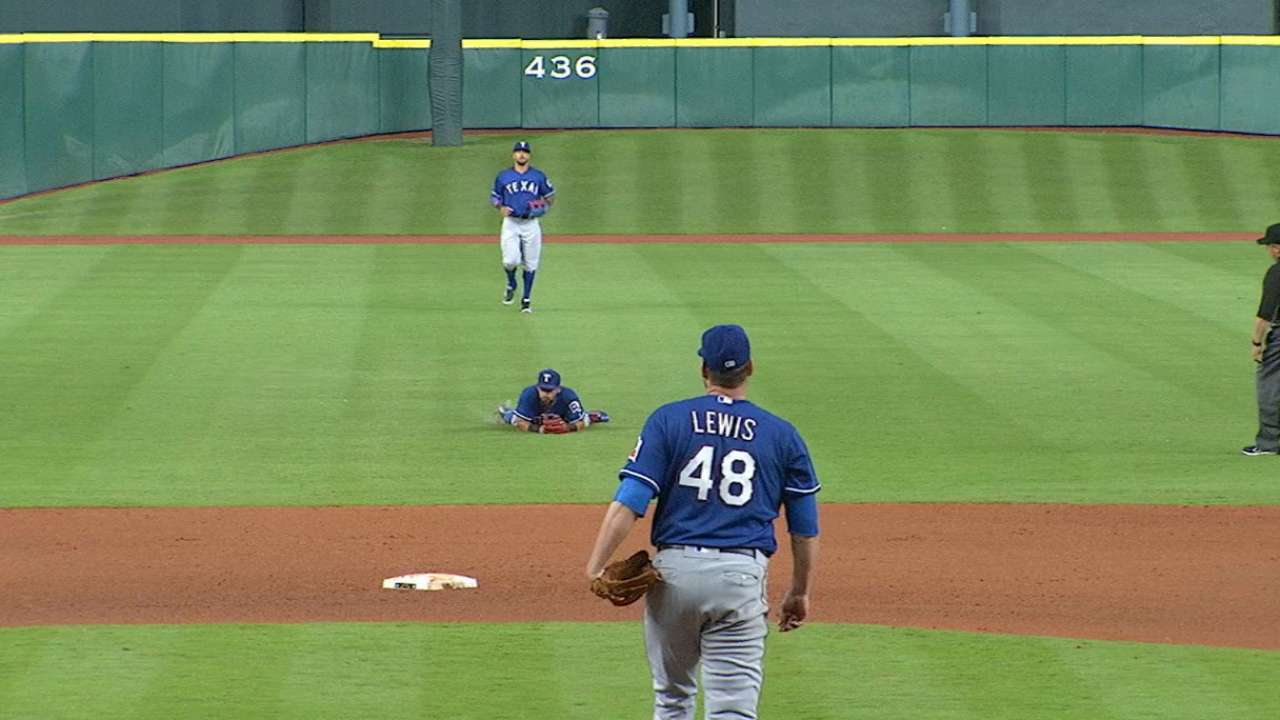 Rangers beat
• The Rangers are expected to start Derek Holland against the Angels on Monday, but Banister has yet to make an official decision.
• Colby Lewis was fine on Saturday, one day after getting hit in the head by Carlos Correa's live drive in the seventh inning of Friday's game. Said Lewis, "It hurts to touch, but there's no bump there."
• Pitcher A.J. Griffin, on the disabled list with inflammation in his right shoulder, is playing catch at 70 feet with no issues. His aim right now is building up arm strength.
• The Rangers have promoted top pitching prospects Yohander Mendez and Luis Ortiz from Class A High Desert to Double-A Frisco.
T.R. Sullivan has covered the Rangers since 1989, and for MLB.com since 2006. Follow him on Twitter @Sullivan_Ranger and listen to his podcast. This story was not subject to the approval of Major League Baseball or its clubs.